Good morning!
I'm Tomi Obaro, senior culture editor at BuzzFeed Reader, aka the section of BuzzFeed News where you can find our longer stories about pop culture, politics, and adorable Instagram babies.
Last week was Sex Week for us; we published 12 fascinating stories about sex from various angles. And so, if you don't mind the shameless self-promotion, here are some of the pieces you may have missed:
Writer Rachel Cromidas weighs in on the bureaucratic nightmare of trying to get an IUD when you're polyamorous: "Often, it's not even about sex. You should hear a group of poly people try to divvy up the rights to something as mundane as watching a popular TV show. It's like, Yes, of course you can have sex with my wife in our bed while I'm out with my girlfriend this evening, but could you please not stream the next episode of Game of Thrones without me there?"
John Sherman provokes with this highly personal exploration of why some men like to masturbate together: "Masturbating with other guys takes away much of our culture's shame and embarrassment about this universal practice."
Liza Veale spoke to three men who mostly date women about their sexual histories: "'For me, having sex now, sometimes I almost don't enjoy the experience because I am just completely in my head, concerned, like am I making this good for her? Sometimes I just want to let go and I can't because I'm focused on all these other things, like is she having a good time?'"
More than 30,000 of our readers filled out our unscientific survey about sex and consent, and the answers were honest and revealing.
And lastly, Hannah Frishberg reports on a rather unorthodox pairing — dominatrixes and Haredi Jews: "'I lost my religion,' he told me as I flogged his back. 'This is my fate now. It gives you a very similar high.'"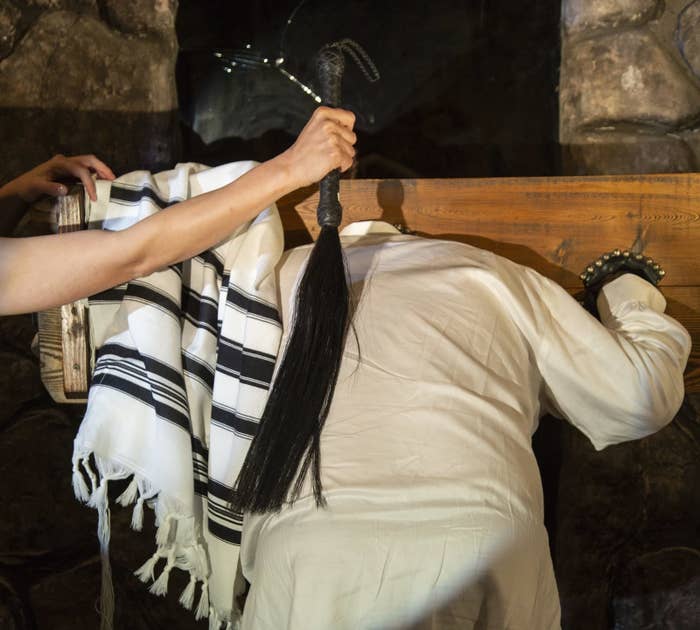 SNAPSHOTS
Catcallers in France now face on-the-spot fines of up to $870. The law had been in the works for months but was passed days after a viral video showed a woman being attacked by a harasser outside a cafe.
Johnny Depp claims that his ex-wife Amber Heard punched him in the face twice on her 30th birthday. In court documents, Depp alleges Heard became belligerent and hit him, prompting him to grab her arms and hold her down. Her attorney told People the allegations were "totally false."
Amazon has removed products with Nazi swastikas and burning crosses. The move comes after Rep. Keith Ellison told Amazon CEO Jeff Bezos in a letter that he was "alarmed" that hate groups were profiting by selling products that spread racist ideology on Amazon and that the company was taking a cut of their sales.
Apple just became the first company in Wall Street history to be worth $1 trillion. It's a symbolic achievement, showing investors are really enthusiastic about Apple's ability to keep selling lots of iPhones, iPads, laptops, and watches.
Trump's Environmental Protection Agency is rolling back Obama-era rules on car pollution. The administration claims that lighter, more fuel-efficient cars would kill nearly 1,000 people a year. Past experience and EPA analysis suggest otherwise.
Zimbabwe's incumbent president won the country's first election without Robert Mugabe on the ballot. Emmerson Mnangagwa narrowly beat his opponent, Nelson Chamisa, marking the official start of the post-Mugabe era. The final election results came a day after violent clashes between supporters of Chamisa's party and the police. At least six people were killed, 14 injured, and 26 arrested as authorities fired live bullets and sprayed tear gas throughout the downtown area of Harare, the country's capital.

LONGREADS TO SLOW DOWN WITH
What you should be reading this weekend
Steve Martin. Jim Morrison. Harrison Ford. These are just a few of the before-they-were-famous guys the writer Eve Babitz dated in the '70s and wrote about in her novels and memoirs published during the same time period. Writer Rachel Vorona Cote takes a look at both the allure and the limitations of this cult writer, whose books are enjoying a bit of a renaissance:
"Readers, particularly literary women in their twenties and thirties, seem to be entranced by this child of Hollywood, who unabashedly relished her LA milieu and both chronicled and defended its paradoxes. But it's still a milieu that flattens the city into one that is homogenous, wealthy, and white."
And I love this short, existential essay by R.O. Kwon about how skin care became her new religion after she left the Christian faith:
"The other day, I was comparing notes on our respective regimens with a friend whose approach to skin care is even more rigorous than my own. 'But what's the point of all this?' she said, abruptly. We'd been detailing each of our steps. 'What's the end goal? I mean, we're aging by the minute. We're all going to die.'"
For more longreads, subscribe to BuzzFeed News' Reader newsletter — every month catch up on the powerful essays and features and get exclusive columns from Reader editors.