Rubio Wins Puerto Rico, After Cruz And Trump Claimed Two States On Saturday
And Bernie Sanders won three states in the Democratic contests as Hillary won one. BuzzFeed News will update this post with news and winners from the primaries and caucuses through Sunday.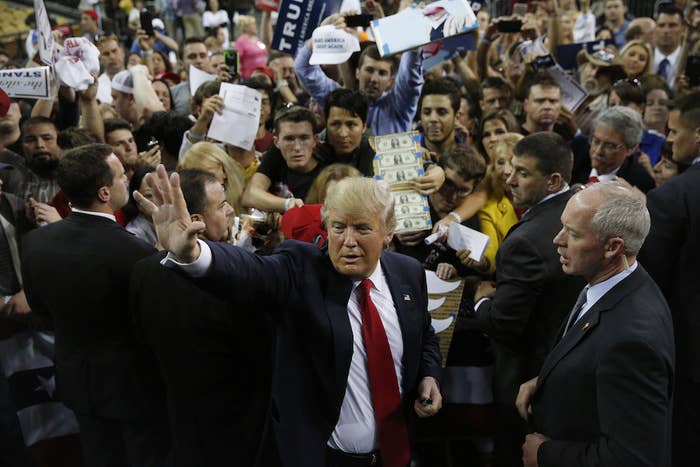 Here's the deal:
The Republican race for president is far from over: Ted Cruz delivered crushing wins in the Kansas and Maine Republican caucuses on Saturday, while Donald Trump won big in Louisiana and Kentucky.
In his victory speech, Trump called for Marco Rubio to drop out of the race. Rubio put on another poor performance Saturday, winning no states. "I want Ted one-on-one," Trump said. Rubio, he said, is "coming in virtually last in every race."
But on Sunday, Rubio enjoyed a small victory, winning the Republican primary in Puerto Rico.
Cruz's large-margin victories came as a surprise. "The howl that comes from Washington D.C. is utter terror at what we the people are doing together," Cruz said during his address. "We're seeing conservatives coming together."
Bernie Sanders, meanwhile, defeated Hillary Clinton in the Maine, Kansas and Nebraska Democratic caucuses. Clinton defeated him easily in Louisiana. These results were expected.
The way the preliminary counts are working out, it looks like there won't be much overall impact in the delegate counts for Democrats or Republicans.
For a quick rundown of Saturday evening, click here.
Saturday's votes come after a wild week on the campaign trail: Trump referenced his penis size in a debate, where he was otherwise attacked by Marco Rubio and Ted Cruz; former presidential candidate Mitt Romney blasted Trump in a speech; and Chris Christie had to explain that Trump was not holding him "hostage."
Here's the delegate situation as of 9:40 p.m. Sunday. Check back for updates: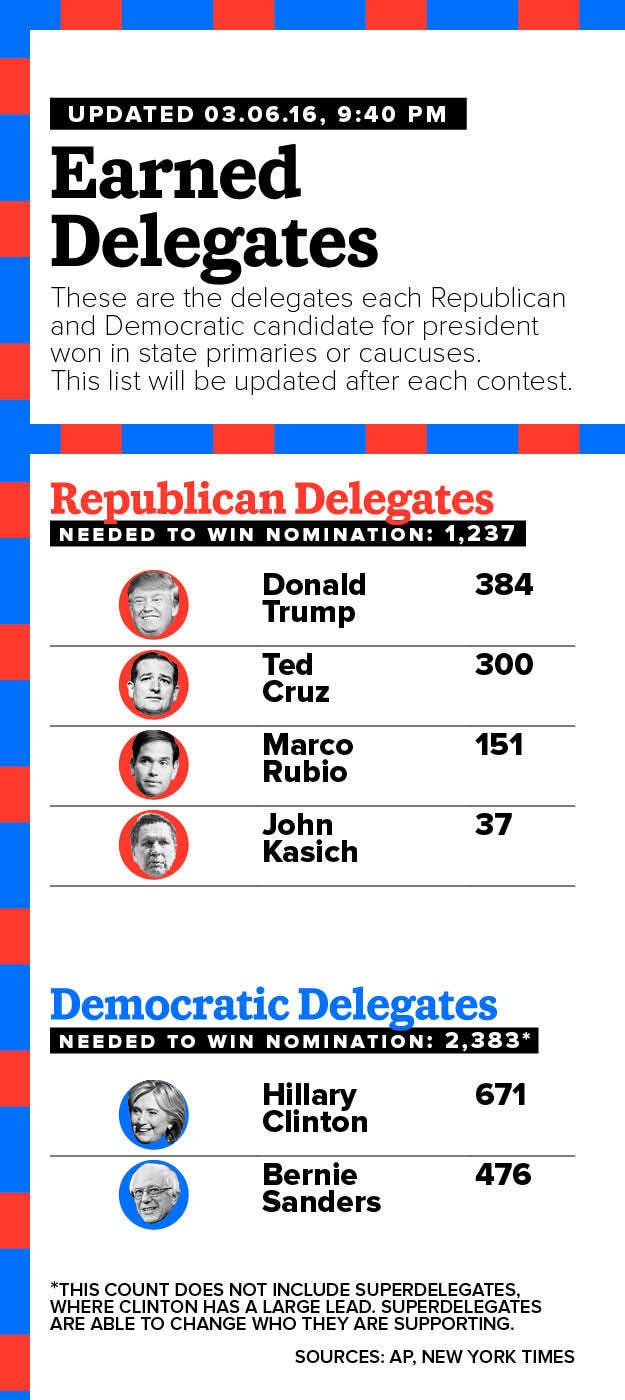 Updates
Sanders Gets Surprise Endorsement In Michigan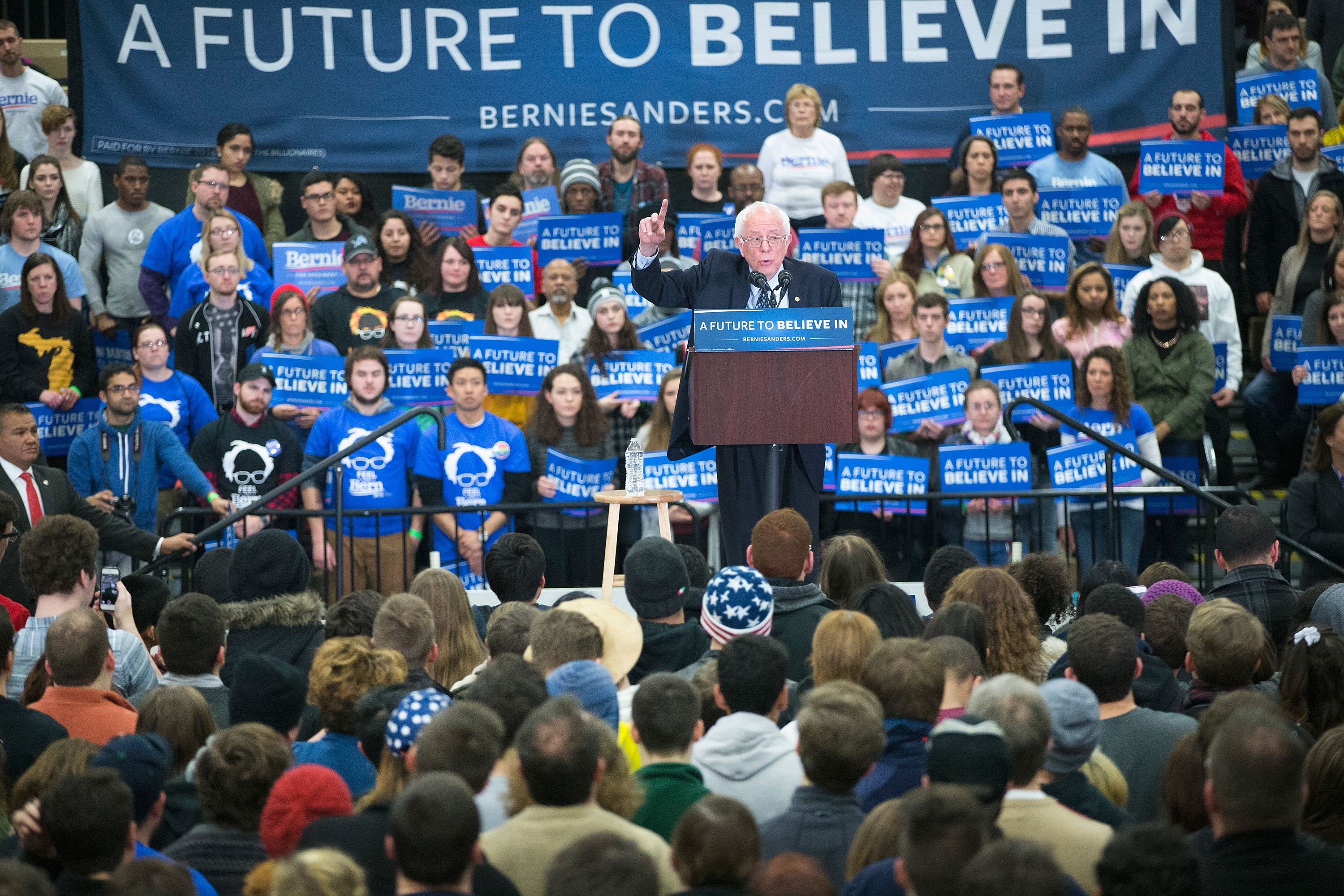 FLINT, Michigan — In an impromptu press conference moments before a Democratic presidential debate on University of Michigan campus here, Bernie Sanders announced the endorsement of former Sen. Don Riegle.
Riegle, a Flint native, represented Michigan in the Senate from 1976 to 1995. Reigle told reporters Sanders was best poised to help solve Flint's ongoing water crisis and backed his call for campaign finance reform and pushing back on the influence of money in Washington.
He also served as a Sanders attack dog, speaking sharply about Hillary Clinton's public support for the NAFTA trade agreement signed during her husband's administration and over her vote in favor of the Iraq war.
Bernie Sanders Wins Maine Democratic Caucus
Bernie Sanders won the Democratic caucus in Maine on Sunday, the Associated Press reported.
Marco Rubio Wins Republican Primary In Puerto Rico