Mexico Assesses Damage From Patricia, Now A Remnant Low
The hurricane made landfall as a Category 5 storm, but quickly weakened, becoming a remnant low by Saturday afternoon. President Peña Nieto said earlier in the day that "the first reports confirm that the damage was not as severe as it could have been for a hurricane of this magnitude."
Here's a quick rundown:
* Hurricane Patricia, at one point the most powerful hurricane ever recorded, made landfall on Mexico's southwestern coast of resort towns on Friday evening as a Category 5 storm.
* By late Saturday afternoon, the storm was downgraded to a remnant low.
* The state governments of Jalisco and Colima — the two regions most affected — were reporting no casualties, according to local newspapers. However, there were reports of flooding in Mexico, and officials warned of flash floods in Texas as Patricia gets absorbed by any other weather system already over the state.
* President Enrique Peña Nieto said Saturday that "the first reports confirm that the damage was not as severe as it could have been for a hurricane of this magnitude."
* There were reports of downed power lines, flooding in Manzanillo, and damage to roads and homes, according to local media.
* Airports were closed, power was cut, banks were closed and schools were shuttered in the buildup to the storm. Many resorts evacuated their guests.
* BuzzFeed News's Karla Zabludovsky is reporting from Manzanillo.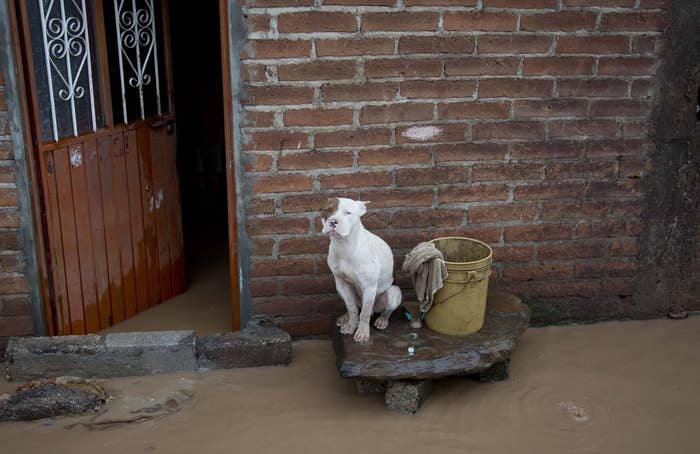 Despite the fears that Hurricane Patricia would cause devastation, federal authorities said Saturday the storm had caused no major damage to the county's infrastructure.
By Saturday afternoon power had been restored to port cities that faced the first impact of the storm, and the country's bus terminals, airports and some ports were operating at near normal capacity, El Universal reported.
Speaking at a press conference from Jalisco, the head of the country's communications and transportation department said some areas remained without power because of fears of downed power lines.
Although there were no immediate reports of deaths, two people were injured in Michoacan when part of a highway collapsed.
Government officials told the paper they were still working to assess the economic impact of the storm, but some areas were beginning to return to normalcy.
The Mexican state of Nayarit, where at least 10,000 homes were evacuated, deactivated their warning and allowed people to return Saturday afternoon.
In Manzanillo, the port city had reportedly returned power to 90 percent of the city.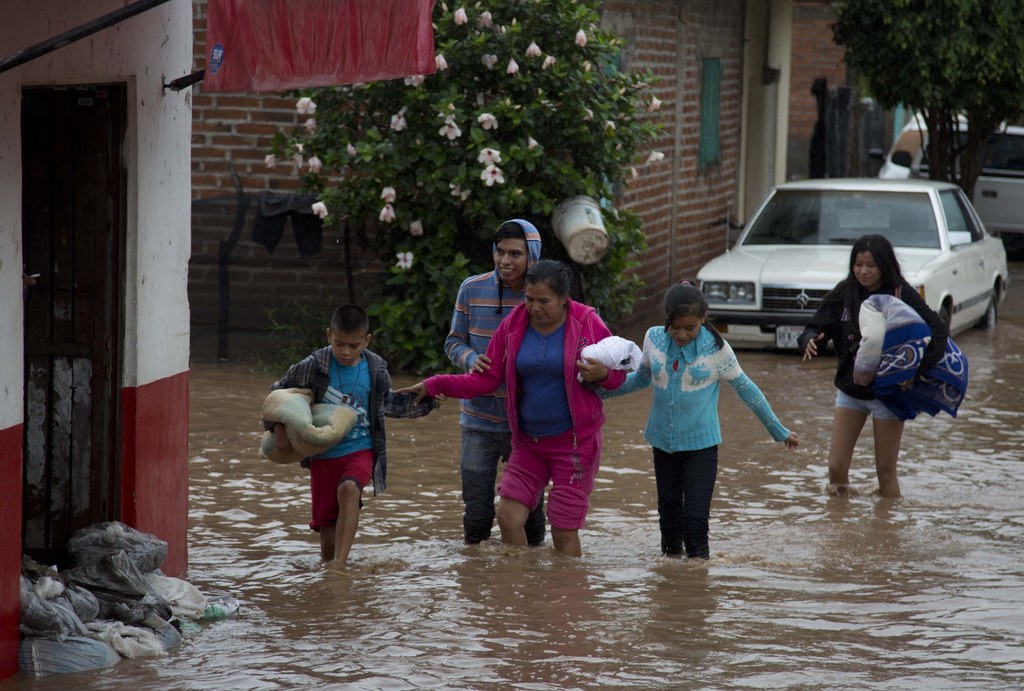 By Saturday, Patricia — which swelled to become the strongest hurricane in recorded history with sustained winds of up to 200 miles per hour — was also downgraded to a remnant low that continued to deluge parts of Mexico. It was expected to bring more rain to Texas as well.
The U.S. National Hurricane Center (NHC) reported Saturday afternoon that maximum sustained winds had decreased to about 30 miles per hour. A bulletin from the service forecasted the weather system would "weaken to a trough during the next several hours, and the remnants of Patricia should be absorbed by a non-tropical low pressure system over southern Texas later tonight or on Sunday."
Gulf states including Texas, which was hit with flash floods on Saturday, are forecast to see more rain, the bulletin continued.
"This heavy rain threat will continue across the western Gulf coast through this weekend and spread into the central Gulf coast by early next week," the NHC said. "These rains may produce dangerous flash floods."
Early Saturday while the storm was still raging President Enrique Peña Nieto said, "the first reports confirm that the damage was not as severe as it could have been for a hurricane of this magnitude."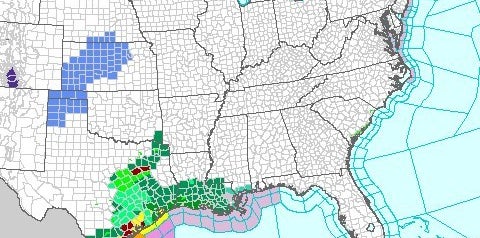 Counties marked in green and red in the gulf states have flood warnings.
In Jalisco, a rainfall total of 10.25 inches was reported. In some areas rainfall could be as high as 20 inches, the NHC said, and could "produce life-threatening flash floods and mudslides."
There were local reports of power lines down and damage to roads and homes. In Manzanillo, a resort town in Colima that was hit by some of the worst of the storm, heavy rains and overflow from a nearby lagoon flooded houses with more than three feet of water, El Universal reported. Dozens of trees had collapsed over major thoroughfares, blocking traffic.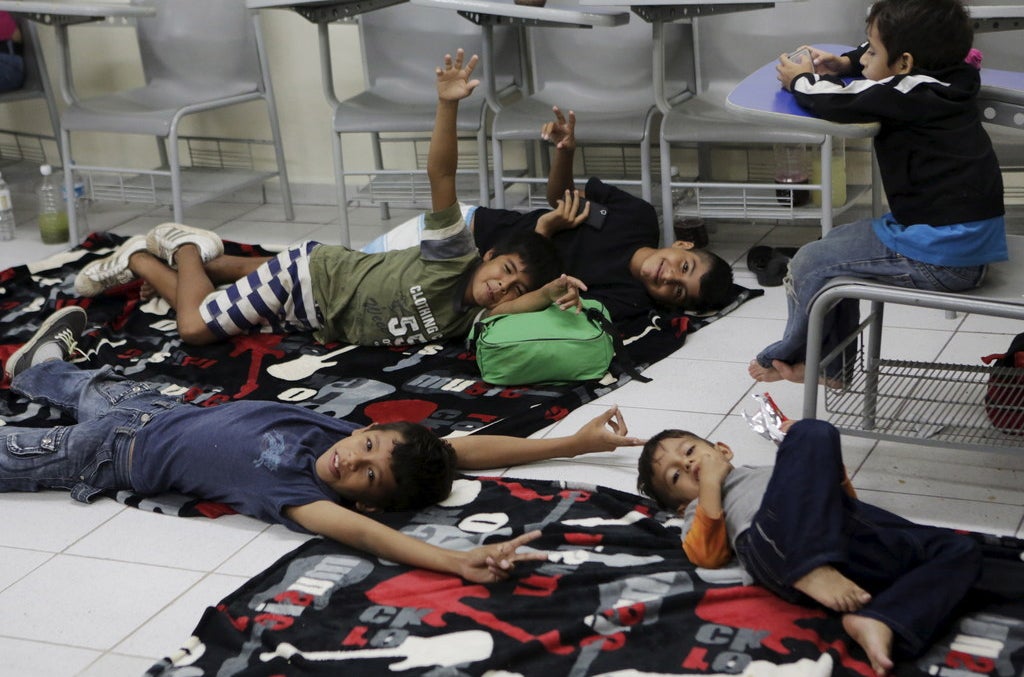 Still, some tourists decided to stay near the beach and brave the storm rather than cut their vacation short.
"I'm not going to lose my vacation, we still have the weekend to spend together as a family," Salvador Espinosa, a construction worker who'd come to the resort town from inland city of Guadalajara, told El Universal. "I work building houses, so I can tell you that these concrete walls are strong. If an earthquake hasn't destroyed them, what could a hurricane do?"
The hurricane brought down power lines across Jalisco state, Governor Aristoteles Sandoval told El Universal. Power was out in the coastal resort of Puerto Vallarta, where the government bused out more than 10,000 tourists, but telephone service was reportedly uninterrupted.
In Michoacan state, near the northern end of the hurricane's path, the government reported severe damages to highways and huge financial losses in banana and papaya plantations, according to El Universal.
"The people who were most affected by the storm were the fruit farmers," Hector Zepeda, the head of the local rural police in Coahuayana, a town near the border with Colima, told El Universal. "Some of them lost 100% of their crops."
With reporting by Karla Zabludovsky in Guadalajara, Mexico; Nicolas Mora in New York; and Laura Silver in London.