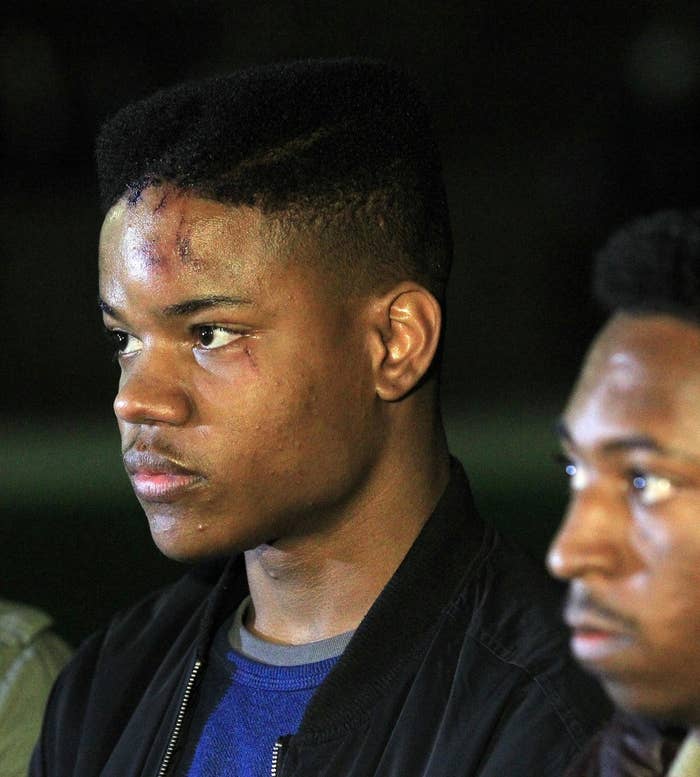 Here's The Latest:
University of Virginia honor committee student Martese Johnson, 20, was arrested and bloodied by state Alcohol Beverage Control enforcement officers outside a bar near campus on Wednesday.
Marcus L. Martin, University of Virginia's vice president and chief officer for diversity and equity, said he spoke with Johnson, and that the 20-year-old was not intoxicated when he was arrested by state liquor control agents.
Video of the arrest, where Johnson is heard saying "I go to UVA, I go to UVA," and "How did this happen, you fucking racists" has been widely circulated.
Virginia Governor Terry McAuliffe said that the State Police would conduct an independent investigation into the arrest.
Hundreds of students on Wednesday night protested the arrest, with Johnson attending.
The arresting officers were placed on administrative duty while the investigation is underway.
The bar managing owner who carded Johnson described him as "cordial," at odds with the officers who called him belligerent.
The Irish pub where Martese Johnson, 20, was violently arrested released a statement Saturday defending its operation and how it treats customers.
In a statement, Trinity Irish Pub managers called accusations made by a former employee who said staff was instructed to engage in racial profiling "patently false."
"There have been reports that Trinity engages or engaged, in this incident, in racial profiling in not permitting Mr. Johnson to enter. The rationale for allowing patrons to enter — being familiar with the zip code on their own license — is color, gender, race, and ethnicity-blind. Comments made by a previous employee by the name of Dante DeVito that Trinity instructs its management to scrutinize persons of color for entry, are patently false. Mr. DeVito was employed by Trinity for six months and was terminated by management for cause. His comments are those of a disgruntled former employee and are not accurate."
Also in the statement, which was carried by WVIR-TV, the pub's managers gave their own detailed account of the moments leading up to Johnson's arrest:
"Sometime shortly thereafter, Martese Johnson, who had been in the line described, stepped up to Mr. Badke and handed him his ID.

Mr. Badke did not look at the birthdate or the photo, but he did note that the ID was from Illinois. Mr. Badke is from Illinois. Mr. Badke asked Mr. Johnson to provide the zip code on the ID. According to Mr. Badke, this is a test he frequently uses to determine if a patron is using a fake ID. If the ID doesn't belong to them, they are not familiar with some of the details on the ID.

Mr. Johnson provided the wrong zip code, although it was close to the one on the license. Mr. Badke immediately responded that he could not accept it. Mr. Johnson, probably realizing the reason for the error, stated that he had moved. At this point, Mr. Badke and Mr. Johnson had a brief conversation because Mr. Badke is from the south side of Chicago, where Mr. Johnson indicated he was from.

In Mr. Badke's opinion, Mr. Johnson did not appear to be intoxicated in the least.

Despite the conversation, which was cordial and respectful, Mr. Badke reiterated that he could not permit him to enter. He handed Mr. Johnson his ID back and Mr. Johnson began walking in a north westerly direction up University Avenue.

A few moments later, Mr. Badke heard a commotion, turned, and saw Mr. Johnson on the ground about 30 feet further up on University Avenue with ABC agents detaining him."
Virginia lawmakers and the president of University of Virginia are calling for a reexamination of Virginia's Department of Alcoholic Beverage Control's arrest powers.
"Getting arrested shouldn't involved getting stitches," UVA president Teresa A. Sullivan told the Washington Post.
In an interview with The Daily Progress, Sullivan said the ABC's priority should be to ensure that people who hold liquor licenses adhere to the law.
"As to the other issues, like having a fake ID and underage drinking and son on – both Charlottesville and university police do arrest people for that," she said.
Sen. Donald McEachin also questioned whether ABC agents should have arrest powers adding that he would consider sponsoring legislation that would give state police jurisdiction of the state's alcohol laws.
Virginia Gov. Terry McAuliffe has called for a state police investigation into Johnson's arrest, while Attorney General Mark R. Herring said he is considering a review of arrest data to determine if racial biases exist within the estate's law enforcement agencies.
Clarence Roberts, a former employee with the ABC told The Richmond Times Dispatch he never experienced violence while making arrests.
"When I worked that area, ABC, local police and the university worked together to make things work," he said. "I don't know what went wrong here."
Marcus L. Martin, vice president and chief officer for diversity and equity at University of Virginia, told CNN Martese Johnson was not intoxicated when he was taken into custody by state liquor agents.
Martin, a professor of emergency medicine at the university, made the comments Wednesday, after he said he spoke with Johnson.
"(Johnson) apparently was not intoxicated by way of a breathalyzer test," Martin said.
Martin told CNN he spoke with Johnson, who told him a breathalyzer test was done at the Charlottesville Police station where he was booked.
If Johnson was sober at the time, it would contradict the arrest report that was submitted by the agents who took him into custody early Wednesday morning.
According to the arrest report, which was obtained by university's student paper, The Cavalier Daily, agents noted that Johnson was, "very agitated and belligerent."
Agents also recommended that bail be set at $1,500, "when sober."
The 20-year-old student also told Martin he was approached by Virginia Alcoholic Beverage Control agents after he presented an Illinois ID to a bouncer at a bar. Johnson was asked for his zip code, and he apparently gave his mother's most recent zip code instead of the one that was on his valid ID.
According to court filings, Martese was charged with public intoxication and/or swearing in public, and obstruction of justice without force. Both are misdemeanor charges.
"Nobody should be treated this way, that brutally," Martin told CNN. "Officers could have taken it to the side, had a conversation, instead of pushing him to the pavement."
In a statement Thursday, state House Minority Leader David Toscano (D-Charlottesville) called the photos of Martese Johnson "very disturbing" and said he supports the independent investigation into the student's arrest.
"I am very concerned about the events that occurred at the UVA Corner in the early morning hours of March 17, 2015. The photos are very disturbing, as are the videos that I have viewed. At this point, it is unclear why the ABC agents took this action against this young man. I fully support the independent investigation that has been initiated by the governor and the secretary of public safety. The governor's office has assured me that this will be conducted and concluded expeditiously."
Toscano also referred to the "continued overreaction" by Alcoholic Beverage Control officers, calling it a "key question that requires an answer."
He ended his statement by appealing for calm among demonstrators as officials carry out their investigation.
"[Martese Johnson] himself has called for civility and calm, and I agree," Toscano said. "But we must remain vigilant in gathering the facts and readdressing the legitimate concerns raised by this incident."
The University of Virginia's student government says there will be an open dialogue between students and campus and local police on Friday to address issues that have come to light after Martese Johnson's arrest.
The UVA student council announced on Thursday that attending the event will be Charlottesville Police Chief Timothy Longo, representatives from Virginia Alcohol Beverage Control, Albemarle County Police, and campus police.
The council urged students to attend, and submit questions in advance on Twitter.
"We need to consider the role each of us can play in combating inequality in our community. We must think about how it reflects on each of us if we are indifferent to injustice or violence at any level," it said.
The council also said that there will be a group healing session for those affected by the events on Thursday.
The bar near where Martese Johnson was arrested is rarely fined for underage drinking:
Trinity Irish Pub – the bar where state alcohol enforcement officers arrested Martese Johnson, 20, on Wednesday after he was turned away for being underage – doesn't seem to be a frequent target of Virginia's Department of Alcoholic Beverage Control (ABC). The bar wasn't among the thousands of establishments fined for selling alcohol to underage drinkers in recent years, according to a BuzzFeed News analysis of ABC "final decisions" data from July 2007 through June 2013, the time frame available on the department's website.
Statewide, approximately 2,958 of the 5,110 "final decisions" during that time — roughly 58% — related to underage drinking, according to the data. During that time, the ABC issued 35 final decisions relating to underage drinking at establishments in Trinity's ZIP code.
Trinity appears once, in 2011, for "misrepresenting brands of beer sold." It was fined $1,000, the records shows.
Still, there's no data covering final decisions since June 2013. And some violations from before June 2013 may not have reached the "final decision" stage by date.
The website does list upcoming hearings. On April 1, Trinity is scheduled for a hearing for three alleged violations: selling alcohol to an intoxicated person, allowing drunk people to drink more alcohol, and having lighting that "prevented agents from ready access/observation."
This is a developing story. Check back here and follow BuzzFeed News on Twitter for updates.
Reporting by Joel Anderson in Charlottesville, Virginia; Jeremy Singer-Vine and Tom Namako in New York; and Salvador Hernandez in Los Angeles.