Two people were killed and at least 11 others were injured after a shooter opened fire at a popular gaming tournament in Jacksonville, Florida, on Sunday.
Officials identified the sole suspect as 24-year-old David Katz of Baltimore. Jacksonville Sheriff Mike Williams said Katz killed himself at the scene.
The shooting happened at the GLHF Game Bar at the Jacksonville Landing mall, which was hosting a two-day Madden NFL 19 tournament organized by gaming giant Electronic Arts.
There were a large number of people in the bar Sunday afternoon, Williams said, though authorities are still trying to determine how many people were at the scene at the time of the shooting.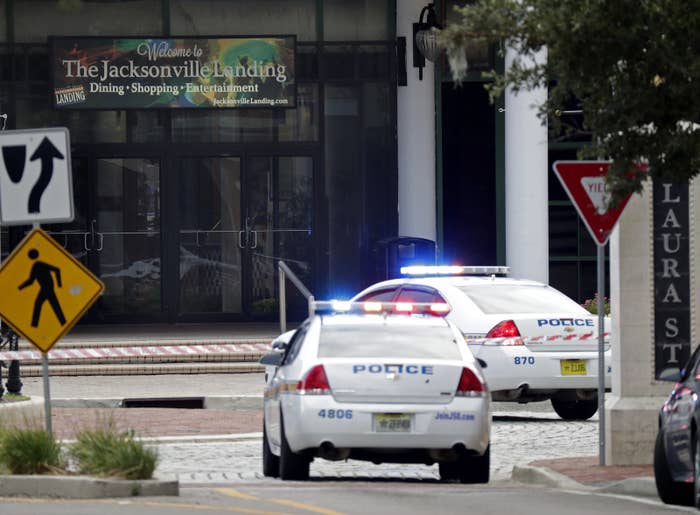 Those injured in the shooting were taken to local hospitals, and all were in stable condition as of Sunday evening. University of Florida Health Jacksonville said it was treating six patients between the ages of 20 to 35, including one who arrived at the hospital with serious injuries.
UF Health trauma surgeon Marie Crandall said Sunday that the five patients who arrived in stable condition were "all alert," and had been speaking with investigators.
Memorial Hospital in Jacksonville had received three additional victims, all of whom were in stable condition, a hospital spokesperson told BuzzFeed News.
The FBI and the Bureau of Alcohol, Tobacco, and Firearms are also assisting in the investigation.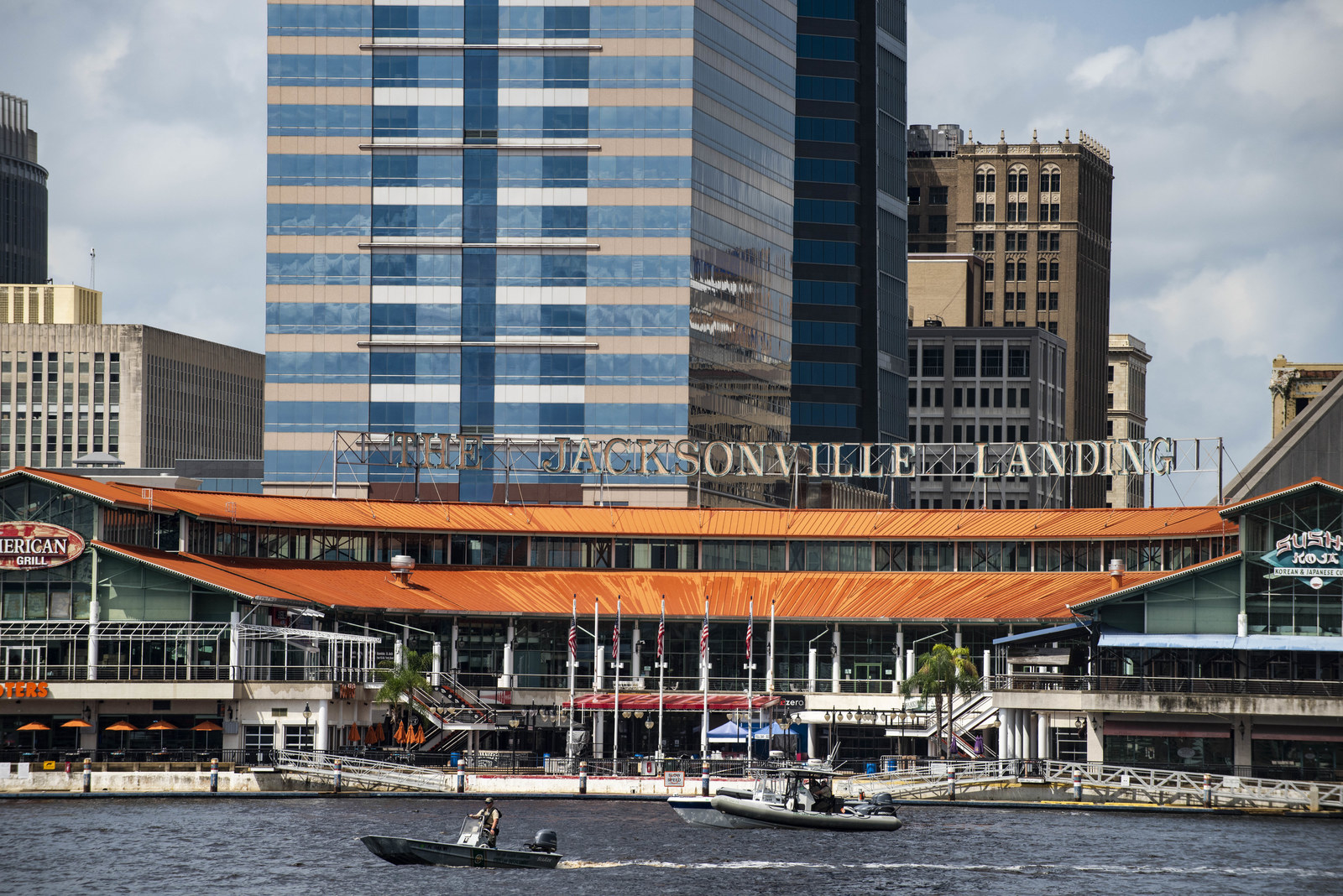 In a Twitch recording that captured audio of the shooting, two people can be heard commenting on a football game between two gamers playing as the Atlanta Falcons.
After a touchdown, the video showed the game on most of the screen with a small inset of what appeared to be the two players. Right before the shots began, a small red dot appeared on one of the players' chests.
Then, 12 gunshots could be heard over the livestream.
"What'd he shoot me with?" one man could be heard screaming before more shots rang out.
As the gunfire stopped, the Twitch livestream continued to record the chaotic sounds of the aftermath. "Where did you get hit?" one man can be heard asking.
"Oh my god. Who got shot?" someone else said. "Oh my god. Where'd he go? Where'd he go? Where'd he go? Oh my god. Oh my god."
Warning: The audio in the clip below is graphic.
Firefighters who had been participating in a training exercise next to the mall were the first to arrive on the scene, and were treating victims even before the first 911 call went out, the president of the Jacksonville Association of Firefighters tweeted, adding, "Victims ran to them."
Authorities said they received the emergency call at 1:34 p.m., alerting them to the shooting at the Landing. Inside the pizza restaurant, many people had tried to hide or take cover, and police warned them to stay in place while officers cleared the area.
Video taken at the scene showed people being led out of the mall by police.
The GLHF Game Bar said that all of the restaurant's staff members were safe.
According to EA's website, Sunday's competition was a regional qualifier leading for a larger esports tournament scheduled to take place in Las Vegas this October, according to the Electronic Arts website.
"The tragic situation that occurred Sunday in Jacksonville was a senseless act of violence that we strongly condemn," the company said in a statement. "Our most heartfelt sympathies go out to the families of the victims whose lives were taken today and those who were injured."
"All of us at Electronic Arts are devastated by this horrific event, and we also join the community in thanking the first responders who were quickly on the scene," the statement said. "Our focus right now is on those affected, and supporting law enforcement as they continue their investigation into this crime."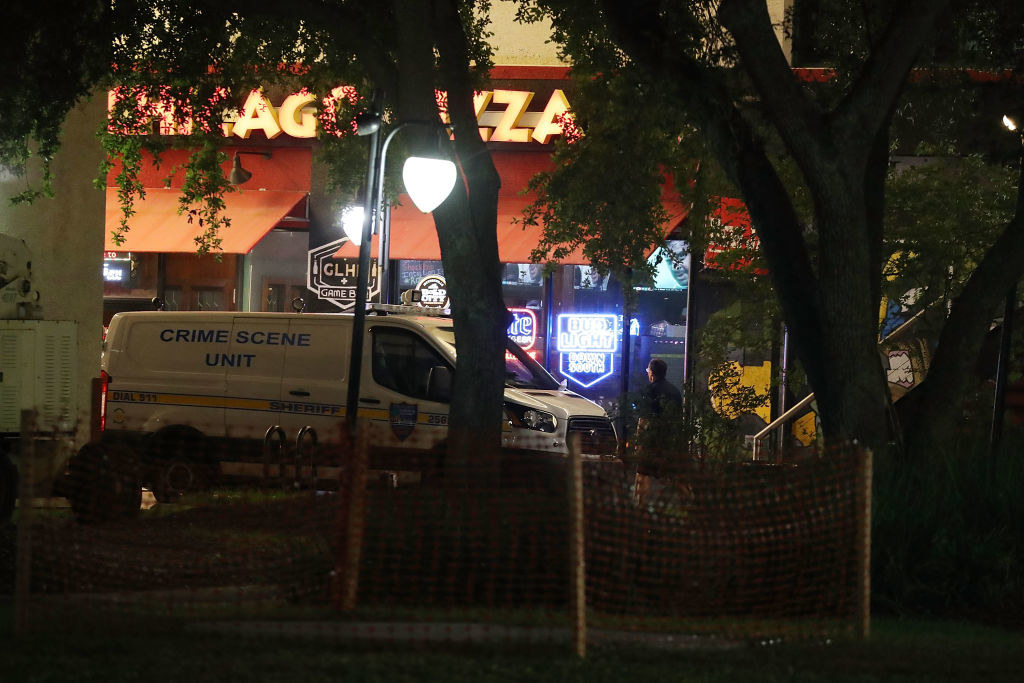 People who said they'd been in or near the bar at the time of the shooting described an emotional and chaotic ordeal.
"Like, we just seen the gun, like I guess he had a laser on the gun. He shot True," witness Ryan Aleman told CNN, referring to Eli "True" Clayton, a gamer who many people in the Madden community identified as one of the two people killed in the shooting. Officials have not confirmed the identities of the victims.
"Everybody just started running. I ducked down. I went towards the restroom. As I was going in the restroom, I stayed in there, and I just heard — there was so many gunshots, at least 20 of them at the most," Aleman said.
"I'm still shocked," Aleman said. "I can hardly talk."
Tampa Bay resident Sujeil Lopez told the New York Times that her 25-year-old son, Larry, was among those who had been shot. She did not know his condition, but later shared on Twitter that he was recovering in the hospital.
"He was shot three times, once on the nipple, once on his hand and somewhere else," Lopez told the Times.
One professional Madden player, who goes by the name Sirus the Virus, called it "the worst thing I have ever seen in my life."
"I'm sick to my stomach I'm still shaking," he tweeted Sunday. "I can't believe a bullet hit the wall beside me... seeing bodies on the floor... this is absolutely a nightmare."
"Please everyone keep your thoughts and prayers for my brothers," tweeted Shay Kivlen, the 2018 Madden NFL champion. "These guys are my family man. This hurts so much. Please pray."
Madden NFL 19 is a sports video game based on the National Football League and made by Electronic Arts.
In a statement, the NFL said it was "shocked and deeply saddened" by the killings.
"Our hearts go out to all those affected," the statement said. "We are grateful for the first responders immediately on the scene. We support our partners at EA Sports and will continue to monitor developments with local law enforcement."
On Sunday, Florida Gov. Rick Scott said said Sunday he had spoken with Williams, the Jacksonville sheriff, to offer state support in the investigation. President Donald Trump was also briefed on the incident, White House press secretary Sarah Sanders said Sunday, and was monitoring the situation.
The shootings once again trained the national spotlight on Florida, which has been at the center of bitter fights over gun control and security since the February massacre at Marjory Stoneman Douglas High School that killed 17 students and teachers.
Sunday's events came just two days after a triple shooting at a high school football game Friday night in Jacksonville that left one person dead.
As Democrats in Florida and nationwide used Sunday's events to renew calls for stricter gun regulations, Scott, who is running for Senate, traveled to Jacksonville to meet with first responders and victims of the violence.
"It's horrible. We have got to change," he told reporters late Sunday. "We have to really stop and say to ourselves there's something wrong. Why are young men willing to give up their life? Why don't they value somebody else's life? We've got to figure this out. We don't want to ever have this happen again."
Asked whether gun accessibility was a factor in recent shootings, Scott dodged the question, and suggested a range of other underlying causes for Sunday's violence, including technology, family background, and a lack of "male role models."
"That's the first thing people are going to want to do — they are going to want to talk about the means of something rather than the reason it happened," he said.
"Why did this young man not value life?"
Reporting by David Mack, Tasneem Nashrulla, and Remy Smidt in New York; Nidhi Subbaraman and Nidhi Prakash in Washington, DC; Grace Wyler in Los Angeles; and Michelle Broder Van Dyke in Honolulu.