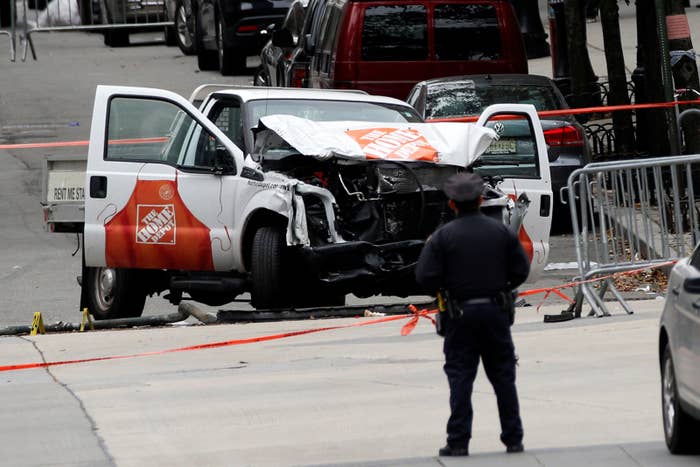 Here's What We Know
Eight people were killed and 11 others injured when a man drove a rental truck into a busy Manhattan bike path Tuesday.
Five of the victims have been identified as friends from Argentina celebrating their high school reunion. Two others are American, and one is Belgian.
Authorities identified the attacker as Sayfullo Saipov, an Uzbek national and legal US resident who entered the US legally in 2010 under the diversity visa program. A second Uzbek man was sought and located for questioning Wednesday.
The attacker shouted "Allahu akbar" — "God is great" in Arabic — as he got out of the truck. Handwritten notes found at the scene praised ISIS.
The NYPD said the attack was planned for "weeks" and that the attacker followed ISIS instructions on launching such an attack "to a T."
Saipov was indicted by a grand jury on multiple terrorism and murder charges.
The attack was the deadliest terrorist attack on New York City since Sept. 11, 2001.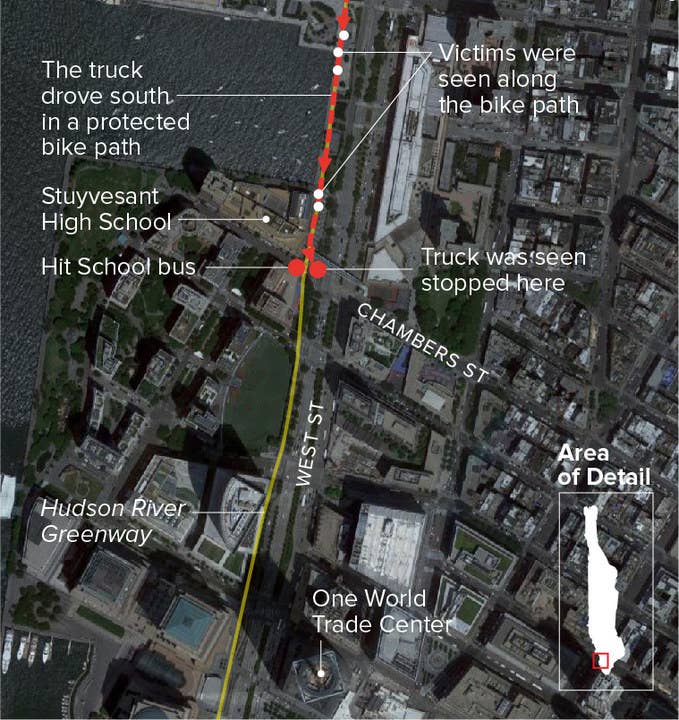 Suspect charged with terrorism in deadly truck attack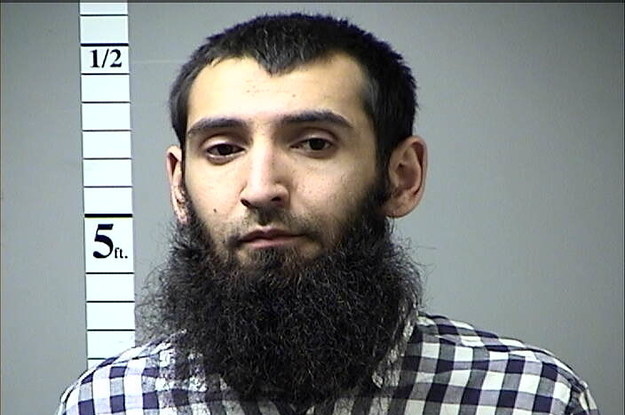 The man accused of driving his rented truck down a bike path in Manhattan on Halloween, killing eight people, has been charged with terrorism and multiple counts of murder in aid of racketeering, the Justice Department announced Tuesday.
Sayfullo Saipov, a 29-year-old who had been living in Paterson, New Jersey, allegedly rented a Home Depot pick up truck and careened onto a bike path in Manhattan, injuring about a dozen other people before colliding with a school bus. After Saipov got out of the truck, he yelled "Allahu Akbar" before New York police shot him and took him into custody, officials said.
Most of those who died were tourists visiting New York on vacation with family and friends.
"As alleged in this indictment, Sayfullo Saipov murdered eight innocent people and injured many more in a calculated act of terrorism in the heart of one of our great cities," Attorney General Jeff Sessions said in a statement announcing the grand jury indictment. "People have a right to safety walking down a sidewalk or riding a bike, and we will not change our resolve to confront these threats both at home and abroad."
Read more here.
—Brianna Sacks
ISIS claims responsibility for Manhattan truck attack, calls Saipov a "soldier of the caliphate"
ISIS claimed responsibility Thursday for inspiring the suspected terrorist attack in New York that killed eight people and left 11 others injured this week.
The claim was published in Al Naba, a propaganda magazine published by the terror group, SITE Intelligence Group, which monitors extremist groups, reported.
The suspect, Sayfullo Saipov, allegedly left a handwritten note in both Arabic and English near the truck used in the attack that read in part, "Islamic Supplication. It will endure," a phrase often used by ISIS attackers, according to charging documents filed in court.
The documents also stated Saipov asked to display the ISIS flag in his hospital room while he was being interviewed by law enforcement.
The ISIS claim of responsibility published Thursday night is the first by the terror group since the attack on Tuesday, calling Saipov a "soldier of the caliphate."
The article, according to SITE, did not claim Saipov coordinated with the group to carry out the attack, but that it was "inspired."
—Salvador Hernandez
The State Department just directly refuted Sarah Sanders' claims about the visa lottery
A State Department official on Thursday morning directly refuted White House press secretary Sarah Huckabee Sander's comments about vetting recipients of the Diversity Visa Program — better known as the visa lottery — to BuzzFeed News.
President Trump said this week that he wanted to end the program after it was reported that the Manhattan attacker, Sayfullo H. Saipov, used it to enter the country years ago, and replace it with something "merit-based."
When asked at the daily media briefing on Wednesday if the president was aware that the diversity visa program has a merit-based component, Sanders incorrectly implied it was a random lottery without a vetting system:
"Look, there may be a component of it, but the fact that we have a lottery system that randomly decides who gets the greatest opportunity in the world -- one of the best things that we have in this country is the fact that everybody wants to be here. And to give that away randomly, to have no vetting system, to have no way to determine who comes, why they're here, and if they want to contribute to society, is a problem."
On Thursday, a State Department official refuted that claim, saying, "Every prospective traveler to the United States undergoes extensive security screening, including Diversity Visa applicants."
The official went on:
Since 2013, all visa recipients undergo continuous screening, both at the time of their visa application and afterwards, to ensure they remain eligible to travel to the United States. This screening draws on information from the full range of US government agencies, including thorough biographic and biometric screening against US law enforcement and counterterrorism databases. No visa can be issued unless all concerns raised by the screening are fully resolved.
Additionally — despite Trump tweeting Wednesday night, "The United States will be immediately implementing much tougher Extreme Vetting Procedures. The safety of our citizens comes first!" — the official did not point to any specific changes in the visa vetting procedures.
The official said that the process is normally always changing: "This process has been enhanced repeatedly to improve security and more effectively identify individuals who might pose a threat to the United States. We are constantly working along with partner agencies to find mechanisms to improve our screening processes and to allow travel and immigration to the United States while protecting U.S. citizens."
—Chris Geidner
Trump changed his mind about sending the terror suspect to Guantanamo Bay
Trump on Thursday walked back on his earlier statement where he said he would consider sending Sayfullo Saipov to Guantanamo Bay.
When asked by a reporter on Wednesday if he would send Saipov to the US military prison in Cuba, Trump replied, "I would certainly consider that, yes. Send him to Gitmo."
However, in tweets on Thursday, Trump said that while he would still "love to send the NYC terrorist to Guantanamo," he acknowledged that "statistically" the process took much longer than going through the federal justice system.
He added, "There is also something appropriate about keeping him in the home of the horrible crime he committed. Should move fast. DEATH PENALTY."
Presidents usually refrain from weighing in on pending or ongoing criminal trials and it is generally inadvisable for a sitting president to demand capital punishment for a suspect as it could potentially impact or interfere with the prosecutions' efforts.
"What the president wants is secure the American people from this threat, and from mass murders like this," National Security Adviser Gen. McMaster said in response to a question on whether Trump's comments would complicate prosecutors' efforts.
"And so what he's asked for is options to take a look, to assess, if our tremendous law enforcement teams and our judicial system has all the tools they need to be able to combat this threat to the American people."
Speaking at a White House press briefing, McMaster said the president is seeking options to "see if this is the time to reassess, change our capabilities in this area, and in the area of law enforcement in particular."
— Tasneem Nashrulla
Trump calls for the death penalty for New York terror attack suspect
President Trump late Wednesday said terror attack suspect Sayfullo Saipov should receive the death penalty for allegedly killing 8 people a day earlier in Manhattan.
The tweet came hours after prosecutors charged Saipov with terrorism offenses and was one of several Trump posted Wednesday about the truck attack. Others expressed condolences to the president of Argentina over five victims killed in the rampage, and a claim to implement "much tougher Extreme Vetting Procedures."
Earlier Wednesday at a cabinet meeting Trump said "we need quick justice and need strong justice — much quicker and much stronger than we have right now. Because what we have right now is a joke and it's a laughing stock. And no wonder so much of this stuff takes place."
When White House press secretary Sarah Huckabee Sanders was asked why Trump called the American justice system a joke and a laughing stock, she replied "that's not what he said.
"He said the process has people calling us a joke and calling us a laughing stock," she argued.
— Jim Dalrymple II
These are the victims of the Manhattan terror attack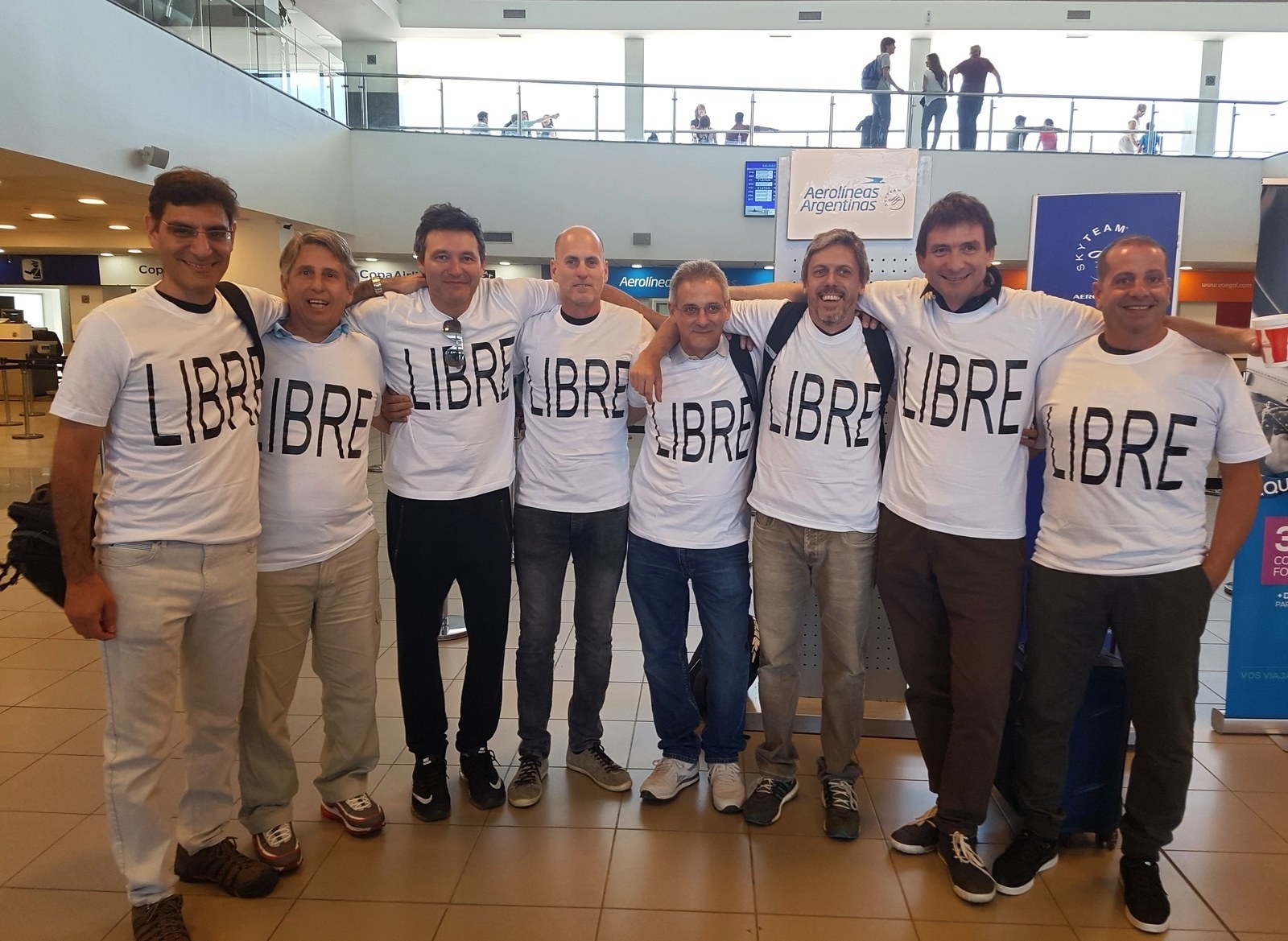 Five of the victims in Tuesday's terrorist attack were close friends from Argentina, celebrating the 30th anniversary of their high school reunion, two were Americans from New York and New Jersey, and one was a woman visiting from Belgium.
— Jim Dalrymple and Brianna Sacks
Officer Ryan Nash, credited with stopping Tuesday's attack, speaks out
NYPD Officer Ryan Nash, credited with stopping the suspected attacker from hurting more people Tuesday, spoke briefly to reporters for the first time in a press conference.
Nash, according to officials, was one of three officers to respond to the scene of the attack, where eight people were killed after Sayfullo Saipov allegedly drove a rented truck into pedestrians.
Nash, a five-year veteran of the department, shot and wounded the attacker, stopping the attack.
"I appreciate the public recognition of the actions of myself and my fellow officers yesterday," Nash said at a brief press conference. "Although I feel that we were just doing our job like thousands of officers do every day, I understand the importance of yesterday's events and the role we played, and the recognition we received."
Nash, 28, thanked his family and friends, as well as the officers who responded to the attack, but said he could not comment further because of the ongoing investigation.
—Salvador Hernandez
Prosecutors charge Saipov with terrorism crimes, say he asked to display an ISIS flag in his hospital room
Federal prosecutors filed charges of supporting terrorism and vehicular destruction resulting in the deaths of eight people against Sayfullo H. Saipov on Wednesday, saying he was inspired by thousands of ISIS propaganda images and videos he had saved on multiple cell phones.
In the charging document against Saipov, FBI agent Amber Tyree testified that, in addition to having two firearms, Saipov carried a paintball gun, a pellet gun, and three knives with him in a bag as well as a stun gun in his truck.
Tyree also said that Saipov carried a document written in Arabic and English and that the Arabic portion reads, "Islamic Supplication. It will endure," a phrase commonly used by ISIS attackers. Saipov was in part inspired by a video in which ISIS leader Abu Bakr al-Baghdadi urged Muslims in the US to commit domestic terrorist attacks as a response to the Iraq War.
Saipov asked to display his ISIS flag in his hospital room while being interviewed by law enforcement and that he said he felt good about the attack, according to the documents.
Saipov decided to use a truck for the attack two months ago, and rented a truck on October 22 to practice. According to the complaint, Saipov debated displaying ISIS flags on the front and back of the truck." He chose Halloween for the attack, "because he believed there would be more civilians on the street for the holiday," the complaint said.
Prosecutors said Saipov had saved around 90 videos on his phone depicting various ISIS brutalities, including militants running over a prisoner with a tank, a beheading, and shooting a prisoner in the face, as well as instructions for a homemade bomb. He had also saved roughly 3,800 images of ISIS propaganda, its leader, and an image of an ISIS member next to a someone who had been shot, according to the charging documents.
On his second cell phone, Saipov had searched for the Home Depot in Passaic, where he rented the truck used in the attack, the complaint said. He also searched "Halloween in NYC," according to the documents.
—Blake Montgomery
Authorities locate second man in connection with Manhattan attack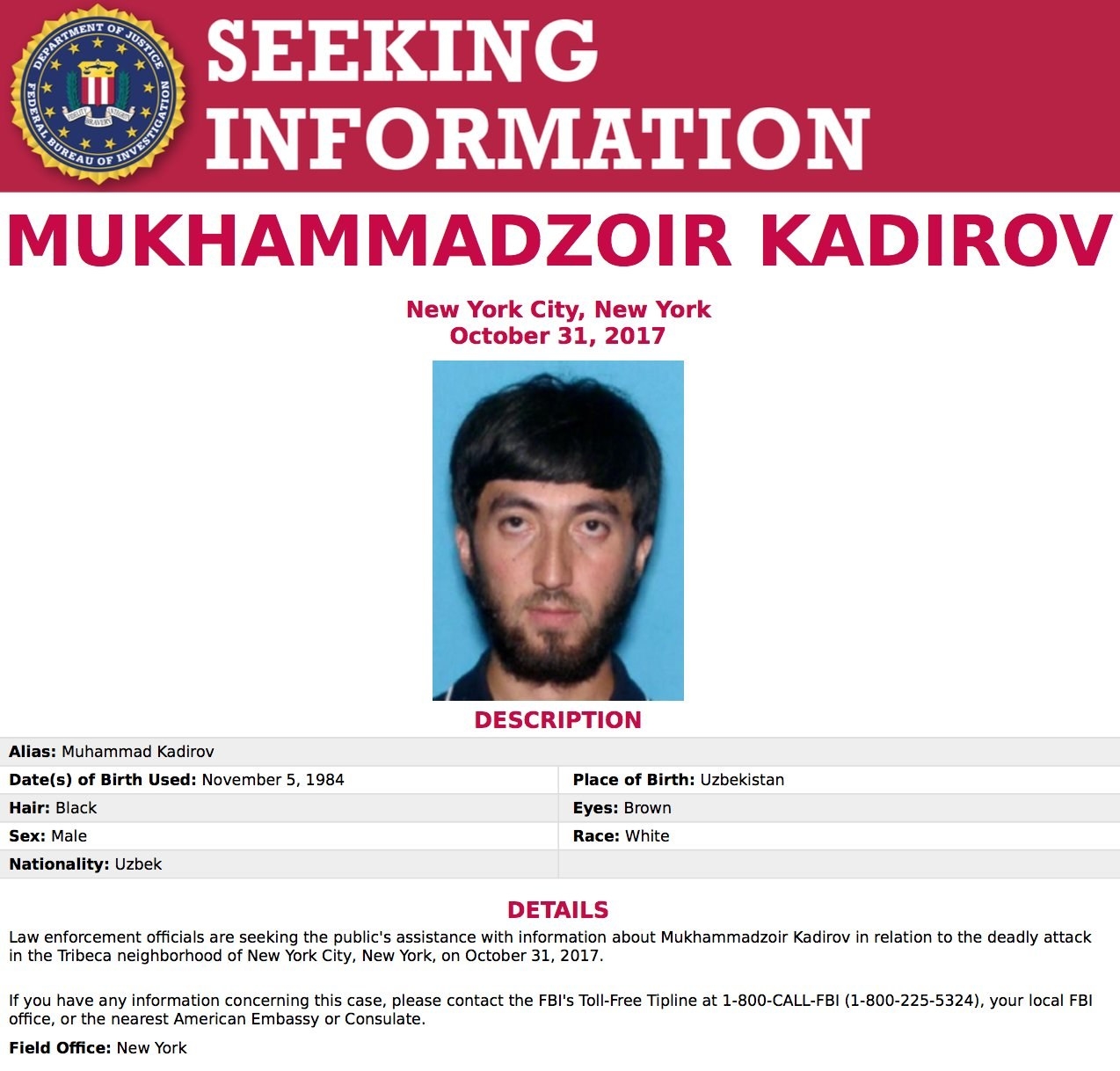 The FBI and New York police asked the public for help on Wednesday to find a man in connection with Tuesday's attack.
The man, Mukhammadzoir Kadirov, was not immediately described as a suspect, and any connection between him and the alleged attacker Sayfullo Saipov was not immediately known. Like Saipov, Kadirov was born in Uzbekistan. He is 32 years old.
By Wednesday afternoon, authorities said they had found him, but they still encouraged members of the public to come forward with information.
"We are no longer seeking this individual," William Sweeney Jr., assistant director of the FBI's New York field office said at a press conference. "We believed he had information related to yesterday but we are not looking for that individual any longer."
Explaining the change, Sweeney said, "We found him."
—Claudia Koerner
White House spokeswoman insists Trump is not politicizing terror attack, despite criticizing Sen. Chuck Schumer
White House press secretary Sarah Sanders on Wednesday insisted President Trump is not politicizing Tuesday's terror attack in New York City, despite his tweets pushing for "extreme vetting" of immigrants and criticizing Sen. Chuck Schumer.
"This is not about going the political route, this is something frankly that the president has been talking about for a long time," Sanders told reporters Wednesday. "The president has been talking about extreme vetting and the need for that for the purpose of protecting the citizens of this country since he was a candidate."
Sanders was asked why Trump, and Sanders from the press briefing podium, pushed aside questions about gun control policy after the deadly shooting in Las Vegas that left 58 people dead, arguing talking politics and policy so quickly after the tragedy was not appropriate.
Two days after the Las Vegas shooting, when asked about possible gun control legislation, Trump told reporters "that's not for now, that's for — a later time."
Sanders also dodged similar questions during the White House press briefings, telling reporters asking about possible legislation on bump stocks — a device used by the Las Vegas gunman that allows guns to be fired at near the rapid rate of a machine gun — that "our focus, as we've said over the last couple of days, has been on healing and uniting the country."
Just hours after the attack in New York, however, Trump began tweeting about immigration and vetting potential immigrants. On Thursday, Trump also seemed to point a finger at Schumer over an immigration policy used by the suspected attacker to enter the US.
Sanders argued the president was not politicizing the attack, but merely continuing to speak about policies he has supported in the past.
When asked why he tried to blame Schumer, Sanders said the New York Democratic senator has "supported these opposing policies and that is a very basic fact."
—Salvador Hernandez
President Trump said Wednesday he would consider sending 29-year-old terror suspect, Sayfullo Saipov, to the US military prison in Cuba's Guantanamo Bay.
Responding to a reporter's question whether Saipov should be sent to Guantanamo, Trump said, "I would certainly consider that, yes. I would certainly consider that. Send him to Gitmo. I would certainly consider that, yes."
The president also expressed doubts about whether the US justice system could effectively deal with Saipov. Referring to the justice system and due processes, Trump said, "What we have right now is a joke and it's a laughing stock."
Peter Bergen, CNN's national security analyst, said Trump's idea of sending Saipov to Gitmo was "not a sensible one" and "was not a way to get quick justice in a way the president suggested."
"One way to guarantee a lack of justice is to send him to Guantanamo," Bergen said on CNN, adding that Saipov was a legal permanent resident of the US while the prisoners in Guantanamo were foreigners.
White House press secretary Sarah Huckabee Sanders later said that while the president "supports or would support" sending Saipov to Guantanamo, he "wasn't necessarily advocating for it."
"But he would certainly support it, if he felt that was the best move," Sanders said at a White House press briefing.
Sanders also said the Trump administration would consider Saipov to be an "enemy combatant" based on the "actions he took."
"Mr. Saipov does not have to be transferred to GTMO, but that certainly is an option available to the Administration," said Sen. Lindsey Graham, a Republican from South Carolina who is on the Judiciary Committee. "My main goal is to gather as much reliable intelligence as quickly as possible. We are fighting a war – not a crime."
— Tasneem Nashrulla
President of Argentina says world must be "committed from head to toe in the fight against terrorism"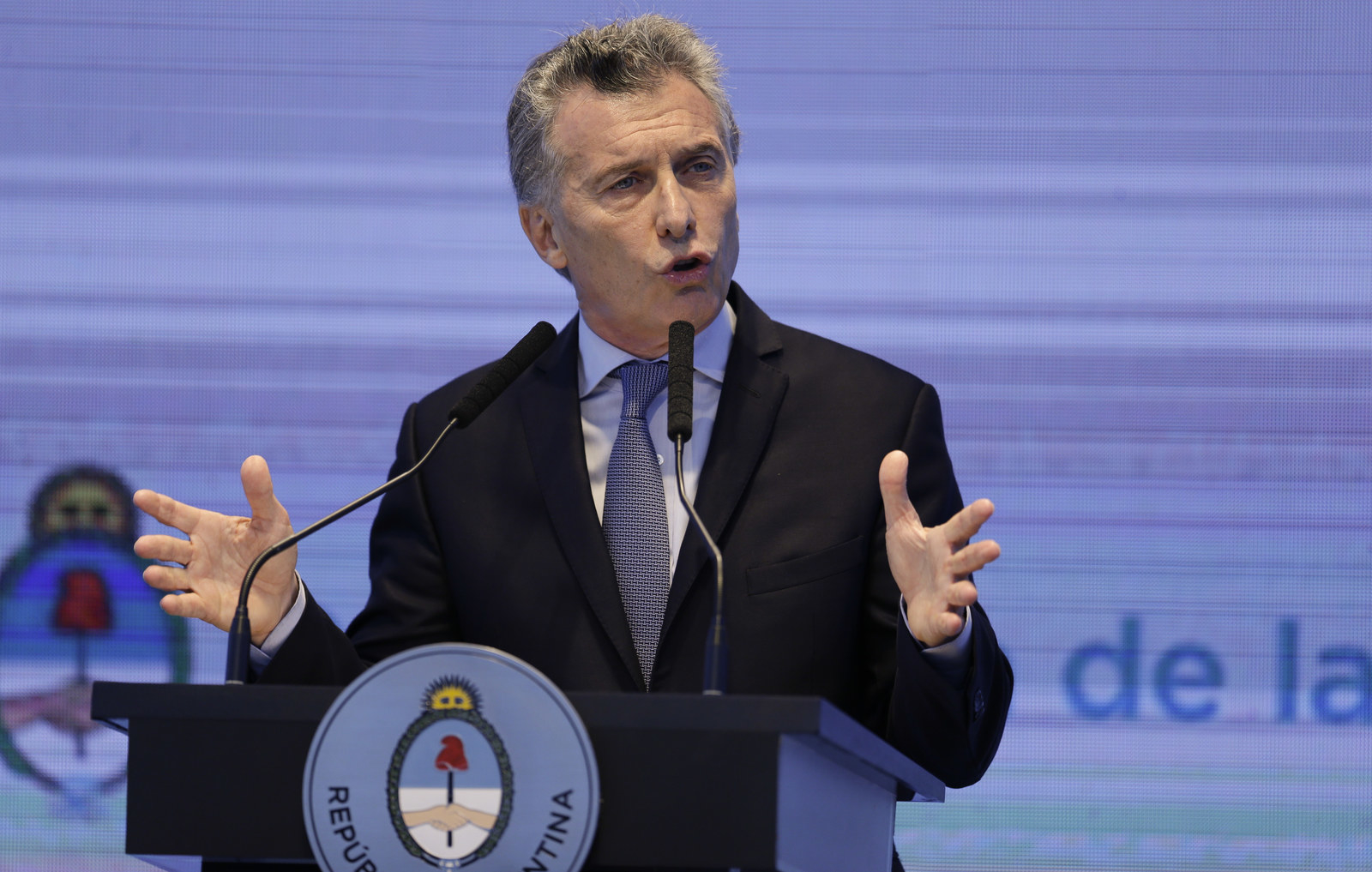 Argentinian President Mauricio Macri, while speaking at the start of the Latin America Financial Action Group summit in Buenos Aires, addressed the New York City terror attack that killed five Argentinians.
He called the victims "five young entrepreneurs, leaders of Rosario's society, I imagine with beautiful families," as reported by La Nacion. "It has affected all Argentines and me in particular."
"This reminds us that there is no room for gray areas in today's world. We all have to be committed from head to toe in the fight against terrorism."
The Argentine Consul reportedly spoke to the victims' families, who are en route to New York.
At the Instituto Politecnico Superior de Rosario, where the victims studied 30 years ago, students gathered at the central courtyard and held a minute of silence while the flag was lowered to half mast.
—Karla Zabludovsky
Terror suspect planned attack for weeks "in the name of ISIS," police commissioner says
The suspect who killed eight people and injured 11 others in Manhattan on Tuesday with his rented truck had planned the attack for weeks "in the name of ISIS," Deputy Commissioner of Intelligence and Counterterrorism for the NYPD, John Miller said.
According to evidence collected at the scene, including notes left behind in the rented Home Depot pick-up truck, the suspect — officially identified for the first time Wednesday as 29-year-old Sayfullo Saipov — appears to have followed "almost exactly to a 'T' the instructions that ISIS has put out in its social media channels" on how to carry out such an attack, Miller added.
The notes, he said, were handwritten in Arabic, and included symbols and words.
"The gist of the note was that the Islamic State would endure forever," Miller said.
The police commissioner also laid out a detailed timeline of how the attack unfolded, beginning at 2:06 p.m. Tuesday, when Saipov rented the truck from a Home Depot in New Jersey.
The carnage began shortly after 3:04 p.m., when a port authority camera on top of an air vent outside the Holland tunnel captured the truck entering the bike lane traveling southbound at a high rate of speed at West Street and Houston Street, Miller said.
Saipov appeared to target bicycle riders and pedestrians within the southbound bike lane before colliding with a school bus, injuring a number of additional people, Miller said.
At 3:08 p.m., more than a dozen 911 calls reporting people down and a man with a gun in the street started pouring in. Two precinct police officers who were out on another call were also alerted by civilians, prompting them to leave their location, at which point they were joined by a third officer, Miller said.
They then observed Saipov yelling and waving what appeared to be a gun at the scene of the bus crash. One of the officers, Ryan Nash, then shot Saipov, incapacitating him, Miller said.
Detectives continue to search the crime scene and serve search warrants at a number of locations as the investigation remains ongoing, Miller cautioned.
Officials also sought to allay concerns about public safety just days away from the New York City marathon, saying surveillance and counter terrorism measures were being boosted ahead of the event.
—Jason Wells
Officials hail officer who shot and wounded attacker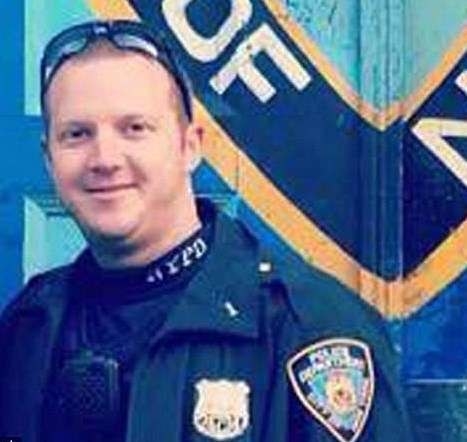 Officials on Wednesday hailed Officer Ryan Nash, a five-year NYPD veteran who shot and wounded the Manhattan attacker.
Mayor Bill de Blasio talked to Nash, 28, on the phone to thank him, his spokesman said, and the police commissioner and Governor Cuomo praised him at a news conference.
"Officer Nash, five years on the job, 28 years old, he was a hero. And the NYPD is not just the leadership, it's the men and women who are out there every day, who are on the first line, and I think officer Nash really showed how important they are and how talented and how brave," Cuomo said. "So we all applaud and congratulate him. I spoke to the homeland security secretary yesterday, who pledges full coordination with all of the federal efforts."
"I want to commend officer Ryan Nash. I spoke to him earlier today. A good, young man, five years on the force. He was very humble about what he did, but what he did was extraordinary and gave people such faith and such appreciation in our police force," de Blasio said.
"In a typical fashion of an NYPD cop, he thinks what he did was not an act of heroism," NYPD Commissioner James O'Neill said. "He thinks it's something that — why he joined the police department. "I had the opportunity to talk to Ryan last night. He was at the hospital and I don't think we could find a more humble human being."
He and his partner were at Stuyvesant High School for an unrelated call. "And somebody came in and told them that there was a vehicle accident at West Street and Chambers Street. So Ryan and his partner thought they were going out to handle a vehicle accident. And once they got outside, they were confronted and took proper action. So all New Yorkers should be thankful to Ryan and his partner. They showed great courage."
"So I'm really proud of him," he said.
"Ryan is a hero, but he was so humble about his achievement, it was very striking. I think the commissioner is right. He thought this was all in a day's work and what a cop does to protect other people. But he deserves the accolades of the people of this city, as do his partners," de Blasio added.
"The question, what was the potential there had he not stepped in. As you know, after the fact, we found out more, but in that situation, you don't know if the shooter has multiple weapons, has a bomb on him, you don't know. And god forbid that situation was even more dangerous, how many more lives, literally, dozens more lives could have been in danger. Ryan stopped that threat immediately. We owe him a great debt of gratitude."
—Mary Ann Georgantopoulos
The New York City Marathon will go on Sunday as planned
Both New York Governor Andrew Cuomo and Mayor Bill de Blasio said Wednesday morning that the city marathon would continue as planned Sunday, with heightened security, despite the Tuesday evening attack.
"You're going to see a lot of NYPD presence throughout the week, into the marathon," the mayor said on Morning Joe. "We've created the biggest anti-terrorism force of any force in the country because that visible deterrence matters."
The mayor said he made the decision to keep schools open Wednesday and keep "everyday life going, because it's important not to give in, not to blink" in the wake of the attack.
Former New York Police Commissioner Bill Bratton agreed "the marathon must go on," and said that everyone will be "alert and aware."
Gov. Cuomo called the Tuesday evening attack a "terrible tragedy," and said that it "ultimately failed, because [it] was about trying to create mayhem and terror and disrupt New York... and that failed."
"We had a Halloween parade last night that I went out and marched in," he said. "Not because I had a great costume, but because it was about showing up and not being disrupted."
—Cora Lewis
Five victims in Manhattan truck attack identified as college friends from Argentina
At least eight people were killed and several others injured Tuesday after a man plowed a rental truck through a popular bike path in lower Manhattan in what officials are calling the deadliest terror attack in New York City since Sept. 11, 2001.
Information about the victims of the attack started to emerge Tuesday night, as officials began to identify those killed in the attack. They include five friends from Argentina, in New York to celebrate the 30th anniversary of their college graduation, as well as a Belgian citizen whose identity has not yet been released.
In a statement Tuesday night, Argentina's foreign ministry confirmed that five of the eight people killed in the attack were Argentine citizens, and identified the victims as Hernán Diego Mendoza, Diego Enrique Angelini, Alejandro Damián Pagnucco, Ariel Erlij and Hernán Ferruchi. A sixth Argentine national, Martin Ludovico Marro, was hospitalized with injuries, but is expected to recover.
Find out more here.
–Grace Wyler
This is what we know about the Manhattan truck attack suspect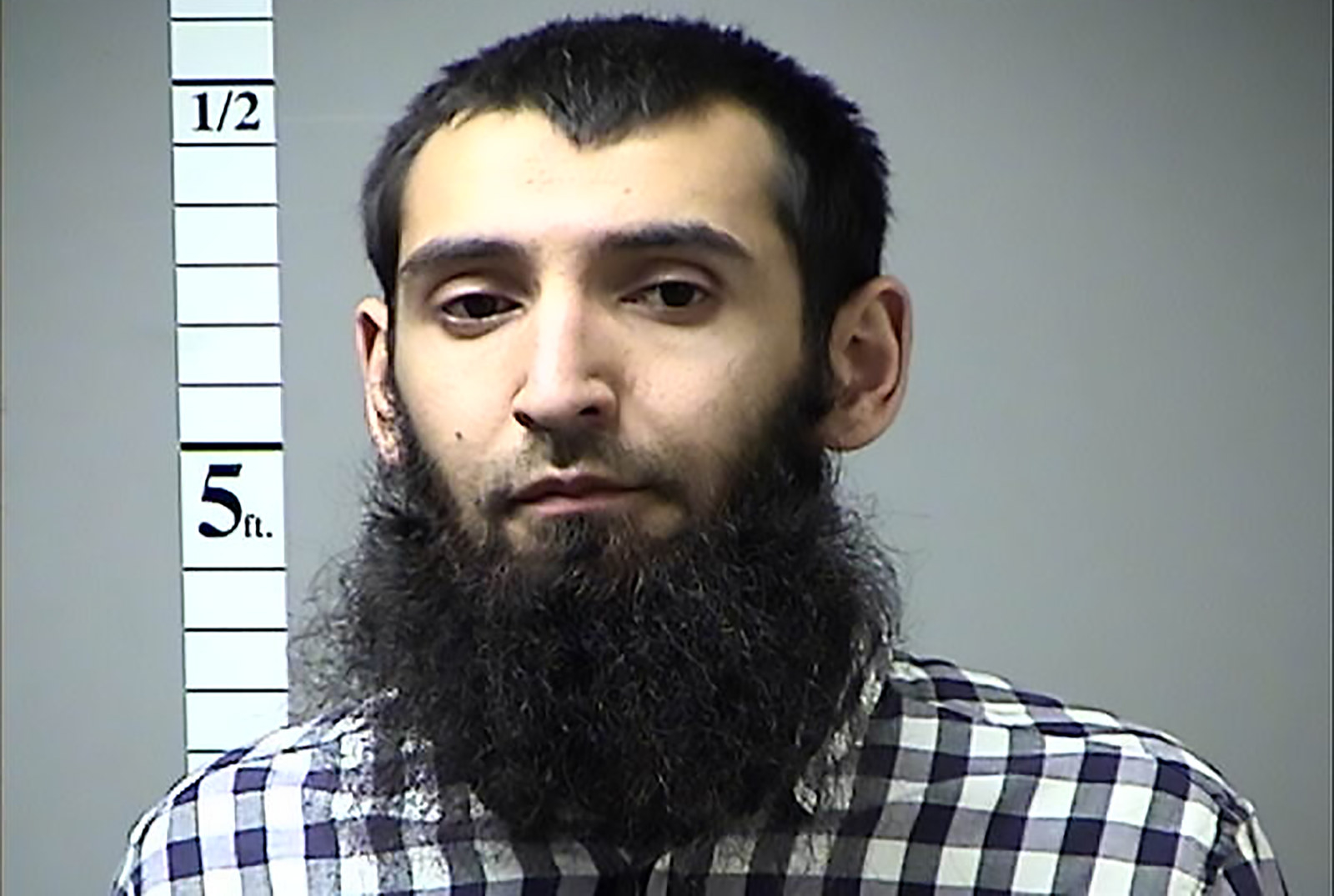 While officials have yet to publicly identify the 29-year-old attacker who was taken into custody and hospitalized after being shot by a police officer, several news outlets identified Saipov as the suspect.
Saipov, who was born in Uzbekistan, has lived in Ohio, Florida, and most recently in Paterson, New Jersey. He has a wife and three children, the FBI confirmed to BuzzFeed News.
Saipov became a permanent US resident in 2010, entering the US with a green card under the Diversity Visa Program, according to ABC. The program is a lottery system for people from countries with low rates of immigration to America.
Saipov, who had a Florida's driver's license, was employed as an Uber driver. A company spokesperson confirmed to BuzzFeed News on Tuesday that he passed a background check and has since been banned from the app.
Read more here.
–Brianna Sacks and Henry J. Gomez
Eight people killed, more than a dozen injured in truck terror attack in Manhattan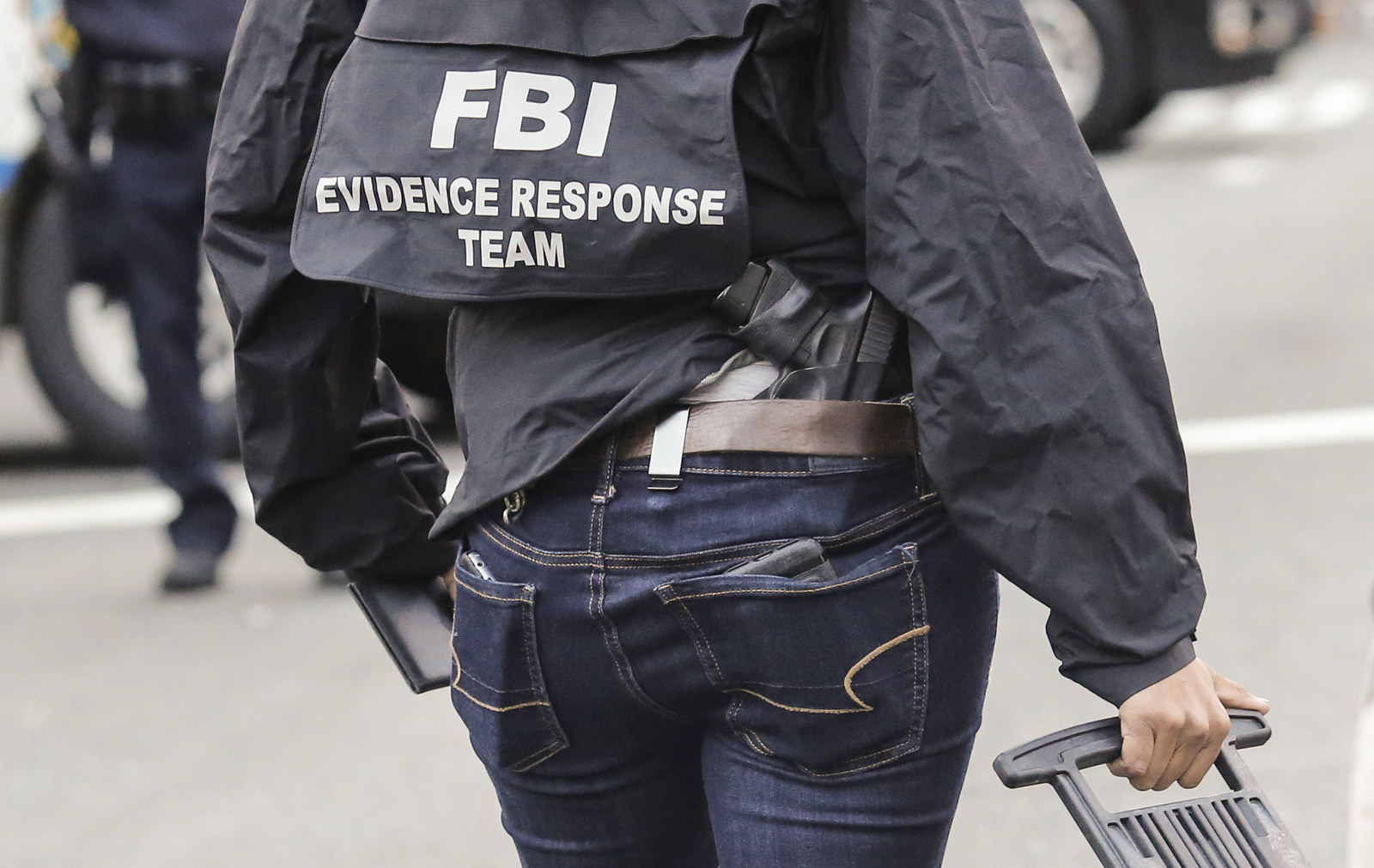 Eight people were killed and more than a dozen others injured when a driver plowed a rental truck through a busy bike path in Manhattan on Tuesday in what officials said was the deadliest terrorist attack on New York City since Sept. 11, 2001.
The attack began at 3:05 p.m. when a 29-year-old man drove a rented Home Depot truck into a bike and pedestrian path on West Street, striking multiple people, New York City Police Commissioner James O'Neill said. The driver continued until he collided with a school bus carrying adults and children.
The driver then got out of the truck "brandishing two handguns" and was shot in the abdomen by a police officer, O'Neill said. The suspect was taken into custody and hospitalized. Police recovered a paintball gun and a pellet gun from the scene.
The attacker shouted "Allahu akbar" — "God is great" in Arabic — as he got out of the truck, O'Neill said, which "enabled us to label this a terrorist event."
Read the full story here.
–BuzzFeed News