* Hillary Clinton and Bernie Sanders got into a heated, feisty debate on Sunday night in Flint, Michigan just days before that state will vote in its Democratic primary.
* Most of the two-hour session on CNN focused on the water poisoning of Flint and domestic issues and economic inequality, which gave Sanders a chance to trumpet his bread-and-butter lines and positions from the campaign trail.
* Sanders, though, did get testy a few times when Clinton tried to talk while he was answering. His snaps got picked up widely on social media, especially when he said, "excuse me, I'm talking."
* Read BuzzFeed News's coverage of the water crisis here.
* Clinton for the first time, according to the moderators, called for Michigan Gov. Rick Snyder to resign over the water crisis. Sanders has taken that position before.
* Clinton also hit Sanders hard for his opposing a 2009 bill that, in part, aimed to save the auto industry — which has its roots in Michigan and especially Detroit.
* Both candidates stumbled when asked about their support of the Violent Crime Control act of 1994, which was signed by President Bill Clinton and has been blamed for the mass incarceration of black people.
* Sanders, when asked, also gave his most lengthy comments to date on his Jewish faith.
* The two did agree on one thing: They both said they'd be better off running the country than the Republicans.
* Clinton has the momentum in the race and the delegate count. But Sanders came off two wins on Saturday and another on Sunday, in Maine. Both candidates voices were noticably hoarse from the campaign trail.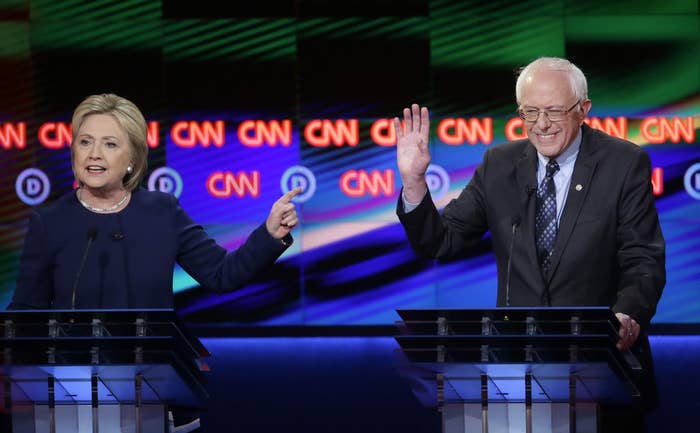 Both Sanders and Clinton came out of the gate demanding Michigan Gov. Rick Snyder, a Republican, resign over his handling of the Flint water crisis.
This was a new call for Clinton, moderator Anderson Cooper said.
"I believe the governor of this state should understand that his dereliction of duty was irresponsible. He should resign," Sanders said.
"We are here in Flint. I'm very grateful that my request that we hold this debate, be held here, so we can continue to shine a very bright spotlight on what has happened in this city. I agree, the governor should resign or be recalled, and we should support the efforts of citizens trying to achieve that," Clinton said.
Here's Sanders' call for resignation:
Cooper also asked the candidates whether they would fire the head of the federal Environmental Protection Agency, members of which were reportedly aware of the Flint water crisis but did not issue any immediate warnings to the public.
Clinton stopped short of saying she would fire anyone specific, but she did say she would call for an investigation into "who knew what at what time" and then act accordingly.
Sanders was more unequivocal, saying "President Sanders would fire anyone who knew what was happening and didn't do what was appropriate."
Asked whether they believe those responsible for the crisis should go to jail, Clinton said that was up to the "legal system." Sanders said he would call for an investigation and ensure that those who were responsible would be "held accountable."
Sanders snapped at Clinton twice when she began talking while he was answering. The first instance, where Sanders said, "excuse me, I'm talking," blew up on social media:
Here's another:
And here's how the Clinton camp was responding:
The two candidates had one of their most intense clashes after fielding a question by Te'Nesha Martin, who lives in Flint and works at the Shinola Watch Factory in Detroit but couldn't get a job in the auto industry.
Martin asked what the candidates would do to keep factory jobs from moving overseas. It led to a heated back-and-forth about their positions on free trade, economic bailouts, and their relationship to Wall Street.
Clinton said that she would implement a system of "carrots and sticks," including forcing companies that want to leave cities that have given them tax breaks to pay an "exit fee."
Sanders said Clinton had supported the "disastrous trade policies" that had pushed those same factories out of places like Flint or Detroit. Clinton then retorted that Bernie had voted against the 2009 bailout that she said saved the state's auto industry.
The two then broke into speaking over each other. Sanders accused Clinton of supporting that bailout to save her "Wall Street friends." Clinton responded that she had voted for the bailout to save the auto industry, acknowledging that bailout included provisions she didn't like.
"If everyone had voted the way he did," Clinton said of Sanders, "I believe the auto industry would have collapsed, taking 4 million jobs with it."
The candidates then got into an argument into whether Clinton should release the transcripts of the speeches she has given to financial institutions, often for hundreds of thousands of dollars. Clinton said she would release them "when everyone else does."
Sanders then said he had already released the transcripts of his speeches to Wall Street — because he's never given any.
Here's a clip of that moment:
The debate turned towards an obscure and wonky disagreement between Clinton and Sanders over the Export-Import Bank. Here's why that was interesting:
The bank, by the way, is a government organization that finances exports of U.S. goods.
Sanders, who argues the bank is a form of corporate welfare and referred to it as the "Boeing bank," was the lone Democrat to vote against reauthorizing the bank, siding with Republicans like Ted Cruz. Clinton supports the bank, arguing it is critical to U.S. manufacturing
Sanders, when pressed on breaking with Democrats to oppose the bank, said Democrats aren't always right.
"Well let me break the bad news," Sanders said. "Democrats are not always right. Democrats have often supported corporate welfare. Democrats have supported disastrous trade agreements. Now on this issue, I do not support corporate welfare."
The two candidates had another heated exchange — and stumbled over their own answers — on crime and gun control.
Moderator Don Lemon asked Clinton whether she believes the Violent Crime Control Act of 1994 — a set of law enforcement measures put forth by her husband that is widely believed to have contributed to the mass incarceration of black people — was a mistake.
"Why should black people trust you to get it right this time?" Lemon asked Clinton.
"Are you going to ask Senator Sanders the same question?" a visibly irked Clinton replied. She then quoted her husband, saying the bill "solved some problems but created others."
Sanders then responded to the same question to say he'd voted for the bill because it contained "good stuff," such as a ban on assault rifles and provisions to protect women from domestic violence. He acknowledged that the bill had also contained "bad stuff."
Earlier in the debate, the father of Abigail Kopf, 14, who was injured in the recent mass shooting in Kalamazoo, Michigan, asked the candidates what they would do to prevent such tragedies from happening again. The father said he didn't wanted to hear anything about mental health or background checks because "those things don't work."
Clinton replied that, as president, she would work to close loopholes that allow people to purchase guns before their background checks are complete. She also said that "giving complete immunity to gun manufacturers and sellers was a terrible mistake."
Sanders touted his legislative record, saying he has a D-score from the National Rifle Association. However, the senator said he did not think holding gun manufacturers accountable for crimes committed with the weapons they make would be a mistake.
"That would mean the end of gun manufacturing in America," Sanders said.
Clinton then interrupted Sanders, who angrily asked her whether he could finish. Clinton went on to ask viewers to imagine what it would be like to send their first grader to school with "a little back pack on his back" and then learn that someone had shot him to death with an AR-15.
The candidates became BFFs when the knocked their Republican rivals — in their last debate, frontrunner Donald Trump discussed the size of his penis.
"Compare the substance of this debate with what you saw on the Republican stage last week!" Clinton said.
Sanders concurred with Clinton, saying that he would call for large spending on mental health if elected.
"When you watch those Republican debates, you know why we need to invest into mental health!"
Earlier Sanders also referred to Trump, saying "I hate to say the word 'huge'" — because it sounds like Trump's "yuuuuge."
And on that note, Clinton and Sanders were asked how they were going to take on Trump if he was the nominee.
Clinton, noting she was the only candidate who has received more votes than Trump, said, "I think that Donald Trump's bigotry, his bullying, his bluster are not going to wear well on the American people."
Sanders said he would "love" to take on Trump, and cited polls showing him beating Trump by a bigger margin than Clinton.
"I think we are exciting working class people, young people who are prepared to stand up and demand that our government represents all of us, and not just the few."
Both Clinton an Sanders were asked about their faith — leading to Sanders giving one of the most extensive statements on his religious beliefs yet.
Denise Ghattas, a retired school administrator, asked Sanders how relevant God was in his life. Cooper followed up asking about an AP article about Jewish people in the U.S. being irked by Sanders not prominently mentioning his faith.
"When we talk about God," Sanders said, "what we are talking about is what all religions hold to be true, and that is to do unto others what you would like them to do unto you. I'm here tonight because I believe that."
"Because I believe, morally and ethically, that we do not have the right to turn our backs on children here in Flint who are being poisoned or on veterans who are sleeping in the street."
Sanders went on to say that his Jewish identity was an essential part of his life.
"I am very proud of being Jewish," he said. "My father's family was wiped out by Hitler in the Holocaust. I know what extremist politics mean."
Clinton says she prays daily and frequently.
"I am a praying person and if I hadn't been during the time I was in the White House I would have become one," she said.
Throughout the night, Michigan's governor was live-tweeting a defense of himself:
More Democratic campaign and debate coverage from BuzzFeed News: