Here's Everything You Need To Know About Sunday's Democratic Debate
BuzzFeed News correspondents Evan McMorris-Santoro and Ruby Cramer reported from Charleston, South Carolina.
Here's what happened:
* Former Secretary of State Hillary Clinton and Bernie Sanders had several sharp exchanges — especially on healthcare and Wall Street — during Sunday night's Democratic debate, the fourth of the campaign season.
* Overall, most of the debate's focus was on Sanders and his positions, especially his tax plan. He took many first questions and seemed to be the biggest presence on the stage.
* The stakes were high — the debate came just weeks before the Iowa caucuses and New Hampshire primaries, and Sanders has been closing the gap on Clinton in polls.
* Clinton found herself on the defensive after Sanders pointed out she received speaking fees from Goldman Sachs. Sanders in turn had to defend his healthcare plan that he released earlier in the night.
* Sanders also explained why he called former President Bill Clinton's "indiscretions" while in office "disgraceful."
* Former Maryland Governor Martin O'Malley criticized both Clinton and Sanders' position on guns — and defended his tough-on-crime record while mayor of Baltimore and whether that was linked to the unrest after Freddie Gray's death.
* The viewing public could not get over this epic side-eye from Sanders.
* And all three candidates kept talking over each other before the commercial breaks.
The first question was a time-tested fill-in-the-blank: "In my first 100 days in office, my top three priorities will be __________ ."
Spoiler: Most candidates named more than three.
Sanders:
1) Healthcare for all
2) Raise the minimum wage to at least $15 an hour
3) Create millions of jobs by replacing crumbling infrastructure

Clinton:
1) Creating more good jobs in manufacturing, clean energy, and other sectors
2) Raise the minimum age, guarantee equal pay for women's work
3) Build on Obamacare and improve upon it
4) "Bring our country together. We have too much division."

O'Malley:
(this was all under 1) Make wages go up again; equal pay for equal work; make it easier to join labor unions; comprehensive immigration reform; raise the minimum wage to $15 an hour
2) Move us to a 100% clean electric grid
3) Setting a new agenda for America's cities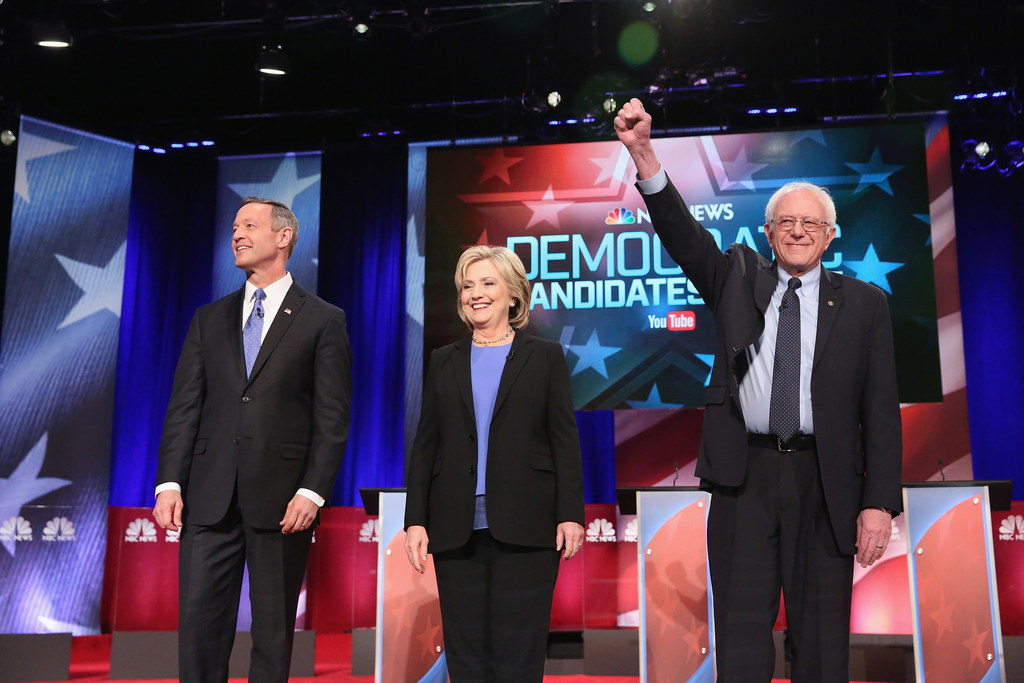 On health care, Clinton went after Sanders for wanting to "start over again" instead of defending and improving the Affordable Care Act.
Sanders released a new "Medicare for all" plan on Sunday, which would significantly raise income taxes on top earners, introduce a 2.2% health care premium for all Americans, and impose a 6.2% payroll tax on employers, which would most likely be passed on to workers.
"We finally have a path to universal health care," Clinton said, referring to Obamacare. "We've accomplished so much already, I do not want to see the Republicans repeal it. I don't want to see us start over again with a contentious debate, I want us to defend and build on the Affordable Care Act and improve it."
Sanders responded, saying the Clinton campaign's assertion that he wants to end Medicare, Medicaid, and the Children's Health Insurance Program is "nonsense."
"What Medicare for all program does is finally provide in this country health care for every man, woman, and child as a right," Sanders said.
Clinton shot back, saying, "I have to say I'm not sure whether we're taking about the plan that you just introduced tonight or we're talking about the plan you introduced nine times in the Congress, but the fact is, we have the Affordable Care Act. That is one of the greatest accomplishments of President Obama, of the Democratic Party, and our country."
"Now, there are things we can do to improve it, but to tear it up and start over again, pushing our country back into that kind of a contentious debate, I think is the wrong direction," Clinton said.
Sanders responded, saying, "We're not going to tear up the Affordable Care Act. I helped write it. But we are going to move on top of that to a Medicaid-for-all system."
Here's some quick analysis on Clinton's point by BuzzFeed News political reporter Adrian Carrasquillo:
Sanders was asked about his comments about Bill Clinton's past sexual misconduct. Earlier this month, he called the former president's actions "totally, totally disgraceful and unacceptable." Here's the exchange:
SANDERS: I was asked a question. You know one of the things Andrea, and that question annoys me. I cannot walk down the street, Secretary Clinton knows this, without being told how much I have to attack Secretary Clinton. Want to get me on the front pages of the paper? I make some vicious attack. I have avoided doing that, trying to run an issue-oriented campaign. I was asked a question.

MITCHELL: You didn't have to answer it that way though, why did you?

SANDERS: Then if I don't answer it, then it's another front-page story, yes. And I mean this seriously, yes his behavior was deplorable. Have I ever, once said a word about this issue? No I have not. I'm going to debate Secretary Clinton and Governor O'Malley on the issues facing the American people. Not Bill Clinton's personal behavior.
Before we move on, here are the ~best~ quotes and one-liners of the evening:
* "I've never met a self-respecting deer hunter who needed an AR-15 to down a deer." —O'Malley
* "Whenever anybody in this country is killed while in police custody, it should automatically trigger a U.S. Attorney's investigation." —Sanders
* "Its interesting."—Clinton on her relationship with Russian President Vladimir Putin
* "It'll start at the kitchen table, we'll see how it goes from there." —Clinton on asking her husband for advice if she became president.
* "You've received over $600,000 in speaking fees from Goldman Sachs in one year." —Sanders to Clinton
* "The federal government should get a warrant whether they want to come in though your back door or font door." —O'Malley on tech companies turning information over to law enforcement.
* "There needs to be a concerted effort to address the systemic racism" in law enforcement. —Clinton
* "Someone like trump, who believes climate change is a hoax invented by the Chinese." —Sanders. And that Trump statement he references is here.
And here's another moment between NBC moderator Lester Holt and Sanders:
And then there was this question to O'Malley, who seemed to consistently fight for more speaking time.
Also Sanders was surprised to hear he labeled himself a Democratic socialist.
Sanders was pressed by moderator Andrea Mitchell on how he plans to pay for all of his proposals, specifically free college for everyone and expanding Social Security.
"I pay for it through a tax on Wall Street speculation. This country, and the middle class, bailed out Wall Street. Now, it is Wall Street's time to help the middle class," Sanders said, attacking Clinton for not documenting how she would pay for her plans.
Clinton responded, "I have actually documented every way that I'm going to pay for what I'm doing because I think the American public deserves to know. And, you can go to my website and actually see that. But, there are serious questions about how we're going to pay for what we want to see our country do. And, I'm the only candidate standing here tonight who has said I will not raise taxes on the middle class."
Sanders then responded to criticisms of the effects of his health care plan, which raise taxes on incomes across the board.
"What we have got to acknowledge, and I hope the Secretary does, is we are doing away with private health insurance premiums," Sanders said. "So, instead of paying $10,000 dollars to Blue Cross, or Blue Shield, yes, some middle class families would be paying slightly more in taxes, but the result would be that that middle class family would be saving some $5,000 dollars in healthcare costs. A little bit more in taxes, do away with private health insurance premiums. It's a pretty good deal."
Moderators asked Sanders about his record on gun control — an issue Clinton has attacked him on more intensely in recent weeks, calling him a "pretty reliable vote for the gun lobby."
"I think Secretary Clinton knows that what she says is very disingenuous. I have a D minus voting record from the NRA," Sanders said, noting that he has long stood up to the gun lobby and supported a ban on military-styled assault weapons.
Invoking the mass shooting at a church in Charleston, Sanders said, "This should not be a political issue. What we should be doing is working together, and by the way, as a senator from a rural state that has virtually no gun control, I believe I am in an excellent position to bring people together."
Sanders, who once supported a 2005 law granting gun manufacturers legal immunity, announced yesterday that he now supports legislation that would reverse that law. Sanders said Sunday night that he believed the 2005 law had some "good provisions" but said he would re-look at it and now supports stronger ones.
In response, Clinton listed off Sanders' past positions, saying, "He voted against the Brady Bill five times. He voted for what we call the Charleston loophole. He voted for immunity from gun makers and sellers, which the NRA said was the most important piece of gun legislation in 20 years. He voted to let guns go onto Amtrak, guns to go into national parks. He voted against doing research to figure out how we can save lives."
"I am pleased to hear that Sen. Sanders has reversed his position on immunity, and I look forward to him joining with those members of Congress who have already introduced legislation. There is no other industry in America that was given the total pass that the gun makers and dealers were, and that needs to be reversed," Clinton said.
Clinton expressed her outrage over the Flint, Michigan water crisis. Here's the clip:
Sanders, in a familiar attack, criticized Clinton for accepting campaign contributions from the financial sector and receiving "over $600,000 in speaking fees from Goldman Sachs in one year."
Clinton defended herself by invoking President Obama's efforts to reign in Wall Street.
"[Sanders] criticized President Obama for taking donations from Wall Street, and President Obama has led our country out of the great recession," Clinton said. "Senator Sanders called him weak, disappointing. He even, in 2011, publicly sought someone to run in a primary against President Obama. Now, I personally believe that President Obama's work to push through the Dodd-Frank then to sign it was one of the most important regulatory schemes we've had since the 1930s. So I'm going to defend Dodd-Frank and I'm going to defend President Obama for taking on Wall Street, taking on the financial industry and getting results."
And finally, some viewers appreciated how O'Malley asked — oh so kindly — for 30 seconds to answer a question. Here's the debate video:
And this about sums up the reaction:
Here's some additional debate coverage:
Here's some addtional recent coverage from the BuzzFeed News politics team: