It's "Black Monday" In China And What That Means
Heroes who foiled a train attack in France receive the country's highest honor. Chinese stocks saw their steepest fall since 2007. Giant panda Mei Xiang is the proud new mother of two healthy cubs at the National Zoo.
After foiling a terrorist attack on a French train traveling from Amsterdam to Paris, three Americans and a Briton were awarded France's highest honor.
French President Francois Hollande bestowed the Légion d'honneur on the heroes today. U.S. passengers Spencer Stone, Anthony Sadler, and Alek Skarlatos — three childhood friends, two of whom serve in the U.S. military — as well as 62-year-old British businessman Chris Norman tackled and wrestled the rifle-wielding suspect, a Moroccan man by the name of Ayoub El Khazzani, preventing a potential blood bath. (A French passenger, who is largely staying out of the spotlight, was the first one to encounter the gunman, The Telegraph reported.)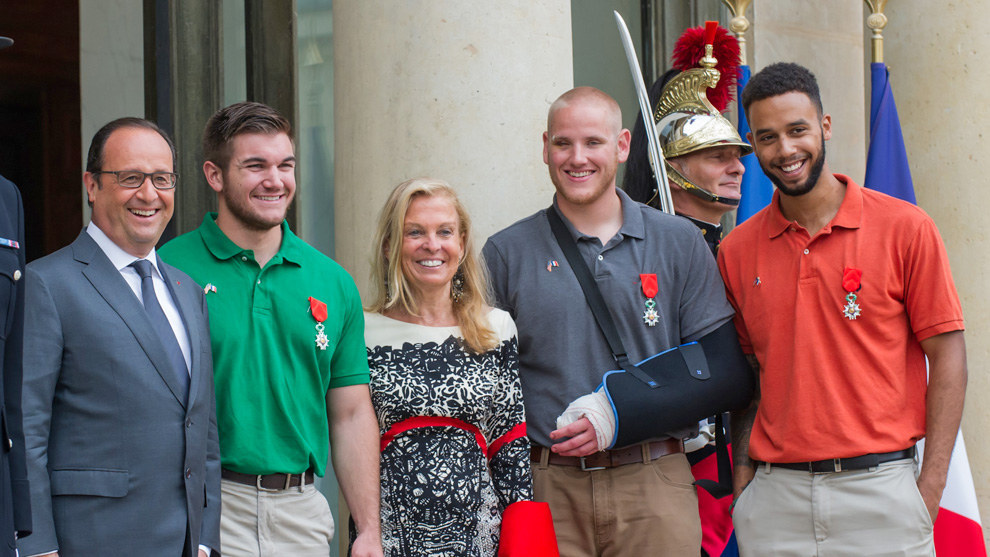 "As he was cocking to shoot [the rifle], Alek just yells, 'Spencer go!' And Spencer runs down the aisle," Sadler told reporters during a press conference, BuzzFeed News' Salvador Hernandez and Stephanie McNeal write. "Spencer makes first contact, he tackles the guy, Alek wrestles the gun away from him, and the gunman pulls out a box cutter and slices Spencer a few times. And the three of us beat him until he was unconscious."
And a little extra.
The thwarted train attack in Europe has prompted thinking about rail safety in the U.S. While strict security measures aim to protect airports and those who travel by plane, "most railroad stations have minimal scrutiny for those boarding trains," the New York Times writes. Some busy, large stations do have security — including Union Station in Washington D.C. and Pennsylvania Station in New York City — but smaller rail hubs often don't have any security measures.
WE'RE KEEPING AN EYE ON
Global financial markets are having a rough day.
China's main stock index, the Shanghai Composite, plunged more than 8% on Monday despite the government's attempts to reassure investors about the country's slowing economy. Local media dubbed the dramatic decline — the worst since 2007 — "Black Monday."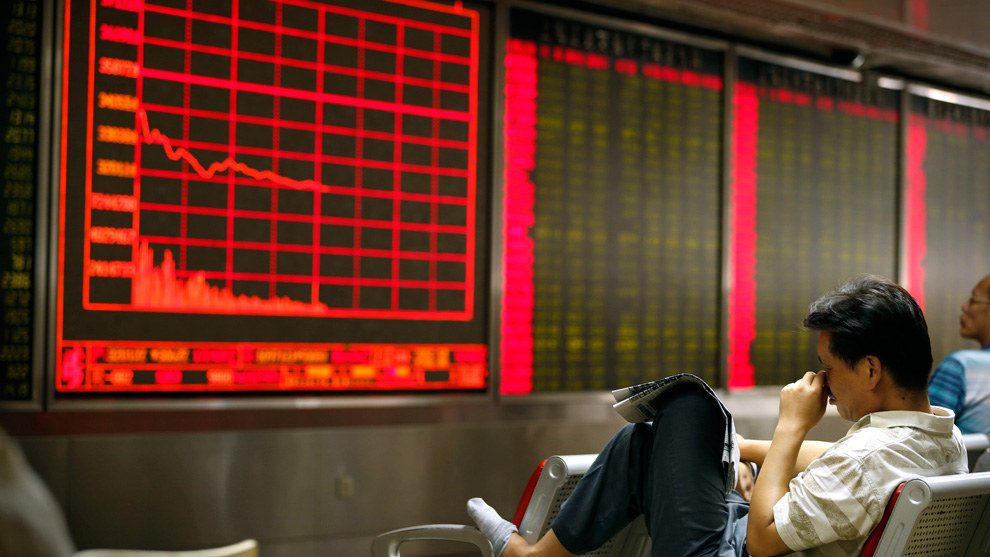 China is the world's second-largest economy. A string of weak economic indicators "have fueled worries that a drop-off in Chinese growth could cause a global slowdown," The Wall Street Journal writes.

On Friday, every major U.S. stock index dropped by more than 3%. "The last time U.S. stocks saw this much carnage was in the summer of 2011, when instability in Europe weighed down investors," according to BuzzFeed News' Matt Zeitlin.
On August 11, China devalued its currency. Investors interpreted the shock move as an indicator that the country's economy was in worse shape than they'd previously thought. And because people involved in these kinds of markets don't like to be surprised, they responded by selling both China's currency and shares in its companies. That jolted financial markets and resulted in the yuan's steepest decline in decades.
What's next?
As is often the case when Asian markets have a rough session, European indicators also ran into turbulence. Major markets in London, France and Germany, taking their cues from China, fell sharply in early trade. American traders will likely have a similarly unpleasant morning, early signals indicate.
ISIS bombed the ruins of a 2,000-year-old Baalshemin temple in the UNESCO World Heritage city of Palmyra, Syria.
In May, ISIS militants seized the ancient Syrian city — which, according to UNESCO, "was one of the most important cultural centers of the world" — and started "selling off some antiquities on the black market, while destroying other idols and sites that the group believes go against their version of Islam," BuzzFeed News' David Mack writes.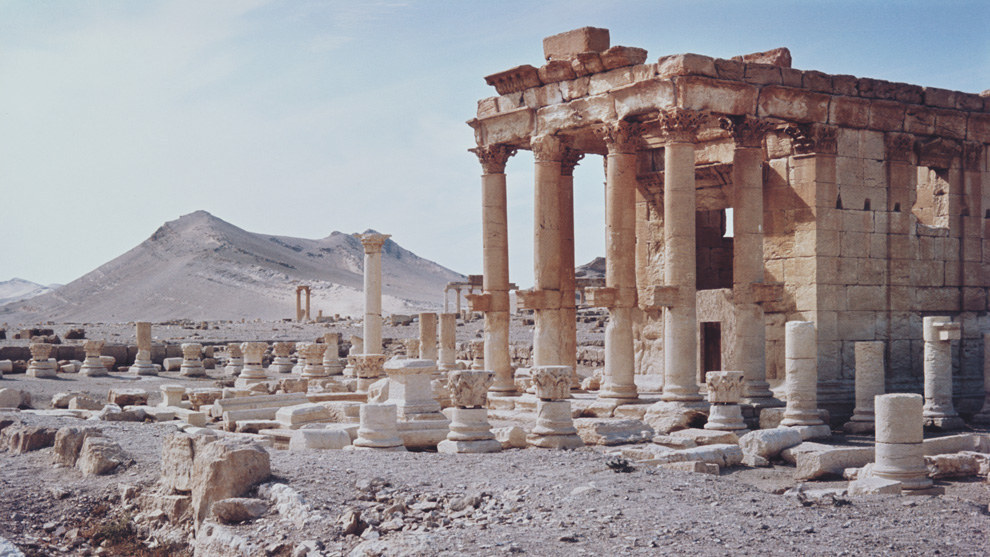 The Syrian Observatory for Human Rights, a British-based monitoring group, estimated that the ancient ruins were blown up about a month ago. Last week, ISIS militants murdered the 81-year-old Khaled al-Asaad, the country's foremost antiquities expert, after he wouldn't disclose the location of some of the country's most ancient treasures, BuzzFeed News reported.
The Baalshemin temple wasn't the first historically significant site to be damaged or destroyed by ISIS militants. Here is a look at some other sites that have been destroyed by ISIS and the Syrian civil war.
Roughly 4,400 refugees from Libya across more than 20 vessels in the Mediterranean were rescued on Saturday by the Italian coastguard.
The single-day operation on Saturday is believed to be one of Italy's largest rescue missions to date and no deaths were reported, BBC News reports. So far this year, more than 2,300 people have died as they tried to reach Europe from war-torn countries such as Syria and Lybia, according to statistics from the International Organisation for Migration.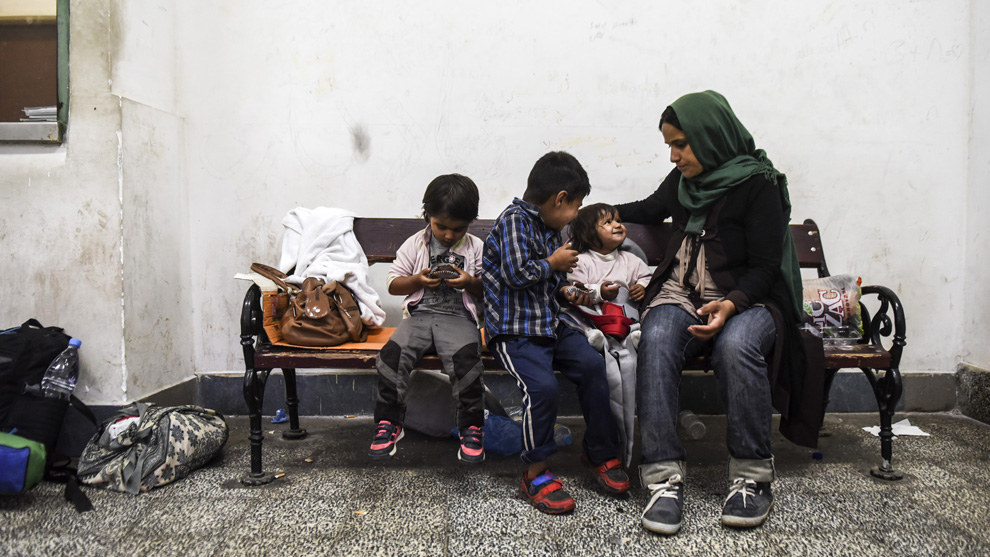 Quick things to know:
Happy Monday
It's a boy? It's a girl? It's…twins! Giant panda Mei Xiang, who lives in the National Zoo in Washington D.C. and gave birth to daughter Bao Bao two years ago, gave birth to two cubs over the weekend. Saturday's births were only the third set of giant panda twins to be born in the U.S. Giant pandas are on the World Wide Fund for Nature's list of endangered species with fewer than 1,900 pandas left in the wild. Mother and baby cubs are doing fine.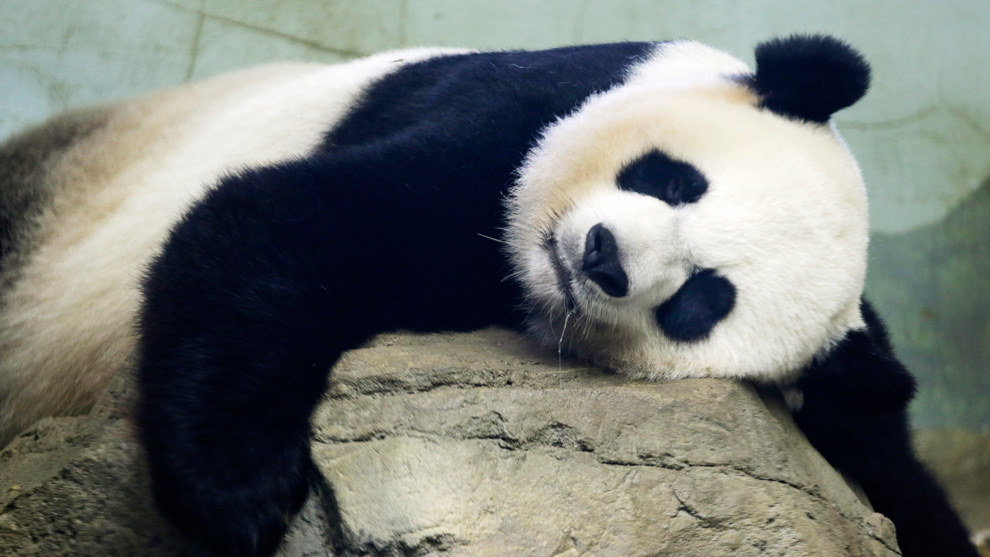 Want a news roundup like this in your inbox every weekday? Enter your email address to sign up now!