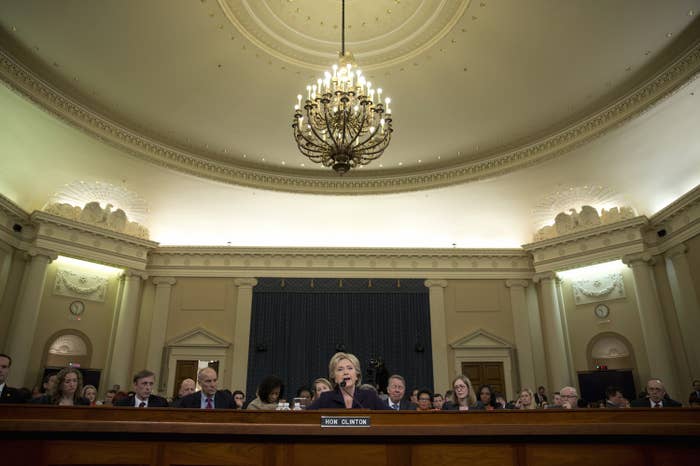 Hillary Clinton spent 11 hours on Thursday answering questions from a politically fractious House panel that used the opportunity to grill the presidential candidate on the death of Ambassador Christopher Stevens in Benghazi and her use of private email during her time as secretary of state.
Clinton's testimony before the House Select Committee on Benghazi — a panel investigating the death of Stevens and three other Americans in an attack on the U.S. Consulate in Libya in 2012 — had been highly anticipated.
The committee's stated goal is to conduct a "complete investigation and study and issue a final report of its findings" on the attack, but Clinton's testimony also came amid charges that the GOP-controlled committee had become a partisan attack on the leading Democratic presidential candidate.
Clinton's supporters pointed to GOP Majority Whip Rep. Kevin McCarthy's comments on Fox News that "Everybody thought Hillary Clinton was unbeatable, right? But we put together a Benghazi special committee, a select committee. What are her numbers today?"
The committee has also come under scrutiny after a former staffer said that its members started, internally, to focus on Clinton's use of a private email server during her time as secretary of state.
Clinton's use of her personal email account has become a major issue in her campaign. Some of the emails have been released by the committee.
The political environment started off with a charge from the outset with contrasting statements from the panel's Republican chairman, Trey Gowdy, and ranking Democratic member Elijah E. Cummings.
"Madame Secretary, I understand some people — frankly in both parties — have suggested this investigation is about you," Gowdy began. "Let me assure you it is not."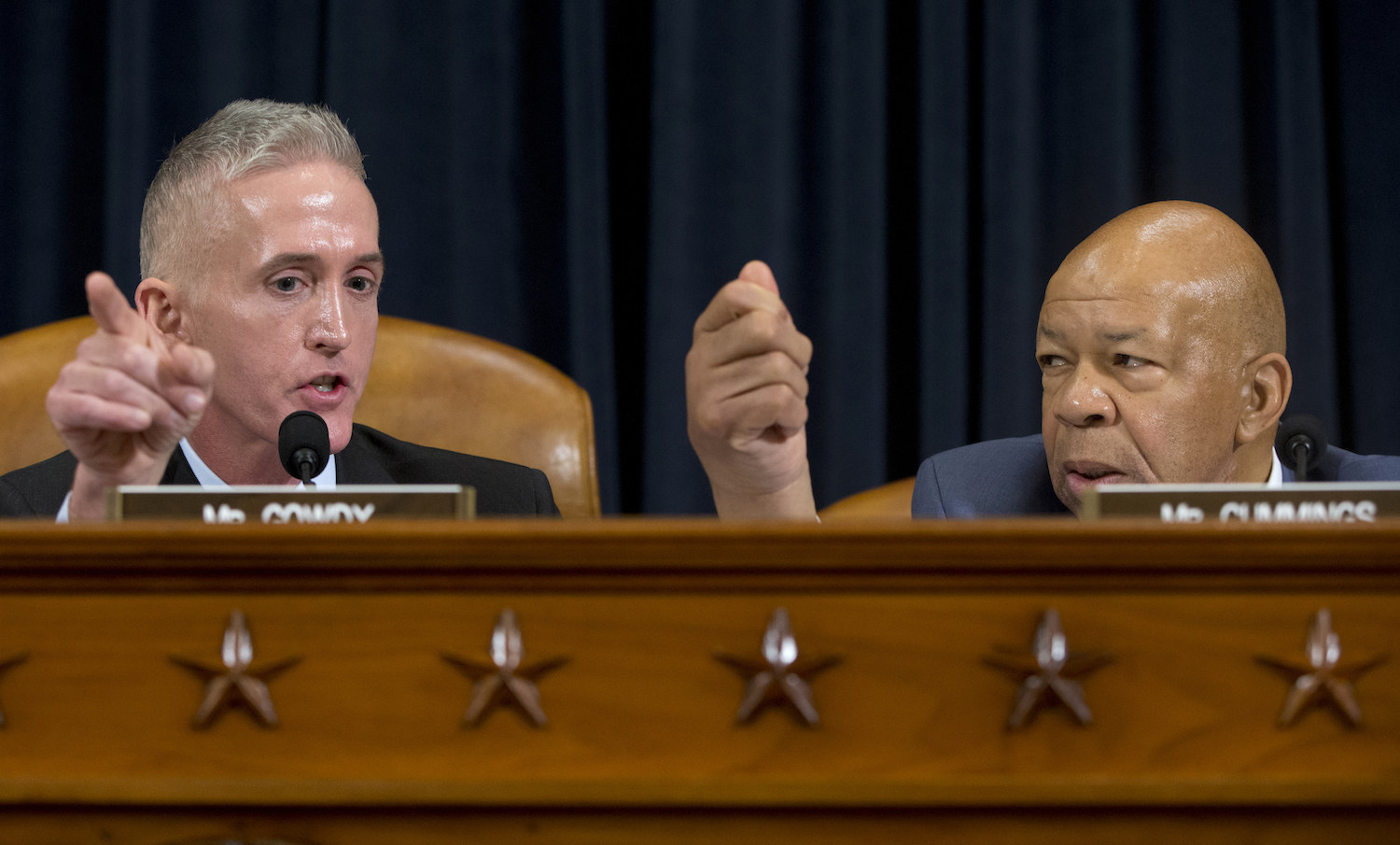 Cummings, however, directly contradicted Gowdy's defense of the committee, calling it "an abusive effort" by the GOP to derail Clinton's campaign.
"Everyone on this panel knows the accusations are baseless, from our own investigations and all investigations before it, yet everyone on the committee remains silent," Cummings said.
"Do not make this political football," he continued, adding that he believed it was time for "Republicans to end taxpayer funded fishing expeditions."
Clinton's opening remarks began with a call for political unity.
"First, America must lead in a dangerous world, and our diplomats must continue representing us in dangerous place," Clinton said, avoiding the political dispute and instead focusing on what she said was the need to continue global diplomacy. "Chris Stevens understood that diplomats must operate in many places where our soldiers do not, where there are no other boots on the ground, and safety is far from guaranteed."
Clinton went on to say she takes responsibility for the attacks in Benghazi, in the same way, she noted, she took responsibility for the well-being of every member of her State Department staff.
During questioning, Rep. Susan Brooks, a Republican, stacked up Clinton's emails mentioning Libya from before and after the attacks, and asked repeatedly why Clinton sent many fewer emails after the attack.
Clinton responded with a description of her day-to-day routine in the year following the attacks, saying she had little time for email and that she conducted most Libya-related business in meetings and through confidential briefs delivered in "locked briefcases" she had to immediately return to curriers after reading.
Later on in the hearing, Rep. Lynn Westmoreland, also a Republican, said that Stevens had sent around 20 requests for additional security.
"If I were a friend of yours," Westmoreland said to Clinton, "I would have found a way to reach you" to ask for more security directly.
Clinton responded by saying that some of Stevens' requests for increased security were fulfilled, others weren't, but that he "never once said to the State Department, 'We can't keep doing this, we can't stay there.'"
In response to Democratic Rep. Adam Schiff's question about how it feels to be accused of interfering with security resulting in the death of a friend, Clinton gave an emotionally charged answer.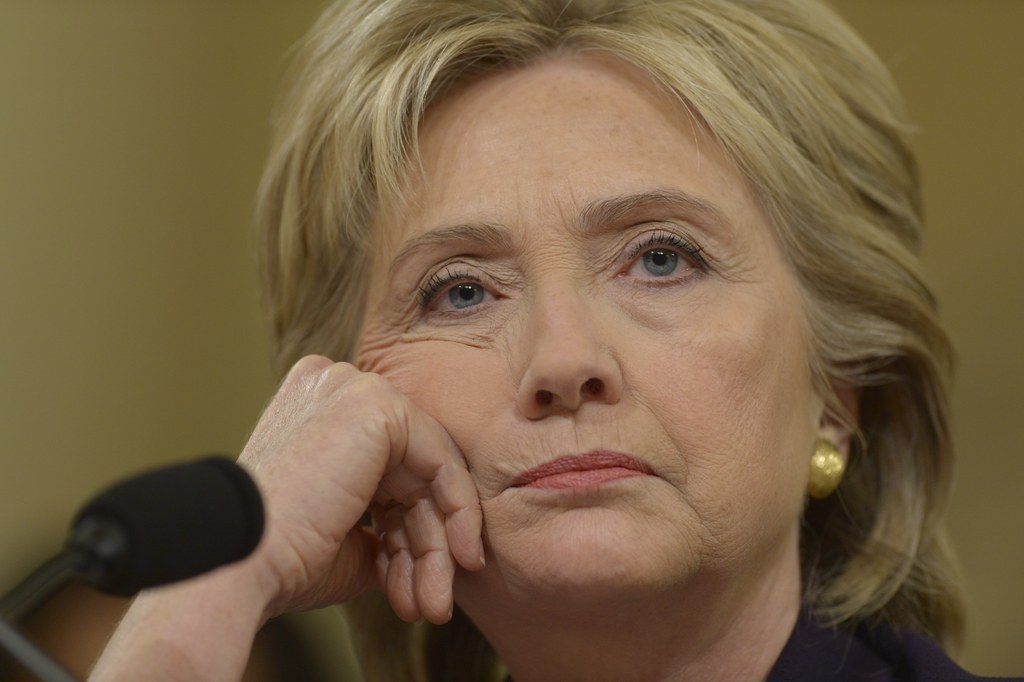 "I would say I've thought more about what happened than all of you put together; I've lost more sleep than all you put together," Clinton said. "I've been racking my brain about what should've been done or what could've been done."
The accusations and the hearings themselves had been "deeply distressing" for her, she added.
After a 30-minute recess, the hearing re-opened with the proposition of a motion to release the transcripts of email correspondence between Clinton and Sidney Blumenthal — a close friend and former aide to President Bill Clinton. He was barred from serving in the Obama administration, but continued to send Hillary Clinton intelligence regarding Libya.
The motion was voted down 7 to 5 along party lines.

Toward the end of Thursday's 11-hour long hearing, Schiff said he tallied how many questions were asked about different topics and read them aloud.
"There were 160 questions about Blumenthal's emails, and less than 20 about the Benghazi attacks ... 270 questions about Blumenthal's alleged activity in Libya, and no questions about U.S. personnel in Benghazi," Schiff claimed. "With the amount of time we spent on Blumenthal you would think...he was in Benghazi on the night it happened."
But Brooks later confronted Clinton again, asking her if she had ever personally spoken with Stevens after he was sworn in as an ambassador.
"Yes, I believe I did," Clinton said.
"When?" Brooks asked.
"I don't recall," Clinton replied, adding that the U.S. has ambassadors "in war zones" and other places that have been attacked. Clinton then said she was "well aware" of the dangers diplomats face, but that Stevens had never recommended closing the Benghazi facility due to safety concerns.
Brooks responded by saying that Stevens' security requests were denied.
Later, Republican Rep. Martha Roby asked Clinton if she had was home alone "the whole night" of the Benghazi attack, prompting Clinton to laugh in response.