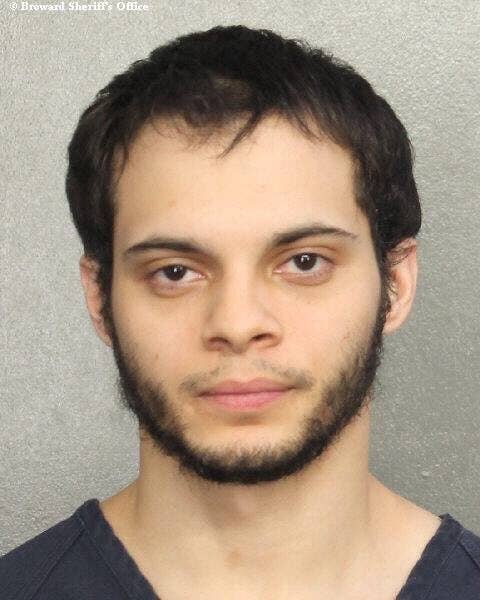 The suspected gunman who opened fire Friday at Fort Lauderdale International Airport, killing five people, has been identified by officials as 26-year-old Esteban Santiago.
He was booked by the Broward County Sherriff's Office.
On Saturday, officials announced Santiago would face federal charges in the deadly shooting including killing five people, performing an act of violence against a person in an airport, and using a firearm in a crime.
According to the complaint, Santiago was "aiming at his victims' heads until he was out of ammunition."
If convicted, he could face a life sentence in prison.
Six more people were injured after the gunman opened fire around 1 p.m. at the airport, officials said. (An earlier injury toll of eight was revised down on Saturday to six).
"Indications are that he came here to carry out this horrific attack. We have not identified any triggers that would have caused this attack," FBI Special Agent in Charge George Piro told reporters Saturday, but added the "early indication is that there was no specific reason" as to why he chose Fort Lauderdale airport.
Piro said authorities have found no evidence of any altercation on a flight or in the terminal that might have prompted Santiago to open fire, but he cautioned that the investigation was still in its early stages.
The chief of the Anchorage airport police department told BuzzFeed News that Santiago arrived in Fort Lauderdale on a Delta flight, with his gun as his only checked luggage. Sen. Bill Nelson of Florida, who was first to identify Santiago, cited a military ID that was found on the gunman during his arrest.
The 26-year-old Anchorage resident was a member of the Alaska National Guard until August 2016 when he was discharged for "unsatisfactory performance," Lt. Col. Olmstead said in a statement.
Santiago began his military service when he joined the Puerto Rico National Guard in 2007 and was deployed to Iraq from April 2010 to February 2011, Olmstead said. Santiago was in the Army Reserves before joining the Alaska Army National Guard in November 2014 where he was a combat engineer. At the time of his discharge, he was a private first class.
Broward County Commissioner Chip LaMarca said on Facebook that when Santiago arrived in Fort Lauderdale Friday afternoon he retrieved his luggage, "took the gun from baggage and went into the bathroom to load it."
He then "came out shooting people in baggage claim," LaMarca wrote.
CBS News, meanwhile, aired footage of what was purported to be the shooter's 9mm handgun inside the airport.
Santiago had been treated for mental illness, possibly post-traumatic stress disorder (PTSD) after making contact with the FBI, unnamed law enforcement officials, told ABC News.
In November, Santiago walked into an FBI office in Anchorage and exhibited "erratic behavior," George Piro, FBI special agent in charge, said at a press conference Friday night.
"He clearly stated that he did not intend to harm anyone, however, his erratic behavior concerned FBI agents interviewing him and contacted local police and turned him over to them," Piro said.
During a press conference Saturday afternoon, Anchorage FBI Special Agent in Charge Marlin L. Ritzman said that in November 2016, Santiago told agents his mind was being controlled by US Intelligence agencies.
"During the interview, Mr. Santiago appeared agitated, incoherent and made disjointed statements," Ritzman said. "Although he stated he did not wish to harm anyone, as a result of his erratic behavior our agents contacted local authorities, who took custody of Mr. Santiago and transported him to the local medical facility for evaluation."
Ritzman said that after reviewing Santiago's database and speaking to other agencies, the FBI closed its assessment of Santiago, and clarified that he did not turn himself in, but was rather a walk-in complaint.
Santiago was then voluntarily checked into a hospital for a mental health evaluation.
Ritzman also responded to concerns over why Santiago was not placed on the no-fly list.
"I want to be clear, during our initial investigation, we found no ties to terrorism," he said. "He broke no laws when he came into our office, making disjointed comments about mind control."
The motive for the attack and Santiago's connection to Florida was not immediately known.
"It sounds like that he is a mental case," Nelson said on CNN. "Thank goodness it's not a terrorist-inspired case, but we won't know" until authorities complete their investigation.
Santiago's aunt, Maria Ruiz Rivera, of Union City in New Jersey, told NJ.com that the 26-year-old was sent to Iraq after joining the National Guard, and upon his return, was hospitalized for mental health problems.
"He lost his mind," Ruiz Rivera said in Spanish.
Santiago was discharged from military service in August 2016 for unsatisfactory performance.
After a trip to Puerto Rico to visit his father, who eventually died, he settled in Alaska, where he fathered a daughter in September, she told NJ.com. During her last contact with her nephew, he seemed fine, she added.
Little more information about the suspected shooter was released publicly as authorities secured the airport except that he was unharmed during his arrest and being interviewed by federal investigators.
A man matching Santiago's information has a criminal record dating back several years. He was charged with damaging property worth more than $50 in Anchorage and verbal assault in January 2016.
Police reports could not immediately be obtained by BuzzFeed News, but Anchorage Police Chief Christopher Tally provided more details about his criminal history during a press conference Saturday afternoon.
On three separate occasions on Feb. 23, March 8, and Oct. 21, 2016, officers responded to calls of a physical disturbance involving Santiago, but later determined there was no probable cause to arrest him.
In documents reviewed by the Daily Beast, Santiago had verbally assaulted his girlfriend and forced his way into the bathroom by breaking down the door. He then allegedly hit and strangled her.
Both of the misdemeanors were dismissed by prosecutors in March, but according to court records, the case remains open.
Santiago was also cited for two traffic violations, one for an issue with his taillight and another for not carrying his insurance, in April 2015, according to court records reviewed by BuzzFeed News.