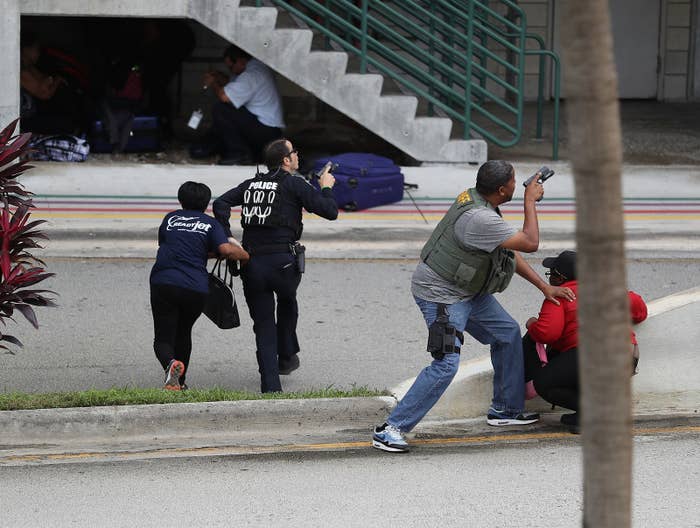 At least five people are dead and six others wounded after a 26-year-old man armed with a handgun opened fire at Fort Lauderdale-Hollywood International Airport in Florida.

The US Attorney on Saturday filed federal charges against the suspect — identified as 26-year-old former National Guard combat engineer Esteban Santiago — for allegedly killing five people and injuring others in the airport, as well as performing an act of violence against a person in an airport and using a firearm in a crime.
Santiago's exact motive remains unclear. No terrorism charges have been filed against the Anchorage man.
The complaint filed by federal prosecutors alleges Santiago pulled a handgun in the middle of the crowded baggage claim area and "started shooting, aiming at his victims' heads until he was out of ammunition."

He is expected to appear in court Monday. If convicted, he could face a maximum sentence of life imprisonment.
The five victims have been positively identified, officials said, but some of their names were being withheld pending the notification of next of kin.
On Saturday, the number of people being treated for gunshots in hospitals was revised down to six from eight. Three of the victims were said to be in good condition, Sheriff Scott Israel said, while two others remained in the intensive care unit.

One victim was discharged from the hospital Saturday evening, according to a press release from Broward Health Medical Center.
"In addition to those killed and wounded, about three dozen others were transported to area hospitals with minor injuries such as chest pain, anxiety, fall injuries, etc," the sheriff's office said.

There was no clear motive as to why Santiago allegedly opened fire in the baggage claim area of the airport, but officials said Saturday that they believed he came to the airport expressly to carry out the attack.
"Indications are that he came here to carry out this horrific attack. We have not identified any triggers that would have caused this attack," FBI Special Agent in Charge George Piro told reporters Saturday, but added the "early indication is that there was no specific reason" as to why he chose Fort Lauderdale airport.
Piro said authorities have found no evidence of any altercation on a flight or in the terminal that might have prompted Santiago to open fire, but he cautioned that the investigation was still in its early stages.
Officials said Santiago had received a mental health evaluation in November after contacting FBI agents in Anchorage.

Late Thursday night, Santiago boarded Delta Flight 1088 in Anchorage, stopped in Minneapolis, and then headed to Fort Lauderdale, where the deadly shooting occurred.
Anchorage International Airport Police Chief Jesse Davis told BuzzFeed News Santiago boarded a Delta flight with no baggage other than a gun in a hard case that was checked before boarding.
"He had his firearm that was checked with the airline, and that was it," Davis said.
FBI Agent Piro said Santiago used a 9-mm semi-automatic handgun, but that "every indication is that he did follow TSA procedures in checking the weapon."
US Sen. Bill Nelson was the first to identify Santiago, citing a military ID bearing his name that was found after the arrest.
"The shooter in custody, he is unharmed, no law enforcement fired any shots, the subject is being interviewed by a team of FBI agents and Broward County homicide detectives," said Sheriff Scott Israel on Friday. "The suspect was arrested without incident."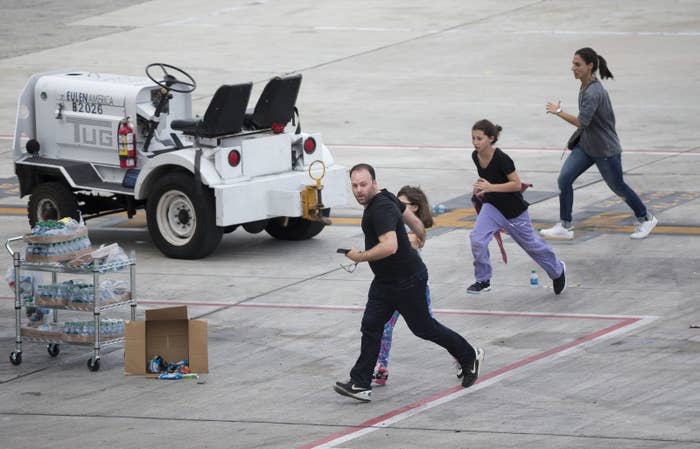 Local and state officials said it appeared the suspect acted alone.

Speaking to reporters outside the airport on Friday, Piro said investigators have been interviewing Santiago and are still looking at all possible motives.
"We are not ruling out anything," Piro said, adding the investigators are looking into Santiago's contacts and communications before the shooting. "We're looking at every angle, including the terrorism angle."
Other motives were also being investigated.

"If we do uncover at some time this was related to some type of terrorist activity then the FBI will have complete command of this and we'll move forward the investigation," Sheriff Israel said Friday. "At this point it looks like he acted alone."
A motive for the shooting remains unclear.

Santiago joined the Puerto Rico National Guard in Dec. 14, 2007 and was deployed to Iraq from April 2010 to April 2011, Lt. Col. Olmestead of the Alaska National Guard told BuzzFeed News.
He was a combat engineer and received a general discharge from the Alaska Army National Guard in Aug. 2016 for unsatisfactory performance, Olmstead said.
The FBI's Anchorage, Alaska office confirmed to BuzzFeed News that Santiago is a resident of Anchorage, and that their office was assisting investigators in Florida in the case.
Piro said Santiago had voluntarily walked into the FBI's Anchorage office in November and spoke to agents there, though he did not go into detail as to why the 26-year-old went to the FBI.
"He clearly stated that he did not intend to harm anyone, however his erratic behavior concerned FBI agents interviewing him and contacted local police and turned him over to them," Piro said.
Santiago was then taken to a medical facility for a mental health evaluation, but Piro said it was unclear what happened to the Anchorage man afterward.
FBI agents looked into Santiago's background, including recent contacts, and the FBI closed their assessment after turning him over to local authorities, Piro said.
Weeks later Santiago boarded a flight to Ft. Lauderdale from Anchorage. Piro said it was unclear why he headed to south Florida.
A Delta spokesperson told BuzzFeed News they would not comment on whether he had purchased a one-way or roundtrip ticket.
President-elect Donald Trump tweeted, "Monitoring the terrible situation in Florida. Just spoke to Governor Scott. Thoughts and prayers for all. Stay safe!"
Florida Gov. Rick Scott condemned the deadly shooting and said anyone responsible would be held accountable to the full extent of the law.
"This is a senseless act of evil," Scott said at a press conference outside the airport. "The state of Florida, the citizens of Florida, law enforcement in this state will not tolerate evil acts."
Scott said he had spoken to President-elect Trump about the incident and would keep them informed of any updates. He had not been in contact with President Obama, Scott said.
Several images and videos on social media showed people injured and bleeding in what appears to be a baggage claim and outdoor area. The airport's Twitter account said there was an "ongoing incident in Terminal 2, Baggage Claim," and all flights were grounded.
The international airport would remain shut down until further notice, authorities said, as they continued to clear the area and investigate the incident.
The deadly shooting also prompted authorities to shut down the nearby port from all inbound vehicles while local and federal investigators look into the shooting, officials said.
Port Everglades, located about four miles north of the airport, would allow only outgoing vehicles from the area, Michael Udine, a Broward County commissioner announced on Facebook.
Ships will be allowed to move in and out of the port, he said, though they may be delayed.
On Saturday, the airport's director said staff had collected more than 20,000 pieces of luggage and other items left behind by fleeing passengers.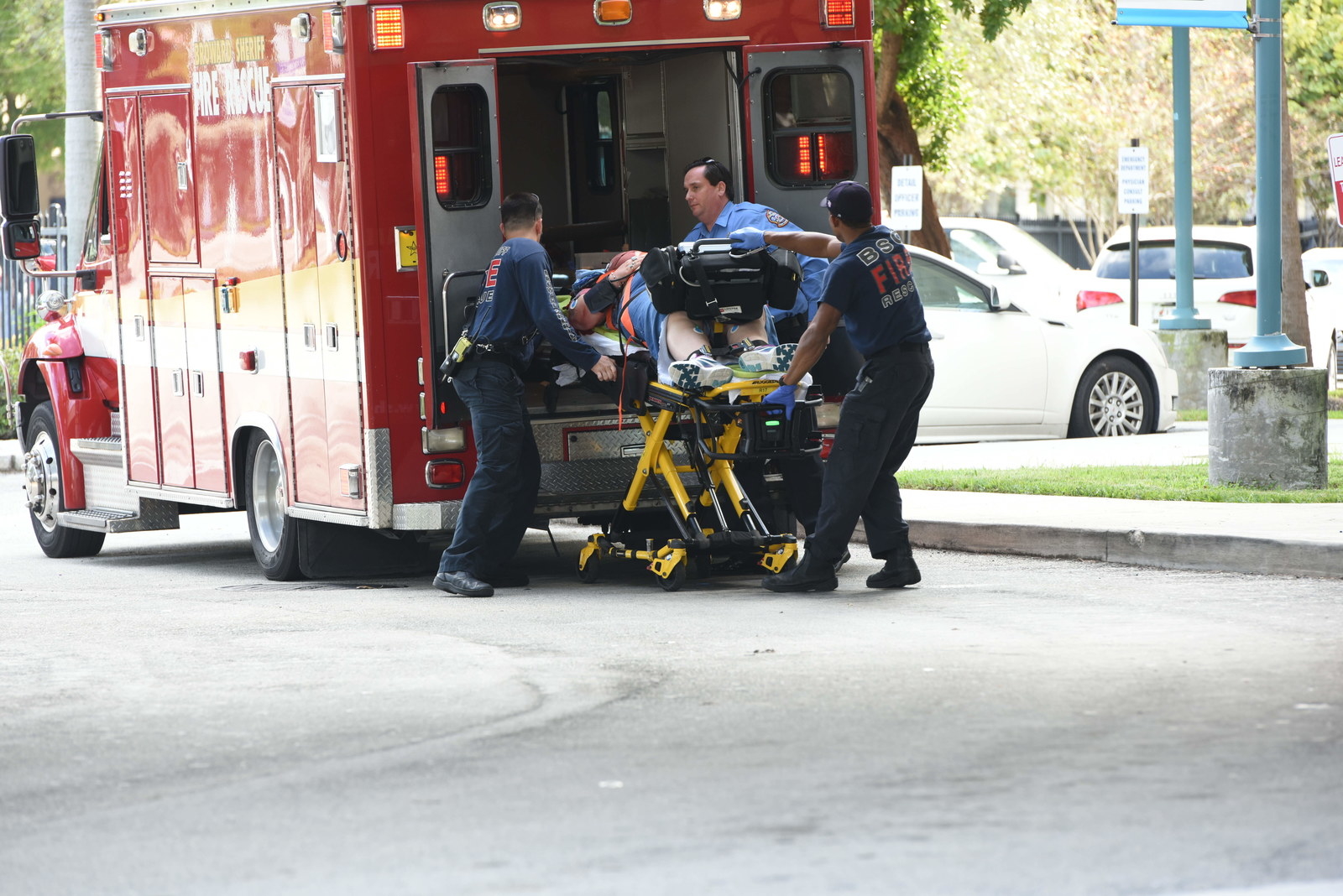 "Our community extends its thoughts, prayers, and support to the victims and their families," Fort Lauderdale Mayor John Seiler said.

CNN reported that the FBI and Bureau of Alcohol, Tobacco and Firearms are also on the scene.
Several hours after the initial incident, people were seen frantically running around the tarmac around 2:37 p.m. local time.
The Transportation Security Administration initially said there was an active shooter in the airport, but Israel said that was not the case. "There was no shooting any place else," Israel said. "It seems like someone got injured evacuating."
Andrea Ruiz, whose mother works at the airport for Air Canada, which is based in the terminal, told BuzzFeed News about the second wave of confusion: "SWAT and police ran into parking garage in front of Terminal 2. My mother and co-workers are back in office hiding. No one knows what is happening... Something else has happened."
Ruiz said her mother "said she heard the gunshots and everyone ran into hiding where they could find. Her and her co-workers hid in their office."
"They're currently busy calming passengers and themselves," she added.
Ruiz tweeted this screengrab of her conversation with her mother:

Benoit Riberdy told BuzzFeed News that he was getting ready to board an Air Canada flight from Terminal 2 when he and other passengers were rushed back into the airport for shelter.
He did not see or hear anything related to the shooting, only "people in extreme panic."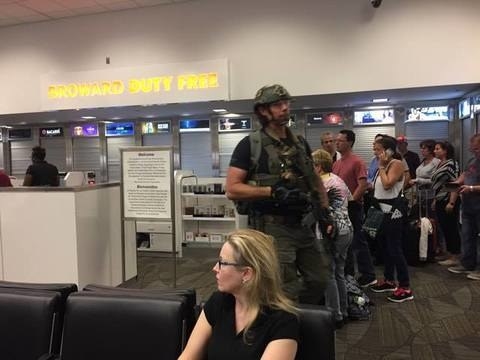 Air Canada said in a statement, "We are deeply saddened by this tragic event...Thankfully all our customers and employees are reported accounted for and safe. Passengers on our departing flights were safely evacuated on the tarmac and arriving flights 1602 from YUL and 1622 from YYZ are being held off gate for the time being."

Gene Messina posted pictures and video from the airport on Instagram and described the situation: "I got off the plane and I saw people running and screaming. At first I was in shock but when I saw tsa agents running, I booked." He also published this video from the tarmac:

Ari Fleischer, the former press secretary for President George W. Bush, was apparently at the airport at the time of the shooting and was one of the first people to tweet about it, citing police as saying there were several victims and one shooter.
Reporting by Tamerra Griffin, Tasneem Nashrulla, Mary Ann Georgantopoulos, David Mack, and Nancy Youssef in New York and Salvador Hernandez and Adolfo Flores in Los Angeles.

Correction: Santiago received a general discharge from the Alaska Army National Guard. An earlier version of this post said he went AWOL.