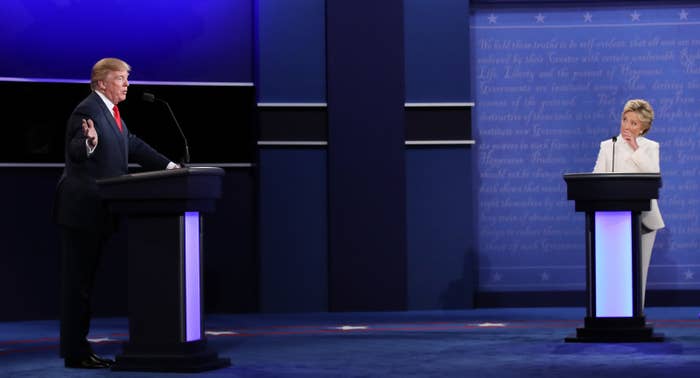 * Let's cut right to the chase: Donald Trump at last night's debate refused to say he'll accept the election results if he loses. "I will tell you at the time," he said, "I will keep you in suspense." This is extremely 😮 and is unprecedented.
* Those remarks are Trump doubling-down on his conspiracy theory that the election is being rigged by a shadowy Hillary Clinton-run system, the media, and voter fraud. It was easily the most shocking thing at last night's third and final presidential debate, which was just as hostile as the first two.
* Trump also insisted he is innocent of the numerous allegations that he groped women, saying he "didn't even apologize to his wife" and that they have been debunked, which they have not. (By the way, another alleged accuser is coming forward on Thursday.)
* There was a lot of talk about Russia and Wikileaks and the hacked emails of Clinton's campaign chairman that have caused her embarrassment. Then they accused each other of being Putin's puppets. Oy.
* Both candidates went in on each other's foundations. Trump called the Clinton Foundation a "criminal enterprise" for taking donations from foreign governments. Clinton said the Trump Foundation paid for a six-foot tall portrait of him.
* Not long after Trump said, "nobody has more respect for women than I do," he called Clinton a "nasty woman" during a conversation about the national debt and entitlements.
* Oh, everyone loved Clinton's pantsuit.
* And somehow puppets got dragged into all this. Nation, what have we done.
Here is Trump saying he might not accept the results of the election.
video-cdn.buzzfeed.com
Trump refused to commit himself to accepting the election results if he loses the presidential race.
"I will tell you at the time," Trump said, adding: "I will keep you in suspense."
The response came after Trump was asked if he would accept the results of the Nov. 8 election since he has been repeatedly alleging, at rallies and in interviews, that the system is rigged against him.
"I will look at it at the time. I'm not looking at anything now. I will look at it at the time," he initially said.
He then went on a now familiar tirade against what he sees as a "corrupt" and "dishonest" media, before saying Hillary Clinton should not be able to run for president because "she is guilty of a very, very serious crime" — a reference to her use of a private email server as secretary of state.
Clinton responded by saying she was "horrified" by Trump's refusal to accept the results of a presidential election, whatever they may be.
"We have had free and fair elections. We have accepted the outcomes when we may not have liked them, and that is what must be expected of anyone standing on a debate stage during a general election," she said.
Read more here.
Read even more here: These 5 points show just how hard it is to rig an election
Just to give you an idea of how this went over, here's Trump's own running mate and the spokesman of the Republican National Committee:
On to Russia. Some background here:
* Throughout this campaign Trump has cozied up to President Vladimir Putin, refusing to fully denounce some of his aggressive tactics, especially towards the US.
* US intelligence agencies have outright said the Russian government is behind the email hacks of several Democratic organizations and figures, most recently Wikileaks' release of Clinton's campaign chairman's emails, which have been embarrassing to her.
Both candidates during the debate managed to claim the other was Putin's "puppet." Here's the video:
video-cdn.buzzfeed.com
The exchange came while Clinton was responding to a question about open borders. After saying that she wants a global energy market, Clinton slammed Wikileaks for getting information from Russian hackers.
"What's really important about Wikileaks is that the Russian government has engaged in espionage against Americans," Clinton said, adding that the Russians then gave that information to Wikileaks "for the purpose of putting it on the internet."
Clinton later asked if Trump would "admit and condemn that the Russians are doing this and make it clear that he will not have the help of Putin in this election."
Trump initially deflected Clinton's challenge to reject the alleged Russian hack, instead repeatedly insisting that Clinton wants open borders. However, when Clinton referenced Trump moments later and said Putin would "rather have a puppet as president of the United States," the Republican nominee fired back.
"You're the puppet," he said.
Clinton then continued her attack, saying that Trump "encouraged espionage against our people, that you are willing to spout the Putin line," adding that it is an "unprecedented situation" to have a foreign government attempt to "interfere in our election."
Trump responded by slamming Clinton's record, and calling into question whether the Russians really were behind hacks that ultimately provided information to Wikileaks.
"I don't know Putin," Trump added. "I never met Putin. This is not my best friend. But if the United States got along with Russia, it wouldn't be so bad. Putin has outsmarted her and Obama at every single step of the way."
Also LOL: Trump said Putin isn't his best friend and the memes rushed in
FACT CHECK CORNER: Here's all the things Trump got wrong:
* Trump said there's "no quote" showing him advocating for nuclear competition in Asia. ✋ False
* Trump said he didn't use charity money to settle lawsuits. ✋ False
* Trump repeated his claim that the election was rigged and that "millions of people" are registered to vote who should not be. ✋ False
For a full rundown of those answers and more, look here.
Oh wait here's another falsehood: Trump saying he didn't mock a reporter who is disabled.
video-cdn.buzzfeed.com
Trump said late-term abortions allow doctors to "rip the baby out" of the womb.
Asked about their stance on abortion, Trump stressed that he is "pro-life" and would nominate like-minded justices for the Supreme Court to make sure the issue of abortion is decided at the state level.
"I am pro-life and I will be appointing pro-life justices," Trump said. "It would go back to the states."
He also criticized late-term abortions, saying they allow for procedures that "rip the baby out of the womb" up to a day before birth.
"You can take the baby and rip the baby out of the womb on the ninth month," Trump said.
Only about 1.2% of the one million abortions performed each year in the US are so-called "late-term" performed after the 20th week of pregnancy. And most of those are done before the 24th week.
Clinton criticized Trump's rhetoric and said she would do everything she could to protect Roe v. Wade and the abortion protections the Supreme Court decision affords women.
"That's not what happens…this scare rhetoric is just unfortunate," she said.
Clinton cited health concerns as to why some late abortions are carried out, and said the government "has no business in the decision that women make with their families in accordance with their faith."
Lightning Round
* Here's Trump's full and winding answer on Syria and Assad
* People are appalled and trolling the fuck out of Trump after he said "hombres"
* "Because I support the Second Amendment doesn't mean that I want people who shouldn't have guns to be able to threaten you, kill you or members of your family." —Clinton
* Trump sits in a beautiful hotel
Trump wrongly claimed groping allegations have been "debunked."
video-cdn.buzzfeed.com
Trump wrongly claimed that the allegations made by nine different women who have said he groped them have been debunked, and claimed they were brought on by the Clinton campaign.
Clinton jumped on the question, and said Trump's denial has been exemplary of the Republican's candidate's unwillingness to take responsibility.
"Those stories have been largely debunked," Trump wrongly stated. "Nobody has more respect for women than I do."
"I didn't even apologize to my wife, because I didn't even do anything."
Clinton, meanwhile, criticized the way Trump has referred to women in the past, including the leaked Access Hollywood video and his comments about former Miss Universe Alicia Machado.
"So we now know what Donald thinks and what he does towards women," Clinton said. "That's how Donald is."
So about that answer ☝️ where Trump touted his respect for women. Not long after, he interrupted Clinton to call her a "nasty woman."
video-cdn.buzzfeed.com
This led women to ~reclaim their nastiness~ on social media:
And of course, Janet Jackson was invoked.
And finally, to close out literally the most dreary and depressing and honestly riveting presidential debates in history — people freaked out over Clinton's pantsuit.
Like...loved it...
And that's that. For those keeping track at home, this is the 25th debate of the election, including the primaries — spanning more than a year.
19 days till the election folks. Be strong.
BuzzFeed News reporters Claudia Koerner, Talal Ansari, Salvador Hernandez, Adolfo Flores, and Jim Dalrymple II reported from Los Angeles; Mary Ann Georgantopoulos, Julia Reinstein, and Tanya Chen reported from New York; Emma Loop reported from Washington, DC; and Ruby Cramer, McKay Coppins, Ruby Cramer, Rosie Gray, and Tarini Parti reported from Las Vegas.