Here's Everything You Need To Know About The Clinton Vs. Sanders Debate
BuzzFeed News reporter Evan McMorris-Santoro is reporting from the debate in Milwaukee.
Here's a quick recap:
* Hillary Clinton and Bernie Sanders had a contentious debate — though the tone overall stayed cordial — in Milwaukee on Thursday evening, just two days after Sanders' landslide victory in the New Hampshire primary.
* The candidates sparred on PBS sharply over criticizing President Obama, how to pay for their health care plans, and Libya. They also jumped in their DeLorean and argued about Henry Kissinger.
* During one attack by Clinton, Sanders embraced breaking with President Obama on some policies. A U.S. Senator has "the right to disagree with the president, including a president who has done such an extraordinary job," he said.
* The biggest back-and-forth of the night came during a discussion about immigration, hitting each other for their past positions.
* Overall, the two played to a draw. Clinton performed well and had a strong closing statement. Sanders was able to deflect many of her attacks and drive home his core message of economic inequality. They won't debate again before the next voting contest, the Nevada caucus, on Feb. 20.
* In lighter moments, Sanders did his best Dikembe Mutombo finger-wagging impersonation and was unable to shake his cough. Clinton seemed unfazed by both.
And let's get into it. We've bolded some of the key lines.
The debate began with a clash on healthcare. Both said they agree on the need to bring universal coverage for all Americans — but they clashed on the best way to achieve that goal. Clinton established her credentials up front:
Responding to Sanders' statement that his single-payer plan would save the average middle-class voter some $5,000 a year in healthcare costs in exchange for a $500 increase in taxes, Clinton cited an unnamed "leading economist" who she said had questioned the financial viability of the Vermont Senator's healthcare proposal.
"Based on every analysis I can find, by people who are sympathetic to the goal, the numbers just don't add up," Clinton said.
Clinton went on to say that Sanders' proposal of "Medicare for all" would mean the end of Obamacare, and questioned whether pushing the U.S. into a new debate on healthcare would be productive.
"We need to work on the system we inherited," Clinton said.

"So if you're having Medicare for all, single-payer, you need to level with people about what they will have at the end of the process you are proposing," Clinton said. "And based on every analysis that I can find by people who are sympathetic to the goal, the numbers don't add up, and many people will actually be worse off than they are right now."
"That is absolutely inaccurate," Sanders shot back.
Sanders added by reminding the audience that the United States is "the only major country in the world that doesn't provide universal healthcare to its citizens," adding that Canada, France, and the UK all guarantee coverage for all their citizens while spending less money than the U.S.
"I don't know what economists Secretary Clinton is talking to," Sanders said.
On to immigration, where both said they were for comprehensive legislation to address the issue and expressed opposition to the Obama administration's recent deportation raids. But they attacked each other for past immigration positions and statements.
Clinton brought up Sanders' vote against a 2007 immigration bill; Sanders alluded to Clinton's past support for sending back children crossing the border from South America.
Sanders, defending his 2007 vote, said, "I voted against it because the Southern Poverty Law Center, among other groups, said that the guest worker programs that were embedded in this agreement were akin to slavery. Akin to slavery."
"So it wasn't just me who opposed it," Sanders continued. "It was LULAC, one of the large Latino organizations in this country. It was the AFLCIO. It was some of the most progressive members of the United States Congress who opposed it for that reason."
Clinton, explaining her position on Central American children, said, "I made it very clear that those children needed to be processed appropriately, but we also had to send a message to families and communities in Central America not to send their children on this dangerous journey in the hands of smugglers."
And now, a not-so-shameless plug to this BuzzFeed News investigation related to the guest worker program Sanders mentioned:
"I want to follow-up on something having to do with leadership. because, you know, today, Senator Sanders said that President Obama failed the presidential leadership test," Clinton said. "And this is not the first time he has criticized President Obama. In the past, he's called him weak, he's called him a disappointment, he wrote a forward for a book that basically argued voters should have buyers remorse when it comes to President Obama's leadership and legacy. And I just couldn't disagree more with those kinds of comments."
Clinton added, "The kind of criticism that we've heard from Senator Sanders about our president I expect from Republicans. I do not expect from someone running for the Democratic nomination to succeed President Obama. "
Sanders respond, saying, "Madam secretary, that is a low blow."
He added, "I think it is really unfair to suggest that I have not been supportive of the president. I have been a strong ally with him on virtually every issue. Do senators have the right to disagree with the president? Have you ever disagreed with a president? I suspect you may have."
Clinton continued to press the issues, saying Sanders attacks were personal.
"You know, Senator, what I am concerned about, is not disagreement on issues, saying that this is what I would rather do, I don't agree with the president on that, calling the president weak, calling him a disappointment, calling several times that he should have a primary opponent when he ran for re-election in 2012, you know, I think that goes further than saying we have our disagreements," Clinton said.
Sanders shot back: "Well, one of us ran against Barack Obama. I was not that candidate."
OK let's take a break for some other notable best one-liners of the evening:
* "At the end of my first term as president we will not have more people in jail than any other country." —Sanders
* "I am not a single-issue candidate, and I do not believe we live in a single-issue country." —Clinton
* ::COUGH COUGH:: —Sanders, making some question his opposition to big pharma.
* "A great nation like ours should not be in a position where elderly people are cutting their pills in half." —Sanders
* "This is a humanitarian catastrophe." —Clinton on the refugee crisis.
In response to a question about her poor numbers from women in the New Hampshire primary, Clinton said that she had spent her "entire adult life working towards making sure women are empowered to make their own choices."
But she added that she had "no argument with anyone making up her mind about who to support." She added that she hoped "by the end of the campaign there will be a lot more supporting me."
She demurred when asked to respond to Madeleine Albright's controversial statement about "a special place in hell" for women who don't support other women, though she added that "we still have barriers to knock down."
Both Clinton and Sanders touted their voting records on and support for women's rights, including paid leave and the wage gap, and both warned of persistent Republican efforts to curtail those rights.
Clinton pivoted from the question to return to the theme of her experience: "I'm not asking people to support me because I'm a woman, but because I'm the most qualified and ready person to be president."
The candidates also had one of their longest exchanges on racism yet, setting the stage for primary elections in several states with large minority populations.
Asked about the disproportionate incarceration of black people, Sanders said he was committed to "fundamental police reform" because a quarter of all African-Americans born today could expect to see prison at some point in their lives. The Vermont senator said he would "end over-policing in minority neighborhoods" and that he would work to make sure that "any police officer that breaks the law" is held accountable.
"We are sick and tired of seeing videos of unarmed African-Americans being shot by police," Sanders said.
Clinton echoed Sanders' comments, saying that she would work to "restore policing that will actually protect the communities the police are sworn to protect." She mentioned the death of Dontre Hamilton*, a young black man from Milwaukee who has shot to death by the local police in 2014. But the former secretary of state added that the only way to combat mass incarceration effectively is to also fight racism in other spheres.
"When we talk about criminal justice reform and ending the era of mass incarceration, we need to talk about jobs, housing, and other ways of combating discrimination," Clinton said.
The candidates were then asked whether they would do a better job at improving race relations than President Obama. Clinton said that Obama's time in office had brought surviving racism to the light, and that now "we know a lot more" about how to fix racial inequality.
Sanders was more unequivocal, saying that race relations would "absolutely" be better during his presidency than under Obama. He said he would achieve that improvement by improving the economic opportunities of black people and Latinos, because even though minorities "face other issues" that have nothing to do with the economy, inequality is "at the heart an economic issue."
*Here's some more reading on the Dontre Hamilton case:
—Dontre Hamilton's Autopsy Shows Police Officer Shot Him From Behind
—The Sad, Slow March To Justice For Maria Hamilton
Former Secretary Clinton was asked to address the financial support — to the tune of 10 million dollars — of a Super PAC, the type of institution many have blamed for the inundation of political campaigns with corporate money.
Clinton tried to distance herself from that organization, Priorities USA Action, calling it a group that formed to support President Obama in 2008 "that has now decided they want to support me." (Priorities USA Action is now headed by Guy Cecil, a longtime Democratic operative who was once thought by many to be a strong candidate to be Clinton's campaign manager.)
Clinton stressed that she had received individual donations from more than 750,000 donors, "the vast majority of them giving small contributions."
Sanders touted his own huge number of individual contributors — more than a million — and the fact that his campaign did not have a Superpac. "We don't represent Wall Street," he said. "Our average contribution is $27 and I'm very proud of that."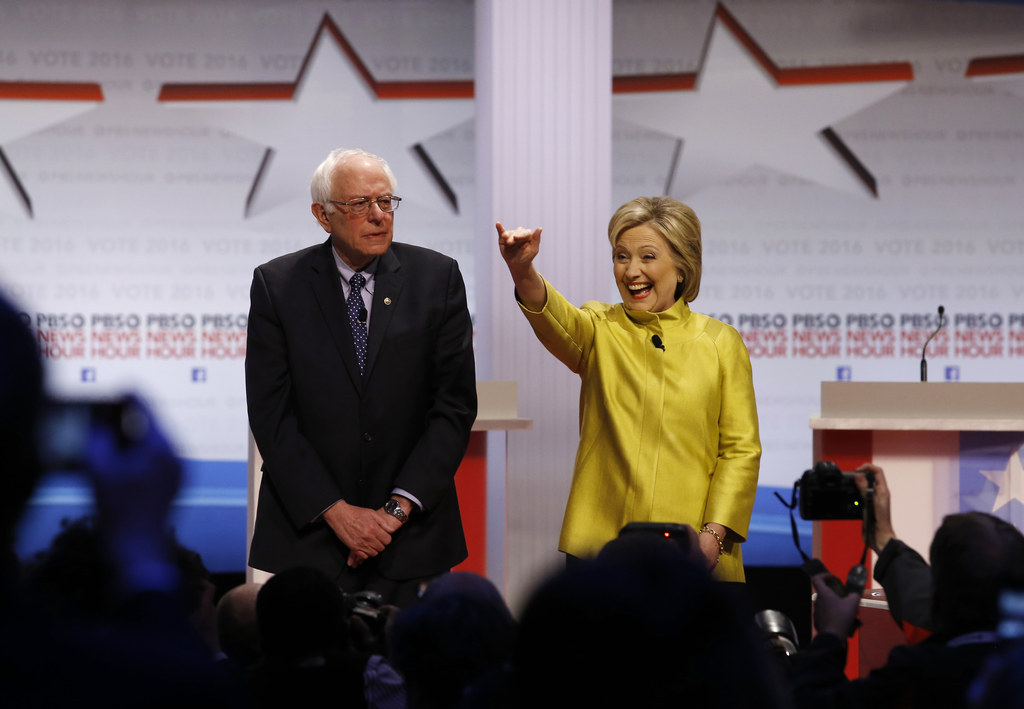 Asked about foreign policy, the candidates had some of their most visible disagreements yet on the subjects of whether the U.S. should promote regime change, the consequences of the Iraq war, and the legacy of Henry Kissinger.
Responding to a question about how she would fight ISIS, Clinton tried to shift the conversation towards Islamophobia and the need to enlist American Muslims in the fight against terrorism.
"American Muslims are on the front lines of our defense," Clinton said. "They are more likely to know what is going on in their families and in their communities. So when someone like Donald Trump stirs the demagoguery against them, that's not just offensive, it's dangerous. "
But then Sanders responded by pivoting to Clinton's record of supporting American military interventions in authoritarian countries — a policy that, he said, has often resulted in disaster. He contrasted the former secretary of state's hawkish policies with his own record as senator, noting he voted against invading Iraq in 2002.
"A powerful nation like the us, we can overthrow dictators all around the world, " Sanders said. "But the point about foreign policy is not just to know you can overthrow a dictator, it's understanding what happens the day after."
Sanders then attacked Clinton for pushing to overthrow Libyan dictator Mohhamer Gaddafi, saying that U.S intervention had created a "political vacuum" that had allowed ISIS to move into the country and take over territory.

Clinton replied that Sanders himself had supported regime change. In 1998, she said, the Vermont senator voted for a resolution to end Hussein's regime — to which Sanders responded by vigorously wagging his finger.
Clinton also noted that President Obama, who also opposed the war in Iraq, had nonetheless asked her to be his Secretary of State. She reminded the audience that she had advised Obama to go after Osama bin Laden.
The conversation then turned to Henry Kissinger, a diplomat who served as secretary of state during Richard Nixon's administration and that is a hero to those who favor an aggressive foreign policy and a bête noir for the left. Sanders attacked Clinton for saying she takes advice from Kissinger, who he accused of contributing to the circumstances that lead to the genocide of 3 million people in Cambodia during the 1970s.
"I am proud to say that Henry Kissinger is not my friend," Sanders said.
Clinton responded that Kissinger had been instrumental in opening relations with China. Sanders replied that much of that good will had been spent in establishing trade agreements that had hurt the American working class.
Or maybe Sanders was just trying to get a drink?
Here's some recent campaign coverage from BuzzFeed News:
Reporting by Nico Mora, Joe Bernstein, Kyle Blaine, and Tom Namako