Convention Wrap-Up: Bernie Supporters Protest And Michelle Obama Moves The Crowd
Reporting from Philadelphia: Ruby Cramer, Bim Adewunmi, Evan McMorris-Santoro, Darren Sands, Adrian Carrasquillo, Mary Ann Georgantopoulos, Tracy Clayton, Jim Dalrymple, Dominic Holden, Emma Loop, Ryan Broderick, and John Stanton.
Here's what's happening:
Bernie Sanders supporters became the most vocal and visual force on the first day of the Democratic National Convention — they protested in the streets, where at least 54 people were issued disorderly conduct citations, and drowned out speakers inside the hall with chants of "Bernie Bernie!"
The Sanders supporters drew so much attention that the Vermont Senator sent a text message to delegates Monday imploring them to not disrupt the convention floor.
Later in the night, Sanders took the stage and offered a full endorsement of Hillary Clinton, his former rival: "Hillary Clinton must become the next president of the United States. The choice is not even close." He also went over many of his stump speech points and said he looks forward to getting more than 1,000 delegate votes when they are counted tomorrow.
Michelle Obama delivered the night's most rousing speech. It was about family and how Clinton is the right person to lead the country for future generations. Obama teared up at one point and at others made digs at Donald Trump without naming him, such as, "Don't let anyone ever tell you that this country is not great. That somehow we need to make a great again."
Sen. Elizabeth Warren delivered direct attacks on Trump and said Clinton will "return this government to the people." She added, "if you think America must work for all of us, if you believe we must reject the politics of fear and division."
A strong and sudden storm tore through the area, and protesters were quickly drowned out by 8 p.m.
On Monday morning, outgoing DNC Chair Debbie Wasserman Schultz was heckled and booed during a speech, the day after she announced she would step down amid a leaked emails that have angered Sanders supporters. The FBI is investigating and the DNC apologized to Sanders on Monday.
And meet BuzzBot, BuzzFeed's news gathering bot for the Democratic National Convention. Share your convention story here.
Updates
People were unfazed by this all-gender restroom at the DNC
Hundreds of men and women shared a big, busy "all-gender restroom" at the Democratic National Convention on Monday — and were seemingly unfazed by the experience.
"It doesn't make me nervous at all," Lula Dualeh, a delegate for Bernie Sanders, told BuzzFeed News. "I just need to use the restroom. I don't care who's next to me." But restrooms have been a hot-button issue for many Republicans. State and federal politicians have politicized bathroom access, saying that allowing transgender women — whom they call "men" — to use the women's restroom poses a safety threat.
Nobody who spoke to BuzzFeed News found the situation troubling.
Read more about how the restroom was received here.
—Dominic Holden
Susan Sarandon was all of Bernie Sanders' supporters at the DNC
As a big supporter of Bernie Sanders, Academy Award-winning actress Susan Sarandon had a long first evening of the Democratic National Convention, which will celebrate Hillary Clinton as the nominee.
In fact, her apparent disdain for the festivities was captures by a video journalist posted to Twitter.
Sanders says Hillary Clinton "must become the next president"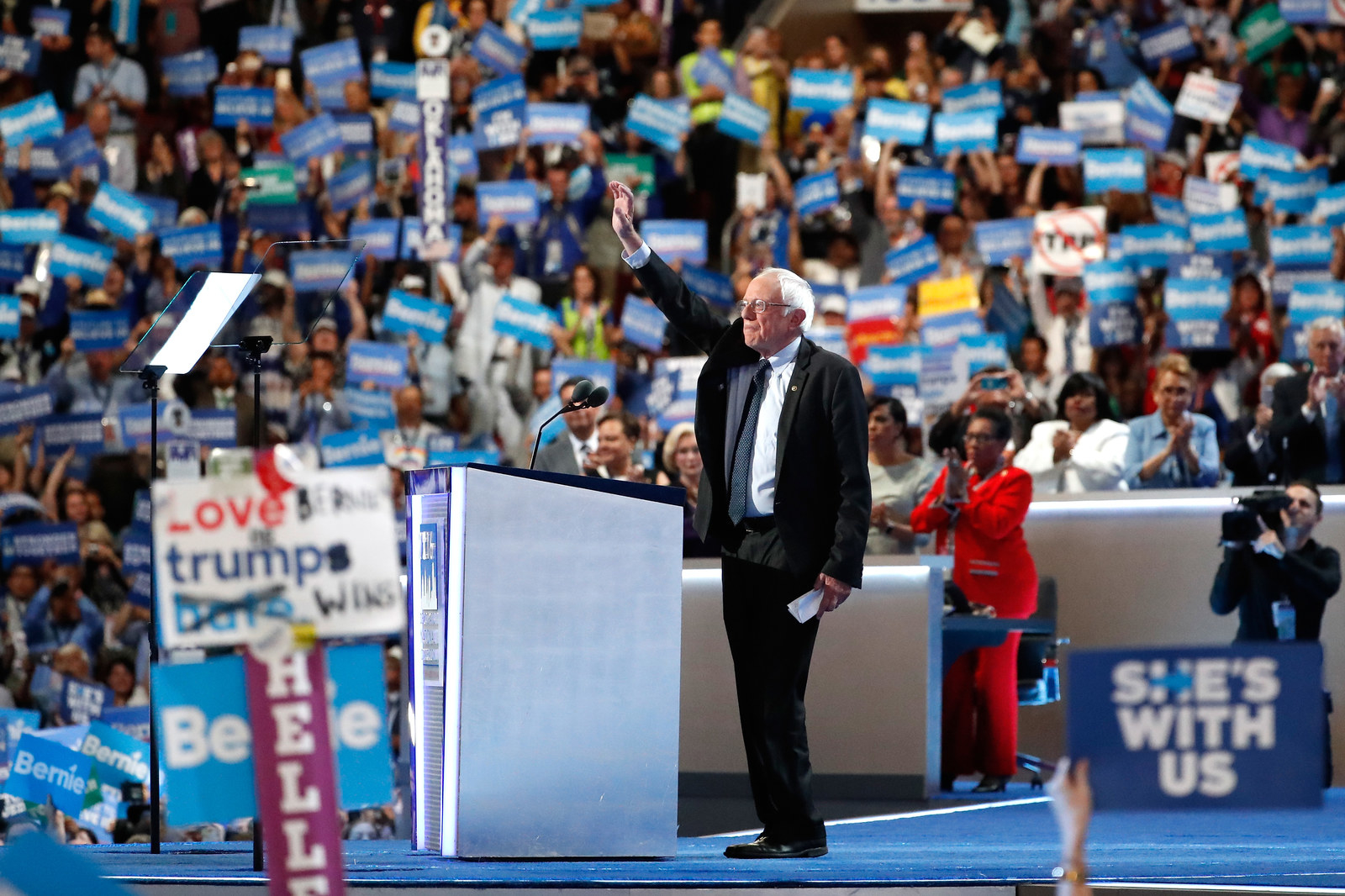 After a day of trying to quell floor demonstrations among his own delegates, Bernie Sanders on Monday took the podium to double down with an unequivocal endorsement of his former rival, Hillary Clinton.
"I understand that many people here in this convention hall and around the country are disappointed about the final results of the nominating process," he said. "I think it's fair to say that no one is more disappointed than I am."
But, he noted, his campaign and its supporters had started a political revolution that would extend beyond the current race.
"This election is not about, and has never been about, Hillary Clinton, or Donald Trump, or Bernie Sanders or any of the other candidates who sought the presidency," Sanders said. "This election is about — and must be about — the needs of the American people and the kind of future we create for our children and grandchildren."
To that end, Clinton "must become the next president of the United States," Sanders said to enthusiastic applause.
Sanders' hearty and direct endorsement of someone who remains deeply unpopular with many in his base came on the same day the Democratic National Committee apologized for hacked emails that appeared to show a strong bias toward the Vermont senator's campaign.
—Jason Wells
Elizabeth Warren takes sharp aim at Trump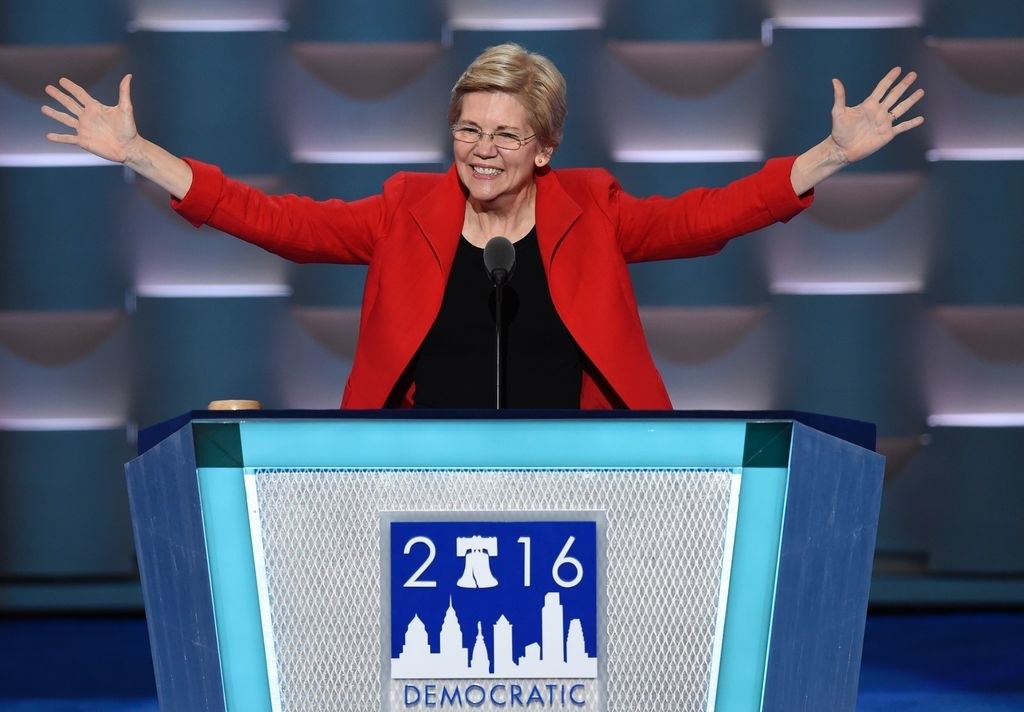 Massachusetts Senator Elizabeth Warren, who many consider a rising star in the Democratic party, delivered the DNC's keynote address on Monday.
Warren used her platform at the DNC to not only endorse Hillary Clinton, but deliver a stinging indictment of Donald Trump as someone who uses fear mongering and hate to divide, rather then unite, the nation.
Warren, who has appeared at campaign events with Clinton as an attack dog surrogate, wasted no time going after the GOP nominee during her speech, referring to him as "a man who cares only for himself, every minute of every day."
Warren, a darling of liberal progressives who endorsed Hillary Clinton soon after she became the presumptive nominee, slammed Trump as someone "who has never sacrificed anything for anyone."
"We're here today because our choice is Hillary Clinton. I'm with Hillary," Warren said.
However, as she began to praise Clinton, Bernie Sanders supporters started chiding Warren from the audience with chants of "we trusted you."
But Warren, unphased, went to to address the income gap in America, calling the system is "rigged."
"America isn't going broke," Warren said. "There's lots of wealth in America. It isn't trickling down to hardworking families like yours."
However, she also rejected the generalization that there is gridlock in Washington.
"Gridlock. That is just flat wrong. Washington works great for people at the top," Warren said.
When it comes to the concerns of the wealthy, big banks, and big corporations, she noted, "Washington got it done."
Warren, however, saved her harshest blows for Trump, criticizing him for failing to put forth any detailed policy proposals at such a late stage in the campaign.
"Other than talking about building a stupid wall, which will never get built, other than that wall, did you hear any actual ideas? Did you hear even one solid proposal from Trump for increasing incomes or improving your kids' education? Or creating even one single good paying job?" Warren said. "Let's face it, Donald Trump has no plans...no plans to make anything great for anyone except rich guys like Donald Trump."
—Jason Wells and Mike Hayes
Michelle Obama on Clinton: She is "truly qualified" to be president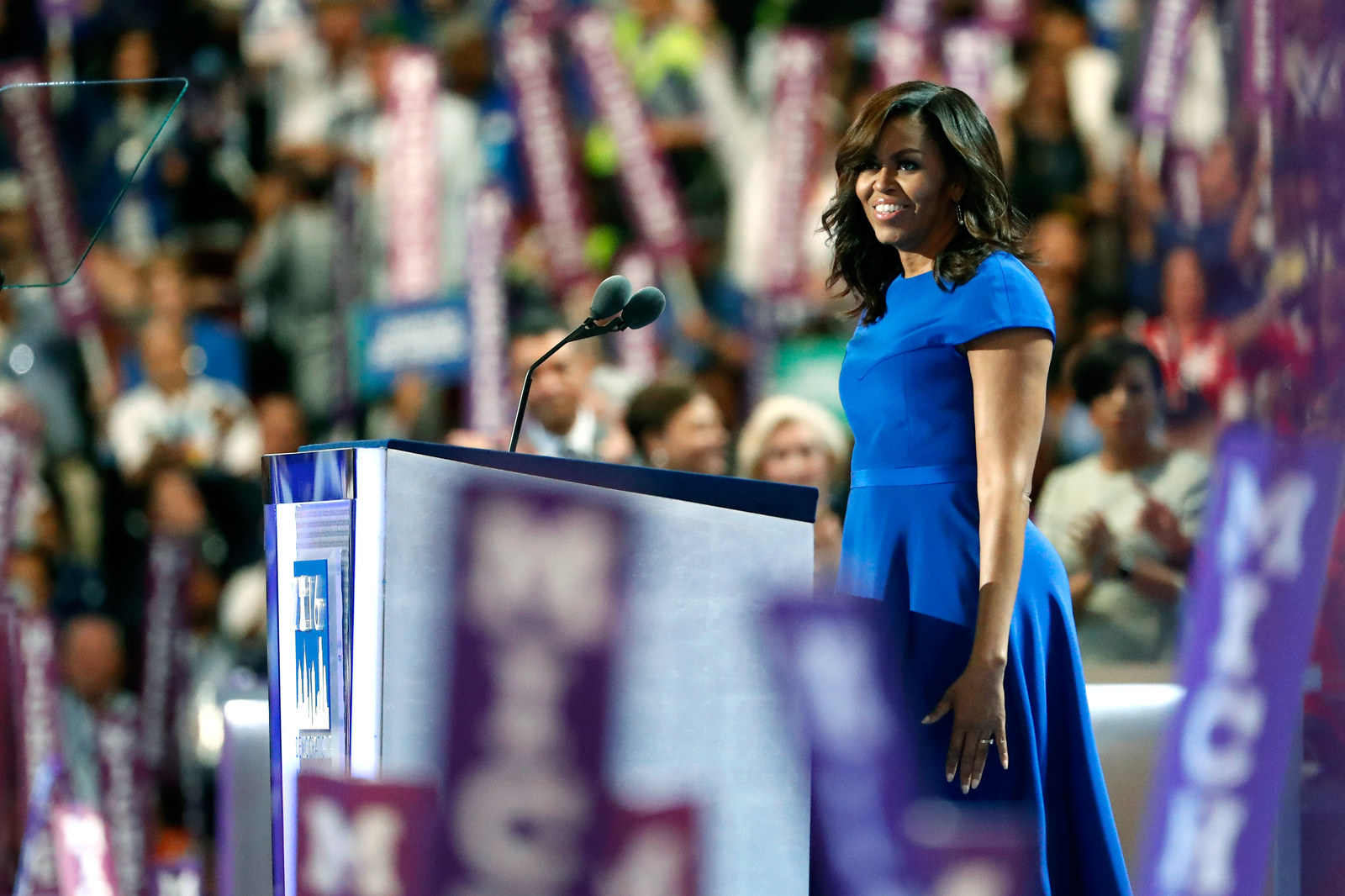 First Lady Michelle Obama endorsed Hillary Clinton for her own history-making bid for president in a powerful speech that tied the country's first black presidency to the potential legacy of a woman as its leader.
Appearing on the opening day of an at times raucous and fractious Democratic convention, Obama drew on the intimate experience of being a parent to articulate her vision for the future of the country.
"With every word we utter, with every action we take, we know our kids are watching us," she said. "Barack and I take that same approach to our jobs as president and first lady because we know that our words and actions matter, not just to our girls, but the children across this country."
The "hateful language they hear from public figures on TV does not represent the true spirit of this country," she added in a dig at Trump's brutish brand.
"Our motto is, when they go low, we go high," she said.
She told the cheering crowd that the election "is about who will have the power to shape our children for the next four or eight years of their lives."
"I am you tonight because in this election, there is only one person who I trust with that responsibility," Michelle continued. "Only one person who I believe is truly qualified to be president of the United States and that is our friend Hillary Clinton."
The first lady also wove Clinton's disappointing loss in 2008 with the resiliency that has defined generations of black people who have survived violence and dehumanization, only to continually reshape the country for the better.
"Leaders like Hillary Clinton have the guts and the grace to keep coming back and putting those cracks in the highest and hardest glass ceiling until they finally breakthrough lifting all of us along with her," she said. "That is the story of this country. The story that has brought me to the stage tonight."
"The sting of segregation who caps on striving and hoping and doing what needed to be done so that today, I wake up every morning and a house that was built by slaves. And I watch my daughter's, two beautiful intelligent black young women play with the dog on the White House lawn. And because of Hillary Clinton, my daughters and all of our sons and daughters now take for granted that a woman can be president of the United States."
"Don't let anyone ever tell you that this country is not great," she said closing, "because this right now is the greatest country on Earth."
—Leticia Miranda and Jason Wells
Sanders aides reached out to Clinton aides about the day's unrest
Cory Booker calls for unity behind Hillary Clinton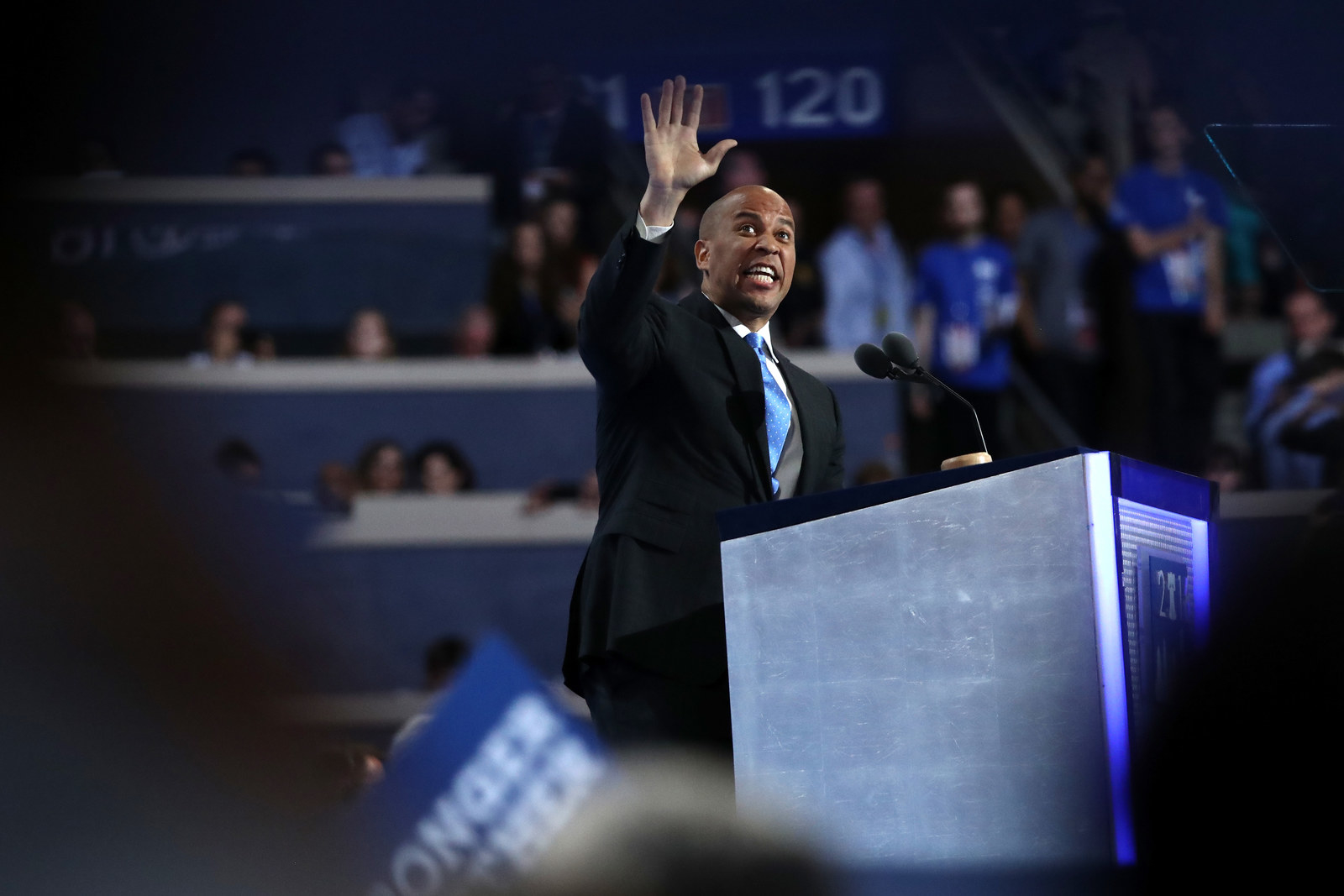 New Jersey Senator Corey Booker took the stage Monday to endorse Hillary Clinton and ask that the nation answer the "high call of patriotism."
"We can't devolve into a nation where our highest aspiration is that we just tolerate each other," he said. "We are not called to be a nation of tolerance. We are called to be a nation of love."
A "Black Lives Matter!" chant started in the convention hall during Booker's speech.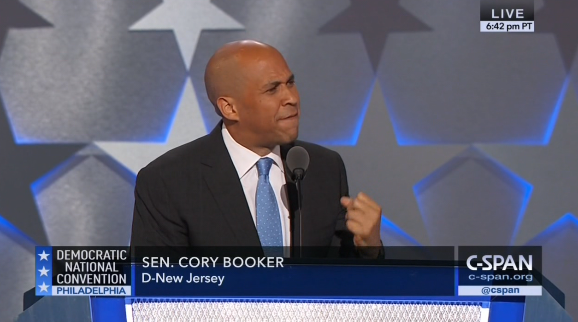 Sarah Silverman tells the "Bernie or Bust" supporters: "You're being ridiculous"
No arrests made during daytime demonstrations at Democratic National Convention, police say
As a storm bears down on the DNC, reporters are told to evacuate the media tent