Here's a quick rundown:
* No, you are not seeing double: Bernie Sanders and Hillary Clinton squared off in their second debate of the week, this one in Miami and geared heavily toward immigration and Latino issues.
* No one really came out a winner here: Clinton, under some intense questioning about her past policies, really didn't break through. And Sanders didn't score any big hits on the frontrunner and stuck largely to his talking points.
* Both candidates, when asked whether Republican frontrunner Donald Trump is a racist, condemned him but still danced around the question. People noticed that.
* Clinton directly said "I will not deport children" when asked about three times by the Univision/CNN moderators.
* And we also saw the return of tense "excuse me!" exchanges between candidates.
* Also people couldn't figure out what color Sanders' suit was.
* The debate came one day after Sanders' stunning upset in the Michigan primary, where Clinton was polled to win by more than 10 percentage points. Clinton is still widely up in the delegate count, but Sanders has the momentum.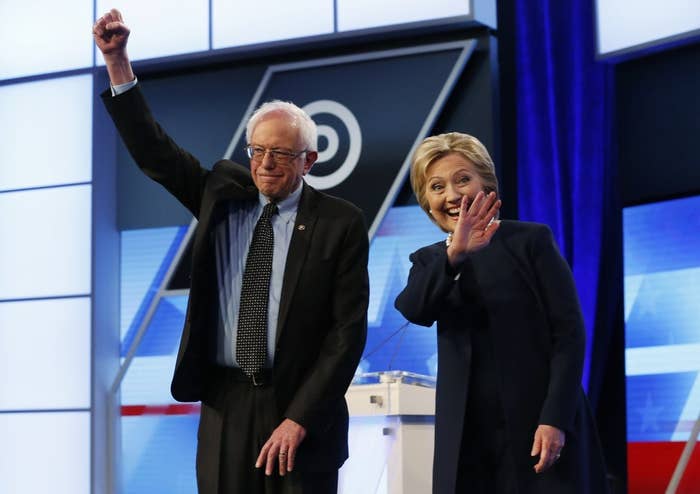 Hillary Clinton started the debate by shutting down a question about what she would do if she were indicted over her emails while she was secretary of state, which have drawn an investigation concerning whether they contained classified information.
"That is not going to happen," she said.
"If you get indicted will you drop out?" asked moderator Jorge Ramos.
"Oh for goodness—that is not going to happen, I'm not going to answer that question," Clinton said.
Here's the clip:
Clinton was also asked, "You have known Donald Trump a long time. You have seen what kind of campaign he's running. Secretary Clinton, is Donald Trump a racist?"
The issue has come up as Trump in his campaign has made controversial remarks about Mexican immigrants in the U.S., and called to ban people from entering the country based on their religion. The Democratic candidates' very indirect responses seemed to boil down to, duh.
Clinton responded that she was the first to call out Trump for calling Mexicans rapists, and said "Basta!" (the Spanish word for enough) when she found his rhetoric about immigrants offensive.
She said his "rhetoric is demagoguery, and his trafficking in prejudice and paranoia has no place in our political system, especially for someone running for president who couldn't decide whether or not to disavow the Ku Klux Klan and David Duke. So people can draw their own conclusions about him."
Trump had at one point said, "I disavow, OK."
Borrowing Trump's campaign slogan, "Make America great again," Clinton said, "You don't make America great by getting rid of everything that made America great." She added, "I think it's un-American. I think what he has promoted is not at all in keeping with American values."
Sanders responded he did not believe Americans would elect a president who insults Mexicans, Muslims, women, African-Americans, and immigrants. He reminded viewers that Trump was part of the so-called "Birther movement," demanding that President Obama present his birth certificate.
Sanders added that his father was an immigrant from Poland. "Nobody has ever asked me for my birth certificate. Maybe it has something to do with the color of my skin," he said.
Here's some quick analysis on that answer by BuzzFeed News reporter Ruby Cramer, who covers Clinton:
And a little more on Trump: Clinton got some laughs for making fun of the GOP frontrunner after she was asked to describe the difference between his plan to build a wall with Mexico and border walls she has supported in the past.
Clinton said that she did previously support more security at the Mexican border, but that there is no need for further walls.
She said Republicans are talking about building a wall to avoid talking about immigration reform.
"We enhanced the border security, that part of the job is done," she said.
She then poked fun a bit at Trump's plan to build a wall with some rhyming.
"He's talking about a very tall wall, right, a beautiful tall wall, the most beautiful tall wall, better than the Great Wall of China that would run the entire border, that he would somehow get the Mexican government to pay for," she said. "And you know, it's just fantasy."
We also saw the return of one candidate throwing "excuse me" shade on the other. Sanders did it first, on Sunday. Clinton landed it on Wednesday night:
Clinton was also asked to address her big loss in Michigan, with moderator Maria Elena Salinas wondering where she "failed" in the state.
Clinton brushed off the loss, saying it was a "very close race" and pointing out she won other contests.
"We've had some of those," she said of the close races. "I've won some, I've lost some, but I am very pleased by the result [of Tuesday]."
Clinton added that she sees the race as a "marathon," and one that can only be won by the type of "inclusive" campaign she is running.
For his part, Sanders said some have characterized his win as "one of the major political upsets in modern American history."
He said in the coming weeks and months he thinks he will continue to do well, despite his large delegate deficit.
"We have come a long way in 10 months," he said.
Clinton had what many people called a stark and genuinely honest moment after she was asked why voters found her untrustworthy: "I am not a natural politician, in case you haven't noticed, like my husband or President Obama."
Moderator Jorge Ramos pressed Clinton on her deportation policy, asking her directly if she would promise not to deport children and immigrants who don't have a criminal record.
"I'd like see added to [current laws] a guaranteed counsel and other support for children, but if you are asking about everyone who is already here undocumented immigrants, the 11 million, 12 million who are living here, my priorities are to deport violent criminals, terrorists, and anyone who threatens our safety," Clinton said. "So I do not have the same policy as the current administration does. I think it's important that we move to our comprehensive immigration reform, but at the same time, stop the raids, stop the round-ups, stop the deporting of people who are living here doing their lives, doing their jobs and that's my priority."
Ramos pressed for a yes or no answer, asking, "Can you promise you won't deport children who are already here?"
Clinton responded, "I will not deport children."
Clinton — along with Sanders — also said she would not deport immigrants without a criminal record.
The debate turned toward questions over Clinton's handling of the Benghazi, Libya terrorist attacks, a pivot that elicited audible protest from the audience members.
Moderator Jorge Ramos played a clip of a Pat Smith, the mother of a Benghazi victim, accusing Clinton of lying to her about the motivation behind the attacks by citing an incendiary video as sparking a protest that resulted in four dead Americans.
Clinton said she sympathized with the family member, but that she was just wrong.
"I feel a great deal of sympathy for the families of the four brave Americans that we lost in Benghazi," Clinton said. "And I certainly can't imagine the grief that she has for losing her son, but she's wrong. She's absolutely wrong."
Clinton continued, "I and everybody in the administration, all the people she named — the president, the vice president, Susan Rice — we were scrambling to get information that was changing literally by the hour."
Clinton was then asked specifically about an email she sent to her daughter, Chelsea, the night of the attacks claiming that al-Qaeda linked terrorists were responsible.
Clinton responded, saying, "At the time I emailed with my daughter, a terrorist group had taken credit for the attacks on our facility in Benghazi. Within 16, 18 hours, they rescinded taking credit. They did it all on social media."
Clinton claimed that the video did play a role in the attack, citing a captured terrorist in the attack pointing to the video as a motivating factor.
Here was Sanders' answer:
Well, let me just answer that. What that was about was saying that the United States was wrong to try to invade Cuba, that the United States was wrong trying to support people to overthrow the Nicaraguan government, that the United States was wrong trying to overthrow in 1954, the government -- democratically elected government of Guatemala.

...

I think the United States should be working with governments around the world, not get involved in regime change. And all of these actions, by the way, in Latin America, brought forth a lot of very strong anti-American sentiments. That's what that was about.

Cuba is, of course, an authoritarian undemocratic country, and I hope very much as soon as possible it becomes a democratic country. But on the other hand, it would be wrong not to state that in Cuba they have made some good advances in health care. They are sending doctors all over the world. They have made some progress in education. I think by restoring full diplomatic relations with Cuba, it will result in significant improvements to the lives of Cubans and it will help the United States and our business community invest.
More than two dozen Florida mayors wanted the candidates to address climate change, as rising sea levels are expected to heavily affect southern Florida.
Many Republicans, the moderator said, argue that this is not a man-made problem and any proposals to address climate change are unlikely to receive bipartisan support.
Sanders said Republican candidates who call climate change a hoax really "don't have the guts to take on the fossil fuel industry" and fear campaigns could lose funding from those contributors. Sanders' solution, unsurprisingly, "A political revolution" that puts the long term health of the planet ahead of short-term profits.
Clinton said the problem is man-made and man-aggravated, and emissions need to be cut. She said she would carry out President Obama's executive actions on climate change, which have been challenged (for instance, limiting greenhouse gas emissions from power plants), and "make a bridge from coal to natural gas to clean energy."
After the candidates talked over each other for some time, Sanders said he has introduced comprehensive climate change legislation, and invited Clinton to join him to "impose a tax on carbon, on the fossil fuel industry, and make a massive investment in energy efficiency and sustainable energy." He also said he would end fracking in the U.S. — which got massive applause.
Reporting by Stephanie McNeal, Vanessa Wong, Kyle Blaine, and Tom Namako.