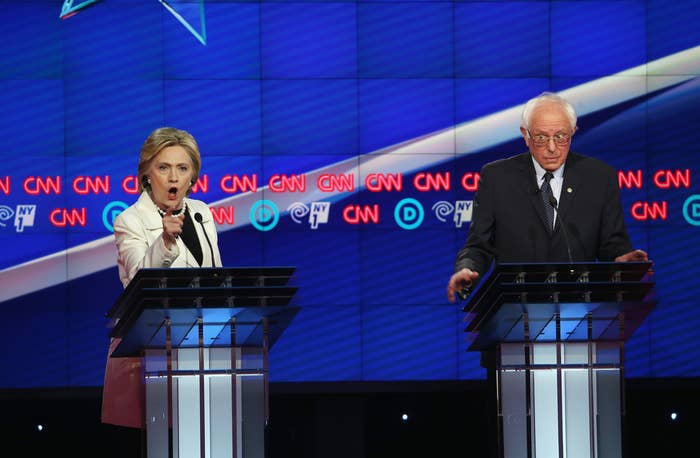 Bernie Sanders and Hillary Clinton took their gloves off Thursday at the Democratic presidential debate in Brooklyn, clashing on a range of issues as the two sought to build momentum ahead of New York's primary.
Sanders, who was born in Brooklyn, has been stepping up his attacks on Clinton, accusing her of being beholden to Wall Street interests and calling her unqualified to be president — an assertion he has since walked back.
When asked about his comments Thursday night, Sanders acknowledged that Clinton was qualified, but said he questioned her judgment.
"Does Secretary Clinton have the intelligence and experience required to be president? Of course she does. But I do question her judgment," he said. "I question a judgment that voted for the war in Iraq, that voted for virtually every trade agreement that cost us millions of decent-paying jobs. I question her judgment in working with super PACs that have accepted millions of dollars from Wall Street."
As she has done in recent days, Clinton defended her record and experience.
"I've been called a lot of things in my life, that was a first," Clinton said. "Well the people of New York voted for me twice to be their senator from New York, and President Obama trusted my judgement to be Secretary of State for the United States."
Sanders again hit Clinton over what he claimed were her ties of influence to Wall Street.
"The obvious decision is when the greed and recklessness and illegal behavior of Wall Street brought this country into the largest recession since the Great Depression, the obvious response to that is that you have a bunch of fraudulent actors who have to be broken up," Sanders said. "Now, Secretary Clinton was busy giving speeches to Goldman Sachs for tens of thousands of dollars a piece."
Clinton rejected Sanders account, saying "it's important to get the facts straight."
"I did stand up to the banks, I did make it clear that their behavior would not be excused," she said.
The back and forth exchanges elicited applause and boos from the audience.
Clinton faced heavy booing as she dodged pointed questions over her declining to release transcripts of her speeches to private industry, for which she charged tens of thousands of dollars.
The two candidates also clashed over raising the minimum wage nationwide.
Sanders accused Clinton of being soft on the issue and criticized her for not throwing her full weight behind a national increase to $15 an hour.
"I think people are surprised to hear Secretary Clinton supports a $15 minimum wage," Sanders said. "When this campaign began I said that we've got to end the starvation minimum wage of $7.25 and raise to $15. Secretary Clinton said raise it to $12. There's a difference."
The former New York senator rejected his comments as unfair, insisting that she advocates incremental increases with the goal eventually reaching $15 an hour.
On the 1994 crime bill passed during her husband's administration, Clinton said she was "sorry for the consequences that were unintended."
She was referring to long prison sentences for low-level, nonviolent offenders, and what critics have said is the mass incarceration that the federal bill enables.
"Well, I supported the crime bill. My husband has apologized, and he was the president who did sign it," Clinton said. "I'm sorry for the consequences that were unintended and that have had an unfortunate impact on young people's lives."
Sanders agreed that more had to be done to bring down incarceration rates, but also argued that more had to be done on drugs.
"This is a difference between the secretary and myself: We need to have the guts to change the so-called war on drugs," he said. "Too many lives have been lost because people possessed marijuana, and I believe we should take it off the federal controlled substance list. "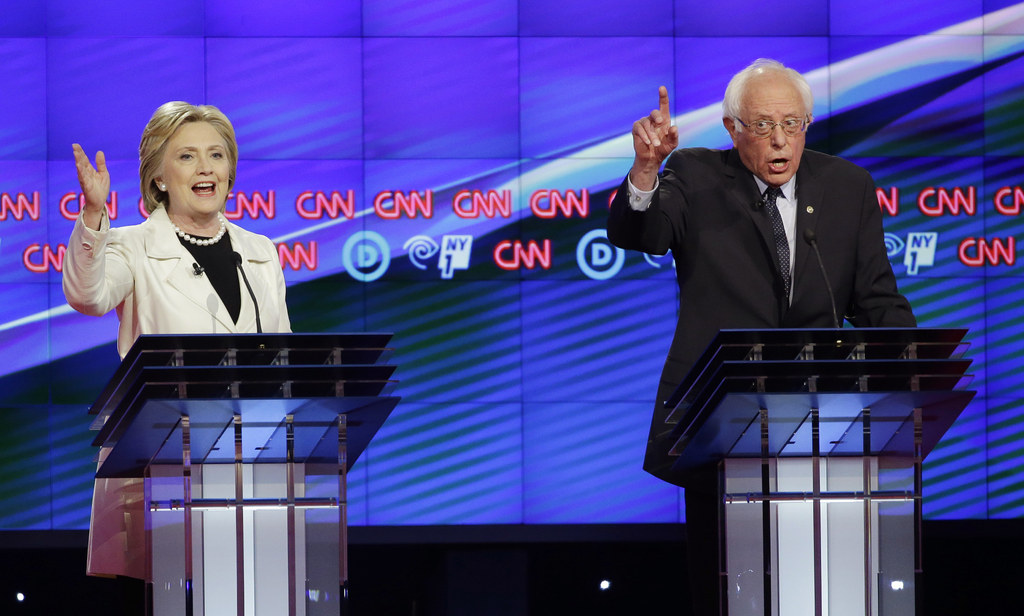 Clinton also defended her handling of Libya and the fall of Muammar al-Qaddafi during her time as secretary of state.
The question came after she was asked to respond to a recent statement from the White House that the regime change was considered by President Obama to be his "worst mistake."
"When it came to security issues, they didn't want troops from any other country, including us and the Europeans," she said. "They couldn't provide security on their own, which we could see and we told them, and the result has been that terrorists have taken over parts of the country."
But Sanders rebutted her assertion that "I think we did a great deal to help the Libyan people."
"We didn't think thoroughly about what happens the day after you get rid of these dictators," Sanders countered. "Regime change often has unintended consequences."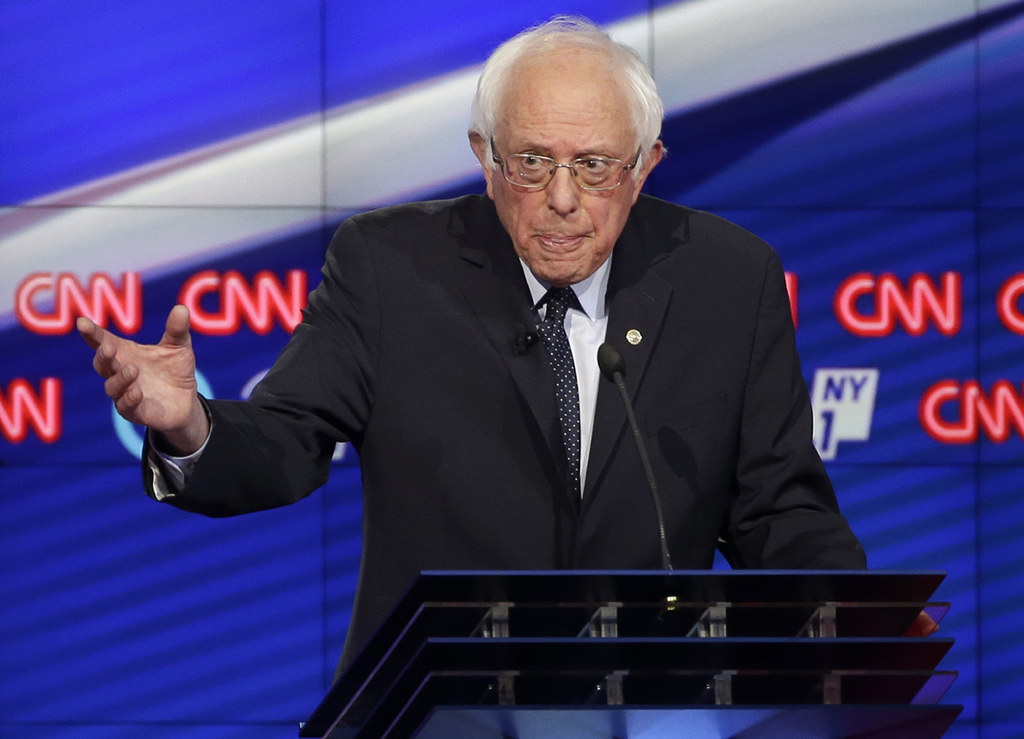 For his part, Sanders was asked to defend his position that Israel must end its "disproportionate responses" to attacks in order to achieve peace.
"Well, as somebody who spent many months of my life when I was a kid in Israel, who has family in Israel, of course Israel has a right to defend itself and live in peace and security without fear of terrorist attacks," he said. "Israel has the right to destroy terrorism, but we had in the Gaza area thousands of civilians who got wounded and got killed.
"Now, if you ask not just me...was that a disproportionate attack? I believe it absolutely was. As someone who is 100% pro-Israel, in the long run, if we are ever going to bring peace to that region, we are going to have to treat the Palestinian people with respect and dignity."
Clinton seized the opportunity to highlight her own political and diplomatic experience in brokering a ceasefire and dealing with both Palestinian and Israeli leaders.
"It is a difficult position if you are, from whatever perspective, trying to seek peace, trying to create the conditions of peace, where there is a terrorist group embedded in Gaza that does not want to see you exist," she said.
As she has in the past, Clinton pushed back on Sanders' proposals for a single-payer universal healthcare system and tuition-free college, calling them unworkable and politically impossible.
"With respect to college, I think we need to make college affordable…but I do think that when you are making proposals and you are running for president, you should be held accountable on whether the proposals you are introducing add up," Clinton said.
She added that Sanders' proposals "would pose an incredible burden, not just on the budget, but on individuals."
Sanders pushed back on that assertion, saying "there are many economists who come up with very different numbers." He also noted that democracies around the world manage to provide universal healthcare.
"We are the only major country on Earth that does not guarantee health care to all people," he said.
The candidates also differed on their approach to Merrick Garland's nomination to the Supreme Court.
The Republican-controlled Senate has refused to even consider Garland's nomination, arguing the next president should be the one to submit a nominee.
"I am not going to contradict the President's strategy on this," Clinton said. "I fully support the president and I believe the president is on the right side of both the Constitution and of history and the Senate needs to immediately begin to respond.
When I'm president I will take stock of where we are and move from there."
Sanders, however, said he would ask Obama to withdraw the nomination.
The reason, he said, is because "we need a Supreme Court justice who would make it clear — and this candidate hasn't done that — that he or she would vote to overturn Citizens United."
And from there, Clinton segued to the issue of abortion rights.
And then after two hours, they each gave their final pitch to New York voters.
The stakes for the debate were considered high.
Clinton currently has 1,289 pledged delegates to Sanders' 1,038. But when superdelegates are factored in, it's Clinton 1,758, Sanders 1,069.
At stake in New York are 291 Democratic delegates, which are awarded proportionately.
It takes 2,383 delegates to win the nomination.
A New York primary win on April 19 would be an upset for Sanders, who trails Clinton in the polls, slowing her march to the nomination.
A win for Clinton, on the other hand, would propel her even further ahead of Sanders in terms of the delegate count and get her closer to clinching the nomination as the last of the Democratic primaries take place in June.