Slain Hattiesburg Cops Praised As "Lions Of The Force" At Vigil
Benjamin Deen and Liquori Tate were gunned down during a traffic stop on Saturday. They're the first police deaths in Hattiesburg, Mississippi, in 30 years.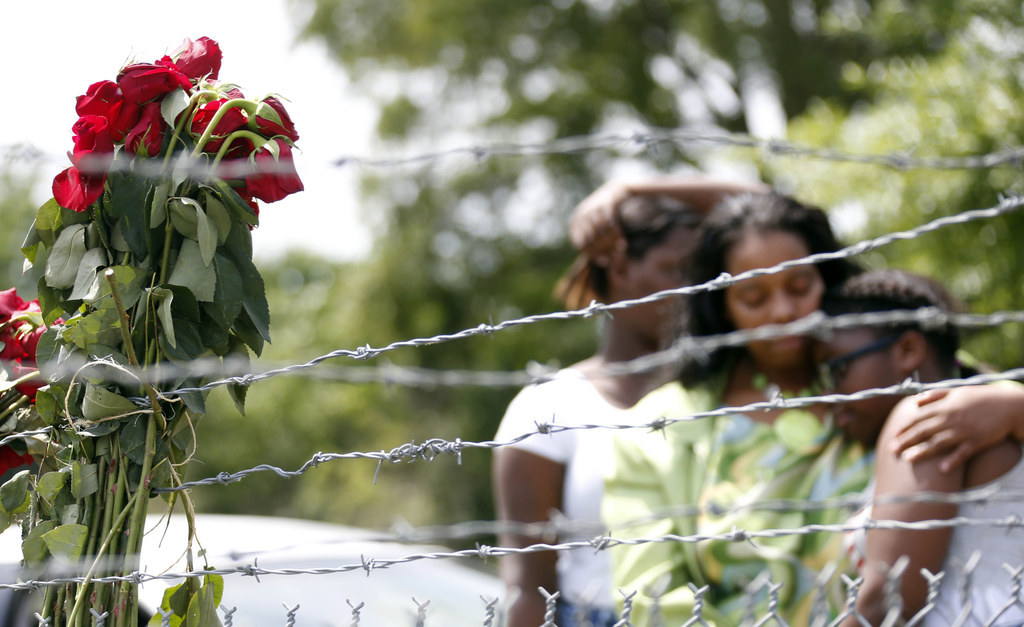 What We Know
Two officers were fatally shot Saturday during a traffic stop in Hattiesburg, Mississippi on Saturday.
Four people were charged in connection with the deaths, two with capital murder.
Benjamin Deen and Liquori Tate were the first officers killed in the city in nearly 30 years.
On Monday, Attorney General Loretta Lynch called the shootings a "shocking assault."
Updates
The mother of Officer Liquori Tate has given an emotional interview to NBC News in which she forgave her son's killers despite "unbearable" pain.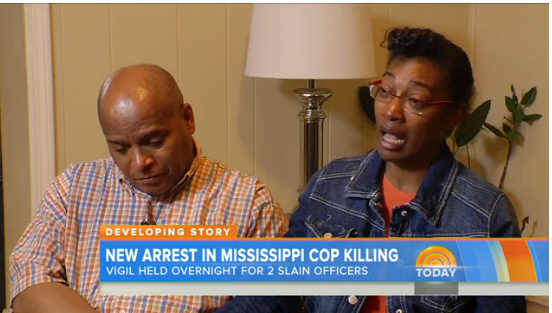 "They took away my baby," Youlander Ross said Sunday, which was also Mother's Day.
The two police officers shot dead in the line of duty were remembered as "bold and righteous" at a vigil in their honor Monday in Hattiesburg, Mississippi.
Federal and state officials, as well as local police officers, paid tribute to Officers Benjamin Deen and Liquori Tate, sharing stories of their time on the force and praising their service to the community.
U.S. States Attorney for the Southern District of Mississippi Gregory K. Davis paid tribute to the pair. "The wicked flee when no men pursueth, but the righteous are as bold as a lion," Davis said, quoting a verse from the biblical book of Proverbs. "Officers Deen and Tate were bold and righteous."
Deen, 34, was remembered as someone who was "always on time, ready to go to work, willing to go that extra mile," according to a colleague, who said Deen once received an award for missing zero days of work. "That says something. That's a man who loved his work."
In 2012, Deen was honored as the local police officer of the year for his work in saving a family from a burning house.
Assistant Police Chief Frank Misenhelter eulogized Deen as a man who "always had a smile on his face and an old country drawl." Whenever Deen excelled in his job, Misenhelter said, he would say, "Chief, that ain't too bad for an old country boy."
Tate, 25, was remembered by Misenhelter for his clear-eyed determination to become a police officer and his "infectious smile."
Officer Jason Jarvis remembered Tate's love of the police siren, sharing stories of how the young sergeant jumped at any chance to switch on a squad car's flashing lights and siren.
"I have never seen anyone more happy to be a cop than him," Jarvis said.
Hattiesburg Mayor Johnny DuPree praised the city's police force, saying locals had received a national outpouring of support at a time when relations between African Americans and police are under extensive scrutiny.
"People view Hattiesburg not as Baltimore, not as Ferguson. They view us as Hattiesburg, Mississippi," DuPree said to a standing ovation. "And the reason they do is because of officers Deen and Tate."
Read more about Officers Tate and Deen here.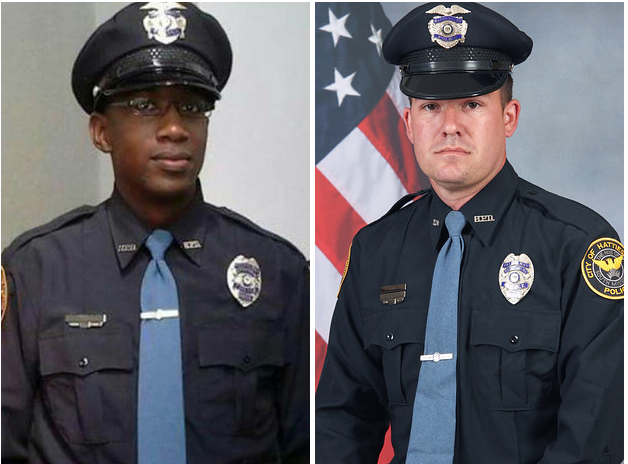 The mother of two of the suspects charged over the deaths of the Hattiesburg police officers says she believes one of her sons may have been high during the alleged incident.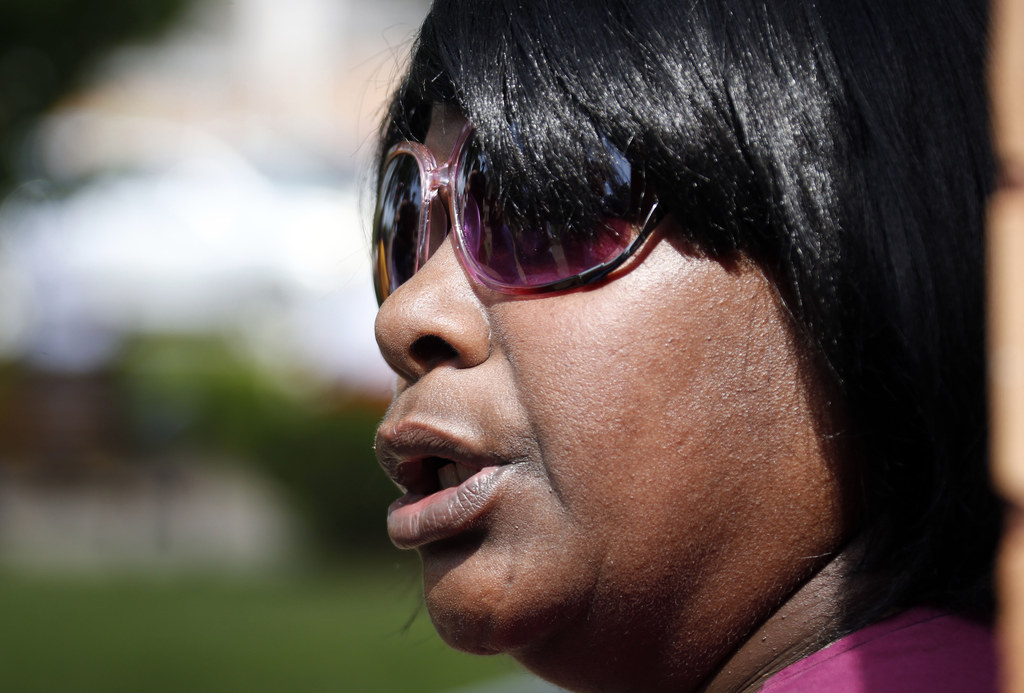 Mary Smith told the Associated Press that her son Marvin Banks, 29, is addicted to drugs and suffers from psychological problems.
Banks has been charged with two counts of murder, while his 26-year-old brother Curtis has been charged with being an accessory. Banks' girlfriend, Joanie Calloway, is also facing two murder charges, while a fourth suspect, Cornelius Clark, has been charged with obstruction.
Smith told the AP her son smoked "spice" daily and has been hearing voices since an attack to the head with a metal pipe several years ago. However, she reportedly said she had no doubt her son committed the murders.
"You could tell something was wrong with him," she said of his arrest photo, in which, she says, he appears to be high. "I hate it for these families that he wasn't in his right mind."
Smith said Hattiesburg police regularly harass black men without cause. "You could tell something was going to happen, but I never thought it would be my sons," she said.
Attorney General Loretta Lynch released this statement Monday: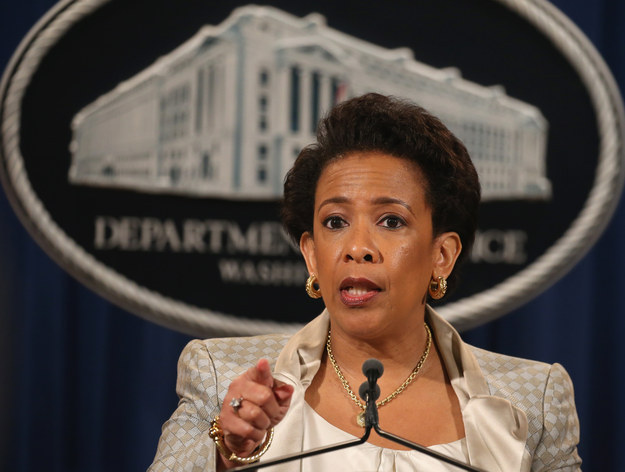 The shocking assault on law enforcement officers in Hattiesburg, Mississippi, struck at the heart of that great city. The Department of Justice stands ready to offer any possible aid to the Hattiesburg community as they investigate this appalling incident. And we will continue to do all that we can to protect our officers across the country and support all those who wear the badge.

"Officer Benjamin Deen and Officer Liquori Tate were committed and courageous public safety officials, dedicated to their community and devoted to their mission. They exemplified the very best that our country has to offer. And as we go forward, the Department of Justice intends to honor their service and their sacrifice by fighting for the values they protected every day, and defending the American people they were proud to serve.

"Their loss is made even more tragic by the fact that, on the day they were killed this past Saturday, the country began observing Police Week – a time when we pause to remember and honor the more than 20,000 law enforcement officers who have been killed in the line of duty. The murder of these young men is a devastating reminder that the work our brave police officers perform every day is extremely dangerous, profoundly heroic, and deeply deserving of our unequivocal support. All Americans owe these courageous citizens a debt of gratitude. The Department of Justice stands in solidarity with our brothers and sisters at every level of law enforcement as we mourn this most recent loss.
---
Reporting by Jim Dalrymple II, David Mack, Felipe Araujo, Michelle Broder Van Dyke, and Tasneem Nashrulla.
This is a developing story. Check back for updates and follow BuzzFeed News on Twitter.