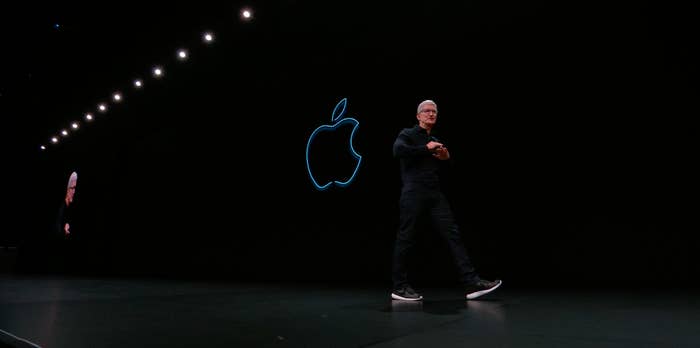 Apple announced dozens of new features at today's WWDC keynote: a slew of privacy-focused settings, a dark mode, a $6,000 high-performance Mac Pro (the stand itself is an extra $1,000), an iPad that's better for multitasking via a new dedicated operating system, and...AirPods for Animoji.
On Apple's mobile devices, major updates are coming via the new iOS 13 operating system, and on desktop computers via macOS Catalina. The iPad now has its own operating system, iPad OS, and is getting many long-awaited features, including the ability to use an iPad as a second display for your Mac, multi-window capability, and thumb drive support.
Apple also announced new apps for the Apple Watch, including a period-tracking app called "Cycle Tracking" and a Noise app that detects the decibel level of a person's surrounding environment and warns them when it's dangerous for their ears.
And as privacy scandals have rocked Facebook, Google, and Amazon in the past year, Apple emphasized its focus on user privacy throughout today's announcements, including the security on its Maps app, the ways it won't share your data with developers, and how its home security product processes video on-site rather than in the cloud.
All the developers can download the betas today; a public version of the beta will be available in July. Read all about Apple's announcements below.
Apple's new Mac OS is called Catalina. Here are the main features.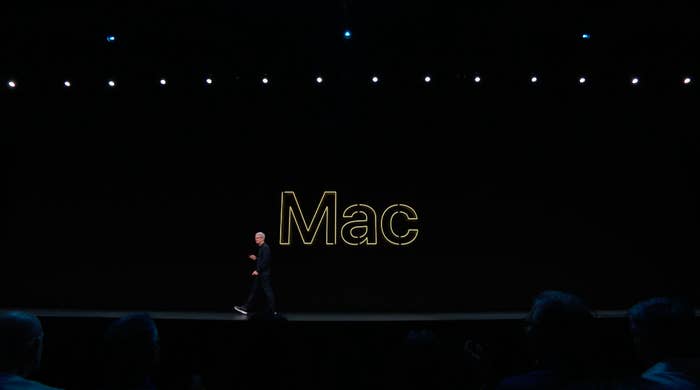 The new macOS 10.15 is called Catalina in keeping with Apple's theme of naming its desktop operating systems after California landmarks. While upgrading your computer's OS is a universally painful experience, Catalina has a whole slew of new features intended to mitigate some of the torture of upgrading. The Catalina OS beta is available today, and public seeds will be available in July. The OS will become widely available in the fall. Here are a few of its tentpole features:
"Sidecar" lets you use your iPad as a second display for your Mac. The feature works in both wired and wireless modes, meaning, for the latter, you can kick back in your chair and fiddle with the document or file you have open on your computer, but right in hand on an iPad.
Apple is now letting you use voice control for accessibility. As expected, the feature leverages Siri, Apple's voice-activated personal assistant. Apple's focus on privacy continues to be apparent — your voice commands are always processed locally on your Mac.
"Find My iPhone" and "Find My Friends" have now been combined into one feature, simply called "Find My." It's available on both Macs and iOS devices. Basically, Find My uses other people's devices to triangulate your lost device. Even better, it can locate Apple devices that are offline. As Apple's Craig Federighi explained, your Mac (or any other device using Find My) will still be able to send out a secure Bluetooth beacon that is end-to-end encrypted and anonymous.
Activation Lock makes your Mac "far less attractive to thieves." This already existed for iPhones and iPads, but now it's coming to Macs. Essentially, it's a theft protection feature that prevents people from stealing, wiping, and restoring your iPhone or iPad without your explicit permission. Your Mac is tied to your Apple ID, and if it ever gets lost, it can't be activated with a new account before it's removed from yours. The one catch: Your Mac must have the newer T2 security chip for this feature to work.
Screen Time is also coming to Mac. It's the same idea as Screen Time on iOS — the feature provides Screen Time visibility into how you use your Mac and what apps you spend the most time on. Apple promoted this as a feature that's "great for families," as any limits that a parent (or you yourself) enforces in one place become active across all your Apple devices.
Farewell, iTunes.
iTunes for the desktop — a sprawling octopus of content — is finally being broken up into separate apps, similar to iOS. iTunes has already been broken up on the iPhone into individual music, podcasts, and TV apps for a while. Finally, it's being broken up on Apple's desktops too.
You can read more here.
At long last, there's a new Mac Pro.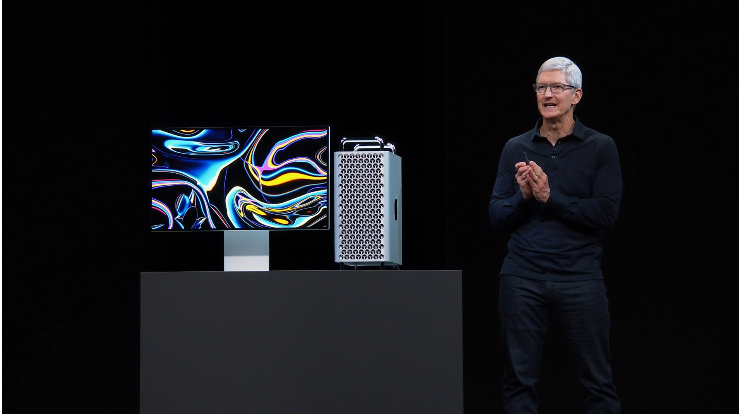 After years of promises, Apple today unveiled a completely reimagined Mac Pro. With a cheese grater-shaped tower and matching display, the long expected refresh comes after the company's previous apologies for being slow to update due to design constraints. Some specs: 1.4 kW power supply, three fans, 1.5 terabytes of system memory, and wheels. It also features a 6K, 32-inch LCD display.
Apple is calling it the most powerful consumer Mac that the company has created. It starts at $5,999 with the stand costing an additional eye-watering $1,000.
There are a lot of updates coming to iOS — the star of WWDC. Here are the highlights.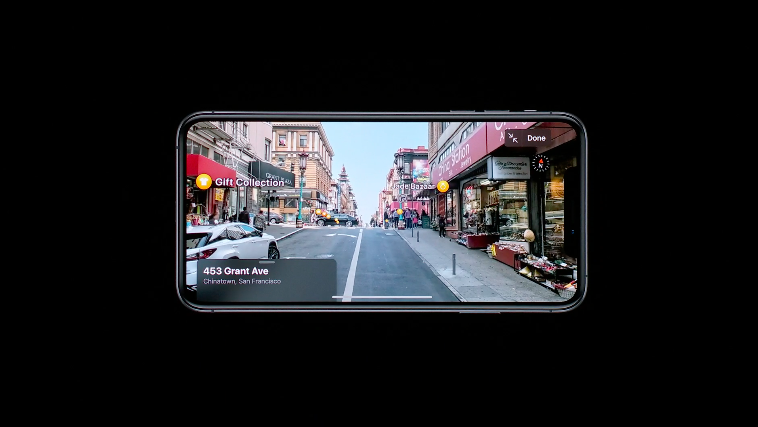 Apple's Craig Federighi outlined major performance improvements on iOS 13, the operating system for iPhone. Apps will launch twice as fast as iOS 12, and Face ID will unlock your phone 30% faster. App sizes will now be half the size when you download them from the App Store, and app updates will be 60% smaller. There's more:
There's now a dark mode. All your apps will now be available in a slick black to make looking at your phone easier on your eyes in the dark. Onstage, Federighi showed off dark versions of the Photos, News, Notes, and Music apps.
You can swipe to type in the default system keyboard. No more installing third-party keyboard apps to do this.
Major apps now have brand-new features. Apple Music gets time-synced lyrics that scroll up the screen as your song plays, the Mail app now supports rich fonts, and Notes has a brand-new gallery view and supports shared folders. Apple also redesigned the Reminders app from scratch and packed it full of features like associating your to-do list with reminders, and tagging people.
Apple Maps got some spit and polish. Apple didn't say anything about improving the actual navigation on Apple Maps, but you now get nice new features like nicer detail, and Google Street View–style views of certain cities. You can also share your ETA with friends and family directly from Apple Maps.
iOS 13 got a ton of new privacy features. You can now grant an app one-time access to your location, for instance, and the system will prevent apps from using Wi-Fi and Bluetooth data to infer your location.
Messages now lets you set a name and a profile picture. No more wondering who an iMessage is from if you don't have the contact saved in your phone.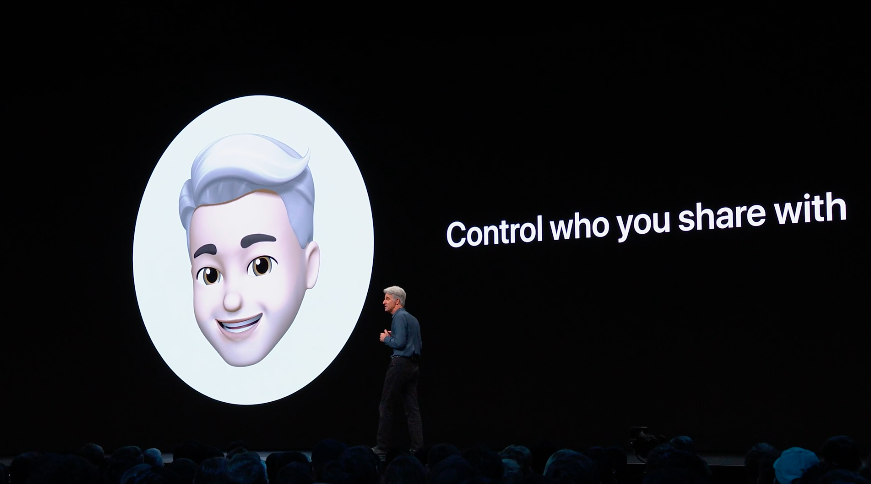 The Camera and Photos apps got some nice new upgrades such as new photo editing features. The Photos app will now automatically declutter itself by separating your screenshots, duplicates, and receipts from the rest of your photo library.
Siri is now a tiny bit nicer. She has a more natural-sounding voice that is now generated entirely using software (Apple previous had voice actors record Siri's voice), and will automatically read our your messages to you if you're wearing AirPods.
iOS 13 also supports audio sharing, which means that you can share the audio of a movie or a song with another friend with a single tap -- as long as they're wearing AirPods.
All developer betas are available today. The public betas roll out in July.
The scuttlebutt about iPadOS, which appeared just before Apple's WWDC keynote commenced, is real. Apple's iPads now have their very own software operating system.
iPadOS has supercharged multitasking. It has multi-window capability. It also has a split view — so you see two Notes side by side on the same screen. Or a Pages document and a Note side by side. It works across Spaces too.
The debut of iPadOS is a sign that Apple is finally acknowledging it must split the iPhone and iPad operating system development to further evolve each. The iPad is getting many more productivity features with things like column views for digging into file hierarchy, the ability to plug in a USB drive, and iPad-native multitouch gestures (no more magnifying glass that gets in the way when you're highlighting text!).
Apple introduces private home security with HomeKit Secure Video, which analyzes footage on-site rather than in the cloud.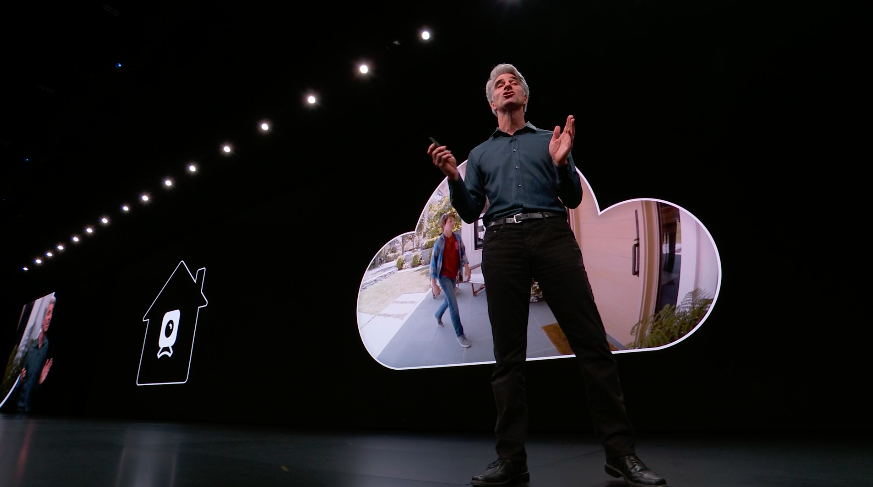 Home security cameras are on the rise, but you can never be sure exactly how the video recorded in and around your home is processed. Usually, tech companies (like Amazon's Ring, the doorbell camera company it acquired in April 2018) simply explain that this video is processed "in the cloud." But who has access to the footage, and is it used to train some other complex video AI product? Tech companies are likely loath to describe the specifics. But just now, Apple announced HomeKit Secure Video, designed to give you peace of mind for this very problem.
"Most people's home camera [footage is] sent to the cloud," Craig Federighi, Apple's senior vice president of software engineering, told the crowd at WWDC. "That risks your privacy." But with HomeKit Secure Video, he explained, the video is analyzed on-site right in your home. It uses your actual iPad, HomePod, or AppleTV, and then it's encrypted and sent to a secure iCloud. "Not even Apple can see it," Federighi said to an enthusiastic crowd. HomeKit Secure Video even works with certain third-party camera providers, and the video storage and analysis doesn't count toward your iCloud data limit.
Apple's Photos app will now sort screenshots from your real photos.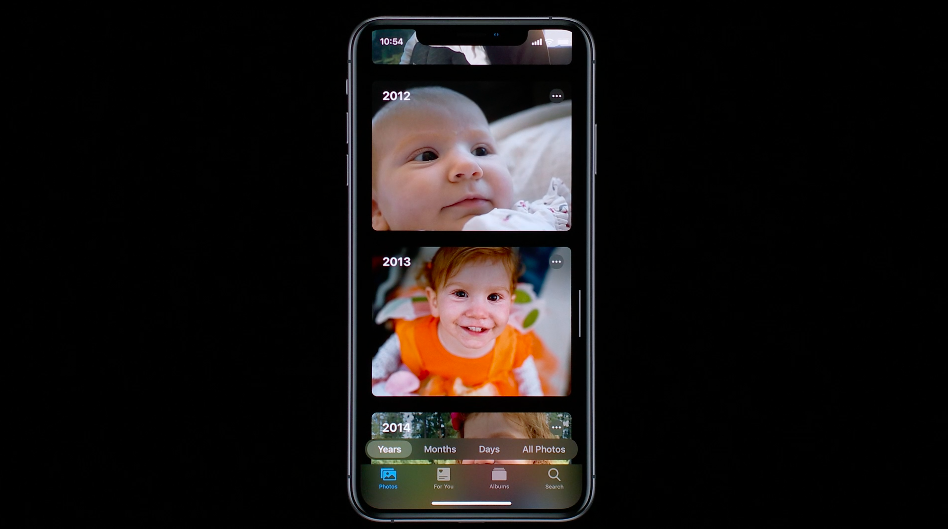 Apple's Photos app will now be able to automatically separate all the screenshots and garbage photos you save to your phone from the actual, you know, nice, meaningful photos you take. If you're like me, you screenshot all sorts of crap: funny tweets, online shopping items to buy later, interesting parts of articles, dumb memes from Facebook. My Photos app right now is just a mess of all these things mixed in with the actual photos I take of my real life. For years, the Photos app has been a junk drawer of sorts: saved images and screenshots all mixed in with photos of friends and family. Now we're getting some organization.
Apple goes after Facebook- and Google-based app logins with its own "Sign in with Apple ID."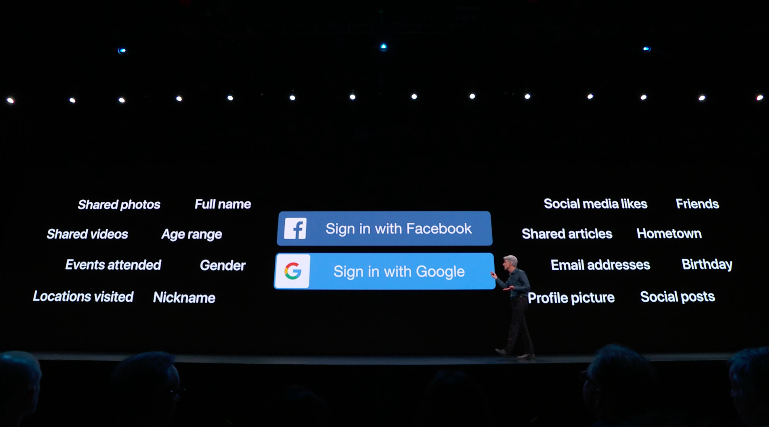 Touting its long-standing commitment to privacy, Apple is introducing "Sign in with Apple ID," a new feature to log into apps using Face ID as authentication. It is an alternative to logging into an account to Facebook and Google. Apple will create a randomized email address that forwards any emails from developers to your real email address in order to limit the amount of data given to developers. In a slide, Apple showed a sampling of the data Facebook and Google hands over to third-party apps, such as one's full name, age, gender, social media likes, and more.
This wasn't the only privacy feature Apple announced today. You can read more about its privacy announcements, including how apps gather location data, here.
The Apple Watch can now detect noise levels around it.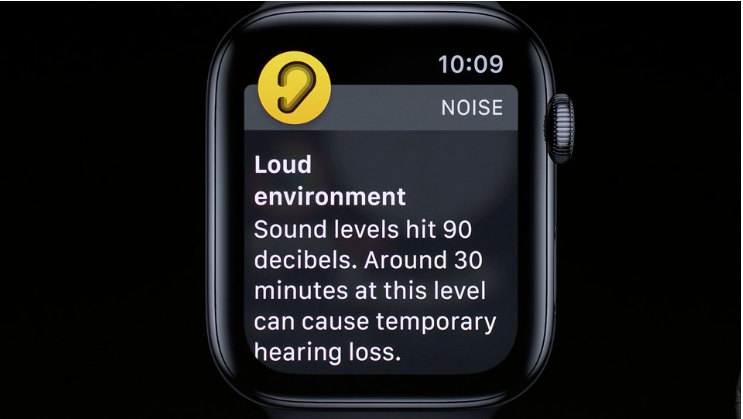 The Noise app, one of the watch's new apps, detects the decibel level of a person's surrounding environment and warns them when it's dangerous for their ears. Apple says that it does not record or save any audio when the app is testing sound.
Apple adds a period-tracking app to the Apple Watch called "Cycle Tracking."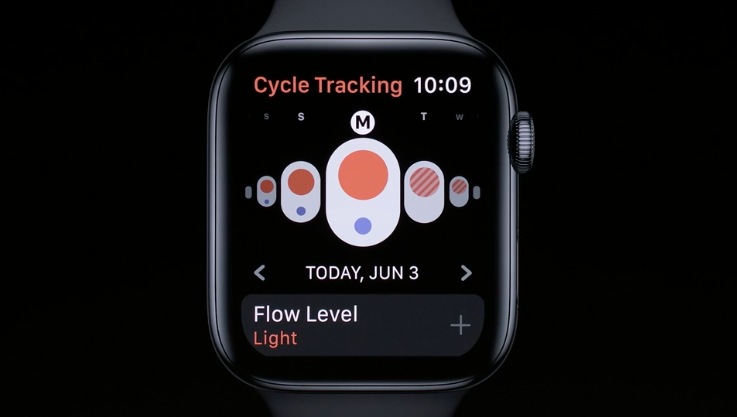 "Cycle Tracking" is a new menstrual-tracking app for Apple Watch, and it's built into the iPhone's Health app. Users can mark when their period starts and ends and record a daily period flow level as "light, medium, heavy, or unspecified." Based on user-inputted menstrual cycle data, the app can estimate when the user's period or fertile window is likely to start, and notify them.
Apple first brought period-tracking, along with a slew of other reproductive health trackers, to the iPhone's Health app in 2015.
Apple Watch is getting new apps.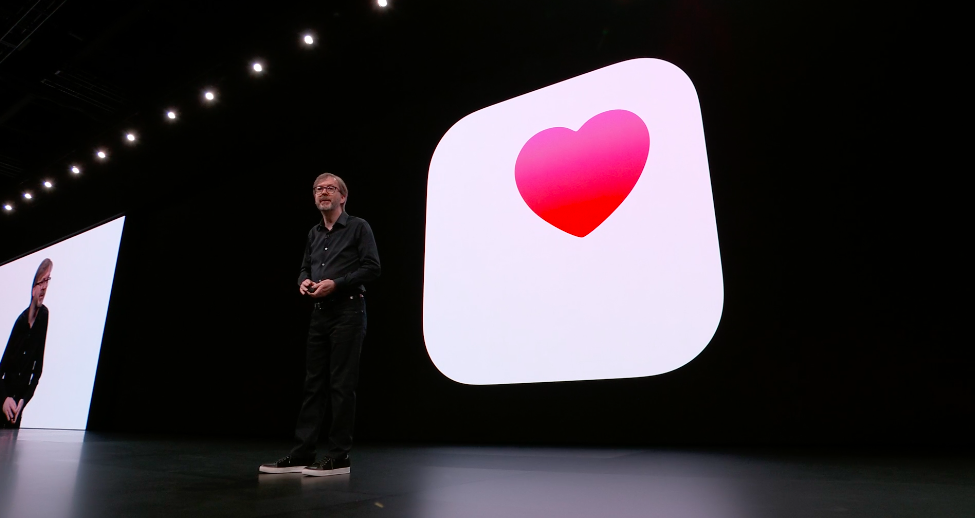 After displaying new watch faces, Kevin Lynch, Apple's vice president of technology, said new apps are coming to the Apple Watch, including voice memos and a calculator. The watch will also now support independent apps, meaning that apps on the device will not need a companion iPhone. It looks more like we're heading to a future where the Apple Watch will eventually be independent from the iPhone.
A new tvOS.
Apple announced tvOS 13, the new operating system for Apple TV. It will have a redesigned homescreen, multiuser support, personalized recommendations, and Apple Music integration. Cook called it "the best music experience on television." The tvOS 13 will also work with Apple Arcade and support the Xbox One S and the Playstation DualShock 4 game controllers.
Apple's original programming is coming.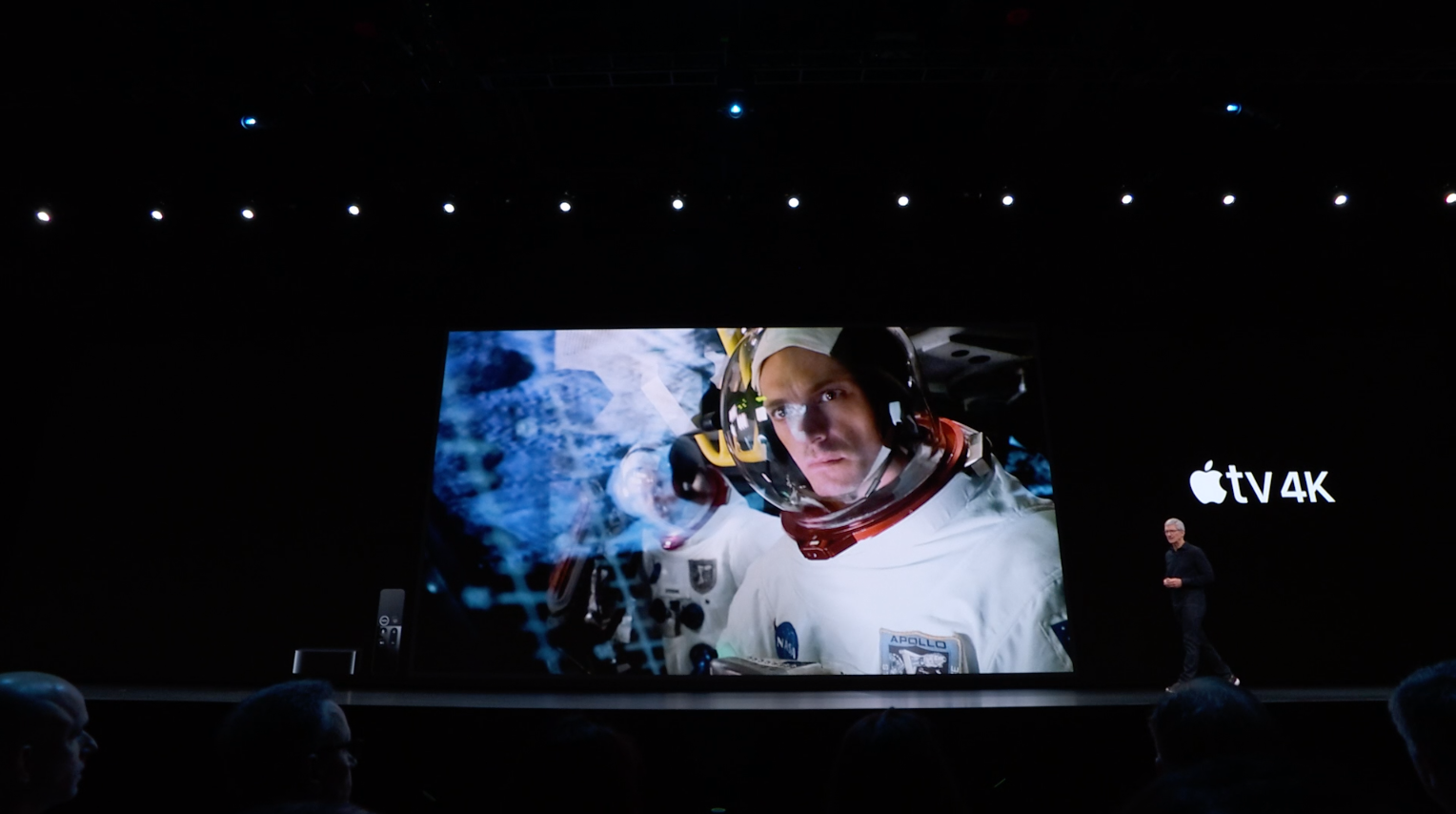 After standard opening remarks welcoming developers from around the world to the event, Apple CEO Tim Cook previewed a trailer for one of Apple's first original series, For All Mankind coming to Apple TV+, Apple's video streaming service launching later this year. The show is being produced by Ronald Moore, an executive producer of Star Trek and Battlestar Galactica.