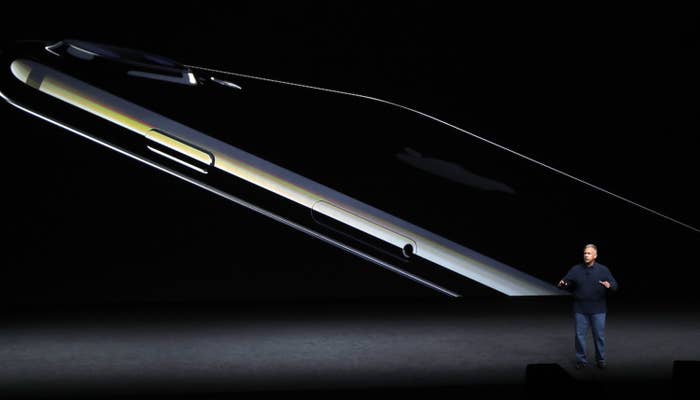 Apple made some big announcements at its iPhone event in San Francisco today.
The iPhone 7 and 7 Plus are finally here (you can pre-order them Sept. 9; they ship Sept. 16). They're water-resistant, come in two new colors, are faster and have a new pressure-sensitive home button and a longer battery life. Both of their cameras got big upgrades, and the 7 Plus also now has a two camera systems. The iPhone 7 starts at $645, while the 7 Plus starts at $769.
The most controversial moment of the event was when Apple confirmed rumors that it's removed the iPhone 7 and 7 Plus's headphone jacks, forcing users to move to wired Lightning headsets or wireless Bluetooth "Apple AirPods." (The phones will ship with an adapter that lets you use your old headphones, if you insist.)
The Apple Watch got several fitness-focused updates as well — the new Series 2 watch is water-resistant too, so you can take it swimming and surfing. An improved processor and GPS chip will help it track your fitness better, and now you don't have to take your phone with you on hikes and runs. It also has Pokémon Go.
Apple also announced that Nintendo games are finally coming to iOS — sometime soon, iPhone owners will be able to play a game called Super Mario Run. Nintendo stock started booming right as the news broke at the event.
Now all that's left to do is scope out Twitter for the funniest reactions to Apple's new stuff.
Wrapping Up: "Music Is at the Core of Our DNA"
Like the past few events Apple has held at Bill Graham, this one too concludes with a musical performance. Today it's Sia performing "The Greatest," her tribute to the victims of the Orlando nightclub shooting.
You can still use your old headphones on the iPhone 7, thanks to a handy Lightning adapter...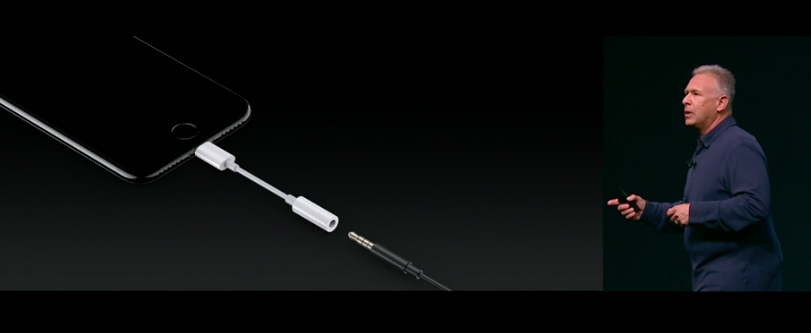 ...but the new wireless AirPods look pretty cool.
The iPhone Headphone Jack Takes a Dirt Nap
In a move certain to inspire endless Twitter tantrums and hot takes, Apple has indeed removed the analog headphone jack from the latest iPhone. iPhone 7 will ship with wired Lightning EarPods and a very small adapter for folks that want to keep using legacy headphones. It will cost $9 to replace when you inevitably lose it.
While those wired EarPods are perfectly serviceable, Apple uncrated a wireless alternative as well today, and they're promising.
Called AirPods, they look a lot like EarPods without cables. And they're packed with accelerometers, optical sensors, microphones, and antennas that Apple says vaults them past your average Bluetooth headphones. They have no buttons or switches. The optical sensors turn them on when you place them in your ears. A double-tap to either pod invokes Siri, which can be used to navigate through a music collection, adjust volume, make a phone call, or perform most any other task you might use Apple's intelligent assistant for. An Apple W1 wireless chip — the company's first — optimizes and streamlines the Bluetooth connection on which the AirPods rely to make them really easy to pair. Once you pair AirPods with your iPhone, Apple's iCloud back-end pairs them with all your Apple devices, as long as they're running iOS 10, Watch OS 3, or MacOS Sierra. They get about 5 hours of battery life as a stereo pair — or 5 hours each, mono. And they'll run for as long as 24 hours with the help of their Lightning-based charging case.
Price: $159. They're shipping in late October.
For the Beats crowd, Apple is rolling out a handful of headsets featuring that new W1 wireless chip as well: the Solo 3 Wireless (40 hours listening time!), the Power Beats 3 Wireless, and the more affordable Beats X.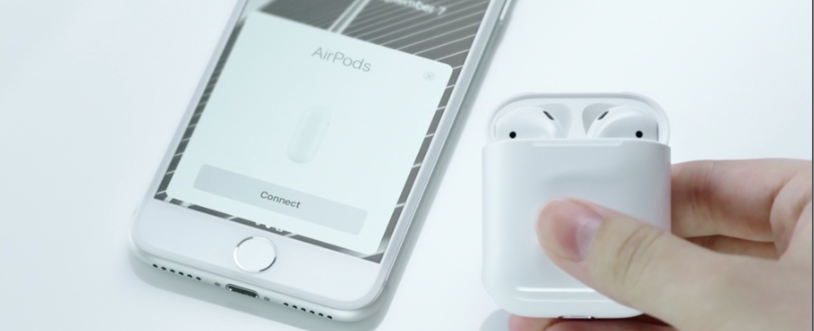 The iPhone 7's New Water Resistance Is a Gift to Clumsy iPhone Owners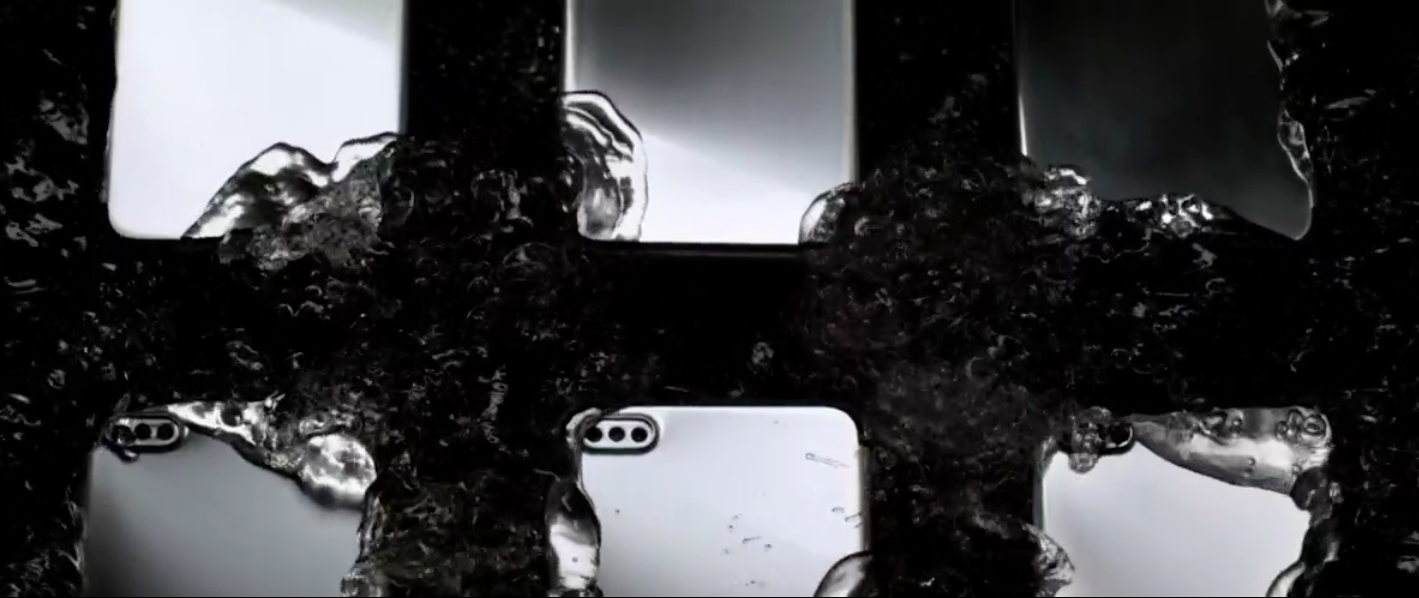 iPhone 7: "Jet Black Is the New Black"
Apple's new iPhones have faster processors and better cameras than their predecessors, but one of the real standout features is a badass new finish called "Jet Black." High gloss and piano black, it gives the appearance of a seamless connection between glass and chassis. The antenna line, which Apple has relocated, is pretty much invisible. It makes the 7 Plus look a bit like the monolith in 2001: A Space Odyssey. There's another black finish as well — "Black." Bead-blasted and anodized, it's more of a matte color. Sweet, but my guess is we'll be seeing a lot of Jet Black iPhones in the wild this upgrade cycle.
There's a new display that's 25% brighter and displays wide color. There's an additional speaker for stereo sound. 3D Touch? Still in full effect. A new solid-state home button with taptic engine replaces the old home button. It's customizable, so there will be feeling-specific notifications for all sorts of things (notifications, ringtones, messages) and because Apple has developed an API for it, we're going to see the vibrations it creates used in all manner of games.
The iPhone 7 meets the IP67 spec for water resistance, so unintentional toilet immersion is no longer a 100% guaranteed catastrophe. As SVP Schiller quips from the stage, "Now, even the least coordinated among us can rest easy when we walk by a pool or a lake."
Both the 7 and the 7 Plus feature dramatically improved camera systems. The new 12-megapixel sensor is 60% faster and 30% more efficient, the camera aperture is now F1.8, and there's a new 6 element Apple-designed lens. True Tone Flash is now 50% brighter. Both camera systems are doing wide color capture and Apple's Image Signal Processor is now doing face AND body detection. It's also doing a LOT of other stuff. It's performing over 100 billion operations every time you take a picture and it does it in 25 milliseconds.
On the front of both devices, a new 7MP FaceTime HD camera with image stabilization. And, at the bottom, a Lightning port for wired Lightning headphones. Apple has indeed removed headphone jack from the iPhone. The company will ship a small adapter for legacy headphones with each iPhone 7.
The 7 gets the optical image stabilization tech previously reserved for its larger "Plus" siblings and the 7 Plus gets an entirely new two camera system. One fixed wide angle camera and one fixed 2X telephoto camera side-by-side with software combining them together. With some software assistance, the telephoto can do a 10X zoom. A simple tap-and-drag interface controls the zoom.
A new feature coming later this year called "Portrait" will use both lenses simultaneously to create a depth of field or "Bokeh" effect that sharply foregrounds the subject of a photo against a soft out-of-focus background. The iPhone 7 will be able to do this live, so you can calibrate the shot. Says Schiller, "This is something you can't even do with a DSLR."
On the silicon side of things, there are a number of improvements: A new Apple-designed chip, called the A10 Fusion, has four cores — up from two. Why four? Two of them are high-performance cores that run 40% faster than A9 chips in the iPhone 6s, and two of them are high-efficiency cores that run at one-fifth the power of their high-performance counterparts. Working alongside them is a performance controller that doles out tasks to each depending on the processing power required. Also on board: a speedy new graphics engine that Apple says is 50% faster than the one in the A9. "This thing is a rocket ship," says Schiller. A quick onstage game — Oz: Broken Kingdom — demo suggests he's not exaggerating. "Nothing showcases performance like hundreds of flying monkeys," quips Schiller.
What else? The iPhone 7 gets two hours' more battery life than 6s; the 7 Plus gets about an hour more than 6 Plus.
The iPhone 7 starts at $649 for 32GB and is available in 128GB and 256GB configs as well (128 and 256 are when you can get jet black). 7 Plus starts at $769 for 32GB and is available in 128GB and 256GB configs as well (128 and 256 are when you can get jet black). Pre-orders start on Sept. 9, with shipping on Sept. 16.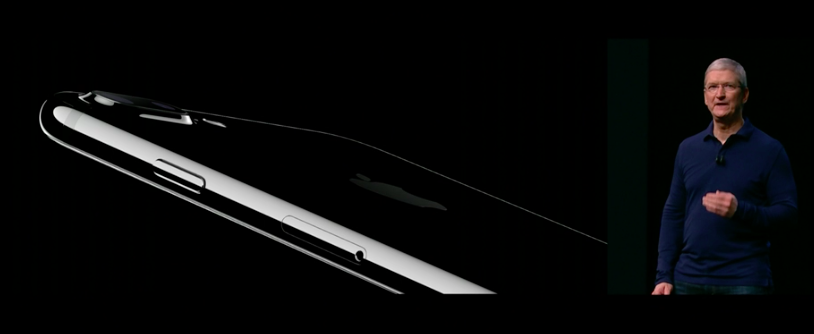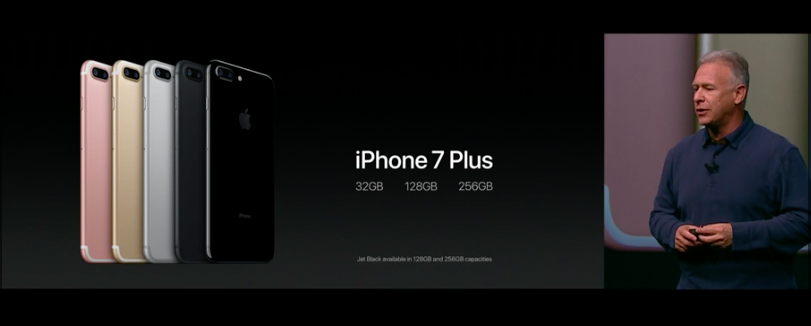 A Quick Chat About iOS 10
As a preface to the unveiling of iPhone 7, Cook talks a bit about the device in general, describing it as a cultural phenomenon. Apple has sold over 1 billion of them. "That makes the iPhone the best-selling product of its kind in the world," he says. He notes the impending launch of iOS 10 and all the updates it will bring, including a bunch of home automation stuff via Apple HomeKit and a big update to Messages.

You can take the new Apple Watch Series 2 swimming...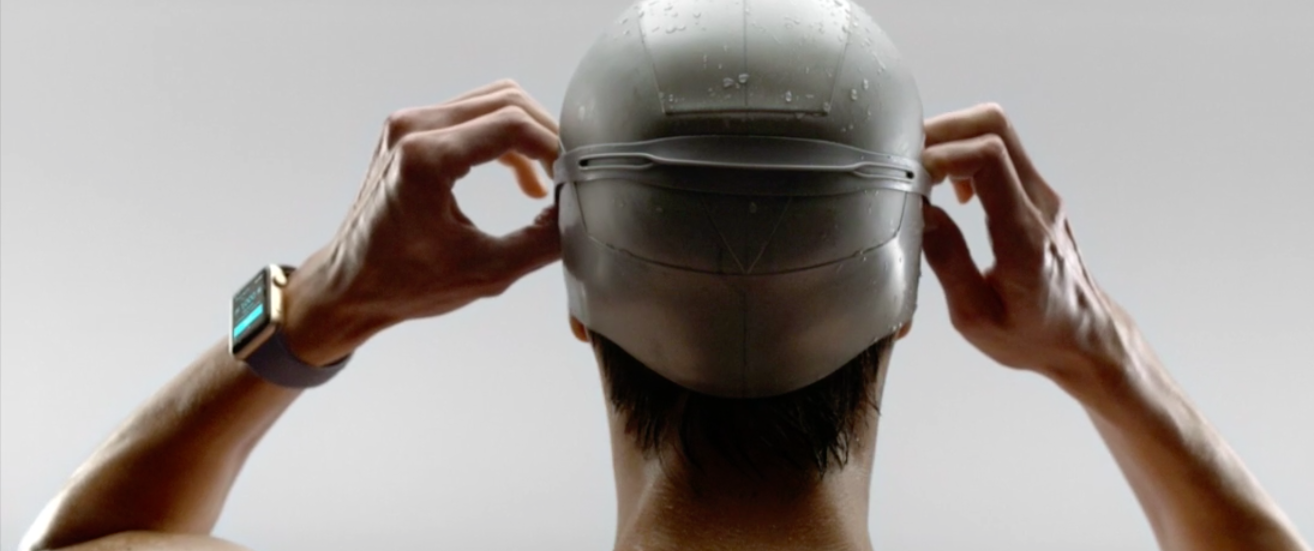 and surfing...

Now you can leave your iPhone behind when you take a hike...
...and there are some slick new Nike Plus Apple Watches.

Apple Watch Series 2 Is Waterproof With Built-In GPS (Plus: Nike Plus)
There's a new Apple Watch coming: the Apple Watch Series 2.
The big news is that the Apple Watch Series 2 is swim-proof. It's water-resistant to 50 meters, which means you can now take it swimming and surfing. To accomplish this, the company redesigned the speaker system — an open-to-the-air entryway typically where water would get in — to use the speaker itself to eject water that gets into the device.
The new Apple Watch gets built-in GPS, which means it can serve as a stand-alone fitness device to track your runs, rides, and the like. "Two of the most popular activities in the world are walking and running," said Williams. "We know there's times when people want to do this without their phones." (Um, yes.) Apple's opening this up to third-party developers, so apps can use GPS data to track distances.
"We think Apple Watch is the ultimate device for a healthy life," said Williams. And to hammer that home, he brought Nike President Trevor Edwards onstage to talk about a new Nike Plus partnership for the Apple Watch — a Nike Plus–branded Apple Watch. Tell Siri you're going for a run, and it starts a new workout, with big numbers splashed on the screen so you can see your mileage, pace, and other details at a glance. It also prompts you to do things like go for runs, compete with friends, and join worldwide runs. It comes in four colors.
In terms of aesthetics for the Watch, Apple showed off new Hermès bands, and more intriguingly, a ceramic finish.
Under the hood, it's getting a dual core processor and a faster GPU, so Apple COO Jeff Williams says it will be faster and will have much better video performance, with a 60 fps screen that's far brighter at 1,000 nits — the brightest of any device it's ever shipped.


iPhone 7 Is Water-Resistant
A rare misstep during Apple's event revealed a few features of the iPhone 7 before its official announcement from the Bill Graham Civic Auditorium stage. According to a now-deleted tweet from Apple's Twitter account, the iPhone 7 will be water-resistant, feature improved cameras, and offer a new black finish.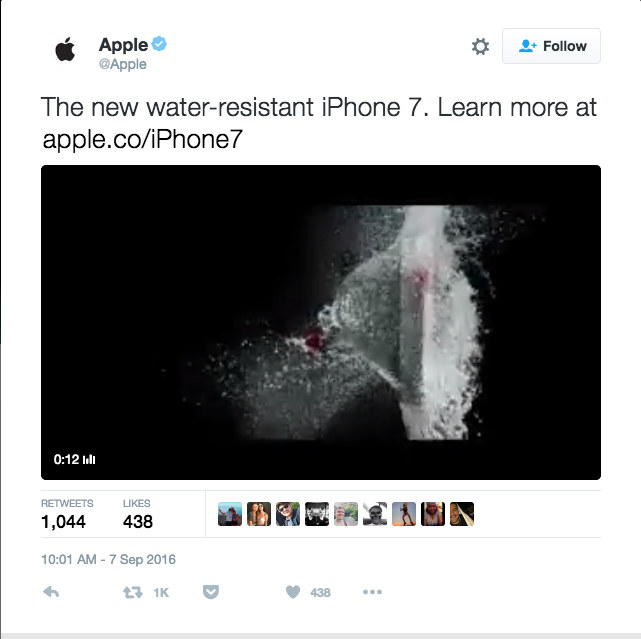 You Can Track Your Workout as You Play Pokémon Go
Pokémon Go Is Coming to the Apple Watch
Apple Watch is now the second leading watch brand by revenue in 2015 — after eight months of sales, according to Cook. Only Rolex is ahead.
Jeff Williams, Apple's COO (a position Cook used to hold), began by giving a rundown of all the new stuff that came in WatchOS 3, and talked about the apps developers are making for it. The big one? Pokémon Go.
Niantic CEO John Hanke said that Pokémon Go has been downloaded more than 500 million times. Pokémon trainers have walked 4.6 billion kilometers. The new version for the Apple Watch, available later this month, will let people play in a heads-up mode and really highlights some of the fitness features of the game and the landmarks that are in PokéStops.
iWork adds real-time collaboration
Apple's Susan Prescott showed off new real-time collaboration tools in iWork by... real time collaborating on a keynote presentation live onstage. So, a live presentation about live presentation software. Groovy.
Education
Cook said that Apple's ConnectEd program, for underserved students, now extends to 114 schools. It will donate Macs to more than 4,500 teachers and iPads to more than 50,000 students. Students in the program learn basic coding skills via an iPad app that helps them learn Apple's coding language Swift.
New Nintendo Game Coming to iOS
After noting that the App Store now has 140 billion total downloads, and that it's the biggest gaming platform out there, Cook invited Nintendo's legendary game designer Shigeru Miyamoto onstage. And yes, this means that Nintendo is coming to iOS, starting with a game called Super Mario Run. The best part (at least for subway commuters)? You can play one handed. It has a battle mode that will let you play friends or others around the world.
While Miyamoto didn't announce an update, he did say it was "coming soon," in time for the holidays in 2016. It's also going to have a set price — which means you won't have to pay to level up as you often do with other games.
In addition, Mario stickers are coming to iOS.


Apple Music Has 17 Million Paid Subscribers
Apple's big event today began with a video of Apple CEO Tim Cook riding in a car through San Francisco with James Corden doing Carpool Karaoke (which is coming to Apple Music). Along the way, they pick up Pharrell Williams, play "Sweet Home Alabama," and head into the back door of Bill Graham Civic Auditorium, where today's event is held. As the video cuts away, Cook walks onstage. It was a decidedly more lighthearted than how most Apple events typically start.
But Cook quickly switched to business.
He announced that Apple Music now has 17 million paid subscribers. He called out its exclusive content. He noted that there were 70 exclusive releases this past year — including ones from stars like Taylor Swift and Frank Ocean. This led straight to a teaser of the 10th anniversary Apple Music Festival in London, which is also going to be livestreamed on (natch) Apple devices.
People are lining up outside of Bill Graham Civic Auditorium ahead of Apple's Fall Event