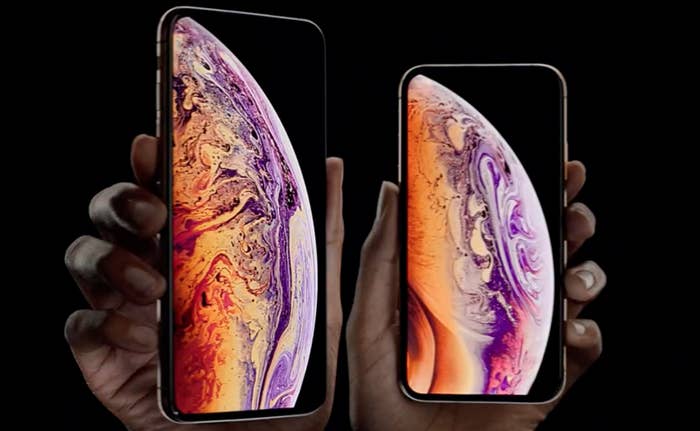 Apple unveiled a bunch of new products at its Sept. 12 event.
Apple held its annual press event at the Steve Jobs Theater in Cupertino, Calif. on Wednesday and launched a fleet of new products, many of which were leaked prior to the event.
The company debuted three new iPhones: Xs, Xs Max, and Xr (pronounced 10-s and 10-r, respectively).
The Xs and Xs Max are incremental upgrades to last year's X series. They're waterproof, and there's a 5.8-inch model, like last year's iPhone X, plus a 6.5-inch model that's larger (the Max). The Xs and Xs Max will start at $999 and $1,099.
The company also debuted the iPhone XR which is the new, less expensive version of Apple's flagship mobile product. With a 6.1-inch LCD edge-to-edge screen, the aluminum device comes in a variety of colors including white, black, blue, coral, yellow, and red. (But sorry, no brown.) It will start at $749.
There's also a new Apple Watch, which an executive touted as "an intelligent guardian for your health." The fourth-generation device is thinner, and its screen goes edge-to-edge and is about 30% larger. It will boast a speaker that is 50% louder and a watch crown with haptic (touch) feedback. Perhaps the biggest upgrade in the watch is a new built-in, FDA-approved heart monitor with electrocardiogram functionality.
Scroll below to read our live coverage of the event.
Here's what Apple unveiled today:
— A new Watch with a 30% bigger screen and some big new heart monitoring tech.
— Three new iPhones. Xs, Xs Max, and Xr (pronounced "10 S" and "10 R"). Basically: much faster, more durable, different price points. Big camera advances, better batteries. The Xr will have a new liquid retina display.
— HomePod is getting some updates (add more HomePods and they'll work together, search, make and receive phone calls, and ping your devices).
— TVos updates and a new Mac OS Mojave will come out in the next week.
Here are the prices for all the new iPhones.
The iPhone Xs Max starts at $1,099, and the iPhone Xs starts at $999. Both are available in 64, 256, and 512GB models. The iPhone Xr starts at $749.
The iPhone 7 drops to $449 and the iPhone 8 drops to $599.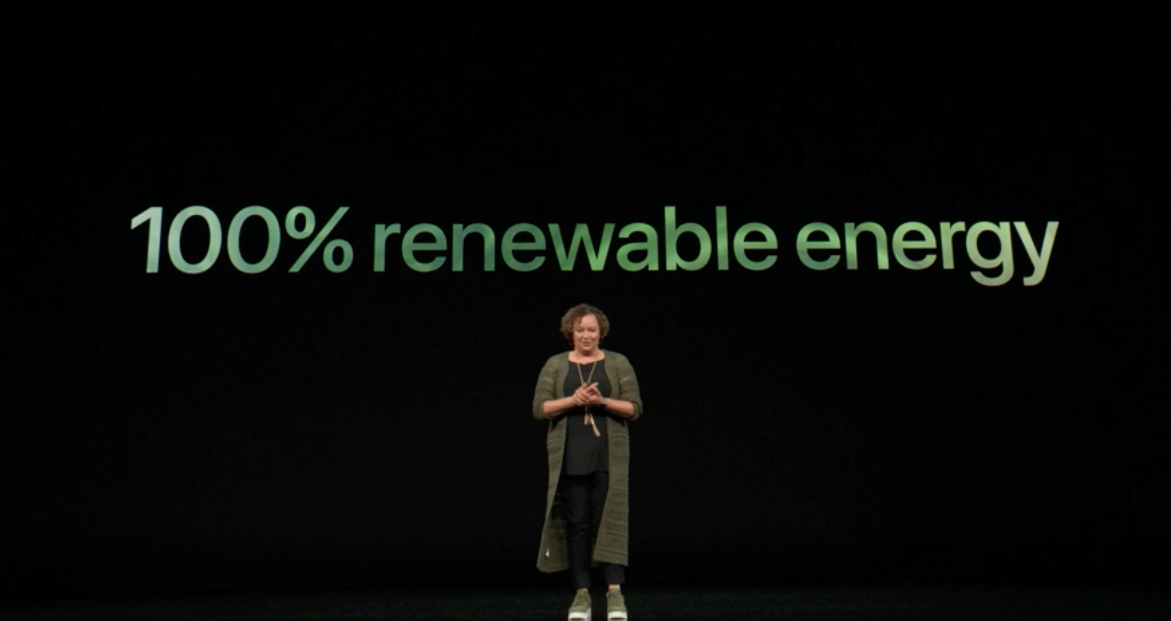 If you're like me, you probably didn't expect a segment in this keynote dedicated to a phrase like "postconsumer recycled plastic." So it's worth noting that Apple appears extra focused this year on stressing its reliance on renewable energy and limiting the impact on the environment. The company is also focusing on its recycling program, which is a smart move, given that a large set of people are upgrading their phones every year now, thanks to mobile provider plans.
Apple's new phones will let users have two phone numbers.
iPhone Xs and Xs Max will allow users to keep two different phone numbers and two different cell plans with Dual SIM capabilities. The Dual SIM Dual Standby feature, according to Apple, will help make it easier for travelers.
You can now have two phone numbers on the same iPhone.
The iPhone Xs and Xs Max also offer eSIM and double SIM card support.
"Smart HDR" is a new feature that makes photos look more vibrant (read: Instagramworthy). Portrait Mode is better, too.
"Smart HDR" takes a composite of multiple photos, and uses facial recognition to perform tasks like red-eye reduction, to create one image that's more balanced.
In Portrait Mode, there are improvements to the way the phone handles hair and glasses, but the big new feature is being able to adjust the blurriness of the image's background. (Samsung's Galaxy Note from last year can also do this.)
Apple is showing off its AR capabilities with a super-fancy basketball player–tracking app.
Apple's showing off its fast new Bionic processor with a pretty fancy augmented reality app called Homecourt. It's a player-tracking app that allows anyone to record their jump shot on a basketball court. Just point the app at the court and the app tracks ball and player movement and overlays information like where you took your shots, makes/misses, and a whole bunch of stats like release point, shot speed, shot angle, and more. It's a specific niche, but these are the types of apps that Apple is trying to popularize with AR.
Apple is really geeking out with specs here. But the takeaway is: The new phones are faster and more powerful versions of last year's iPhone X.
All the specs for the iPhone Xs and iPhone Xs Max for ya nerds.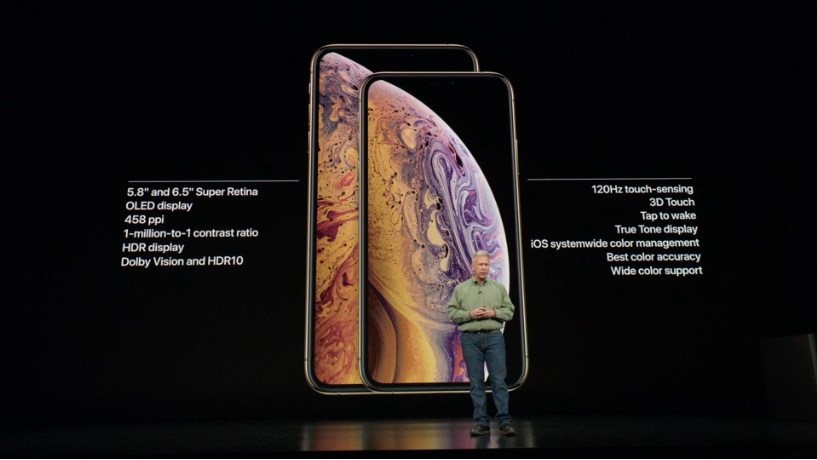 It also includes an A12 Bionic processor that has a neural engine, and other fancy stuff. Apple's offering a model with 512GB of internal space, too.
Here's the iPhone Xs Max. It's Big!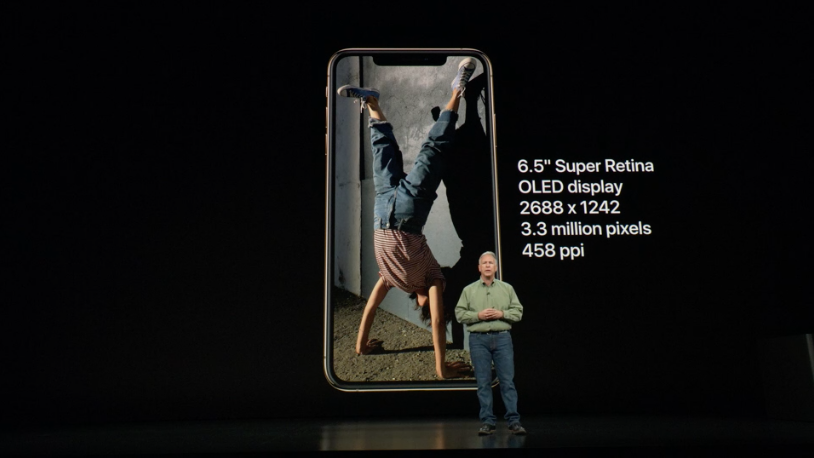 This is the iPhone Xs, which is pronounced "10 S."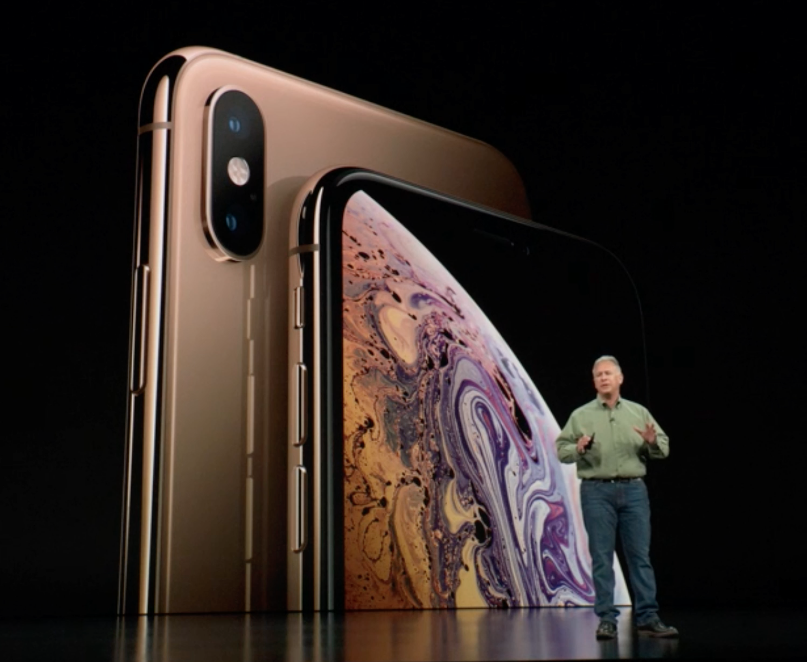 It's still waterproof. There's a 5.8-inch model, like last year's iPhone X, plus a larger 6.5-inch model called the iPhone Xs Max.
The Apple Watch comes with a built-in, FDA-approved ECG heart monitor. Basically: It's a lot more accurate.
Apple's newest touchscreen smartwatch also introduces built-in electrocardiogram functionality, which uses electrical signals for heart rate monitoring. It's the first over-the-counter product to offer ECG to consumers.
Users open the app, put their finger on the watch's digital crown, and after 30 seconds, they will receive heart rhythm classification. The app can classify signs of atrial fibrillation, which can be followed by a stroke.
Previous Apple Watch models use a technology called photoplethysmography, which uses green LED lights to detect blood flow on the wrist to determine heart rate. Though most wrist-worn fitness trackers use this method, it's considered a generally less accurate measure of heart rate compared to EKG measurement, according to several studies. Last year, the FDA cleared an EKG reader accessory for the Apple Watch called the Kardia Band.
The new watch screen is...very nice!
First up, it's a new, bigger Apple Watch: Series 4.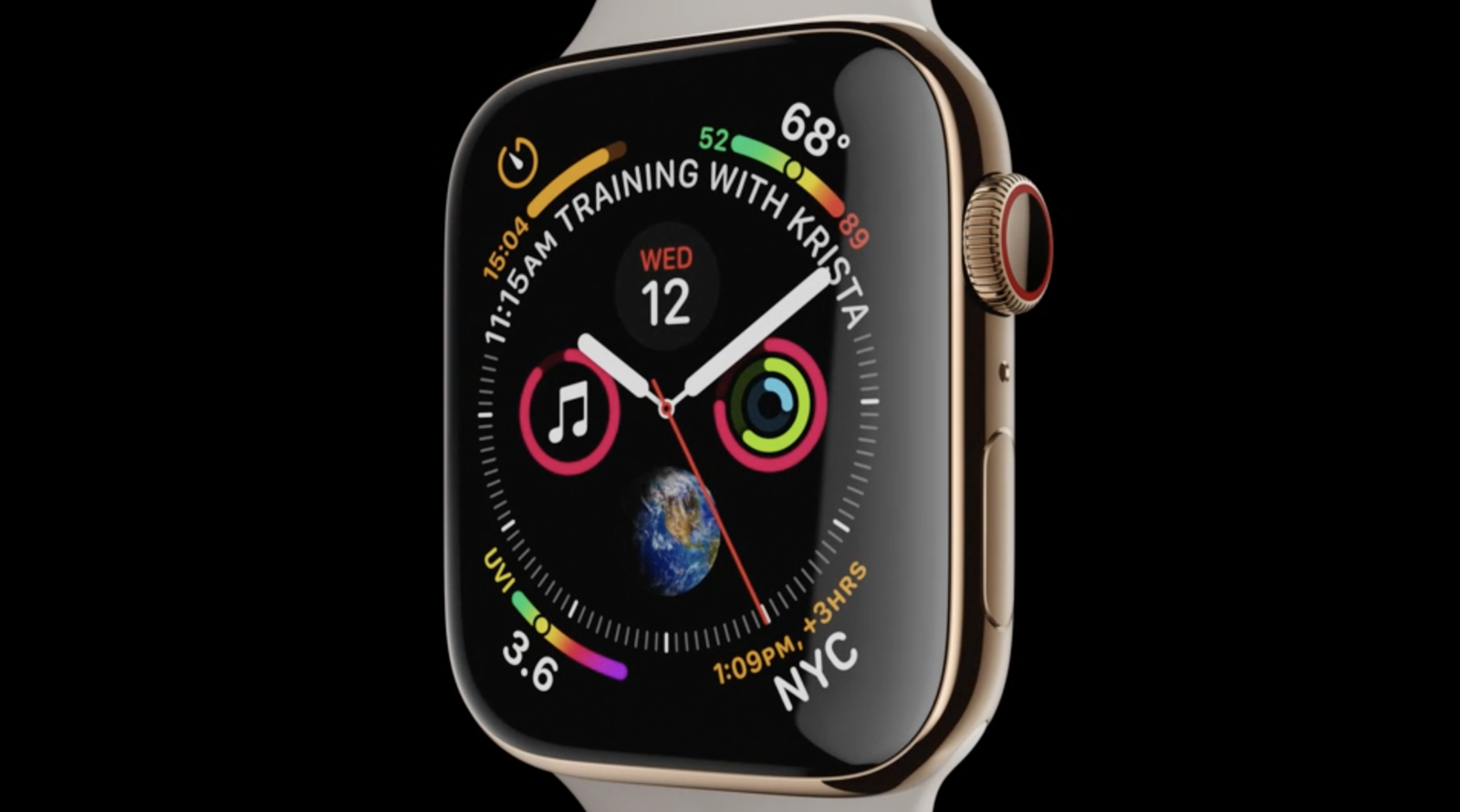 We knew this was going to happen today, but by all accounts the company is very excited about its new wrist gadget. How excited? Onstage, an executive called it "an intelligent guardian for your health." But there's good reason; the company says that it's "the #1 watch in the world" (which...is, I suppose, a pretty impressive thing to be able to claim).
Here's what you need to know about Series 4: It's thinner, and its screen goes edge-to-edge and is about 30% larger. What to do with this bigger watch face? More customizations to the screen. (You can add pics of your loved ones or obsessively track all your fitness goals, and there's a whole bunch of live tracking options for things like sports scores, if you're into that.)
There's a new speaker, too, which is 50% louder. Other new things: the watch speaker is 50% louder. The watch crown has haptic (touch) feedback. There are some interesting new detections based on sensors and accelerometer, including fall detection. Basically: Your all-day activity is going to be tracked more accurately than before (more workout options, etc.). And the battery is (allegedly) going to last you all day without needing a charge.
The biggest new feature on the watch is focused on your heart health (more info on that in the post above) but it's a big flex from Apple — the product of a lot of hardware and software innovation and work with the medical community.
And, of course, there are some fancy new bands (Hermes, Nike, and others). It starts at $399 with GPS and $499 for a watch with cellular connection. It's available for order this Friday, and it's going to come out Sept. 21.
Spoiler alert: This was an ad.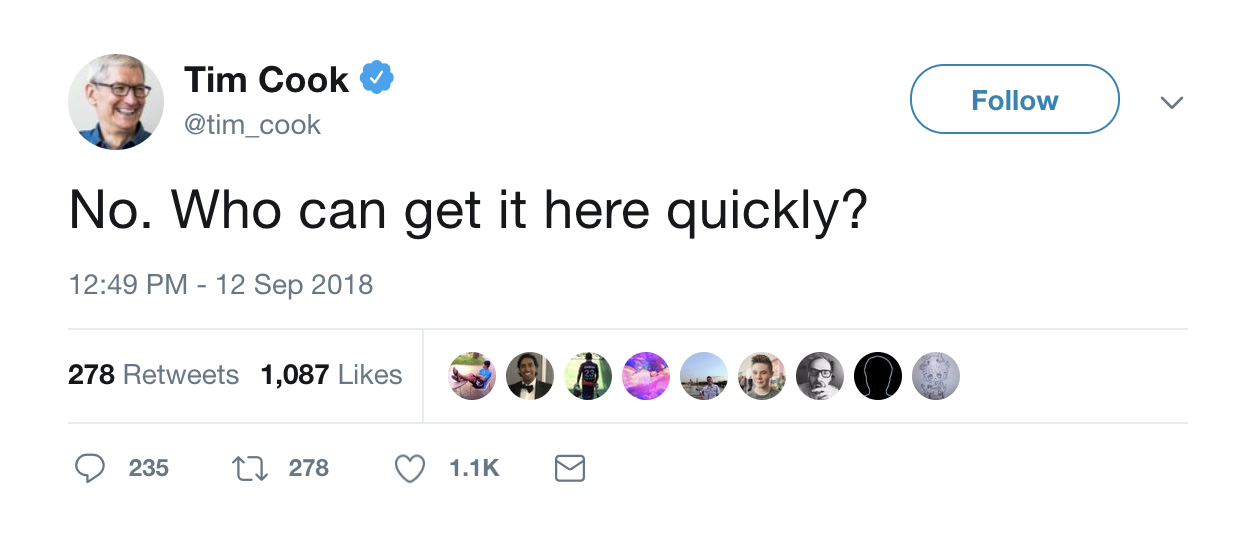 Oops! Apple's website accidentally leaked the names of new iPhone devices.
As reported by the website All Things How, Apple's product sitemap file inadvertently revealed the names of its not-yet-released devices: a 5.8-inch iPhone Xs and a 6.5-inch iPhone Xs Max, which appear to be available in silver, black, and gold, and 64GB, 256GB, and 512GB sizes. A 6.1-inch iPhone Xr appears to be available in black, white, red, yellow, blue, and coral.
We've arrived at Steve Jobs Theater for Apple's press event. The announcement starts at 10 a.m. PT!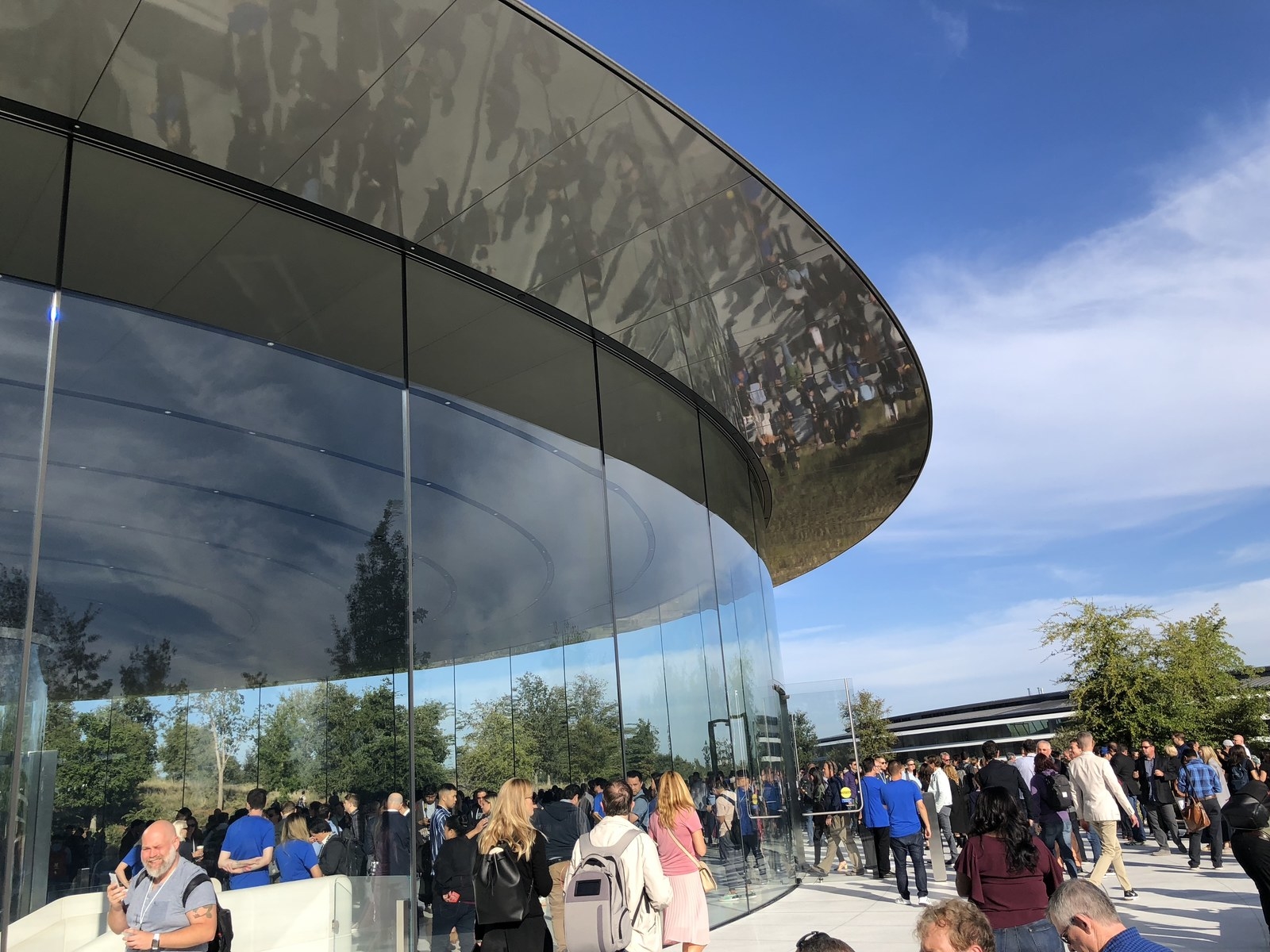 During last year's event, the 175-acre Apple Park campus was relatively empty. It was so new, the smell of fresh manure permeated throughout the rolling hills surrounding the Steve Jobs Theater, a glass rotunda overlooking the main building, built specifically for events like today's.
Employees have now moved into Apple Park, and the trees and grounds around Steve Jobs Theater seem a little more lush.