Here's what's happening:
Doug Jones has pulled off an upset, defeating Republican Roy Moore to become the first Democrat to represent Alabama in the Senate in more than two decades.
Jones will replace Jeff Sessions, who was appointed US attorney general, for the rest of Sessions' term, which ends in 2020.
Moore, trailing by tens of thousands of votes, refused to concede the race to Jones, floating a possible recount and telling supporters, "it's not over."
The race was called after a tense night of election returns that saw Moore maintain a narrow lead until Democratic-leaning urban counties, with large numbers of black voters, were counted.
Republicans were expected to have an easy time winning — but came up empty-handed after Moore faced several accusations of sexual misconduct, including molesting a 14-year-old girl and sexually assaulting a 16-year-old girl.
On Wednesday morning, one of Moore's accusers, Beverly Young Nelson, said her story "may have played a part" in Jones' win.
Alabama Senate election results:
Decision Desk HQ
Doug Jones to Roy Moore: "Look, it's time to move on."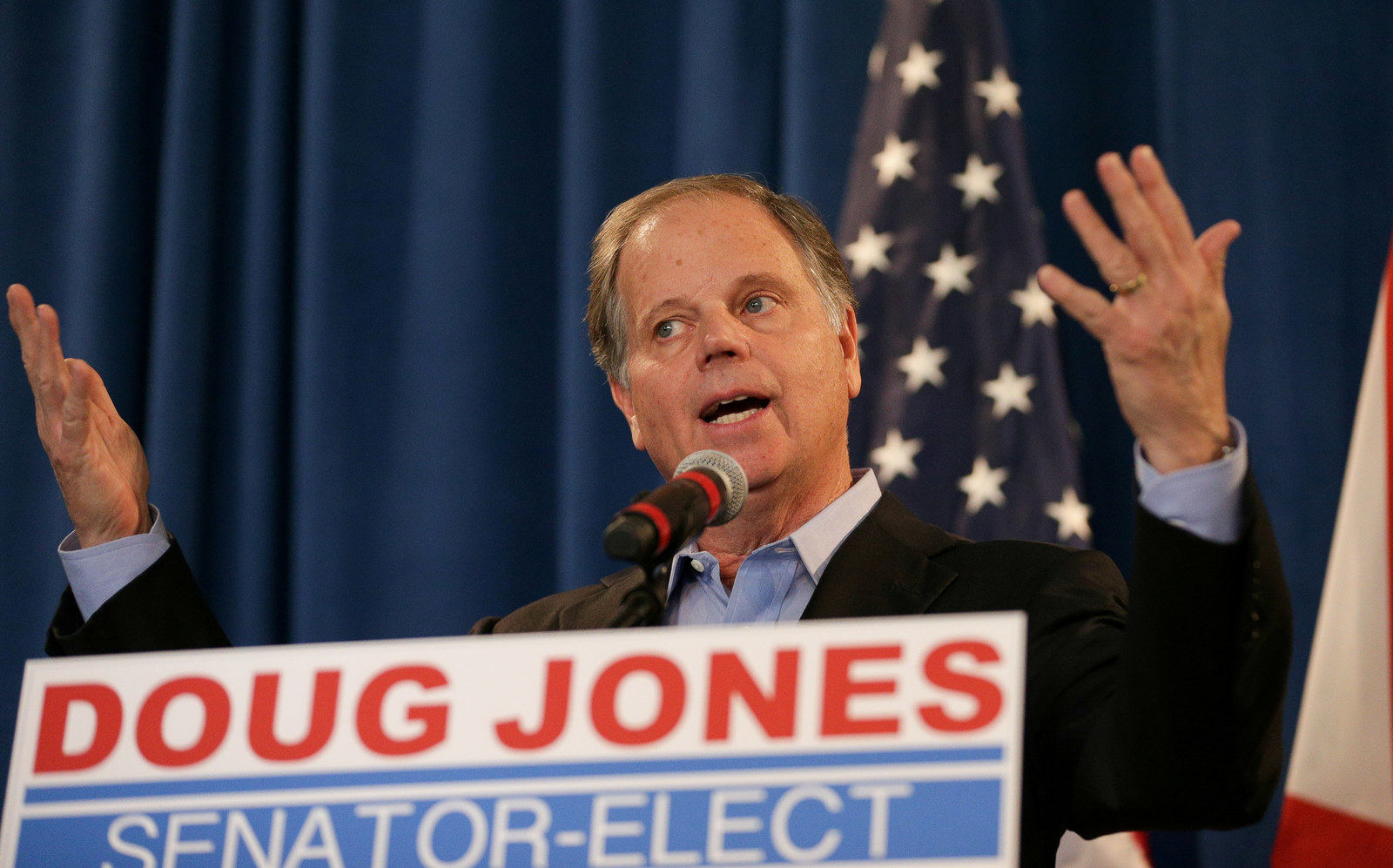 Asked on the Today Show Thursday morning what he would say to his defeated opponent, who has refused to concede and pushed for a recount, Senator-elect Doug Jones, said, "I'd say, look, it is time to move on. Every race is tough."
Jones added, "It's bitter sometimes," but that the "people of Alabama have now spoken a little bit, and they decided to heal."
Jones said his campaign had been about finding common ground, and that Moore would "do well to go ahead and let's get this behind us, so the people of Alabama can get someone in there and start working for them."
Asked whether he believed the people of Alabama voted for him or against Moore, Jones said it was "a combination.
"In this race, there's no question, we had the wind at our back," he said. "We felt like our message was getting across. People were really responding to what we called the kitchen table issues."
"Obviously, Roy Moore has his issues, with his record and all of the disturbing allegations," Moore added. "But that's okay. I'm fine with that because if people in the state reject that kind of politics, I think it is a very good thing."
—Cora Lewis
Roy Moore released a video message on Wednesday in which he continued to refuse to concede the race for Alabama's open Senate seat.
"This has been a very close race and we are awaiting certification by the secretary of state," Moore said, adding that military and provisional ballots had not been counted.
The Alabama secretary of state will certify the election results sometime between Dec. 26 and Jan. 3. Unofficially, Democrat Doug Jones won the election with 671,151 votes while Moore trailed with 650,436. More than 22,000 people wrote in a third candidate for the seat.
Moore continued for several minutes to talk about his belief that the US is failing because it has turned away from Christian beliefs.
"Today we no longer represent the universal truth that God is the author of our life and liberty," Moore said. "Abortion, sodomy, and materialism have taken the place of life, liberty, and pursuit of happiness."
—Claudia Koerner
Doug Jones says he's ready to find common ground for Alabama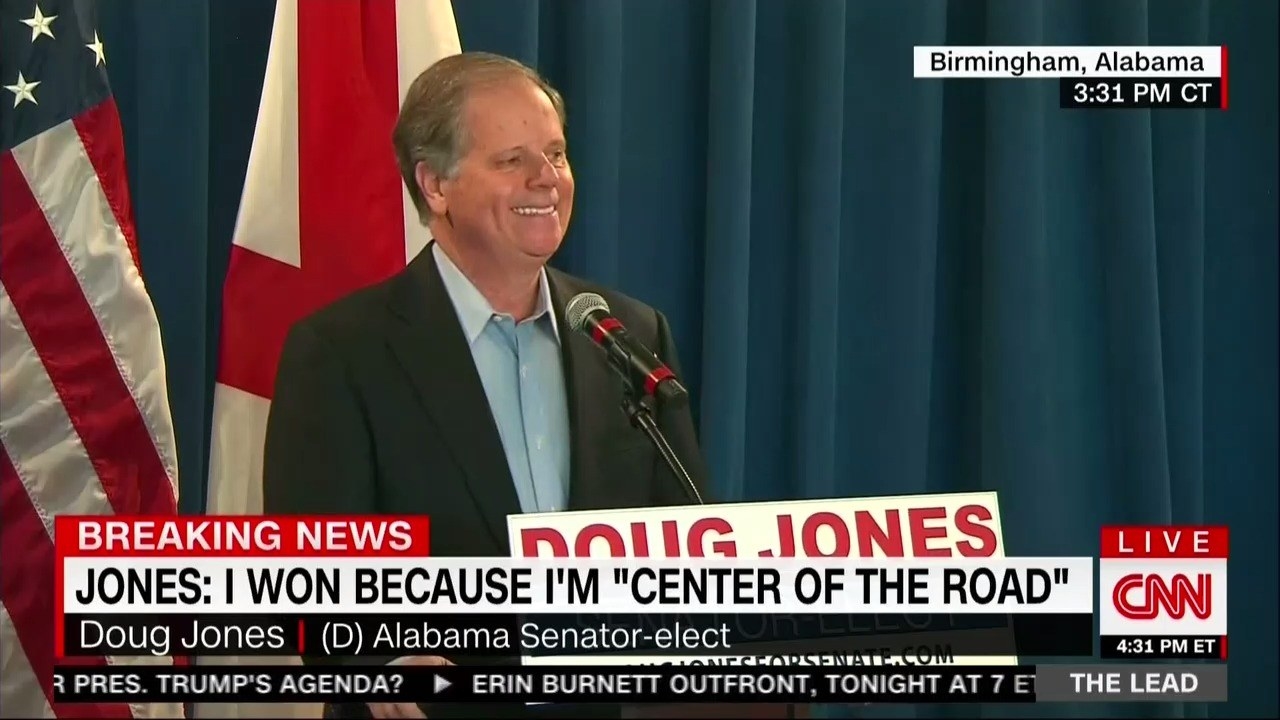 Alabama's Democratic senator-elect Doug Jones said he's ready to take office and work on issues that bring his constituents together.
Jones said he believes he won because of his positive campaign and his "center of the road" stance on issues. Even apart from allegations of sexual misconduct, his Republican opponent Roy Moore had a track record of flouting the rule of law and divisive rhetoric, Jones said.
"I think that's why I won. Because I think I'm a lot more center-of-the-road political figure, public figure," Jones said. "I think people are looking for somebody that can find that common ground. Somebody to listen to them."
As of Wednesday afternoon, Moore still had not conceded the election. Results will be formally certified sometime between Dec. 26 and Jan. 3. But Jones said he had heard from other Senate leaders and also received a congratulatory call from President Trump.
"It was a very gracious call," Jones said. "I very much appreciated it."
Jones added that his win should give hope to other Democratic candidates in Alabama, as well as other traditionally Republican states.
"This campaign has given a lot of people a reason to believe," he said. "They have a reason to hope. They know that even though things might be a long shot, it's possible and they all know too that you can create a lot of momentum, you can create things in a positive way if you run the right campaign."
But Jones stressed that he would be willing to reach across the aisle, and above all, he would listen to both Republican and Democrat constituents.
"The people of Alabama expect me to do the right thing and vote for the people of Alabama," he said. "So we're going to see. We're going to take every issue one step at a time." —Claudia Koerner
Luther Strange, who lost to Moore in primary, congratulates Jones on "well-earned victory"
Luther Strange, who lost the Alabama Senate primary to Roy Moore, congratulated Democrat Doug Jones for his "well-earned" upset win.
Strange was appointed to fill the Senate seat after Jeff Sessions vacated the seat to serve as President Trump's attorney general.
Strange ran against Moore in the Republican primary with Trump's endorsement, but ultimately lost against the social conservative. Moore eventually won the backing of Trump, but allegations of sexual misconduct with minors and a strong Democratic showing at the polls proved too much and he lost the long-held Republican seat Tuesday night.
"The people of Alabama made their voices heard last night," Strange said in a statement Wednesday. "I respect their decision, and I congratulate Doug Jones on a well-earned victory."
He also said he was proud to have worked with Trump to put "rule-of-law judges" on the bench, roll back "harmful regulations," and push for tax relief.
Strange will remain in the seat until Jones can take the oath of office, which will likely take weeks before Alabama's special election is certified. And even then, Moore has threatened to file for a recount, although, if the gap between him and Jones doesn't narrow to at least .5%, he would have to foot the bill.
Jones won 49.9% of the vote to Moore's 48.4%.
The timing of Jones taking office is strategically important for Democrats currently fighting a GOP tax bill in the Senate, where Republicans hold a 52-48 majority. The addition of Jones would narrow that to 51-49, further eroding Republicans' already razor-thin margin for error.
—Jason Wells
Beverly Young Nelson, who told her story of being assaulted by Moore when she was a teenager, says she feels "fantastic"
Nelson, who said Roy Moore assaulted her in a car behind a shopping mall in Alabama when she was 16 years old, congratulated Doug Jones on New Day Wednesday for his win and said she felt "fantastic."
Nelson said she believes her story "may have played a part" in the win, as well as the stories of other women who came forward to speak about how Moore harassed and assaulted them when they were as young as 14.
"I feel like it was not just me. It was all of us," she said.
Asked whether she believes Moore's loss means that voters believed her and the other accusers, Nelson said " I do feel like it helped. I really do. I'm very excited over that."
She added that she had told "the truth from day one."
Nelson is represented by attorney Gloria Allred, who also represents other women who have accused President Trump of harassment. Allred said Wednesday that she was moving forward with a defamation lawsuit on behalf of other accusers, whom President Trump has called liars.
Both Trump and Moore had disputed Nelson's story and denied the allegations of harassment and assault.
-- Cora Lewis
President Trump now says he knew Roy Moore would not win Alabama election
In an early morning tweet, Donald Trump has said the "deck was stacked against" Roy Moore and he knew he would not win.
Trump congratulated Democrat Doug Jones on winning the seat in another tweet posted late last night.
"The people of Alabama are great, and the Republicans will have another shot at this seat in a very short period of time," Trump said. "It never ends!"
If Roy Moore's campaign wants a recount, it may have to foot the bill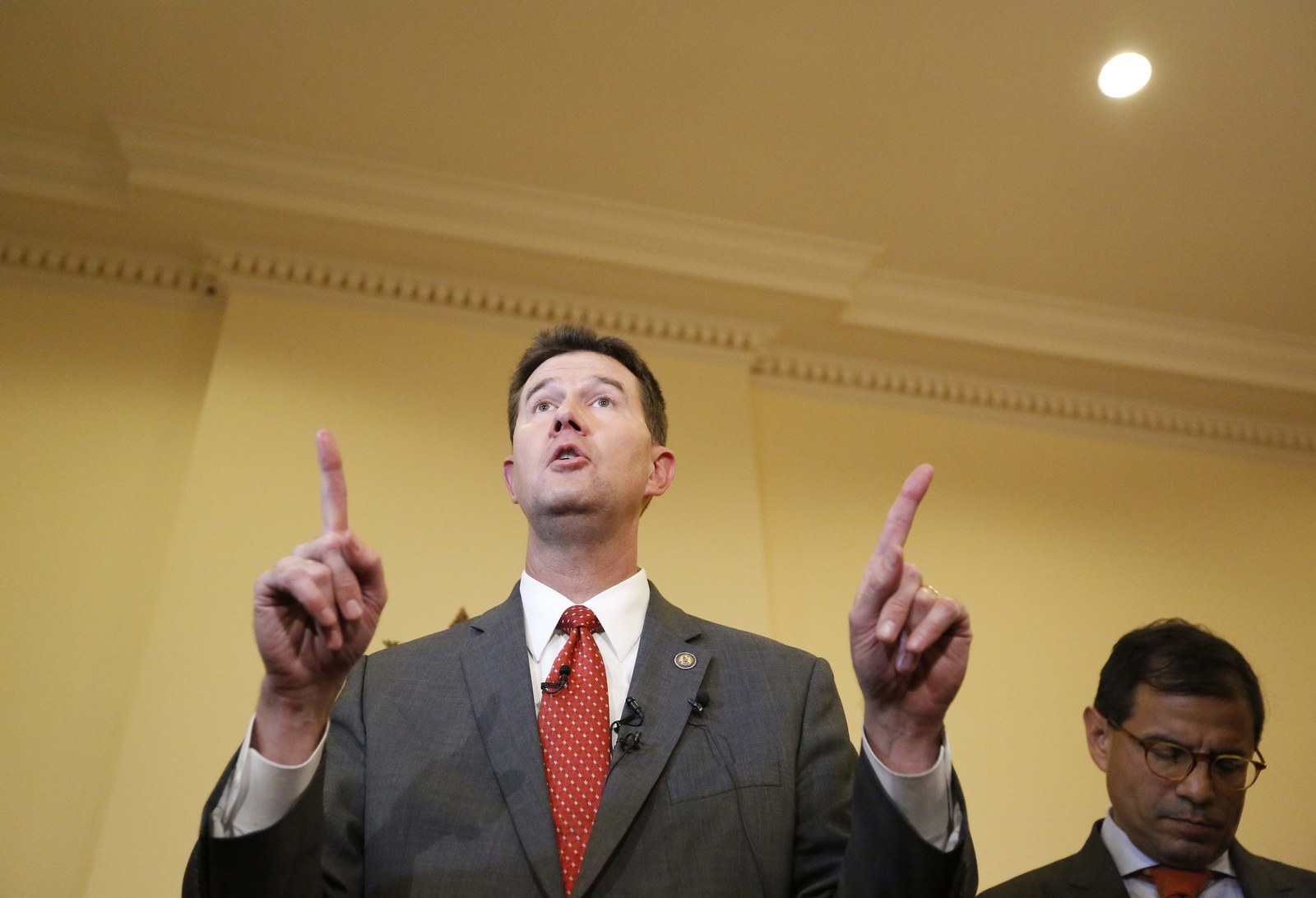 With Doug Jones' victory margin in Alabama's Senate election at more than 1%, the possibility that the results will trigger a mandatory recount seems unlikely, despite suggestions made by Jones' Republican rival Roy Moore and his campaign aides.
Still, the Moore campaign could request a recount once the results of the race are certified, Alabama Secretary of State John Merrill said late Tuesday. They'd just have to pay for it themselves.
Speaking to supporters after the election Tuesday night, Moore's campaign manager strongly suggested that a recount would be likely after results showed Jones, a Democrat, pulling ahead to win the close race. But Alabama state law requires a margin less than .5% to initiate a mandatory recount, Merrill told reporters Tuesday.
A recount in the special election for US Senate is "not triggered yet due to the numbers introduced," he said. Officials are still counting write-in, provisional, and military ballots, he said, and if the margin narrows lower than .5% then the state will begin a recount, he said.
But any campaign can request a recount after the certification of the vote, Merrill said, which is scheduled to occur sometime between Dec. 26 and Jan. 3.
The last time a recount was initiated in an Alabama election was during the gubernatorial primary race in 2010, Merrill noted, when Robert Bentley beat Tim James. The recount in that case changed three or four votes, Merrill said.
—Salvador Hernandez
A lot of people are saying black women deserve credit for defeating Roy Moore
Doug Jones' win on Tuesday night was historic, making him the first Democrat to represent Alabama in the Senate in more than two decades.
The results were unexpected, despite the allegations against his Republican rival Roy Moore, because Alabama is such a GOP-dominated state.
While it's too early to know the breakdown of the voting demographics in the race, many people on social media credited the win to black voters, especially black women.
For more, read here.
—Michelle Broder Van Dyke
Roy Moore refuses to concede Alabama Senate race, saying "it's not over"
Republican Roy Moore refused to concede the Alabama Senate race Tuesday night, suggesting a recount was possible even as he trailed Democrat Doug Jones by tens of the thousands of votes.
In a speech after the election had been called for his rival, Moore told a somber crowd of supporters that "when the vote is this close it is not over."
"And we've still got to go by the rules about this recount provision and the secretary of state has explained it to us," Moore continued.
He indicated that votes are still coming in, and urged supporters to "go home and sleep on it. We'll take it on tomorrow."
His comments came moments after Moore's campaign chairman, Bill Armistead, told the crowd that Alabama law requires a recount if the vote is within 0.5%.
"At this point, we do not have a final decision on the outcome tonight," he said. "We know God is still in control and we're going to give him the credit for how this turns out."
However, as of about 11 p.m. Tuesday, Moore was trailing Jones by more than 1%, which is greater than the threshold that would automatically trigger a recount.
Alabama Secretary of State John Merrill also cast doubt on the likelihood of Moore prevailing in a recount. During a conversation with CNN, Merrill was asked if he expected "anything other than Mr. Jones being the next senator from the state of Alabama."
"I would find that highly unlikely to occur," Merrill responded.
Merrill said that he did not expect still-uncounted military and absentee ballots to sway the election, nor did he think a recount was likely to alter the results.
"One of the things that is obviously recognized by using the equipment that we use in the elections process is that there's not a whole lot of mistakes that are made," Merrill said.
—Mary Ann Georgantopoulos and Jim Dalrymple II
Doug Jones thanks supporters, says campaign was about "decency" and the "rule of law"
Democrat Doug Jones delivered a euphoric victory speech Tuesday night shortly after winning the hotly contested race for Attorney General Jess Sessions' former Senate seat in Alabama, emphasizing unity and saying his campaign was about "decency."
Jones defeated Republican Roy Moore, pulling off a major upset in a GOP-dominated state that has not elected a Democrat to the Senate in decades. In his speech, Jones only mentioned Moore in passing, though he did say that his campaign had been about "the rule of law," as well as "common courtesy and decency."
"Alabama has been at a crossroads," Jones added. "We have been at crossroads in the past. And unfortunately we have usually taken the wrong fork. Tonight, ladies and gentlemen, you took the right road."
Jones' prospects in the race were buoyed in recent weeks after multiple women accused Moore of sexual misconduct against them while they were teenagers and he was an adult.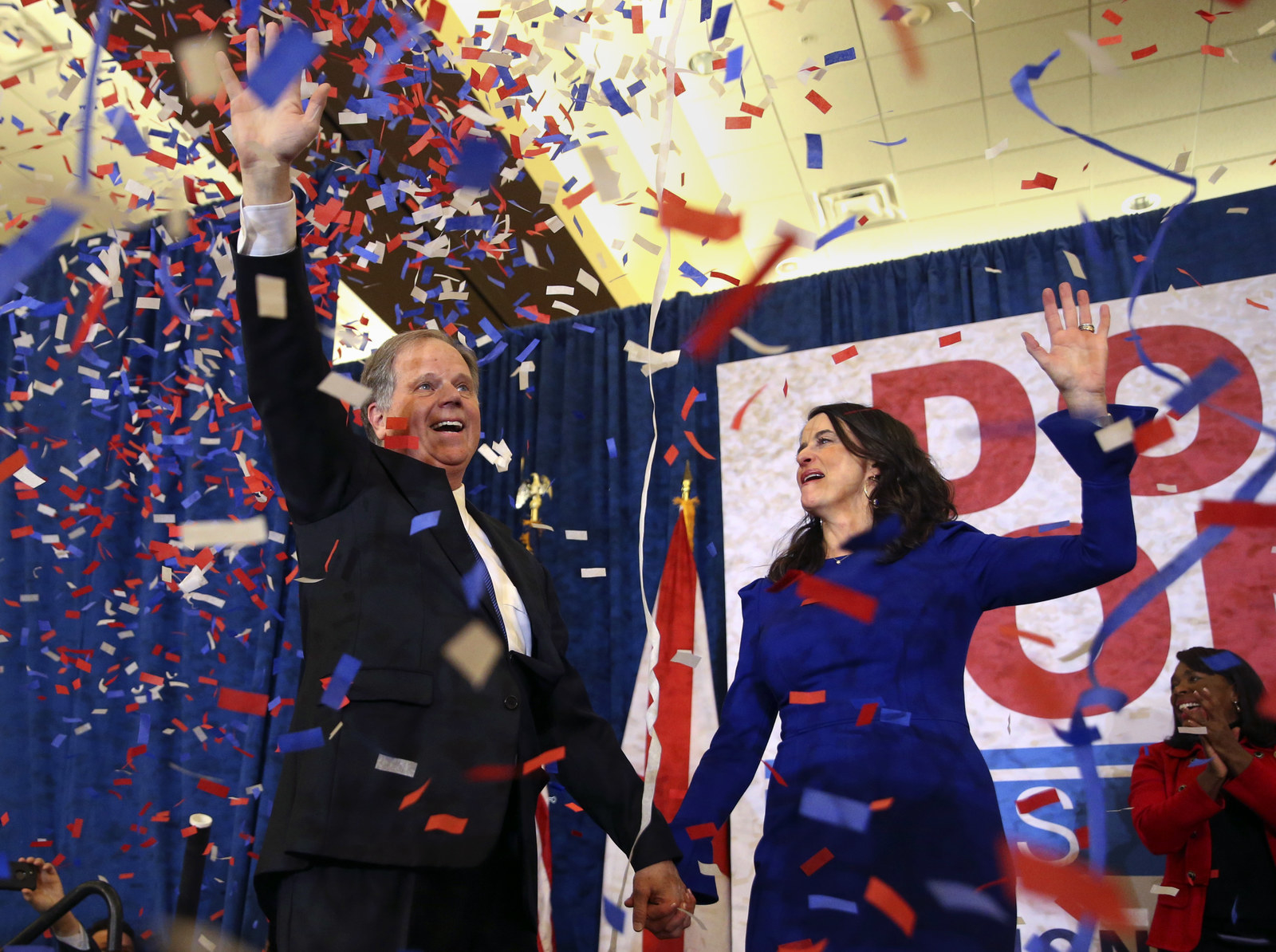 After winning, Jones spent much of his victory speech thanking family members, campaign workers, and volunteers — often being forced to wait until the applause of his supporters died down. He also said the race was about unity.
"I have always believed," Jones said, "that the people of Alabama had more in common than to divide us."
Jones briefly touched on policy issues during the speech as well, listing health care, jobs, and the economy as "important issues facing the country."
He concluded by quoting from Martin Luther King Jr., saying "the moral arc of the universe is long, but it bends toward justice."
"Tonight in this time," Jones said, "in this place, you helped bend that moral arc a little closer to that justice, and you did it."
—Jim Dalrymple II
President Trump tweets congratulations to Doug Jones
President Donald Trump tweeted congratulations to Democrat Doug Jones shortly after 11pm ET, saying "a win is a win."
Trump, who endorsed Republican Roy Moore and pushed for voters to hand him a victory at a rally last week, said in his tweet that write-in votes played a big role in the outcome in Alabama Tuesday night.
He also indicated in his tweet that Republicans will have another chance to take back the seat soon, adding, "It never ends!"
At last week's rally, Trump told supporters "we cannot afford to lose a seat in the very, very close United States Senate."
—Mary Ann Georgantopoulos
Democrats just scored a historic win in Alabama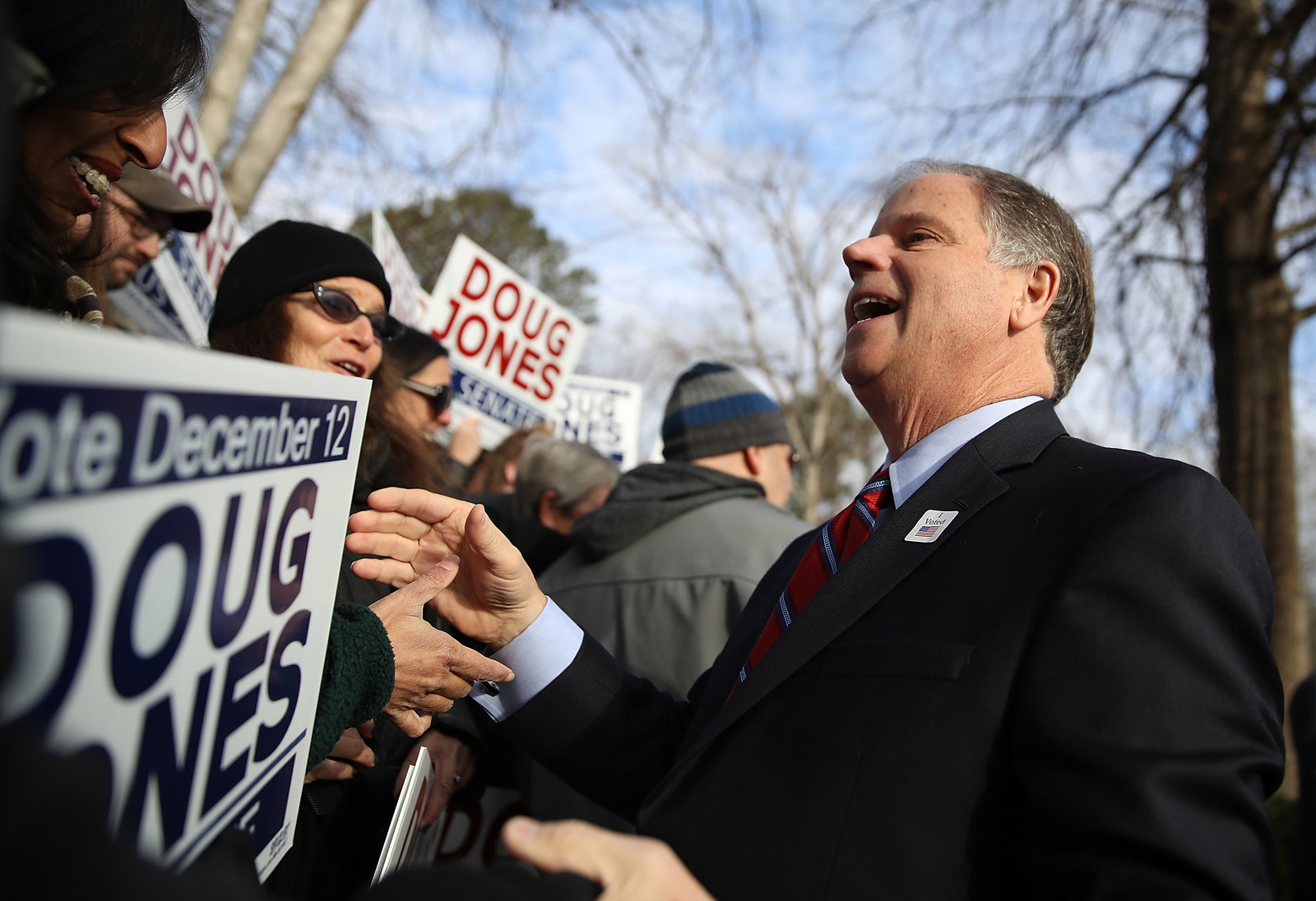 The next senator from Alabama will be a Democrat. Doug Jones bested Republican Roy Moore, handing Democrats an unlikely victory in a deep red state and Donald Trump stronghold.
It was a result that seemed all but impossible even 10 months ago, when Jeff Sessions was confirmed as US attorney general, vacating his Senate seat. But by the time election night rolled around, it was clear Senate Republicans were not going to have a good result no matter who won. Either they would soon admit to their ranks a man accused of sexual assault and molesting a minor, or they would cede the seat to a Democrat, leaving a Republican Senate that has already struggled to pass legislation with just a single vote majority.
Faced with such a choice, some Republicans were relieved.
"It's a short-term headache, but I think long-term people would ultimately be glad to be rid of the embarrassment that is Roy Moore," said one Republican campaign operative.
Read more here.
—Alexis Levinson
Doug Jones wins Alabama Senate seat
Doug Jones on Tuesday beat rival Roy Moore, the Alabama Republican besieged by allegations that he engaged in sexual misconduct with teen girls, to become the first Democrat to win a Senate seat in the deep red state since 1992.
The victory was declared after a tense night of election returns that saw Moore maintain a tight lead until Democratic-leaning urban counties, with large numbers of black voters, were counted.
The special election to fill the seat vacated by Jeff Sessions, who was confirmed as President Trump's attorney general 10 months ago, was initially thought to be an easy win for Republicans. But that all changed after multiple women accused Moore of sexual misconduct, including some who said they were teenagers at the time, while Moore was in his thirties. Moore, who is now 70, has denied the allegations.
While celebrating supporters awaited Jones' victory speech, he tweeted his gratitude shortly after the race was called.
Roy Moore arrives at his election night party as his lead over Doug Jones evaporates
Roy Moore arrived at his election night party about two hours after polls closed Tuesday night as his lead over rival Doug Jones withered away with more than two-thirds of precincts reporting.
Images from the scene showed Moore, a Republican, greeting supporters and watching Fox News in Montgomery as the results in Alabama's Senate race trickled in.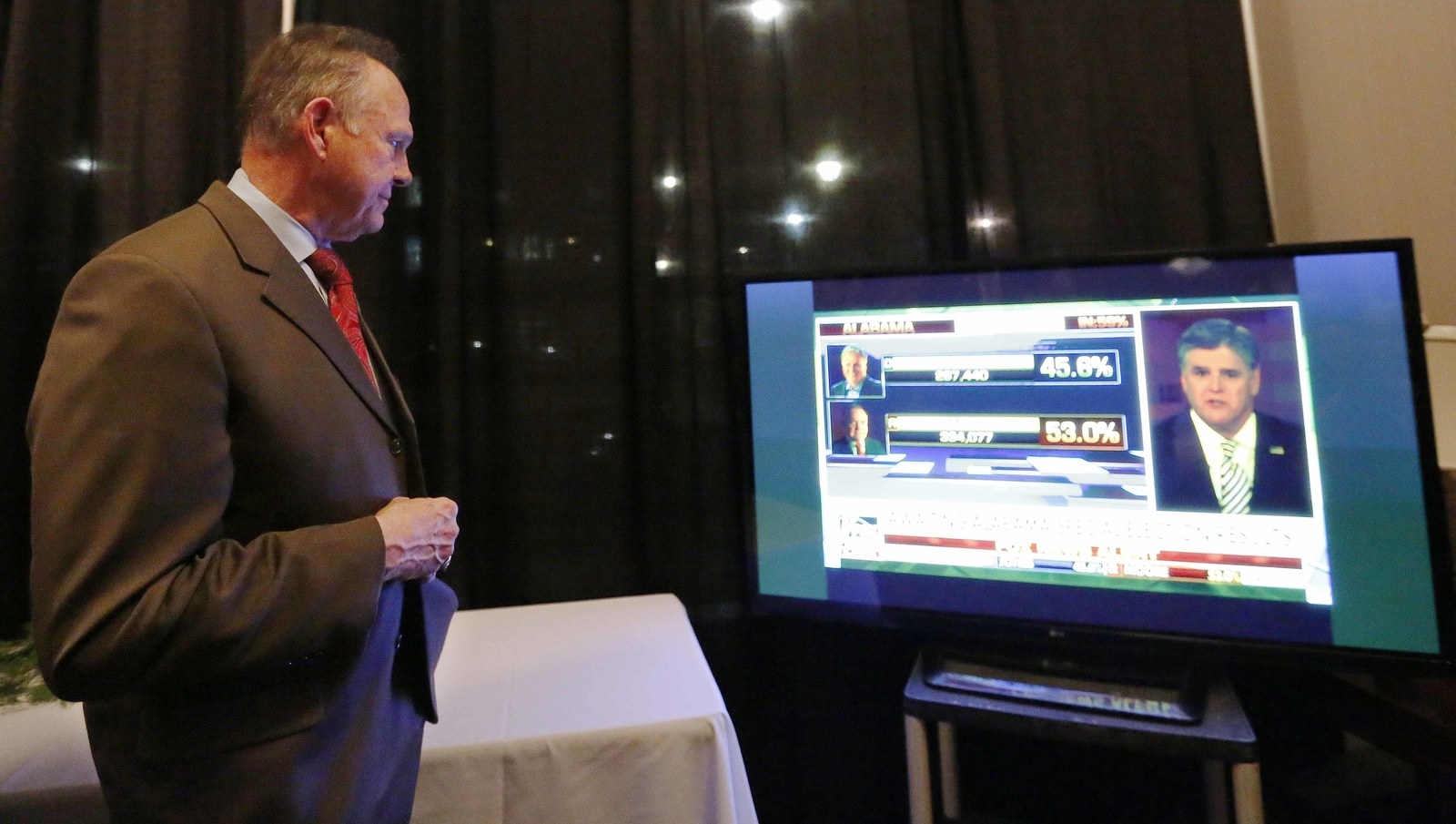 Moore supporters appeared optimistic and could be seen receiving their candidate enthusiastically as he waded into the crowd at the party.
However, Moore's previous 4-point lead over Jones had disappeared soon after the Republican arrived. With around 80% of precincts reporting, Jones, a Democrat, had managed out a lead of less than 1%.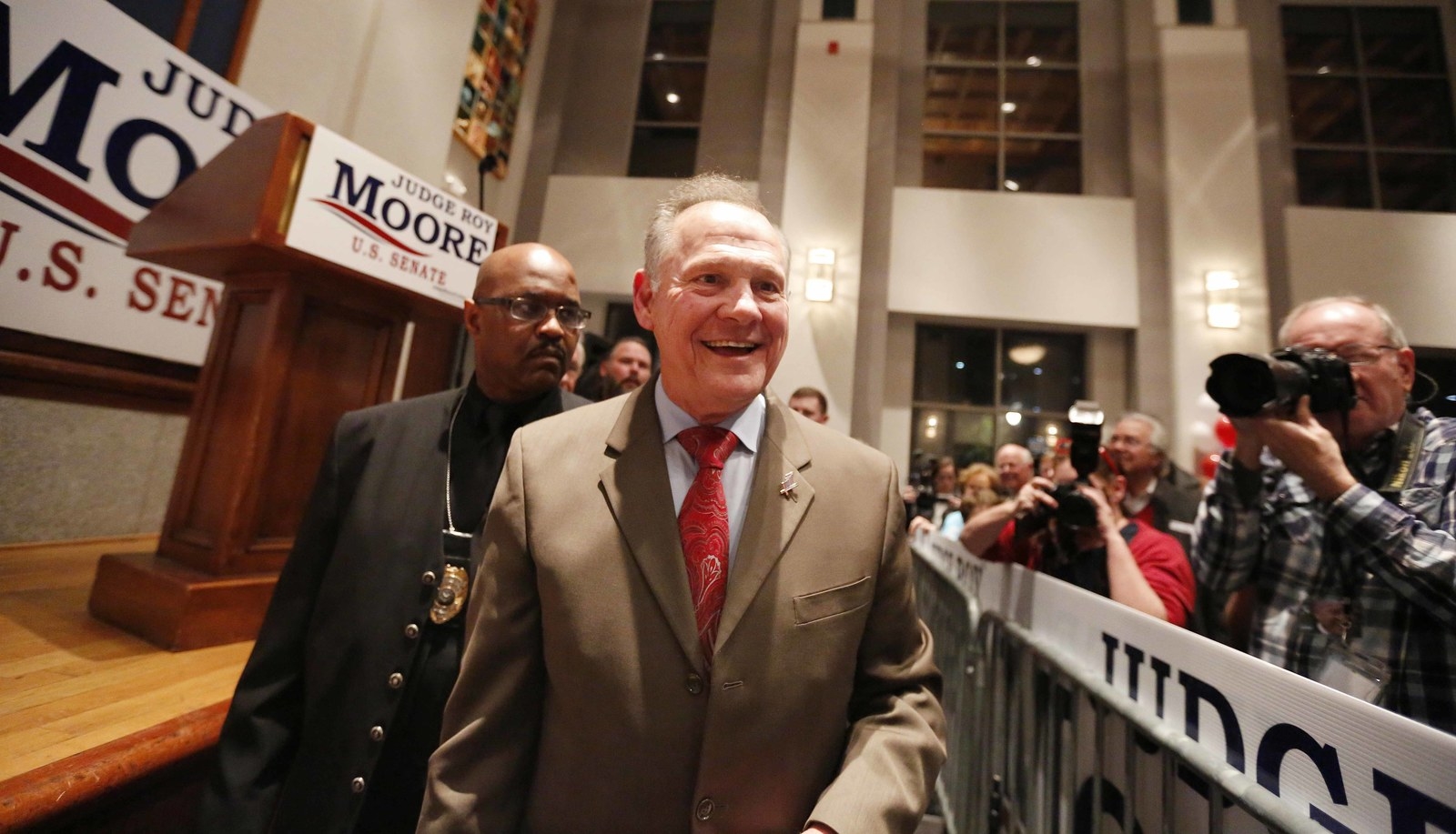 Roy Moore holds onto lead in Alabama Senate Race with more than half of Alabama precincts reporting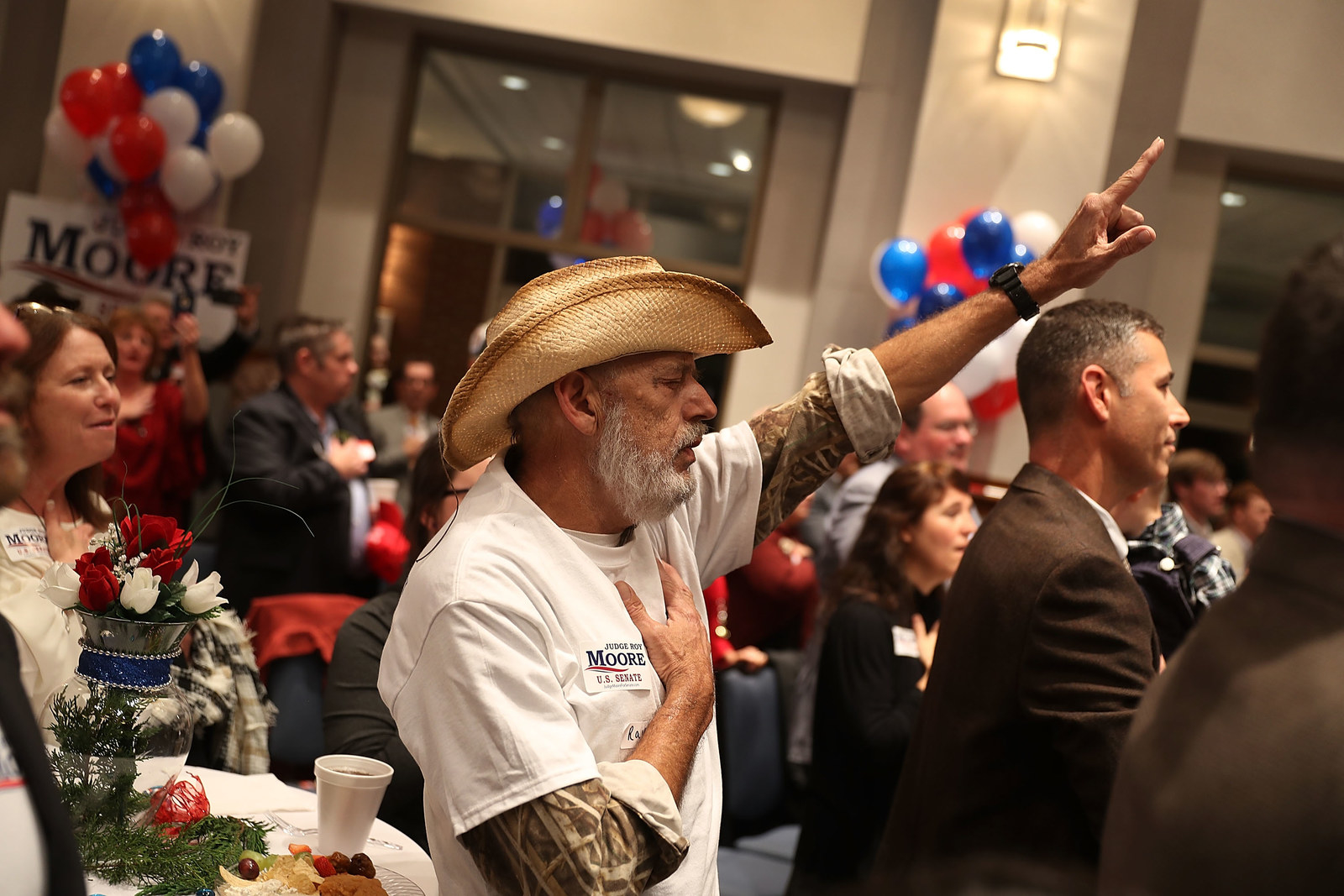 Republican Senate candidate Roy Moore held onto his early lead Tuesday night with roughly half of Alabama's precincts reporting.
As of 8:30 p.m., with more than 600,000 votes counted, Moore was leading Democrat Doug Jones by just over two points. As the results trickled in, Jones' supporters told reporters they were still optimistic about their candidate's odds.
Moore's supporters were optimistic as well, and could be heard chanting as they waited for their candidate to appear at his election night party.
Roy Moore takes an early lead over Doug Jones as supporters on either side remain hopeful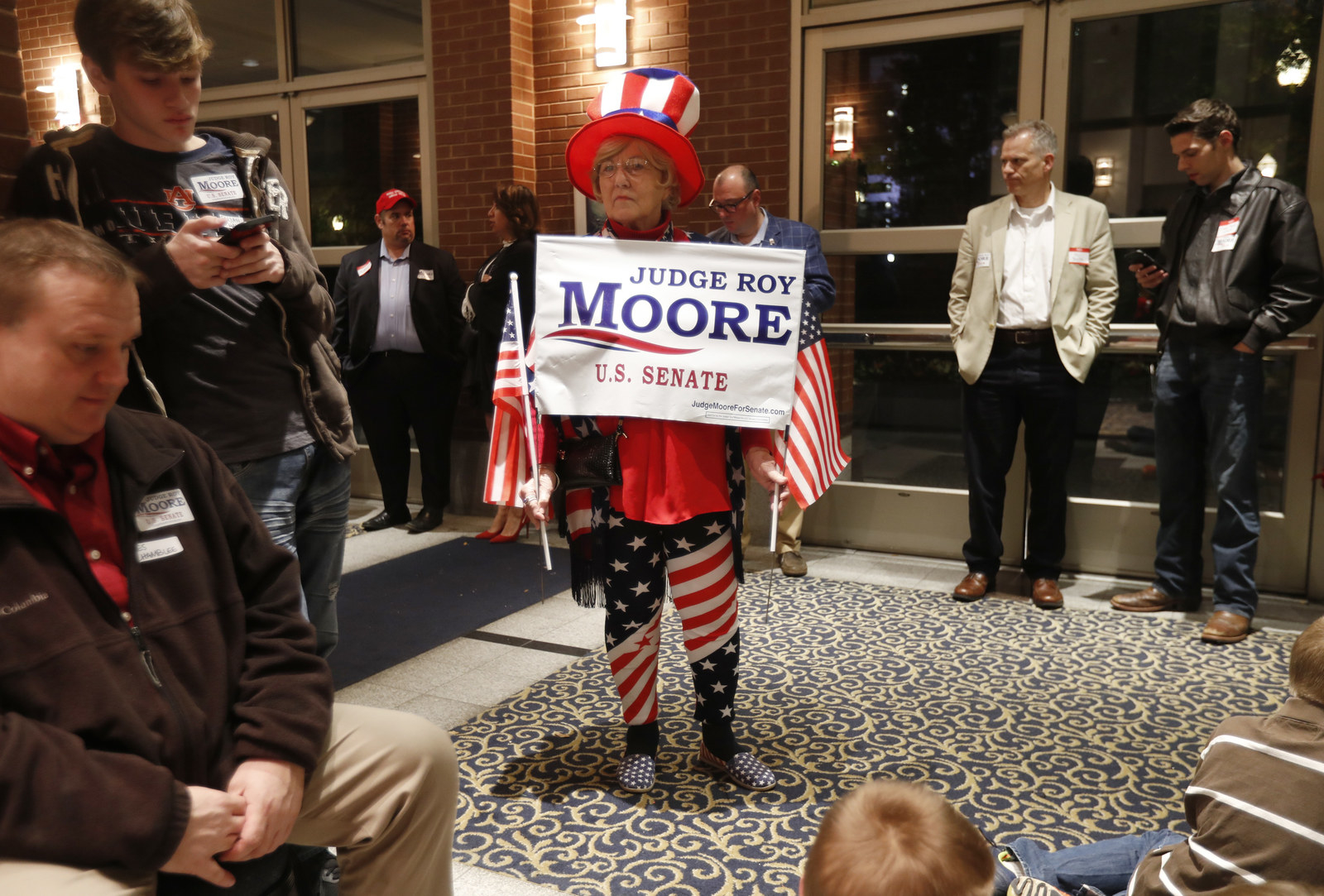 Republican candidate Roy Moore took an early lead Tuesday in the Alabama race to fill Jeff Sessions' former Senate seat.
Polls in the race, which pitted Moore against Democrat Doug Jones, closed at 7 p.m. About an hour later, as votes were still being counted, Moore began pulling ahead and was leading Jones by just over four points.
Despite the early results, supporters of both candidates continued to gather at their respective parties, watching as the votes were counted.
Alabama is normally considered a Republican stronghold, though Democrats were hopeful they could win the seat after multiple women accused Moore of making sexual advances when they were teenagers and he was an adult.
—Jim Dalrymple II
Polls close in closely watched Alabama Senate race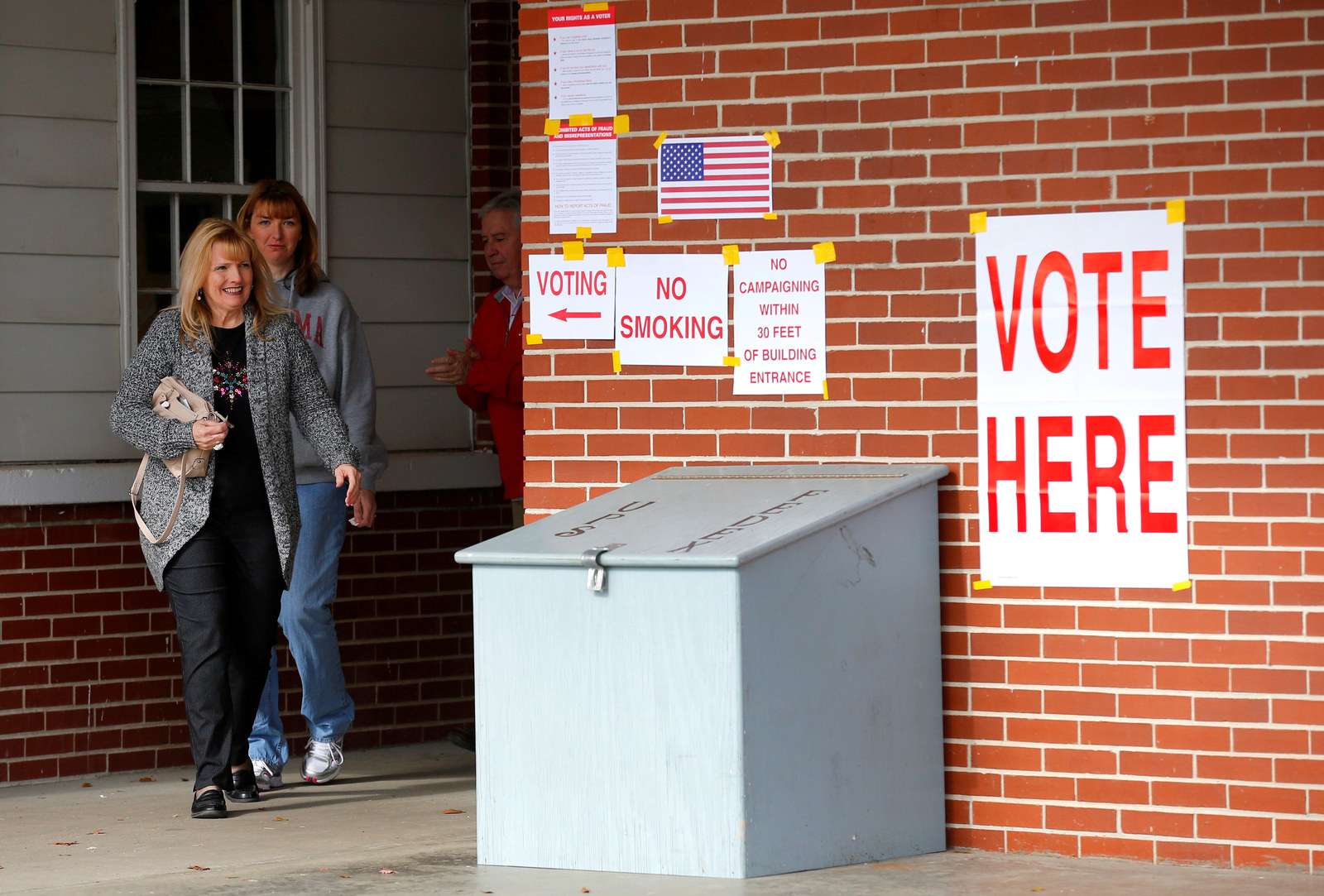 Polls closed in Alabama at 7 p.m., concluding an intensely watched Senate race between Republican Roy Moore and Democrat Doug Jones.
Results weren't immediately available after the polls closed, and there was widespread speculation from both sides of the political aisle about who would win.
Images from Alabama showed both candidates' supporters gathering to watch as the results trickle in.
Washington Post denied entry to Roy Moore campaign event
The Washington Post, which first brought to light allegations that Roy Moore had inappropriate sexual contact with teenagers years ago, will not be allowed to report from the candidate's campaign event on Tuesday.
The Moore campaign confirmed to the Associated Press that a reporter for the Post was not granted credentials to cover the election night event in Montgomery.
Press credentials for the event prominently feature a photo of Moore's face.
—Claudia Koerner
Roy Moore "probably" thinks homosexual conduct should be illegal, spokesman says
Roy Moore "probably" believes homosexual conduct should be illegal, his campaign spokesman told CNN on Tuesday.
CNN's Jake Tapper played a clip from 2005 in which Moore said homosexual conduct should be illegal. Tapper then asked Moore campaign spokesman Ted Crockett if Moore still believes that.
"Probably," Crockett said, adding, "It's just a sin, OK?"
Crockett also said Moore believes the US was founded on the Christian Bible and laws should reflect that.
Tapper then asked about statements Moore made in the past that Muslims should not be allowed to serve in Congress.
"You have to swear on a Bible to be an elected official in the United States of America," Crockett replied. "He [Moore] alleges that a Muslim cannot do that ethically, swearing on the Bible."
Tapper pointed out that elected officials can swear on the holy book of their choosing, such as Jewish scripture. In the past, elected officials have chose to swear on the Qur'an or the US Constitution.
"The law is not that you have to swear on a Bible," Tapper said. "That is not the law. You don't know that?"
Crockett responded with silence.
Alabama officials say turnout will be higher than recent elections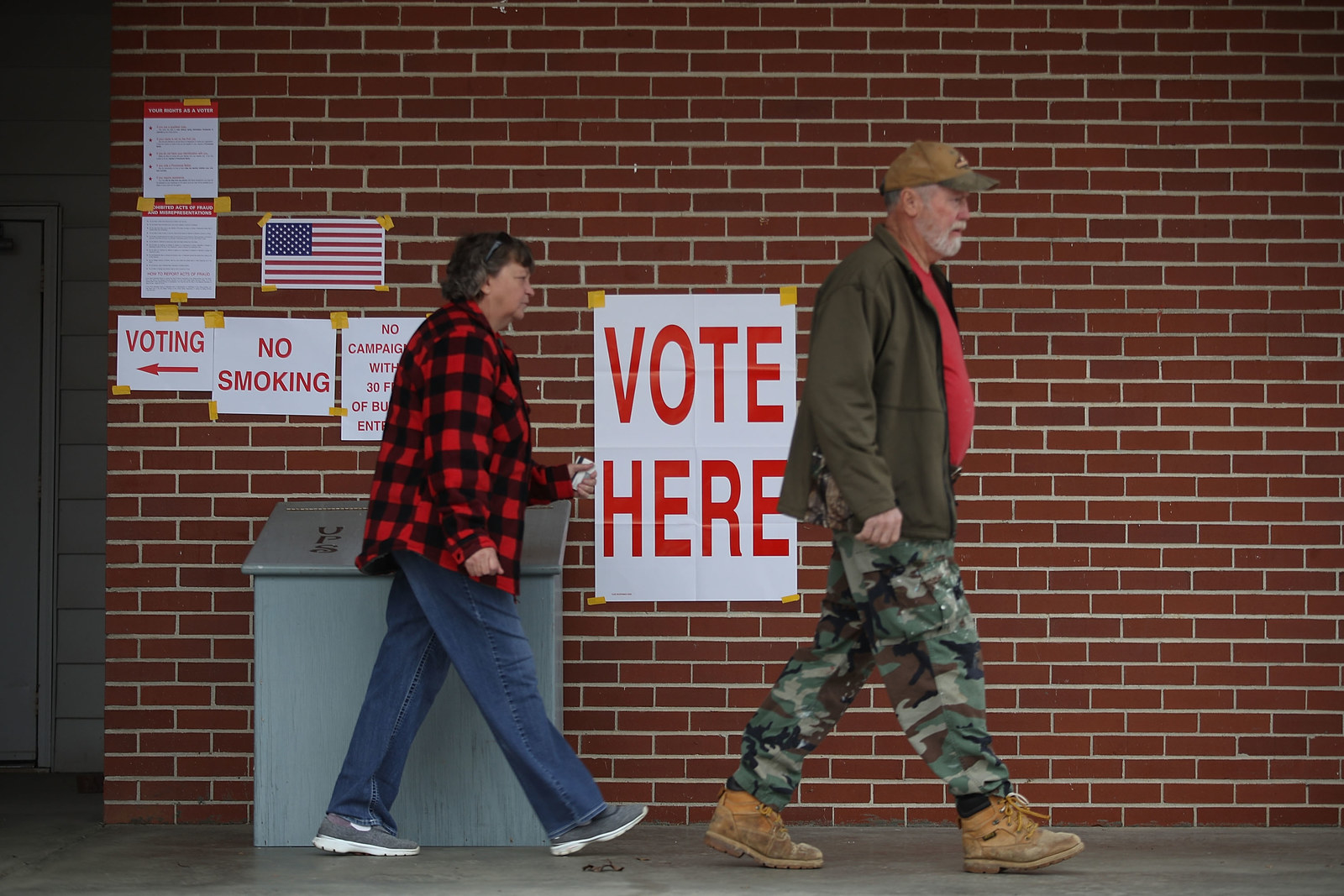 Predictions were that about a quarter of registered voters would hit the polls on Tuesday. Local reporters said it seems like that mark will be hit, edging out recent elections:
Roy Moore went to cast his vote on a horse named Sassy
Senate candidate Roy Moore and his wife, Kayla, rode in on horseback to cast their votes in the closely watched Alabama race.
Moore rode his horse, named Sassy, to vote at the Gallant Fire Department on Tuesday morning, a tradition he continued from other elections.
"I think it's a good thing to do; I won the last time I rode a horse — I think maybe have good favor," Moore said to CNN during the Republican primary runoff in September.
—Talal Ansari
Here's what you need to know about today's election
Republicans should have had an easy time winning an Alabama Senate seat — but they really could lose Tuesday as the state's wild, extraordinary race comes to an end.
Voters will decide between GOP nominee Roy Moore, a right-wing culture warrior and the state's former chief justice, and Democrat Doug Jones, a former US attorney known for successfully prosecuting two members of the Ku Klux Klan for a bombing that killed four black children. The winner gets the seat previously held by Jeff Sessions, who joined the Trump administration as attorney general this year.
In the closing weeks, the race has been rocked by allegations that Moore, as an adult, made sexual advances on a minor, sexually assaulted a 16-year-old, and pursued romantic relationships with other teens. Moore has denied the allegations. But the scandal alarmed many national Republicans: Senate Majority Leader Mitch McConnell and the National Republican Senatorial Committee disavowed him and have raised the possibility of expulsion should Moore win. And national Democrats, who were already intrigued by their chances against a wild card such as Moore, have sensed an opportunity to pick up a seat in the kind of Deep South state they generally write off, and thus narrow the GOP's 52-seat edge in the Senate.
"I didn't vote for Roy Moore," Sen. Richard Shelby, the Alabama Republican who will serve alongside the winner, said Sunday morning during an interview with CNN's Jake Tapper. "I wouldn't vote for Roy Moore. I think the Republican Party can do better."
Read more here.
—Henry Gomez and Alexis Levinson
Roy Moore held his final — and weirdest — campaign event last night
Roy Moore's closing argument was an airing of grievances.
In his first appearance on the campaign trail in nearly a week, the Senate candidate in Alabama complained bitterly about how he's been treated by the media, by supporters of his Democratic opponent, and by establishment Republicans. And, facing allegations of sexual misconduct that could cost him Tuesday's special election here, he lashed out again at his accusers.
"I want you to understand this," said Moore, who's been accused of making sexual advances on a minor, sexually assaulting a 16-year-old, and pursuing romantic relationships with other teens. "The Washington Post put out this terrible, disgusting article, saying I had done something. I want you to understand something. They said these women … had not come forward for nearly 40 years, but they waited until 30 days before this general election to come forward."
His wife, Kayla, had some grievances too. She responded to critics who have called her husband racist and anti-Semitic by noting his former black employees and their Jewish friends.
"Fake news will tell you that we don't care for Jews," she said as part of an extended attack on reporters. "One of our attorneys is a Jew. We have very close friends that are Jewish."
Read more here. —Henry Gomez