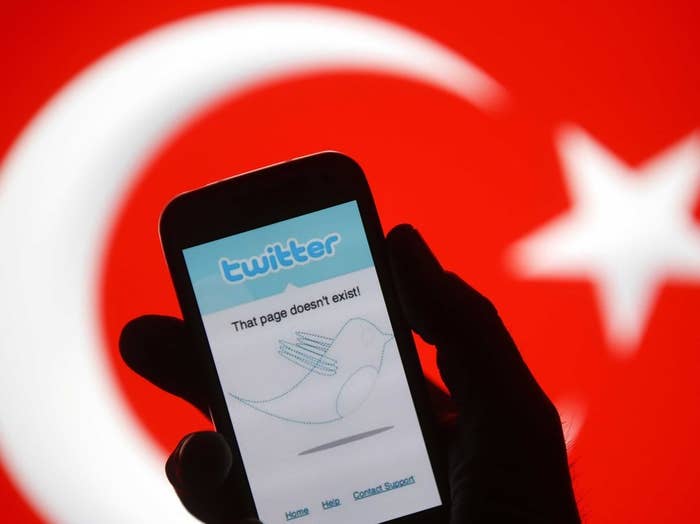 Turkey has filed more requests to remove or block content from Twitter than any other country in the world, according to the latest transparency report published by the company.
Of the 4,617 content removal requests from 50 countries in the second half of last year, the report says that 2,211 came from Turkey, almost half of the total requests.
"Turkey is far and away the worst country to hold a Twitter account especially if you are a government critic," said Yaman Akdeniz, a law professor at Istanbul Bilgi University.
The crackdown on social media is especially damaging given how enthusiastically Turks use the internet and social media, especially as a source of news.
According to the report, Turkish authorities have moved just as enthusiastically to block content on social media. Turkey filed 450 out of 480 requests worldwide for content removal based on court orders in the second half of 2015.
Turkey's Telecommunications Directorate filed 761 requests, up from 310 in the first half of 2015. Around 95% of requests to block accounts and 90% of withheld tweets were also from Turkey during the six-month period.
What's confusing to many Turks is why Twitter is so willing to comply with Turkish demands to block content. Between 2012 and 2015, Twitter withheld 8,428 tweets worldwide, 6,673 of which were from the Turkey. Last year alone, 4,670 of the 5,887 censored tweets came from Turkey.
On Jan. 20, 2015, Akdeniz, a Turkish cyber-rights activist and Kerem Altiparmak, a professor at Ankara University, sent a legal notice to Twitter, asking the firm to stop blocking individual accounts and tweets in Turkey. The scholars argued that Twitter's corporate practices were violating human rights in Turkey.
"Between July and December of 2015, we filed legal objections with Turkish courts in response to 66% of the Turkish orders received, focusing many of our efforts on those demands seeking removal of content critical of public figures or allegations of corruption," said the Twitter report.
"Either Twitter has bad legal representation in Turkey or the [U.S.] judicial system is highly politicized and resists against any appeals involving government officials and politicians who seem to be largely behind these blocking decisions," said Akdeniz.
Turkey is a prime example of "how an authoritarian government suppresses domestic criticism by violating international laws and uses global companies for it," said Efe Kerem Sozeri, a researcher who has been documenting Turkey's censorship of Twitter since the country-withheld policy was introduced by the social media website in March 2014.
Cases that may be little more than annoying legal hassles for a big company like Twitter can have big implications for countries like Turkey. Since last summer, when Turkey and the outlawed Kurdistan Workers Party (PKK) began fighting each other in the latest chapter of a decades-old war, Kurdish news agencies have been blocked en masse. But authorities are also tracking the Twitter accounts of journalists affiliated with those publications, issuing requests for Twitter to remove them and arresting the purveyors of the accounts.