ISTANBUL — A music video that portrays the story of a drag queen has made waves in Turkey, bringing the violence directed at the LGBT community into the mainstream.
The video by Turkish band Athena for their new song "Ses Etme," which means "don't make a sound," tells the story of a gay man and his friends who go to a party in drag. At the club, the man and his friends drink and dance with other men under disco lights. But on the way back home, he is beaten up by a bunch of men in the middle of an isolated street, before an elderly woman intervenes and saves him. She helps him up and the video ends with them walking home together.
It has been been watched nearly 3 million times since it was first uploaded two weeks ago.
"Most of the scenes are from my daily life," Onur Gokhan Gercek, a well-known drag performer, who plays the lead role in the video, told BuzzFeed News.
Gercek danced ballet until the age of 20 and has been performing as a drag queen for the last seven years. In addition to acting, Gercek contributed to the video by sharing his ideas for the screenplay.
"We weren't expecting that much attention," said Gercek. "It is not a political statement or anything like that. All in all, it is a music video. Everybody was deeply moved by the story. At a time where homophobia and transphobia are on the rise, LGBT visibility is very important and it is a necessity."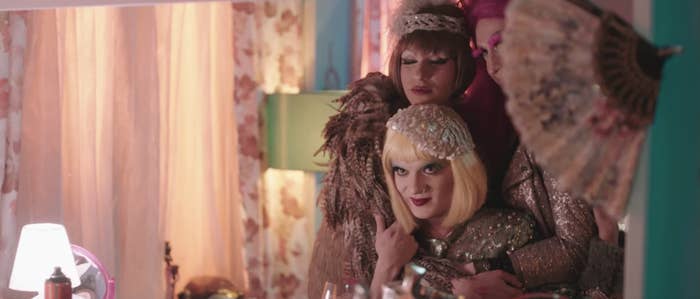 Homosexuality is not illegal in Turkey, but the LGBT community faces enormous legal and social challenges. Earlier this year, Istanbul's governor banned the annual LGBT pride events, and police used tear gas and rubber bullets to disperse LGBT activists on the days of the events. Istanbul LGBT Solidarity Association, founded in 2007 by a group of trans activists, was recently given a notice to vacate its office by the landlord who claimed the activities of the association weren't "appropriate."
Threats and violence against the LGBT community in Turkey also appear to be increasing. This year, Turkey had the highest rate of trans murders in Europe, according to the advocacy group Transgender Europe. In August, Hande Kader, a trans woman, was raped and burned to death in Istanbul. To prevent slurs and abuse, commenting has been disabled on the music video on YouTube.
Gercek said whenever a gay, lesbian, or trans person participates in a video or movie, there is either mockery or censorship. "No one has done it before," he said, referring to the new music video. By first admiring and then engaging in violence, several men in the clip reveal the hypocrisy of society's attitudes toward LGBT people.
"Homophobia and transphobia are killing people. Moral beliefs are shaped by wrong influences. Society is watching or reading whatever has been given to them," Gercek said. "That is why visibility is crucial. People stay ignorant sometimes. We aimed to raise awareness and I believe we achieved our goal."