The Vern Blazek Science Power Hour is, in many ways, just another weird podcast on the internet. This summer, it had around 90 Twitter followers and 49 Facebook friends, and the creator claimed it got a couple thousand hits per episode.
It's an interview show. On each episode, Blazek, a self-described radio personality in Tillamook, Oregon, who has an oddly deep and lispy voice, talks to a different scientist or science advocate. They get into research nitty gritty and Blazek cracks a few jokes. The whole point, according to the show's original intro, is "sorting through the shills and charlatans to distill the scientific truth."
On June 13, Blazek published an interview with Kevin Folta, a plant scientist from the University of Florida. Their discussion focused on genetically modified organisms, or GMOs, and the science behind this technology. Anti-GMO activists, Folta lamented to Blazek, were making misguided attempts to tie independent scientists to the agricultural giant Monsanto, one of the most polarizing companies in America.

In July, through a bizarre email exchange, I discovered that Blazek is Folta's alter ego. It was Folta who put on that disguised voice and interviewed his colleagues. It was Folta who had interviewed himself, without ever telling his audience. Because of our correspondence, Folta shut down the show and killed off Vern. Two weeks after that, a scandal broke that uprooted his life.
That's when a group called U.S. Right to Know revealed the results of Freedom of Information Act (FOIA) requests for the emails of Folta and 42 other public university employees whose work in some way relates to food. The group hoped to reveal unsavory ties between scientists and the biotech industry — and particularly to Monsanto.
As activists and journalists mined some 4,600 pages of Folta's emails and other records, they uncovered a nuanced intellectual and financial relationship to the company. Folta had exchanged friendly emails with Ketchum — a firm that handles public relations for the Council for Biotechnology Information, an industry group of which Monsanto is a member — and collaborated with them on language about GMOs that he posted to an industry-funded website. He had worked with Ketchum on an op-ed for the Orlando Sentinel. And Monsanto had enlisted him to speak to skeptical farmers in Colorado who didn't want to hear about GMOs directly from the company.
Most appalling to his critics, in August 2014, the company gave Folta, through his university, a $25,000 grant to use however he saw fit.
The public backlash against Folta has been swift and harsh, culminating last month in a New York Times exposé. Strangers have called him a liar and a whore. They've published his home address, he says, and turned his face into cruel memes. Someone keeps ranting about him on the Gainesville Craigslist site, including one post suggesting that his dead mother would be ashamed of him.
Perhaps most surprising of all: In the wake of these revelations, Folta appears to be mystified as to why everybody's so upset, and seemingly clueless about how his choices are perceived by non-experts.
The best example of that is the way he's handled his podcast. After scrubbing it from the internet back in July, last week he re-launched the show and Blazek's Twitter account. Blazek's Twitter and Facebook pages now sport a new profile photo: Folta in disguise, with a curly wig and photoshopped sunglasses. In the new version, Blazek adds a disclaimer at the start of the show, calling it a parody and saying the host is probably not a real person. "So who am I really? Well, none of your damn business," he says later. "This is Vern Blazek, and of course you probably can figure it out pretty easily."
On the one hand, it's perhaps understandable that Folta has reacted so strangely. GMOs are politically charged, and those who speak out in their favor, including Folta, often get hate mail and death threats in return.
On the other hand, his attempts to hide the podcast's real origins don't exactly position him as a scientist with nothing to hide.
Folta's emails, and the huge public discussion they've triggered, highlight a serious problem: the increasingly blurred lines between universities and big business. Unlike, say, medical research, agricultural science hasn't quite figured out how to monitor each of the many ways in which academia and industry interact. Nor has the field done a good job of examining all of those relationships — some of which are aboveboard and vital to scientific discovery and some of which are not — and explaining them to the public.
The FOIAs are part of a nasty public fight about GM crops. It's a complicated issue, touching on food safety, business interests, and environmental sustainability. When it comes to the safety of genetically modified food, Folta is on the side of the scientific mainstream, arguing that GMOs are not only safe, but may help feed the world.

The opposing side, which includes Greenpeace and the Organic Consumers Association, fervently disagrees. These activists claim, despite loads of scientific evidence to the contrary, that GMOs haven't been studied enough and could be at the root of all sorts of diseases. The Organic Consumers Association fronted much of the money to launch U.S. Right to Know and dig into Folta's emails.
Folta, who has done some research on genetically modified strawberries, has been a loyal soldier in the GMO wars for 15 years. His quotes often crop up in articles about GMO science. He leads workshops teaching scientists how to engage with a skeptical public. He blogs, responds to hostile comments on blogs, and spars with critics on Twitter. He's done "Ask Me Anything" events on Reddit.
And for the last two years, he's done these outreach activities while maintaining a relationship, however loose, with Ketchum and Monsanto.
That relationship started in April 2013, when Folta received an email from a Monsanto employee about a blog post ranting against genetically modified corn. The blogger, who goes by Zen Honeycutt, did not mince words about one of the company's weed killers, glyphosate.
"We will no longer be feeding our children food with nutritional deficiencies, foreign proteins, toxins, sprayed with Glyphosate, or injected with pesticides," Honeycutt wrote. "Nor will we be fed their lies of safety!"
Folta had sharply criticized the post, pointing out that there is no scientific evidence suggesting that GMO corn is unsafe.
"I cross the line and at least try to be interactive and polite," Folta wrote in one of his many comments on the post. "It works. I do convert quite a few goofballs into reasonable connoisseurs of science."
Keith Reding, a regulatory policy lead at Monsanto, evidently approved. "We really appreciate independent scientists working to educate the public," he wrote to Folta by email.
"The world is officially nuts," Folta replied. "Keep me in mind if you ever need a good public interface, with no corporate ties, that knows the subject inside and out and can think on his feet."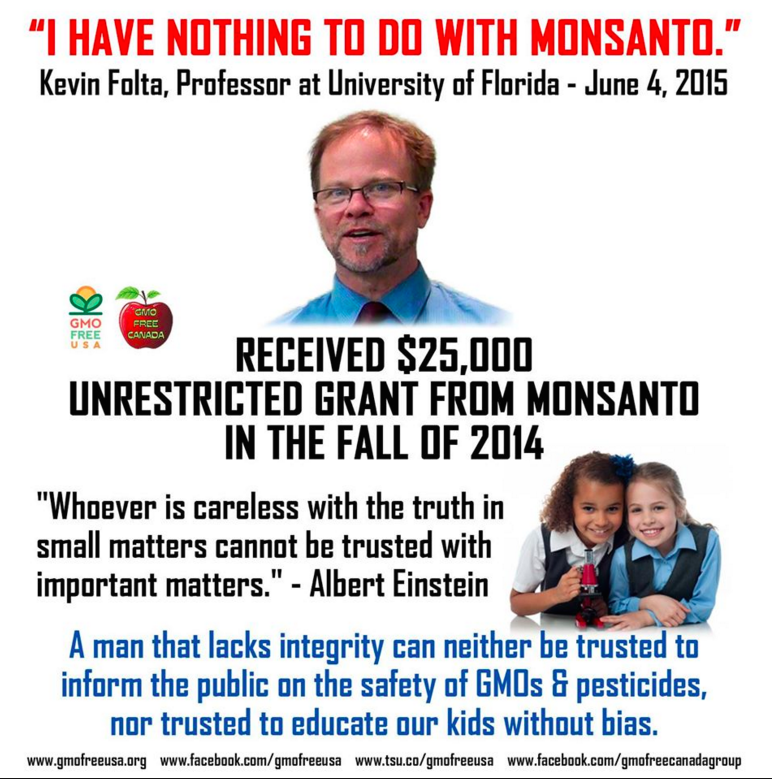 Relationships between academia and industry aren't necessarily bad. But each party has fundamentally different goals: University researchers are concerned, by and large, with expanding knowledge, whereas companies are generally in it for the money. Although their scientific efforts may overlap in certain circumstances, industry's influence has become increasingly difficult for scientists to navigate.

This tension is especially prominent in the land grant universities, schools created through a series of laws starting in 1862 with the intent of providing education in practical sciences. By 1914, the Smith-Lever Act established so-called extension programs, partnerships between land grant universities and the government to provide information about agriculture to farmers and the public.
Scientists like Folta literally can't do their jobs without interacting with industry.
But as farming has become increasingly corporate, and as Monsanto and others have created and sold new technology, including GMOs, that mission hasn't changed. This means that scientists like Folta — who is chair of the horticultural sciences program at the University of Florida, a land grant school — literally can't do their jobs without interacting with industry.
Industry ties have grown in other areas, too. Since the 1990s, public funding for agricultural research has essentially remained flat, while private support for research and development has risen. In some cases, researchers may pull half or even all of their salary from grants; if they no longer can land the grants, their job disappears.
"Universities that are strapped for cash are pushing researchers much more into funded research than they have previously," said David Just, a professor of applied economics and management at Cornell University. "It's become the expectation for tenure at a lot of places where it hasn't before. And that, sort of, has been driving people to look at nontraditional sources for funding."
Companies often tap university scientists to do research on specific products, including GMOs and pesticides. The companies do this because they don't have the resources or expertise to do the research, and they have no control over the way the academics interpret the data. The companies pay for the work — after all, taxpayers shouldn't have to foot the bill. Sometimes, though, there is a little money left over, which the researcher may use for underfunded work — maybe to help support a graduate student or buy lab supplies.
After students graduate from agricultural programs, many move into industry jobs so they don't have to fight for funding. But they keep in touch with former professors and academic peers and may even work with them on projects or papers. Day to day, these are people working with other people, not faceless corporate machines. But as researchers interact more closely with industry scientists, the ethical line gets blurrier.
"The academic may still feel they are being true to themselves," said Margaret Eaton, a former senior research scholar at the Stanford Center for Biomedical Ethics. "And sometimes it's very hard for them to realize when it has really crossed the line."
I met Folta for the first time in June, at a small biotech conference at the University of California, Davis, where I was invited to sit on two panels (on topic: I was offered an honorarium to attend, which I declined, but the organizers did pay for my travel and lodging). The audience was a mix of academic researchers and industry folks, and mostly pro-GMO.

It was two months before the content of Folta's emails would be publicly revealed. But he and other scientists knew that trouble was coming, and one of the conference's evening panels focused on the FOIAs. Scientists on the panel went on and on about what they perceived as innocent relationships with industry and complained about how activists would twist reality to fit their political agendas.
As someone who frequently covers agricultural science, I grew uneasy at their tone. I asked for the microphone to point out that much of the public doesn't trust big business, and that many would find these ties troubling even in context.
Another researcher grabbed the mic and gave a rousing speech about the necessities of working with industry: It's part of the job description for those who work at land grant universities, she said, and they interact just as often with organic farmers. They also have students and former colleagues who have moved to industry. Are they not allowed to talk to these people ever again?
The audience broke into enthusiastic applause.
After the conference ended for the day, I ran into Folta, tall and solid with thinning hair and a goatee, as we and others filed into a nearby bar. We had a polite but pointed conversation, on and off, over the next hour or so. I argued that science would benefit from some independent scientists without any ties to industry. He brushed me off, saying that the science would always speak for itself no matter who was conducting it. We parted ways.
Six weeks later, a message from Folta popped up in my inbox. He wanted to know if I would be on his podcast to talk about a book on bed bugs that I published earlier this year. The podcast was The Vern Blazek Science Power Hour.
I was confused, to say the least. Earlier in the summer, Vern Blazek had contacted me on Twitter asking if I would be on the same podcast. I replied, on Twitter, that it was possible and to email me, but I never heard from him again. Even more baffling, when I checked the show's website, I saw that Folta had been a guest on the show in June. So I wrote back to Folta: Was he actually Blazek? Did he interview himself?
The email conversation that followed was decidedly odd. Yes, Folta was Blazek. He was using a pseudonym, he said, because it was fun ("I see why Colbert did the Colbert Report"), and so he could "play in this space" without drawing attention to his role in the project.
Yes, he had interviewed himself, but only because some of his listeners had caught on that Blazek might be him, and he wanted to throw them off his trail. And, well, no, he hadn't considered how all this might look to an outsider.
I've listened to the 50-minute episode where Folta interviews himself three times. As Folta, he is eager and talks a lot about science. As Blazek, he plays dumb. Blazek also lies, describing his past work as a former radio personality. Folta says pretty much what he says in his interviews with real people, explaining the science behind GMOs.
In one particularly telling exchange, Blazek asks Folta about his ties to industry — an exchange that Folta created and published four months after U.S. Right to Know had FOIA'd his emails and just a couple of weeks before he expressed concern to a former student about how activists may take his $25,000 Monsanto donation out of context.
"How much money and support do you get personally — your research — how much of this is from Monsanto?" Blazek asks.
"Well, it's a question that always comes up, I guess," Folta answers. "We don't have any research dollars from Monsanto. We maybe receive some support from them for things like if we're having a conference, they'll help cover the cost of a speaker or something like that, but that's, that's common for companies to do that all the time."
Throughout the rest of the interview, Folta brings up the false perception of industry ties again and again. The GMO myth that irritates him the most is that "all scientists are paid agents of the corporations."

The podcast was not the comic success that Folta had perhaps hoped for. In any case, most of the people who followed the show on Twitter and Facebook seem to have been in on the joke. But not everyone was. In later conversations, Folta acknowledged that some of his colleagues listened to the podcast but didn't know it was him, and that two of his guests also didn't know. (Later, I found out there were at least three.) One of them told me the subterfuge was "surprising and unsettling." Another called it a "monster fuckup," an example of Folta tainting his otherwise solid scientific reputation.

After a series of uncomfortable emails and one phone call — and heated messages from some of his guests who were in the know and were not pleased I was asking about the podcast — he admitted that the project wasn't a good idea. "There's no intent to mislead, but I do see how it could be misleading," he wrote to me.
He then removed the 11 episodes from the Apple Store and the Science Power Hour website and canceled Vern's Twitter account. He announced Vern's death on his own Twitter account, as well as on Vern's Facebook page, where he said the host had "apparently choked on a piece of gluten-free pizza. The soft, structure-free gooey crust lodged in his windpipe, and by the time the paramedics arrived he had expired."
In that first iteration of the show, Folta never publicly said that he was Blazek. It didn't sit well with me, but I decided to let it go. Was it weird? Certainly. Did it show poor judgment? In my mind, yes. Was it unethical? I wasn't sure. Did it harm anyone? With such a tiny following, unlikely.
Two weeks later, news broke about Folta's emails.
In early August, Nature published a piece exposing Folta's $25,000 grant from Monsanto, saying this and other interactions highlighted the scientist's "close ties" with the company (a take that Folta has disputed). A month later, the New York Times framed both Folta's emails and those of Charles Benbrook — a pro-organic scientist whose research has primarily been funded by the organic industry — as evidence that industry was enlisting scientists to fight the GMO wars.

These pieces and others sparked a national conversation about conflicts of interest in agricultural science. Anti-GMO activists crowed, claiming this was proof that the entire field was suspect. They made memes: Folta as Pinocchio, a baby, a Monsanto cheerleader. Folta's supporters called it a witch hunt, McCarthyism, BioGate. It was an abuse of FOIA, they said. After all, U.S. Right to Know isn't exactly a disinterested party. It's funded by the Organic Consumers Association, which is avidly anti-GMO and aims to curb many of the standard practices of big ag. The pro-GMO camp, too, made memes, like "Keep Calm and Stand With Folta" and Folta's face fused with revolutionary Che Guevara.
Everyone had something to say. Journalists Charles Seife and Paul Thacker wrote in support of the FOIA requests on the blog PLOS Biologue. Their post was later, controversially, removed from the site, and they reiterated their views in an op-ed at the Los Angeles Times.
Commentators weighed in at Mother Jones, Forbes, Grist, and more. Even Ralph Nader chimed in. Other scientists' ties to Monsanto were highlighted at Bloomberg and the Boston Globe.
Folta took to his blog and other sites in defense. His research, he wrote, has never been funded by big ag, though companies and industry groups have occasionally paid for his travel to talk to other scientists about GMOs. Monsanto, he insisted, also had no control over the information he presented in his outreach program, despite the funding.
He said that Seife and Thacker had defamed him, that the New York Times author Eric Lipton had painted a warped picture, and that FOIAs were being weaponized against scientists. On his newer podcast — Talking Biotech, where he hosts as himself — he said of the explosion of negative attention: "The terrorists have won."
Yvette d'Entremont, a blogger also known as SciBabe and one of Folta's fiercest champions, wrote a sharp attack of the original New York Times exposé.
"Eric Lipton's smear piece readily admits that 'there is no evidence that (Folta's) academic work was compromised,'" she wrote. "Lipton, tattoo that backwards on your ass and stare into a mirror until the ink is tickling your prostate."
In other words, it got ugly.
As I watched Folta struggle in the center of a national news story, I revisited our email exchange from July that had led to Vern Blazek's temporary demise. From those emails, it's clear that Folta thought of the podcast not as deception, but as innocent fun — and yet, at the same time, was utterly convinced that his anti-GMO enemies would use it against him.
"You've brilliantly exposed what really is my Achilles Heel," he wrote to me. "I have an important position in ag, loads of cred in the GM discussion. There are people that would love to know that I did something (innocent) that could be construed as deception, and would do everything they could to destroy my career (like they already do) if they had the information. I need to constantly play defense, and VB is a soft spot."
I was baffled by these responses. It's exactly the lack of transparency, after all, that had motivated the FOIA requests and helps fuel public skepticism of GMOs. "In public, you champion transparency," I wrote back. "This podcast is the complete opposite of transparency."
He said he agreed with me. But instead of coming clean, he took the show down.
"Even though it is innocent and not meant to be deceptive, I see how it can look that way and so I'm done. He's dead for now, website down, Twitter erased, obituary posted," he wrote. "The only way I re-animate that corpse is if I can do it in a way that makes sense."
On a steamy evening in mid-September, I watched Folta give a talk to a crowded hall at the University of Maryland's Plant Science Building. He was at the front, facing a chatty audience of fellow scientists sipping Yuengling and wine. He had come from Florida to tell friendly faces about the FOIA fallout.
His eyes were welling up. "People have been for years trying to connect me to that perceived evil empire," Folta told the crowd, referring to Monsanto.
After he continued in this fashion for a while, at the back of the room, a ponytailed scientist named Angus Murphy, who is head of plant sciences at the University of Maryland and considers Folta a friend, cut in. "Unfortunately, Kevin, you are suffering for the sins of others. We cannot paint this as an innocent relationship with Monsanto."
Folta's face fell as Murphy then described some of the deeper and more insidious relationships that other researchers have had with big ag. Given that history, Murphy said, it's naive to think that more subtle interactions can be presented as no big deal.
"What you are doing is honest, heartfelt — what a scientist should be doing," Murphy said. "I think we have to be honest and understanding that to some extent, it's tainted by this excessively close relationship, which hopefully was not corrupt. It was not corrupt but just a little bit too close."
Later that evening, Folta and I sat down for a final interview. He got teary-eyed many times, as he had in his talk. Our conversation kept circling around two questions. The first related to GMO Answers, the industry-backed website that Ketchum PR had encouraged him to post on (and in two cases, fed him actual text to post). Why is it OK to take someone else's words and sign your name to them? I asked. Is it really OK to have companies ghostwriting scientists' public statements?
"They gave me extremely good answers that were spot on," Folta told me. "I'm inundated with work. Maybe it was lazy, but I don't know that it was lazy. When someone says, 'We've thought about this and here's what we have' — there are people who work in academia who have speechwriters who take the words of other people and present them as their own. That's OK."
The other question: If his relationship with Monsanto was so innocuous, why didn't he broadly and openly disclose it?
Folta disagreed that he ever misrepresented these ties. He said he didn't use the $25,000 grant for his scientific research, but for his outreach workshops. (And for the record, Folta says he disclosed the company's support at the end of these workshops, and that the money went specifically for a conference at the University of Florida, an overhead projector, food, and travel. After the scandal, he tried to return the money, but Monsanto declined, so it went to a campus food pantry.)
What about the times he told the public he had no ties to the company — including in articles, in interviews, and in his own writing?
Folta said that when someone asks him, as a scientist, whether he has ties to a company, it translates to "Are they funding your research? Are you collaborating with them?"
"That's what that means to me," he said.
After the public backlash of the FOIAs, Folta said he's been grappling with his stance on disclosures, and especially financial ones. "If I had the chance to do that one again, I would do it very differently," he said.
But that's not to say that he thinks he did anything wrong. At one point, when I thought we were wrapping up, I asked him if he had anything to add. He paused for a long time, tearing up yet again.
"The only reason [for] any of these things that we've talked about is because I tried doing the right thing," he said. "I really do."
Last Friday, Folta reanimated the corpse of Vern Blazek, coming clean about his disguised persona on the blog Skepchick and relaunching the podcast. He uploaded eight episodes — some old, and some new. The interviews with guests who didn't originally know about the pseudonym are gone, as is the original episode in which Blazek interviews Folta.

But there is a brand-new interview with Folta. And at the end of that episode, Blazek acknowledges the elephant in the room.
"There are people who've said, actually, who have actually levied the accusation that you and I are actually the same person," Blazek says. "But I think it's pretty clear from our voices that your nasally disgusting voice is no comparator to my pipes, which have been shaped by years of broadcast experience. So what do you think is the best way, or a maybe a compelling method, for us to separate for the listening audience that we truly are two different people?"
"Well, I think it's kind of easy to tell them apart," Folta responds. "I think it's pretty obvious when you listen to our voices."
Blazek then suggests that one way to highlight the differences between the two voices would be to sing a karaoke duet. After some back and forth, they agree on "Close to You," by The Carpenters.
Then, they break into song.