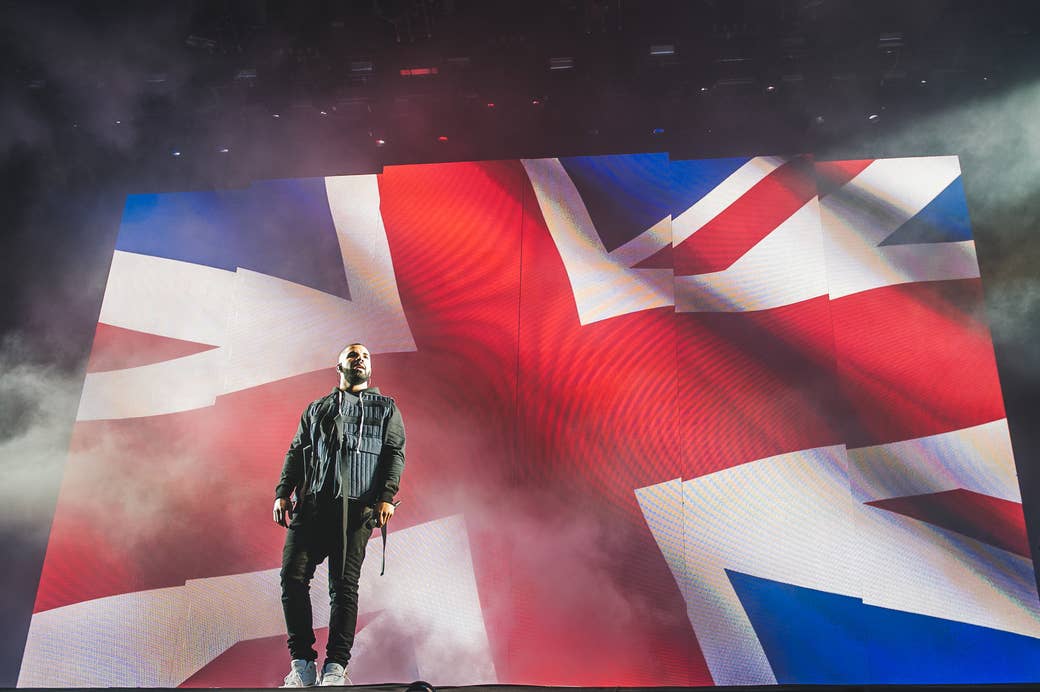 When British rapper Skepta released "Shutdown" from his award-winning grime album Konnichiwa in 2015, few could have predicted the sample he would use at the beginning of the track. Taken from a now-deleted Vine, the intro comes courtesy of Canadian rap superstar Drake. In a passable (at best) London accent, he looks directly into the camera and says, "Man's never been in Marquee when it's shutdown, eh? Trusss mi daddy!" And just like that, Drake's Anglophilia was immortalised forever on one of the defining grime tracks of the decade.
Drake loves London. In his first UK interview (with the iconic DJ Semtex) in 2009, the fresh-faced 22-year-old labeled the city "amazing" and "beautiful." Eight years later, he began the first night of his Boy Meets World tour with a long ode to England's capital, as he clutched a union jack: "I owe my whole career to London," Drake told the crowd. "This is my favorite city in the world."
With the release of More Life, Drake's love for the British city has reached its zenith in impressive fashion. Some of the sounds are classic London. Like Drake's smash hit "One Dance," "Get It Together" has hints of UK funky, a mid-2000s diasporic London dance genre born of UK garage, African house, and broken beat. "Skepta's Interlude" allows the English rapper to run away with a straight-up grime track, and Hackney producer Nana Rogues produces a couple of songs. There are also features from south London's Sampha, and Giggs, a rapper who (despite recent reviews of the album) is not a grime artist like Skepta is, appears on two numbers. Drake throws out London words and phrases like "yout," "broski," "next man," and "ends" not quite like a native, but with enough confidence to pull it off.
With the release of More Life, Drake's love for the British city has reached its zenith in impressive fashion.
Drake is not the first MC to come out with a feature-heavy mixtape (sorry, playlist) — Chance the Rapper's Acid Rap and Childish Gambino's Royalty spring to mind — nor is he the only non-Brit to namecheck British rappers. Danny Brown has said more than once that Dizzee Rascal's Boy in da Corner is one of his favourite albums and a huge influence, and Kanye West famously brought over 30 grime artists out onstage with him at the Brit Awards in 2015, a two-finger gesture at awards that have long been criticized for overlooking rap and black music in general.
From Brixton's David Bowie to Camden's Amy Winehouse to Tottenham's Adele, London has always had a rich musical history and continues to produce musicians who dominate the international charts. But when it comes to less mainstream (that is, less white) but still unashamedly "London" music, America and its musicians have had a history of either appropriating our sound (see: what became of dubstep when Skrillex got ahold of it), or mostly ignoring it (like UK funky or garage). Rarely has it felt as though we've received the musical recognition the city deserves, and the domino effect meant that for a long time rappers born and raised within the M25 would record tracks with American accents. While this has changed in recent years — largely due to the birth of grime and its stars' outright refusal to change how they sound — Drake's history of showing love to London remains fairly unique among rappers who don't have British passports.
For the most part, many British rap fans have appreciated Drake's commitment to amplifying the profiles of both musicians within London's various rap scenes, as well as the city as a whole. He has shouted out big names like Skepta and Giggs, but also the likes of Sneakbo, Ard Adz, and Johnny Gunz, all of whom are significantly less well known. When asked about his Sneakbo shout-outs, Drake revealed even more about his interest in the city: "I was watching this documentary on London gangs, and when you go on YouTube there are all these videos on the side, and I saw this guy… [Sneakbo] was rapping over dancehall beats… I couldn't believe the pockets he was finding and the consistency of his flows… All these young kids? They have a movement going on."
Alongside what appears to be a years-long respect for the city's rap scene is Drake's ongoing commitment to telling the world — loudly — how much he loves London and British culture. He has been seen at Wimbledon watching the tennis. He wears clothing labels like Stone Island. On his Instagram page, he posts about Skepta and Devilman's famous Lord of the Mics battle, along with stills from London youth media platform SB.TV. He brings out his shaky London accent in interviews with the likes of DJ Tim Westwood and in Instagram videos he posts online. He goes to watch football and trains with famed striker Didier Drogba, calls Drogba's old teammate Ashley Cole his brother, and wears a Chelsea kit — then swiftly poses wearing Manchester United, Manchester City, and Liverpool paraphernalia. He hangs out in the Gipsy Hill depths of south London, and continues to venture further afield, taking pictures in a West Midlands supermarket and recruiting Walsall's own Jorja Smith for a couple of tracks on More Life. Drake's love has never been half-hearted: He doesn't just big up Skepta's crew, Boy Better Know, but also gets a "BBK" tattoo on his shoulder and signs to the BBK label. He doesn't merely say how much he loves canceled British crime drama Top Boy, he offers to fund a third series (something that, according to Skepta, is actually happening).
However, what Drake does best on More Life is showcase the richness of the black diaspora. Drake is not just Canadian, he's from Toronto, one of the only cities in the world that has a diasporic immigrant population in the same leagues as London. If one word had to be chosen as a synonym for London or for grime, perhaps that word would be "mandem." The word originates from the Caribbean but in spite of that — or perhaps, as a result — has come to be one of the defining terms of young, black, London life. Drake wants mandem. Drake wants to be mandem. He has joined Section Boyz onstage with Skepta, and uses the term both online and throughout his track with grime artist Dave on their remix of "Wanna Know." Drake's trademark of mentioning women in his songs over and over is barely seen on More Life — instead, there's a focus on his friends (new and old) and the adopted city that he loves so much.
Drake also recognizes that to love London is to also love the black British diaspora, and in turn, Africa and the Caribbean. To really love London, you must understand that it was once the heart of the British Empire — you need to accept that the city is now home to immigrants and the descendants of immigrants, who have staked their claim on the land they live on, one UK garage or grime track at a time. Take the song title "Gyalchester," for example. It's slang for Jamaica's Manchester parish, as well as Manchester in the north of England itself, and the song "Blem" takes its name from a West Indian term for being high (and is also London slang for a cigarette). Drake intros "Portland" with "it's a habibis ting, yeah" — "habibi" being an Arabic term of endearment that is heard regularly on London's streets. There are more loose international connections throughout More Life: "Madiba Riddim" is a smooth dancehall track (Madiba is the familial nickname South Africans call Nelson Mandela) and South African DJ Black Coffee produces "Get It Together." Drake has form here: "One Dance" featured Nigerian rapper Wizkid alongside black British singer Kyla. To recognize London is to pay homage to Blackness around the world, and is something Drake appears to understand.

Tongue-in-cheek adoration at best, embarrassing enthusiasm at worst, Drake's love of London and the music that shapes it appears to be genuine. There's an argument to be made that because Drake is Canadian and not from the United States, it's easier for him to love UK music; Canada and Britain are united by the Commonwealth and have parliamentary and cultural similarities, and even some slang crossover ("ting"). Would a US rapper at the top of his game go this far in proclaiming his love for London?
What Drake does best on More Life is showcase the richness of the black diaspora.
Some Londoners may find Drake's enthusiasm too much — the website Gal-dem published a piece called "Why Drake Gets Away With Being The Biggest Beg In Music" — but many vociferously came to his defense when perplexed Americans were presented with the decidedly un-American More Life. Faced with Giggs' flow, something unique even within the British rap scene, Americans on social media dismissed and insulted the UK rappers and words that Drake loves. The furious responses from Brits — from tweets to videos to memes mocking their North American counterparts — were perhaps the most London thing of all. Grime by definition is London music, music that doesn't pander to the American rap hegemony and ignores the years gone by when British musicians routinely laid down tracks in faux-American accents. Drake is disrupting the narrative that US hip hop is always superior, and he doesn't bother to ease his American audience into his new diasporic, London sound. Despite Drake's cosign, the thing about today's London rap scene is it refuses to pander to be noticed. Real grime doesn't care if you don't understand it, and Drake filling More Life with words, phrases, and even musicians that people across the pond don't (and won't) get is a sign that he more than loves us — he might just "get" us too.
Bridget Minamore is a writer from London. She writes about pop culture, race, class, and feminism, and her first pamphlet of poetry 'Titanic' came out in May 2016.