A woman injured at least three people when she opened fire at YouTube's headquarters in San Bruno, California, on Tuesday, police said, before she was found dead with what appeared to be a self-inflicted gunshot wound.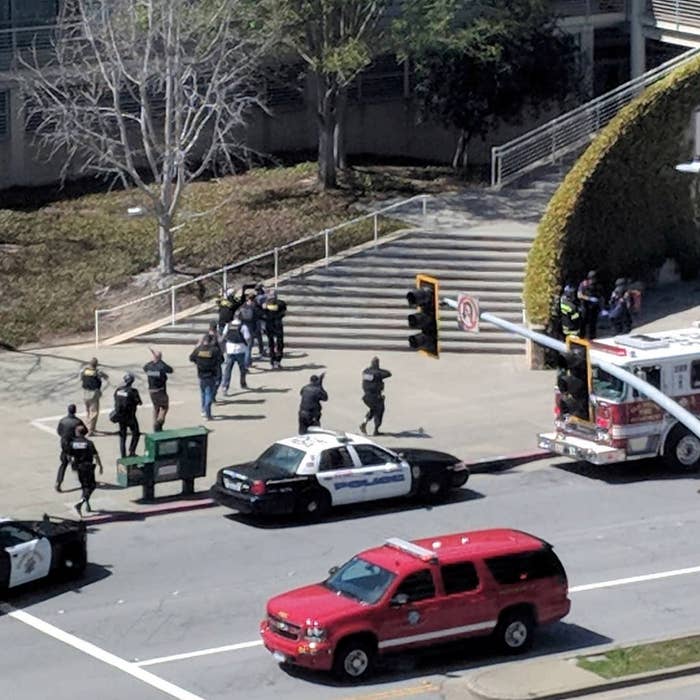 Shortly before 1 p.m. Tuesday, officials responded to numerous 911 calls from the YouTube campus, arriving at 12:48 p.m. as employees were fleeing the building, San Bruno Police Chief Ed Barberini said at a news conference.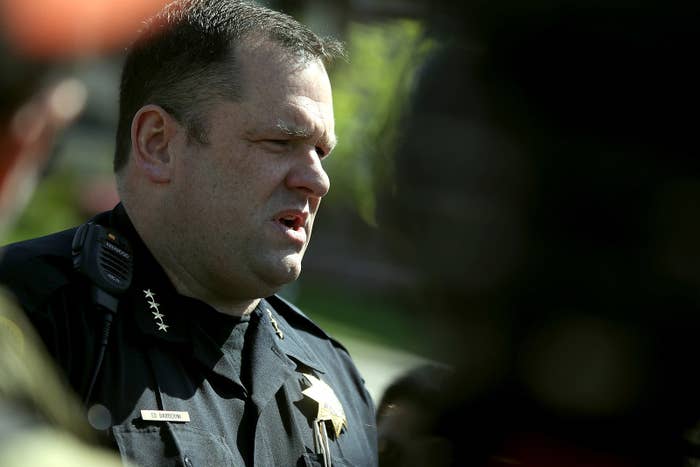 "Law enforcement and our security team worked to evacuate the buildings and prioritize the safety of everyone there," Sundar Pichai, Google's CEO, said in an email to employees.
A source told BuzzFeed News a YouTube account believed to belong to Aghdam was terminated on Tuesday night.
On the account, Aghdam describes herself as a vegan, artist, bodybuilder, and animal rights activist, posting multiple videos of herself dancing and singing, as well as vegan dishes and workout exercises.
In at least one video, she lashed out against YouTube, claiming the video platform was censoring her videos and placing filters on the content to prevent it from being seen by more viewers.
Multiple employees told BuzzFeed News that the shooting started in the courtyard outside the café.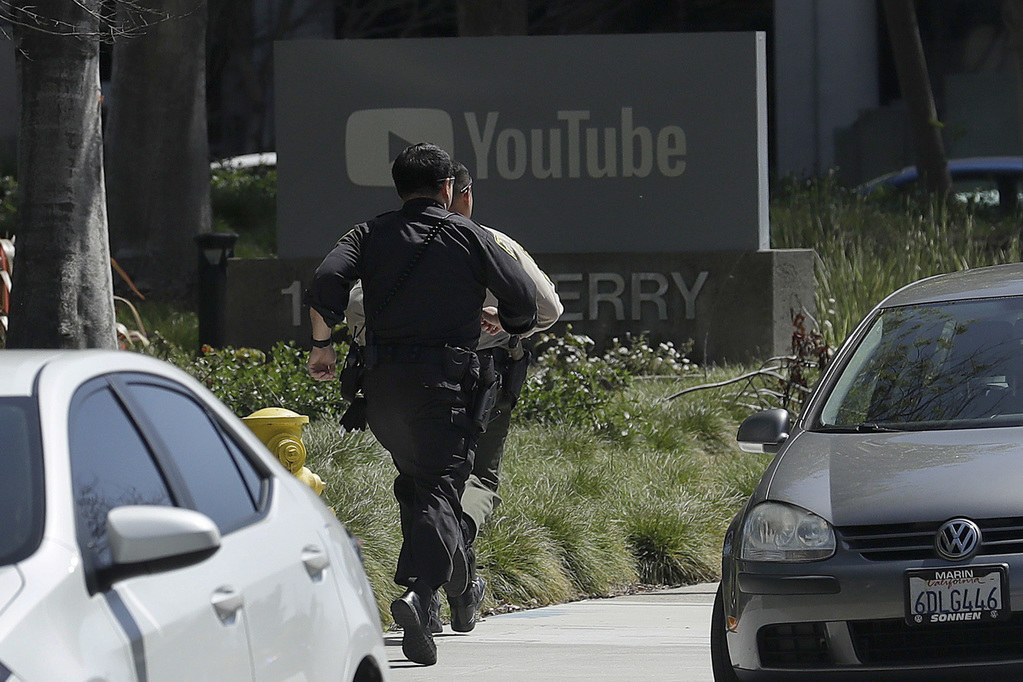 David Jiang, who works for YouTube Music, told BuzzFeed News he saw a woman's body as he was fleeing his office on the second floor.
"I came out of the office and I saw a lady laying on the ground with two policemen standing by," he said. "I didn't see blood, but I think she was dead."
Other employees on social media described fleeing and barricading themselves into rooms.
One employee posted a thread to Twitter about the terrifying experience, saying, "We were sitting in a meeting and then we heard people running because it was rumbling the floor. First thought was earthquake."
"Every new person I saw was a potential shooter."
"I looked down and saw blood drips on the floor and stairs."
Another person who says she is an employee also tweeted about seeing blood drops as she was fleeing the building.
A Carl's Jr. employee told ABC 7 that a woman came into the fast-food restaurant with a bullet wound in her leg.
"I came out of the bathroom and she was already in the dining room and people were taking care of her," Michael Finney said. "I was trying to find some tools to help her. I found a bungee cord and I tied that around her leg to stop the blood flow."
A few hundred people stood waiting in the parking lot outside after authorities patted down evacuees.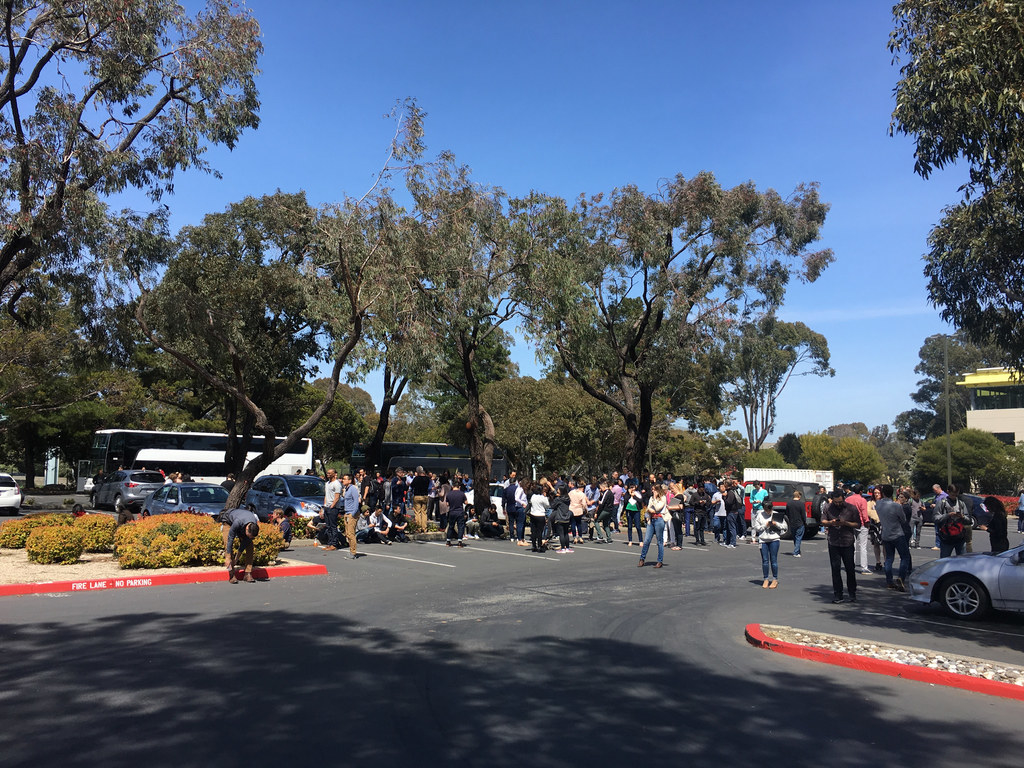 Photos taken by people who work nearby show people running out of the building, their hands raised, while being escorted by police.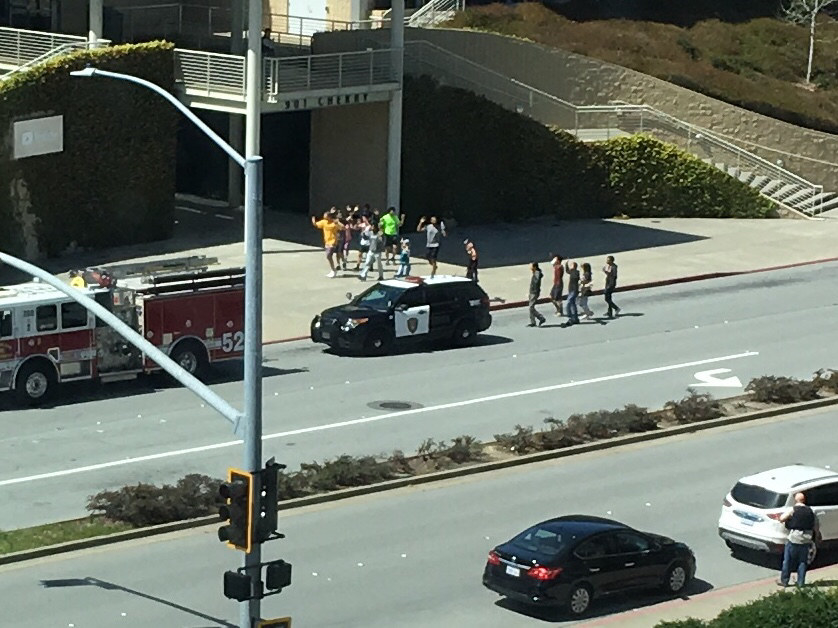 Zuckerberg San Francisco General Hospital spokesman Brent Andrew described the victims as a 36-year-old man in critical condition, a 32-year-old woman in serious condition, and a 27-year-old woman in fair condition.
Andre Campbell, a trauma surgeon at the hospital, confirmed that all three of the patients sustained gunshot wounds, and suggested that they did not appear to be from an assault rifle. He said that none of his patients had undergone surgery and were all lucid.
"This is unfortunate and it continues. You'd think after we've seen Las Vegas, Parkland, the Pulse nightclub shooting, that we would see an end to this, but we have not. This is a terrible day in the United States when once again we have a multiple-casualty situation," Campbell said. "We have a serious problem we need to address."
And while officials did not immediately release identities or delve into details for a possible motive, that didn't stop the internet from unleashing a flurry of fake news. In response, Twitter tweeted that it was monitoring the spread of misinformation.
President Trump said he had been briefed. And other elected officials, Democrats and Republicans, tweeted words of support and said they were closely monitoring the news.
Scott Pham contributed to this report.
CORRECTION
Aghdam was 38 at the time of the attack. This post previously quoted police saying she was 39.