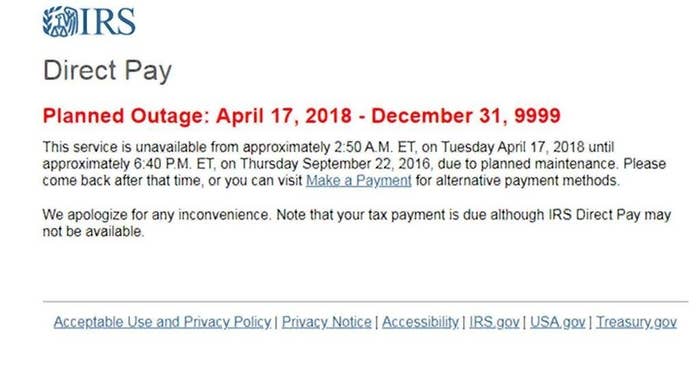 Procrastinators will have one more day to file their taxes after a glitch on the IRS's website paralyzed the system for what is typically the busiest day of the tax season.
Millions of Americans already stressed out about waiting until the Tuesday deadline to file their taxes got a message when they logged onto the IRS website that they'd have to come back on "Dec. 31, 9999."
The technical glitch apparently crippled a part of the IRS website that allows people to file electronically and make payments via their bank accounts.
People were, understandably, a little stressed out and had some concerns. Like this guy, who alerted literally everyone.
For most of the day Tuesday, the only way people could file and directly pay their taxes was through providers like H&R Block and TurboTax and putting them in the mail, the agency said in a statement.
But wait, there's good news: Last-minute filers will get an extra day to file their returns, the IRS announced. The payment page was finally back up and running by Tuesday evening, but now taxpayers have until midnight Wednesday, April 18, to file.

"This is the busiest tax day of the year, and the IRS apologizes for the inconvenience this system issue caused for taxpayers," said Acting IRS Commissioner David Kautter. "The IRS appreciates everyone's patience during this period. The extra time will help taxpayers affected by this situation."
As for the cause? Unnamed government officials told the Washington Post the IRS's outdated technology was likely to blame. Speaking to reporters in New Hampshire, Treasury Secretary Steven Mnuchin said it was a "high-volume technical issue."