Ahead of being called before the judge in a cool Tennessee court room on Monday, Wendi Wright sat rigidly in the last row, holding her daughter's hand and staring forward.
She was charged with reckless endangerment after allegedly trying to run Republican congressman David Kustoff off the road over his vote to repeal Obamacare. She says that she pursued him because she wanted to ask him a question: What constitutes a pre-existing condition?
"That was my question to him. What is a pre-existing condition?" the 35-year-old told BuzzFeed News outside the court house in Dresden, Tennessee, after she pleaded not guilty to a felony charge of reckless endangerment.
Wright's lawyer, Bruce Brown, added that she had been seeking the answer from her congressman — who voted to repeal the current law — because her 5-year-old daughter, Suni, "has a pre-existing condition" and "her family is affected by this health care vote."
Her brother, Brian, told BuzzFeed News that he would also "be affected personally by a repeal of Obamacare" due to a costly surgery to repair his hernia last September, which he says he could not have afforded before the Affordable Care Act went into effect.
"She is trying to protect her family... specifically our mom, who has sleep apnea and she wonders if that too is a pre-existing condition," he said Monday after his sister's arraignment. "She wanted to ask some questions and has been completely ignored."
Wright allegedly confronted Kustoff after he left a private meeting with the Agricultural Department at the University of Tennessee at Martin on May 8.
Wright — who is studying education on the campus, and, according to a friend, is a Democrat who voted for Hillary Clinton — tried to flag him down to speak with him after he ended his tour, Brown explained.
After Kusttoff drove away, Wright allegedly followed and drove within a few feet of the congressman's' car for about five miles, Sgt. Marty Plunk of the Weakley County Sheriff's Department said Monday. At one point, she placed her car "beside the victim's, in a manner as to force the victims [to be] in fear of being forced off the roadway," according to an affidavit filed in court.
Kustoff, his aide, and their driver said the incident was so terrifying they feared for their safety — causing them to pull off the highway onto a rural neighborhood road and veer into a friend's driveway.
Kustoff and his team called 911 then pulled onto a farm property. The affidavit says Wright got out of her vehicle and "began striking the window of the victims vehicle, screaming at the victims" and reached inside the car, "putting them at fear for their safety."
Wright allegedly tried to block Kustoff's car from leaving. It eventually did, and she reportedly followed the vehicle again for a short while before pulling away.
"Evidence is going to show from eye witness accounts that she was trying to endanger them," Plunk said. Wright "wouldn't cooperate with me. Left me no choice. If you can't get both sides of the story and you're only left with what you got you have to move forward with what you got." He added there was no physical harm to the car or people inside.
But her lawyer said she was "not trying to harm the congressman." Brown added the "evidence is just his word about his experience and whoever else was in the vehicle."
Kustoff's office hasn't responded to many requests for comment from BuzzFeed News. The voicemail for his Dysersburg office is also full.
On Monday, Wright was ordered to not have any contact with Kustoff, who she's repeatedly tried to connect with over the proposed health care law. She is out on $1,000 bond and has another hearing in June.
"I know Wendi. I know her heart. She'd never intentionally put someone in harm's way, but Kusstoff doesn't know that," Wright's friend, Callye Norsworthy, told BuzzFeed News outside the Dresden court house. "We live in an area where being liberal is not popular."
Norsworthy said she was tagged in Wright's Facebook post — on an account she has since deleted — about the incident, which eventually led the police to arrest her.

The post, Norsworthy added, essentially said it was a "weird afternoon — I can't believe this happened." It didn't include Kustoff's name, but Norsworthy said her friend wrote "I never saw myself following a congressman, trying to get him to talk to me. #healthcareforall #Iwontstopfighting?"
Also a 35-year-old single mother, Norsworthy said she can relate to Wright's building frustration with their congressman, noting that "it just as easily could've been me."
"I've tried to contact him a dozen times in various forms," she sighed. "I have numerous pre-existing conditions. All I have to do is spit and I hit someone with a pre-existing condition. We just want to know what might happen."
A You Care crowd funding site for Wright — which has since been taken down — said she was upset that Kustoff didn't hold a town hall after his vote earlier this month to repeal and replace the Affordable Care Act (the bill is now in the Senate.)
The Obamacare repeal bill doesn't let insurance companies deny coverage because people have pre-existing conditions. States can apply for waivers, approved by the federal government, which would allow them to raise prices on people with pre-existing health conditions — but not ban coverage.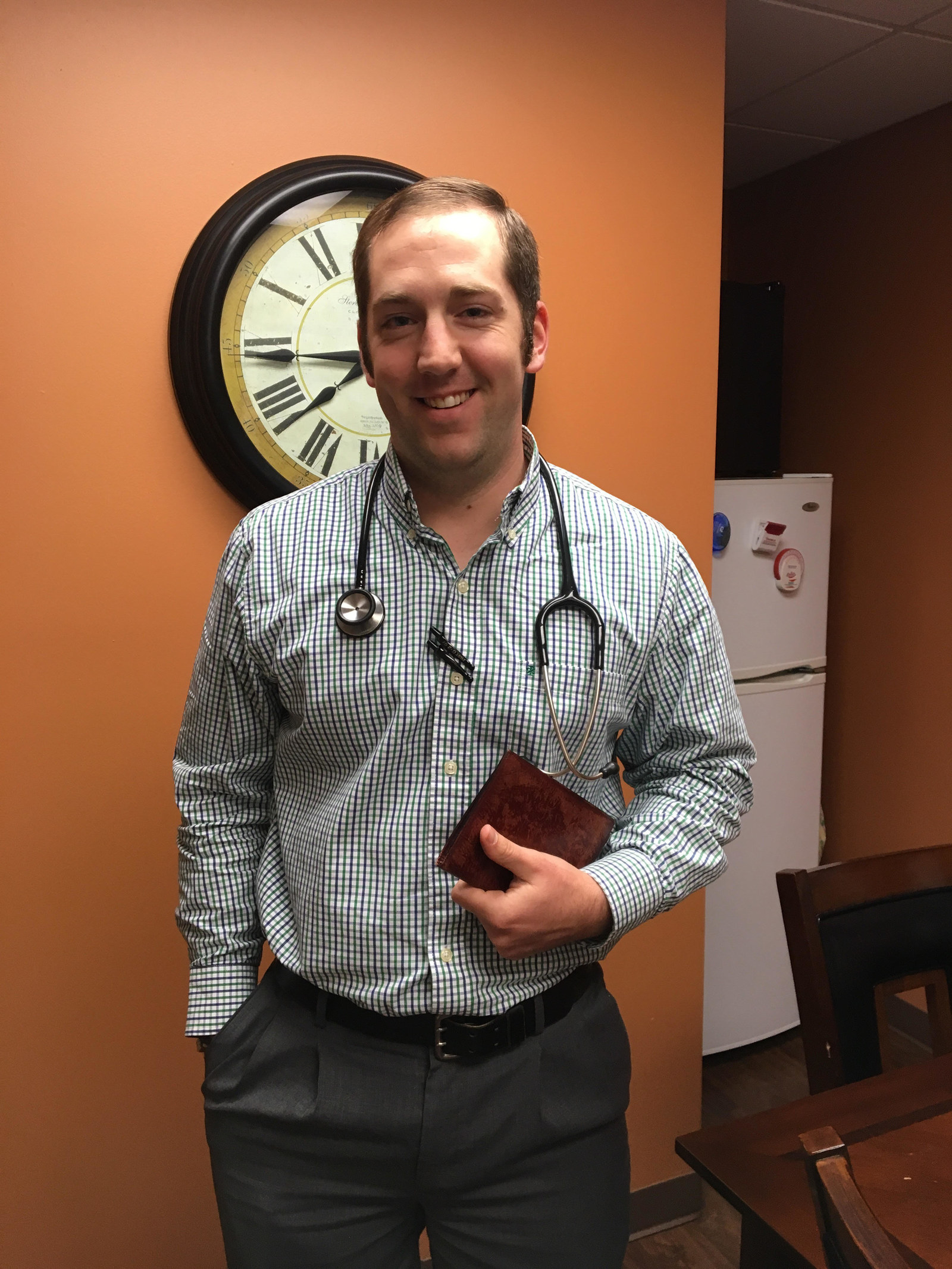 Folding his hands on the scratched, worn, light wood table in the break room of an urgent care in Wright's home town of Union City, Tennessee, Physician Assistant Tyler Sherwood says he expects "a whole lot of people will lose coverage" — especially his patients.

The little clinic sees nearly 200 people a week, Sherwood estimates. About 40 to 50% of them have pre-existing conditions, mostly diabetes.
"People are concerned and asking what will happen," Sherwood adds. "I think a lot of people, definitely those with Medicaid, will be out of a plan but they're not really sure what's going on."
Most of his patients voted for President Trump, he says.
Union City Urgent Care saw a notable influx of patients after Obamacare passed, Sherwood explains, mostly lower-income families on Medicaid who, he says, come in unnecessarily "hoping for a pill to fix whatever."
"It's like fast food medicine," he said, hoping that the proposed health care bill would change that.
After speaking to about a dozen people across Union City, Dresden, and Martin, most were not versed on the potential new health care bill and also inquired as to how a pre-existing condition would be determined.
"That doesn't mean pregnancy right?" A pediatric nurse asked while eating lunch at Station Burger with a few nurses from Union CIty's Pediatric Place "I haven't really looked into all it says yet."
Comments on Kustoff's social media profiles show that many of his constituents are upset because they say he hasn't held a town hall, particularly to field questions about what the proposed health care law would entail. It's unclear if he actually has or not.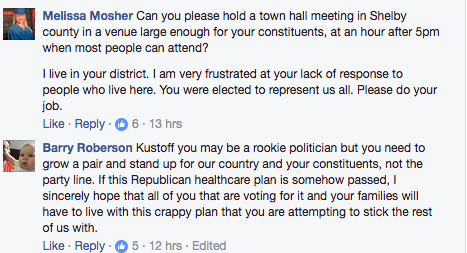 "We normally don't even know when he's here," Norsworthy said, exasperated. "We're never responded to and it's normally a closed-door situation or a fly-by and we don't know until he's gone."

In an interview last week with WKNO, Kustoff defended his decision to back the Republican House's American Health Care Act.
"I thought when I came in that we had to replace a system that is failing and may fail within the next two to three years. I understand it's not perfect. We'll have to see what that looks like once it comes out of the Senate later this year," he said.
In the Wrights' yard — slightly overgrown with weeds and dotted with pink plastic toys and a swing set — the siblings watch as Suni and their two dogs dart as the humid evening wanes.
Crossing her arms over her blue shirt with "I Love Mom" written across the chest, Wright shrugs when asked why she supposedly chased down her congressman to ask him questions. She's afraid to comment.
"I have to go get supper on," she said before calling to the dogs and heading into their white house.
Brian, her brother, stays outside to watch Suni, humming to music playing from his iPhone.
"It's Dean Martin," he said when asked what song it was. "Ain't that a kick in the head."