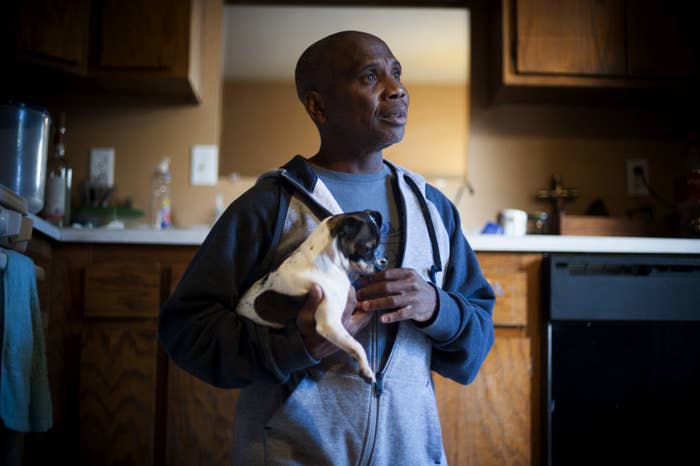 Andre Blakely was running back down the stairs after banging on doors around 3:30 a.m. Monday morning when he heard a voice coming from room 300: "Can someone help me?"
Blakely, a maintenance worker at Varenna Oakmont Senior Living, an upscale retirement community in Santa Rosa, California, said he had spent the last hour frantically alerting dozens of elderly residents that they needed to head to the lobby as smoke from the deadliest wildfires in the state's history reached their buildings.
At almost 4 a.m., he said he was leaving the south building to get on a bus, dispatched at the last minute to evacuate the seniors from the Fountaingrove area, one of the more seriously fire-ravaged neighborhoods in Santa Rosa. Then he heard the woman's voice on the third floor and realized she'd been left behind.
The 57-year-old, as well as another maintenance worker, and several residents and their family members describe a frantic, disorganized, and late-deployed effort to evacuate the sprawling Varenna complex, which houses 400 senior citizens across several buildings, just before the fast-approaching flames swept through the premises.
The Department of Social Services is now investigating whether the assisted-living part of the community, which has a capacity of 322 people, "followed its evacuation plan," Michael Weston, the deputy director of public affairs, confirmed to BuzzFeed News on Monday.
Last December, a complaint was made that "facility had insufficient staff to safely evacuate residents during a fire," according to a department report.
Blakely and several others told BuzzFeed News that management did not have an evacuation plan in place, did not heed early signs that a fire was closing in, and acted too late to get its senior citizens safely out of the center before flames got too close and smoke too thick, resulting in some being left behind. However a Varenna spokesperson said all its residents were accounted for and relocated to its other facilities.
The unsettling narrative highlights a broader issue facing the thousands of retirement communities and nursing homes scattered across the country, many of which are understaffed and unprepared to swiftly and successfully evacuate and care for the elderly when disaster strikes. Eleven elderly patients recently died in South Florida after Hurricane Irma knocked out the power at their rehabilitation center, leaving residents to bloat in rooms without air conditioning, where the body temperatures of some victims spiked to 109.9 degrees.
Forty people have died so far in the Northern California firestorm. The average age of victims is about 80 years old.
Michael Rodriguez, also a maintenance worker, said that a smoke alarm went off around midnight, about an hour after he and Blakely started their graveyard shifts. But when he called the executive director, Nathan Condie, the 26-year-old said he was told to turn it off because it was probably a false alarm and "to tell everyone it was ok."
"We went back to doing our jobs and next thing you know the fire came up three miles away. That was the biggest mistake we made that night," Rodriguez recalled. "If we were able to see it over the mountain, what was coming, we should have evacuated when there was ash landing on the building."

The two maintenance workers say that workers left vulnerable residents in dangerous, unhealthy conditions, and did not have an evacuation plan in place. Both allege that a few residents were actually left behind due to the sheer disorganization and mayhem once staff decided they should evacuate. Those who were allegedly left behind luckily survived the fire, as the main center and a few other buildings didn't burn.
"What happened should never have happened," Rodriguez added.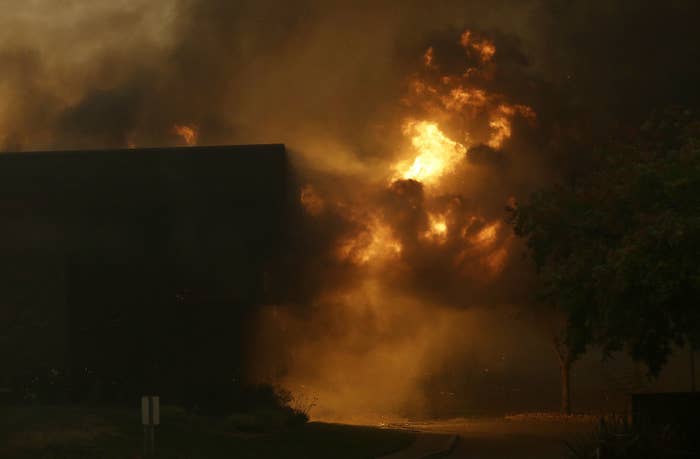 Tracy Amiral, whose 90-year-old mother, Gloria Dermott, lives in the main building with her 96-year-old boyfriend, agreed.
"Bottom line is that my mom loves the place but the consensus is that this did not go well. It actually went very, very badly and something like that should not happen again," the 60-year-old said. "No one was trained for this."

Dermott, who has lived in the home for nine years and adores the staff, said that despite the fires raging outside, the home was mostly silent late Sunday night. She did not get a warning to evacuate until her worried daughter called at 1:30 a.m. to alert her about the fire.
There was no fire alarm blaring, but rather just two beeping sounds and then nothing. No one came knocking at their door. "There was no organized plan to get anybody out," Amaril said.
Like several other concerned family members, her sister, Terry, beelined to the retirement community to check on her mother. When she arrived near 2 a.m., a group of residents were sitting in the lobby wanting to leave, and a flustered staff worker was telling them to stay put and "saying everything was fine."
"It was pretty horrible," she said.
In several statements, Oakmont Senior Living, which owns Varenna, contested these accounts and described an evacuation process that was smooth and organized.
"Staff members went door to door alerting residents to gather in the lobby. Several residents and staff members commented on how much they appreciated the care and efforts during the evacuation process given the threat of the wildfires," said Crystal Robinson, Vice President of Sales & Marketing of Oakmont Management Group. "We are proud of how well our staff, neighbors, residents' families and authorities worked together to simultaneously evacuate the four communities."
ABC7, which first broke the story, spoke with a brother and sister who showed up to check on their grandfather around 3 a.m., hours after the fire had descended on the city. They said they found about 70 elderly residents waiting for help, dozens still in their rooms, many with locked doors.
"The repeated question was, 'How come nobody came and got us?' 'How come nobody told us we were evacuating — and from the fire department — 'Where is the staff? Where is the master key?'" RJ Kisling told the station, noting that when he went back to the lobby the two employees who had been there were gone.

Blakely and Rodriguez also said the night staff, which consisted of about four to six people including a cook, had fled once the deep red glare got closer. Both men said panicked caretakers told them to save themselves.
"Everyone was panicking and when I ran downstairs a coworker said, 'save yourself,' and when I came back there was no one," Blakely said.
Katheryn Mann, a Varenna resident, told ABC7 she was instructed to stay in her room and was one of the 70 or so residents left behind to be rescued at the last minute.
"It was probably one of the worst things that's ever happened to me in my life. I was scared out of my world," the 86-year-old said. "I thought I was doing everything I was supposed to do and it backfired on me."

Rodriguez, who started his maintenance job at the facility last month, said he also found many residents still in their smoke-filled rooms in the early hours of Monday morning.
"Some had their windows open so smoke was all in there. I went into a 91-year-old's room and it was smoked out," he said. "There was no safe place for these people to go where the smoke wouldn't be in their face. We were in the smoke."
Like the Kislings and Terry Dermott, Rodriguez said other residents' families came with cars and helped take others to safety. Executive Director Nathan Condie "got as many residents as he could in his car," Rodriguez said, but noted that Condie did not arrive until later. The Kislings said they later found their grandfather at a shelter after Condie had taken him down the hill.
"I got in the last vehicle sometime after 4 a.m.," Rodriguez said. "And we were told that there were people left."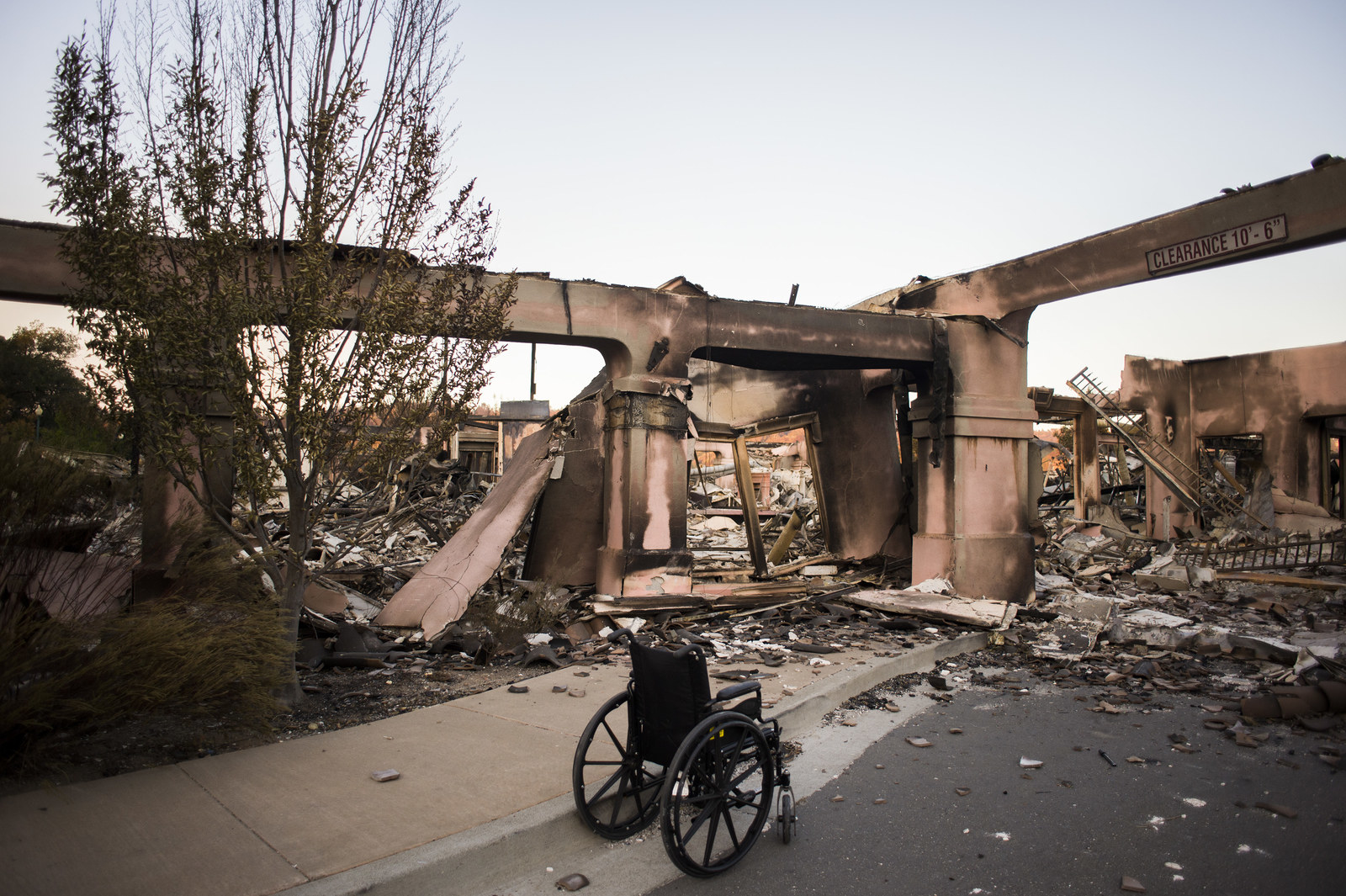 Trying to hastily evacuate dozens of senior citizens, many on walkers, in wheelchairs, and relying on oxygen tanks, is already an arduous task, but doing so with dead elevators due to lack of power exacerbated the process.
Rodriguez and Blakely said they were gathering residents and carrying them down several flights of stairs and across lawns, saying they could see how the small number of staff could have accidentally left people behind.
Oakmont would not confirm if several of its residents were left on the property, but said that "while we were in the process of shuttling residents to a designated location, authorities refused to allow staff to reenter the area because of the existing danger, and indicated they would take responsibility for evacuating remaining residents."
Sonoma County emergency response center did not receive a help call from the facility Monday morning, Public Information Officer Scott Alonso told BuzzFeed News. The Santa Rosa Sheriff and Police Department could not confirm if their personnel were there assisting in the evacuation because of the chaos encompassing the rest of the city as thousands of others had to flee their homes with little warning due to the unexpected severity of the fire.
Citing the confusion and that all available resources were out evacuating and rescuing people across the city, Misty Holt, a Santa Rosa Police Department spokeswoman, said there would not have been roadblocks set up at the time the complex was evacuating.
Amiral also said she was surprised no one from the home contacted her 90-year-old mother, who evacuated in her own vehicle Monday morning, until Thursday.
"That was the first time we heard from them," Amaril said. "We thought they would have done a headcount or check to make sure how she got out and where she went."

As for the woman in room 300, Blakely said he had seen her before walking around the property with her blind dog. He didn't know her name but knew he was not leaving the property without her.
When he finally got her and the dog downstairs you could hear "trees exploding" and he was expecting there to still be vehicles evacuating people.

"We were by ourselves," he said. By that time, the smoke was so thick he couldn't see where he had parked his car, so the 57-year-old placed the woman and her dog in a wheelchair and started running down the hill toward fresh air, equating the entire experience "to a boxing match. It felt like a fight to survive. And she was a strong lady," he said. "We were going the distance to beat the fire."
But then they hit a speed bump, ejecting her face-first into the pavement and scraping her head, Blakely said. So he ran back up, found his vehicle, and was able to get her and her blind dog inside and drove her to the nearby Kaiser hospital. The Oakmont of Villa Capri, where Blakely said he left the wheelchair, was completely devoured by flames. BuzzFeed News went to the property and found the wheelchair still parked near the sidewalk, facing blackened ruins.
The woman is "doing well and is slowly healing both mentally and physically," her family told BuzzFeed News, asking to remain anonymous until their aunt recovers. They confirmed Blakely's account and said they were upset with what they witnessed and heard about Varenna's evacuation process.
"The family of the woman Andre Blakely saved wanted to let everyone know she is doing well and recovering from her injuries and the trauma of that night. There are no words to express how extremely grateful and appreciative we are to Andrew Blakely for saving her life. Literally, he saved her when no one else cared to even lend a helping hand. We plan to be in contact with him again once things have calmed down for all of us. In the meantime, please express our gratitude for his selflessness that night and putting himself in harm's way to save her life."
"I was just doing my job," Blakely said of the whole experience. "And I hope if I'm ever in that position someone would have the compassion to do that to me. You don't have time to be afraid, you just have time to go one way or the other."