On Saturday, nearly 600,000 people swarmed the streets of downtown Los Angeles, joining dozens of other cities across the country for the second annual Women's March.
For many, the march took on an even more poignant and significant meaning this year, as the rise of the #MeToo and Time's Up movements continue to shake up industries and demand change in how women are treated.
For one group of 13-year-olds, the march was an opportunity to express themselves by reimagining Disney princesses as empowered women instead of "damsels in distress."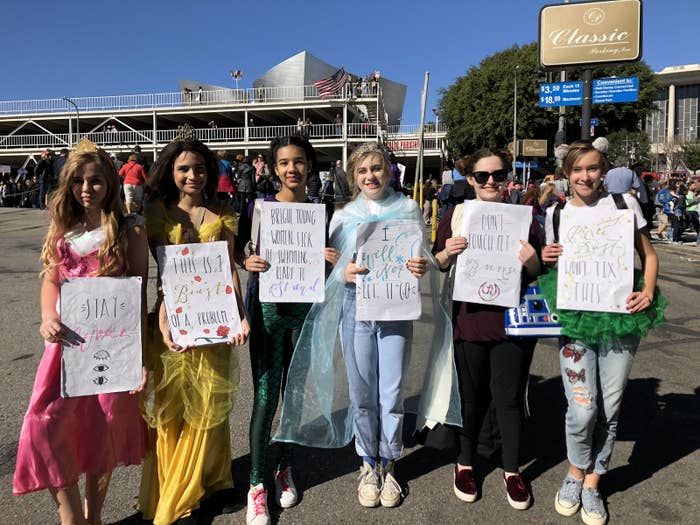 "We turned it around," said Ava Rothenberg, who came dressed as a woke Sleeping Beauty. "We're sick of being seen as princesses so we made our own take on it and my friends were really passionate about doing it."
Ava said she came up with the idea after seeing this drawing by artist Amanda Niday.
The teens, who go to Archer School For Girls, didn't march last year but felt inspired to attend together and "do something special" after becoming "closer as friends," said Naiobi Benjamin, who dressed as Ariel. "We thought it would be a fun and creative way to show our support for equality."
"I chose Ariel because in the movie she gives up her voice for love. I wanted to represent her reclaiming her voice, with the understanding that you don't have to give your self up to get what you want," explained Naiobi.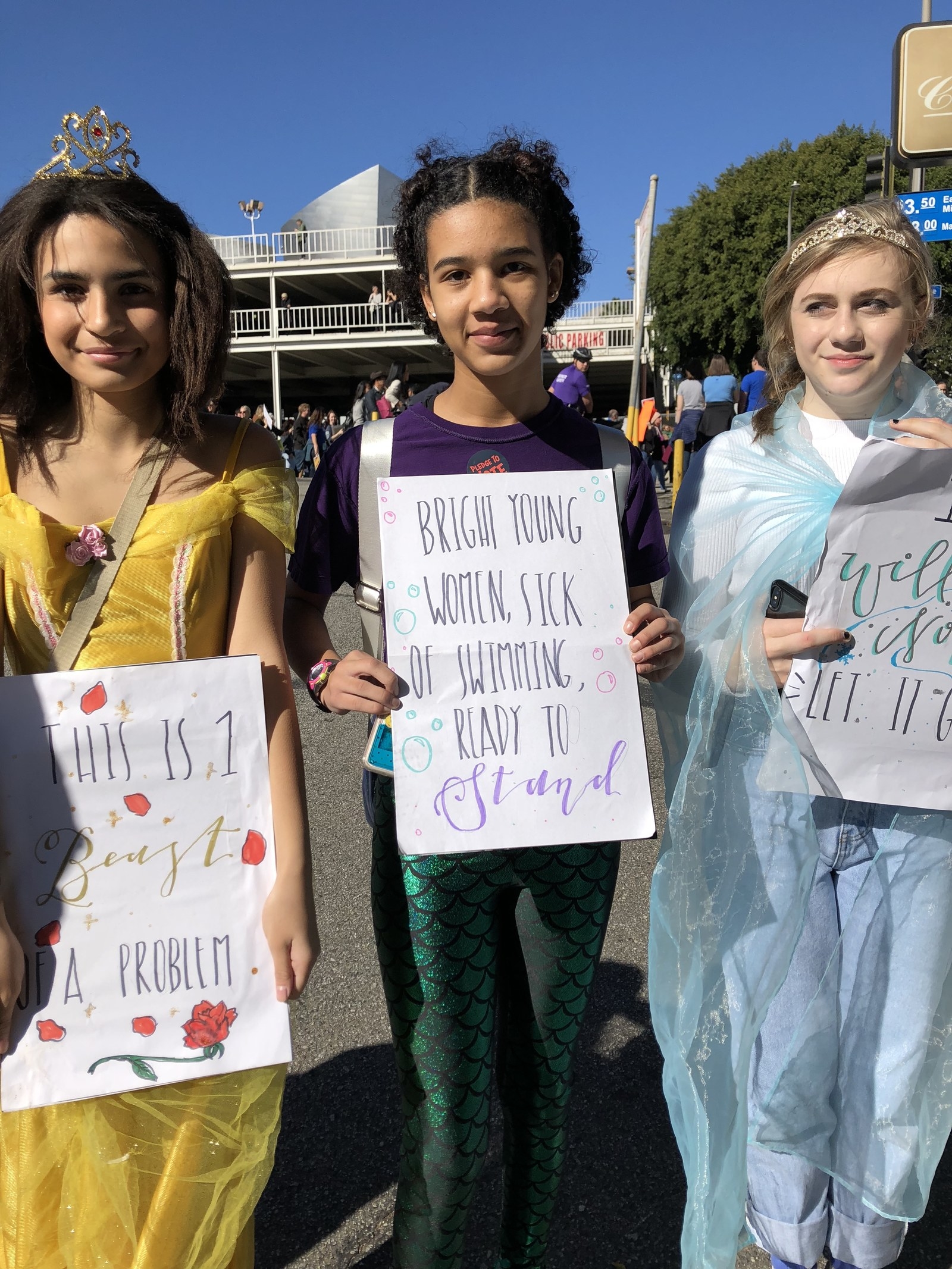 "I chose to dress up as Elsa. She is one of the few Disney women that follows her own ambition, and whose story's focal point isn't falling for a prince," said Jacqueline Marks. "As a member of the LGBT+ community, I relate to the queen because she learns not to care about others' opinions. She restores summer and finds peace and love both within herself and her family. To me, this is truly inspirational. She stays strong and fierce."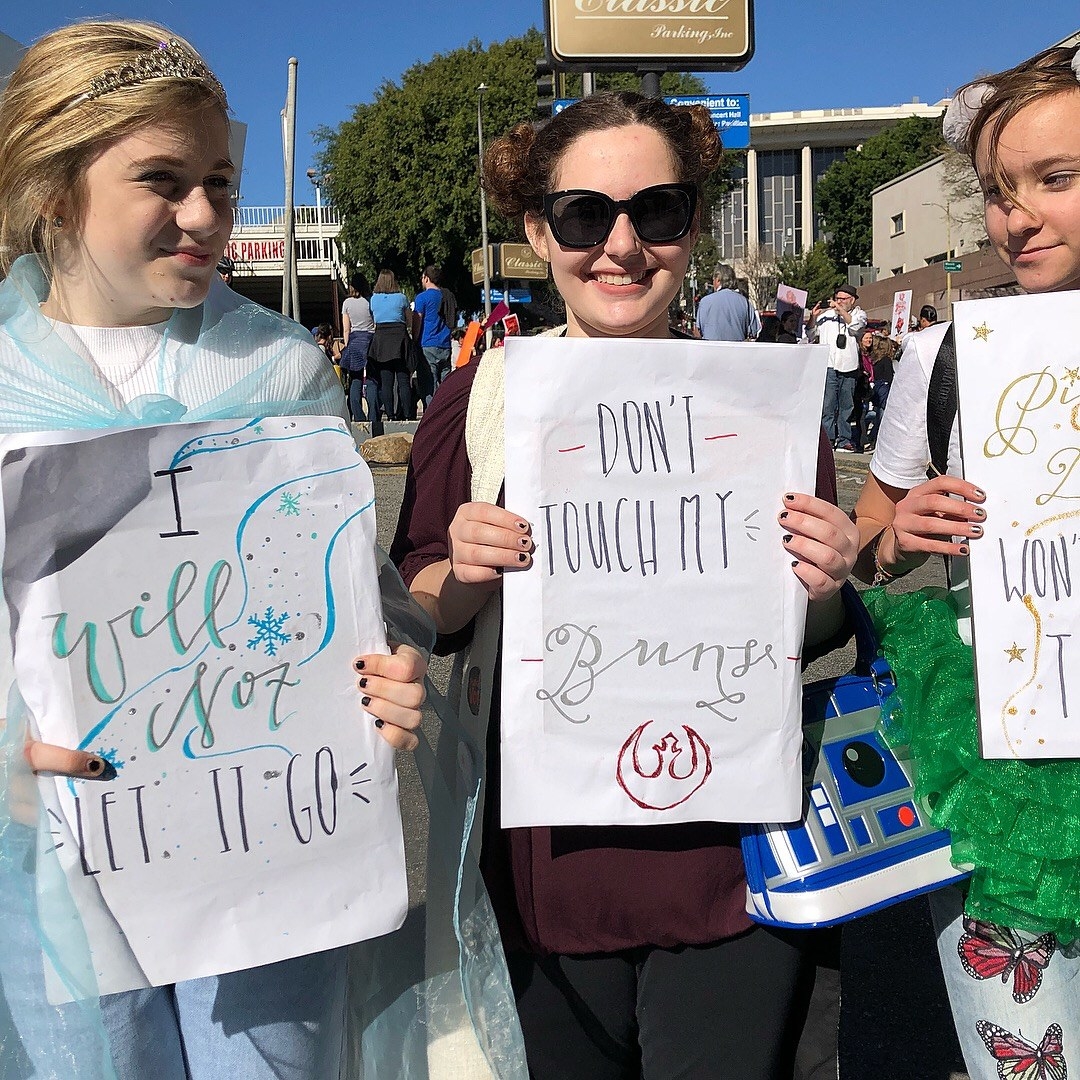 "I also decided to be Elsa because of the ever pending issue of climate change," Jacqueline continued. "Yes, this is a legitimate phenomenon. When we burn fossil fuels, we release CO2 emissions into the atmosphere. Elsa's ice palace is of course directly affected. I saw Elsa, the ice queen, as a way to spread awareness on the issue."
"I feel empowered to know that there are people out there who care about the future of women," said Gwyneth Williams, aka realist Tinkerbell. "And even though there are people who will bash us. There are also people who have your back."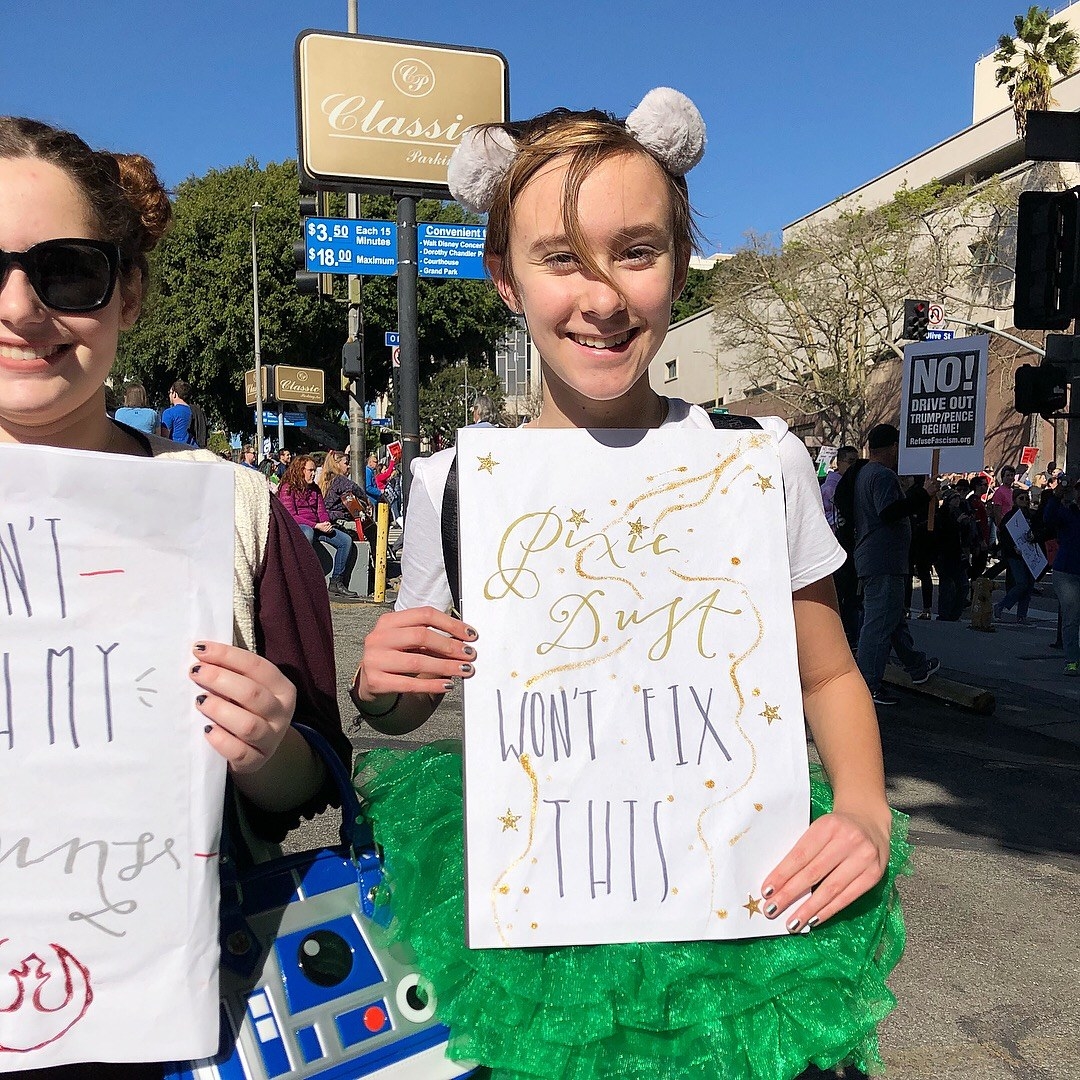 "It's wonderful and so empowering to see all these women dressing in black at the Golden Globes and all these people coming here and showing up," said Daisy Kaplan (Princess Leia). "It is and will make a difference."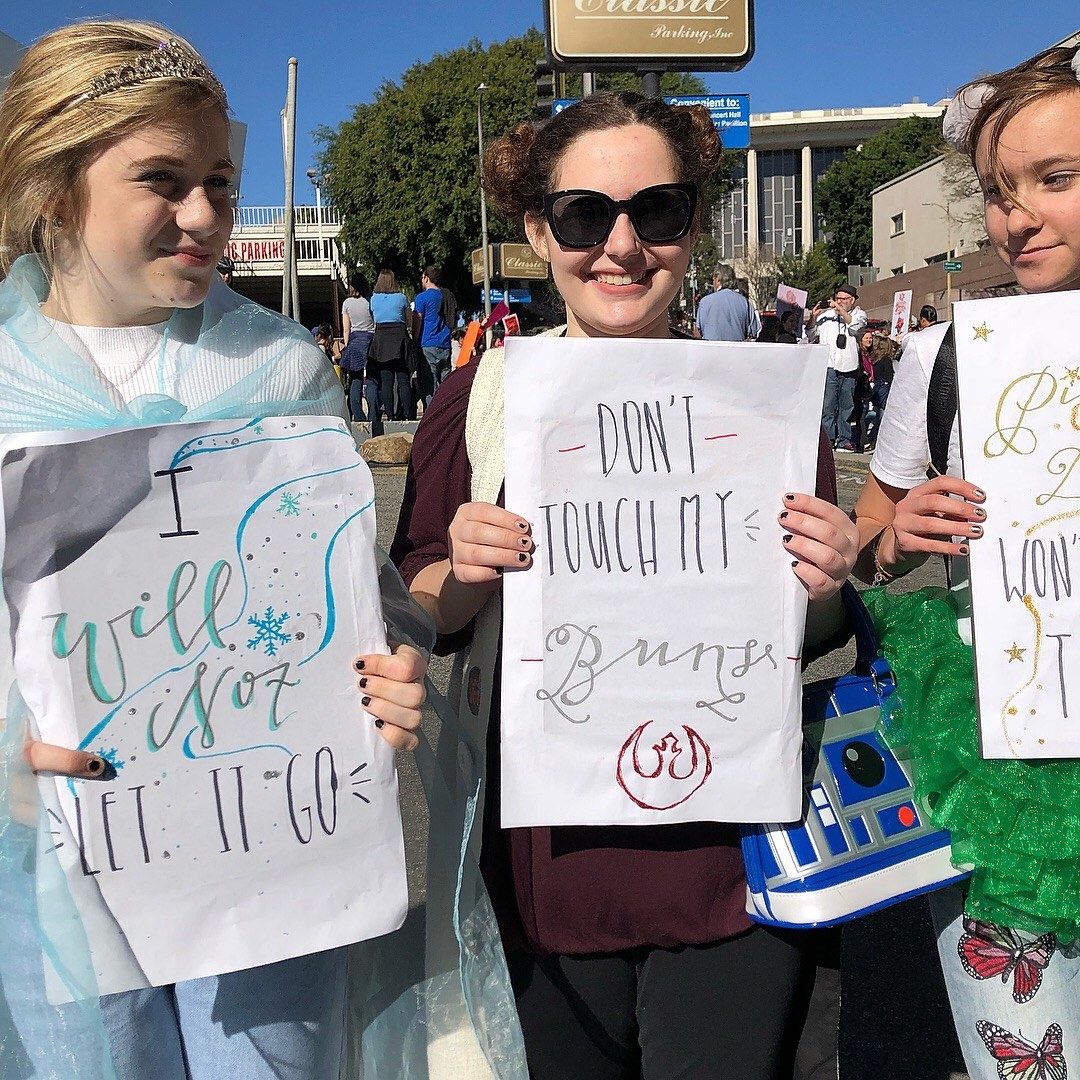 The teens, obviously, were a *major* hit at the march and pictures of them went viral across social media, with people praising their spirit and loving their message.
"You kids bring me hope," someone said on Twitter.
However, the teens say they were "surprised, shocked, and hurt" by those who posted "negative, mean, and inappropriate" comments, Naiobi noted.
"People saying stuff like go back in the kitchen or go watch porn? Ummm we don't know what we are marching about, we are a bunch of idiots," the 13-year-old went on. "A lot of us were really upset but I've gotten over it now. I know it doesn't matter."
Some of them even called out and shut down the haters.
"Don't say we don't understand what's going on in the world, believe me we do," Daisy said in one reply. "Even at 13 we go through the same things as adults. We are marching for ourselves and for our futures, not because anyone made us and not because we were like, 'OMG, this could be so instagrammable. We are here for our rights..."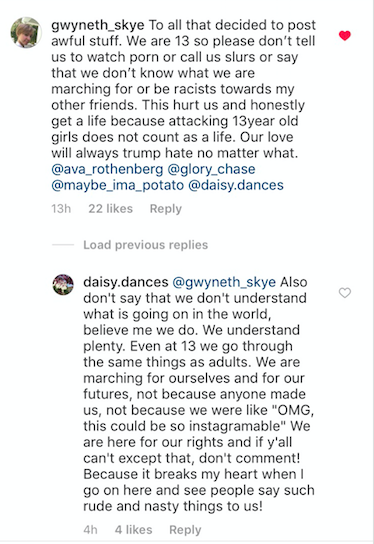 "I️ was overwhelmed with the amount of utter love at the march and the amount of hate online," said Ava. "But what really consummated the experience was the people who came to our defense. Kids I'm not close with and high schoolers who had never talked to me and complete strangers online, so instantaneously came to our defense, it was a heartwarming thing to see."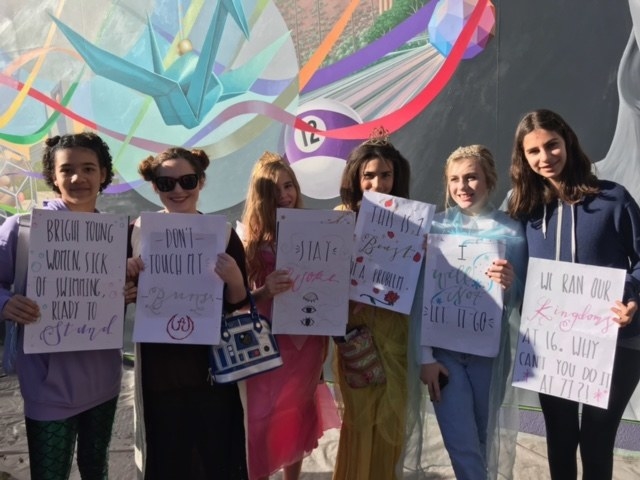 The girls say they will be back next year and plan to keep "showing up until we don't have to."
"I hope no woman ever backs down from getting equal pay and respect and rights," Gwyneth said.
"All you raging feminists are badass queens. Keep doing your thing and advocating for change. Never underestimate a princess," Jacqueline exclaimed.