You probably have already shed a tear, or 100, watching the viral video of a man bravely running into a wall of flames to rescue a little rabbit from a terrifying California wildfire.
video-player.buzzfeed.com
It was an instant internet sensation, and people clamored to know just who was this god among men, dressed in a red hoodie and black basketball shorts, who ran into flames to save a little creature. But he declined to be interviewed by the ABC station that originally captured the video.
In the video, the man frantically jumps up and down, his concern and fear palpable as he calls to the rabbit and tries to coax her closer. After crawling on the side of the highway, the man is able to scoop up the rabbit before running off camera.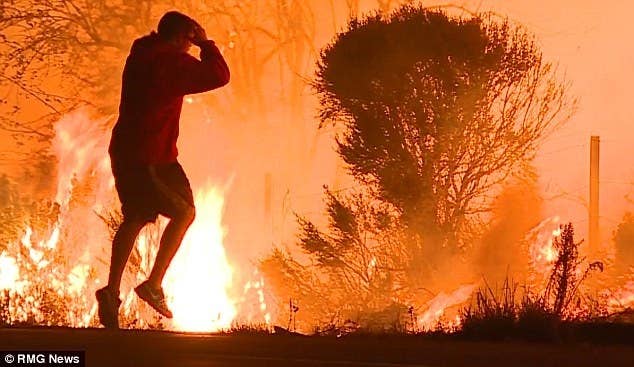 People quickly saw this act as a beacon of hope in a world recently torn apart by fires, earthquakes, and devastating hurricanes — a symbol of all that is good in our current dumpster fire of a world.
They were seriously moved.
"The reason the bunny saver appeals to us is that raw humanity that it shows. In these dark times, a man that risks himself for a wild bunny in a fire, says a lot about who we can be," one very deep and introspective person wrote on Twitter.
He became the standard by which women now measured all men.
Smh.
"He's the One."
On Thursday, NBC 4 reported that Oscar Gonzales was the bunny whisperer we were all looking for — a 19-year-old from Pacoima, California, who said he was driving a friend home from work along the fire-lined Pacific Coast Highway when he spotted a white rabbit running panicked amid the flames.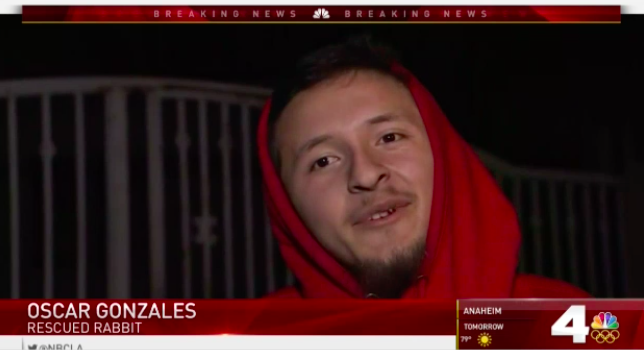 "I love animals myself," Gonzalez told the station. "I didn't want the rabbit to go through the fire... At first, he was afraid of me because I was yelling, but then it went in my arms."
Gonzalez said he then put the rabbit down on the other side of the highway, away from the flames, and drove away.
But here's where things start to get a little fishy in this rabbit tale: Gonzalez said there were actually TWO rabbits and he was able to save the white one. But when he spoke to the Daily Mail on Friday, he recounted seeing THREE rabbits.
"I thought to myself it was the rabbit's family," he told the outlet. Gonzalez also didn't clearly state whether he rescued a white rabbit or a black one with white spots. 🤔
Also, as HuffPost points out, wild rabbits in that part of Southern California are typically brown or gray. White or black rabbits would most likely be domesticated, and are less likely to be found randomly running on the side of the highway.
Of course, it was a slightly hectic situation, so perhaps the details got a little fuzzy.
But THEN an animal hospital in the area told HuffPost that they believed they were caring for a rescued wild rabbit.
Montanna Harrington, an employee at Conejo Valley Veterinary Hospital, said that a man in a red hoodie and basketball shorts dropped off an injured wild rabbit after scooping it up off the side of Highway 101, where the Thomas Fire had consumed thousands of acres in a matter of hours.
This location, though close, is different than where Gonzalez said he found the rabbit. Plus, he said he put the creature back into the wild.
The California Wildlife Center, which has taken over the rabbit's care, also said there was some debate as to who really rescued this rabbit.
Enter 21-year-old Caleb Wadman, who on Saturday came forward and said he was actually the one who pulled over after seeing the frightened, distressed bunny.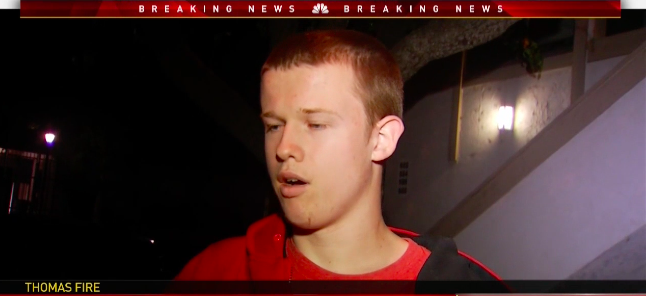 "I just ran out," he told HuffPost. "I had faith … and that's when the bunny ran back towards the flames. And I was like, 'No, baby bunny, I'm here. I'm going to take care of you.'"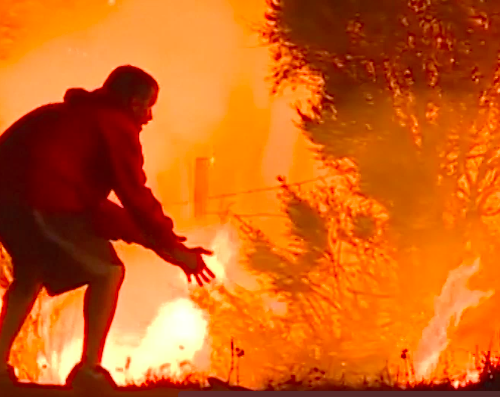 The Conejo Valley Veterinary Hospital, the California Wildlife Center, and now NBC are backing Wadman, who showed the station pictures of the little critter and who had been wearing the exact same outfit as the man in the video.
After interviewing Gonzalez, NBC said in an editor's note that "an enhanced image from the original video makes it clear Caleb Wadman is the person seen in the video."
In an interview with NBC4, Wadman shared pictures he took of the brown wild rabbit. He said he saw the animal and "just ran after it. I had a lot of faith in me at the time being. So I was just focused on the life at hand rather than the flames around me."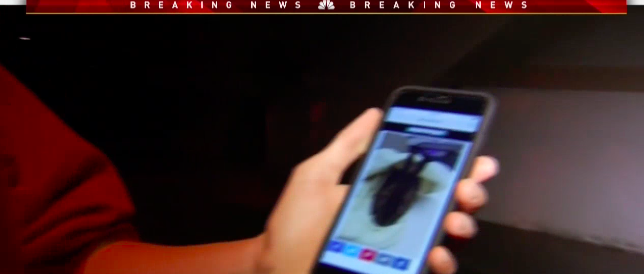 A woman claiming to be Wadman's aunt also attested that her nephew was indeed the one who ran into the fire to save the rabbit.
However, NBC4 said Gonzalez and his girlfriend still insist he is the one who saved the bunny.
As for the now very famous rescued bunny, the California Wildlife Center said Saturday that she remains stable, though it is too soon to tell how she will recover.