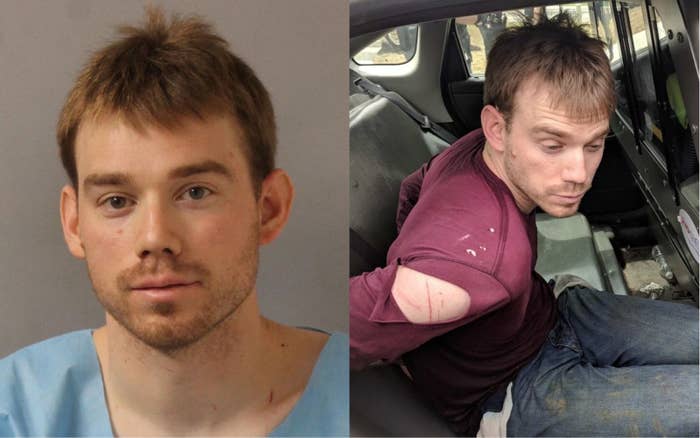 The man accused of shooting and killing four people and wounding two others at a Tennessee Waffle House early Sunday is facing additional charges of attempted murder and unlawfully possessing a gun, authorities said Tuesday night.
The suspect, 29-year-old Travis Reinking, was captured Monday in the woods near his apartment complex and charged with four counts of murder, ending a frantic 34-hour search across the Nashville area.
On Tuesday evening, Nashville Metro Police tweeted that they added four counts of attempted murder and one count of having a firearm while committing a dangerous felony. One of the people Reinking is accused of trying to kill is James Shaw Jr., a Waffle House diner who heroically wrestled away the suspect's AR-15-style rifle as he paused to reload his weapon inside the restaurant.
Earlier Tuesday, a judge revoked Reinking's $2 million bond and postponed his hearing, originally scheduled for Wednesday, to May 7.

At a press conference, Davidson County Sheriff Daron Hall said Reinking had been placed in solitary confinement after undergoing a mental health evaluation in the county jail. Reinking is under suicide watch for a minimum 22-hour evaluation period and will be checked on every 15 minutes. Once cleared, the sheriff said, he will be placed in a restricted, maximum-security residence and confined to his cell for 22 hours a day.

Hall described Reinking as "alert, cooperative, and compliant," noting that he has been eating and answering questions. However, the sheriff described Reinking's confinement as extremely restricted and said he has been given clothing designed specifically to prevent self-harm and barred from using utensils, and can only have contact with visitors through video conference.
Reinking, who is originally from Morton, Illinois, had a troubled history with law enforcement in the years leading up to the shooting, including an arrest at the White House in 2017 and several documented run-ins with officers in his hometown. Following his arrest in DC last July, Illinois authorities revoked Reinking's firearms identification card and confiscated his four weapons, turning them over to his father. Reinking's father later returned the guns to his son.

Expressing frustration about the criminal justice system's handling of people with mental illness, Hall said Tuesday that the Waffle House shooting was "evidence that we have too many guns and too many mentally ill people." He called for mental health to be treated as "a health issue instead of hidden in jails and prisons."
"When mental illness and access to guns collide, we often see tragedy unfold," Hall later said in a tweet.