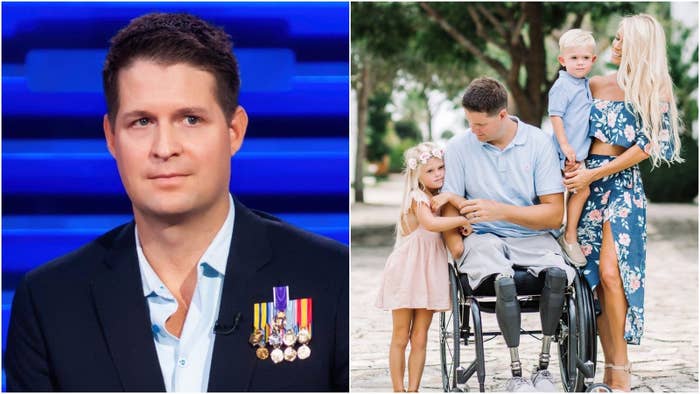 A decorated Iraq War veteran whose viral online fundraiser for President Trump's border wall surpassed $12 million on Friday has an extensive history of creating and profiting from fake, inflammatory news and conspiracy theories.
Fundraisers for a border wall between the US and Mexico aren't new — Arizona's only raised about $265,000, but Brian Kolfage's GoFundMe campaign quickly took the internet by storm, topping $12.7 million early Friday, just five days after going live. His $1 billion goal is the largest in GoFundMe's history, the company said. And all of it, he pledges, will go to the Trump administration for the purpose of building president's long-promised wall.
His mission to crowdfund the wall has so far resonated with more than 213,000 donors and counting, who believe in the Air Force veteran's experience in galvanizing the right.
But over the past decade, Kolfage has also spearheaded and shaped a spate of right-wing media sites that have peddled conspiracy theories and false stories, prompting Facebook and Twitter to remove some of his pages and profiles.
The married 37-year-old father of two children and recipient of the Purple Heart — his legs and right arm were amputated as a result of a rocket attack during his second tour in Iraq — has been fine-tuning his public image for years. The family chronicles their vacations, VIP seats at Trump rallies, and private, charity-donated flights. Even their 3-year-old son is an Instagram influencer with more than 62,000 followers.
For years, Kolfage, who now lives in Miramar, Florida, in a specially adapted house donated by the Sinise foundation, has traveled the country sharing his story and advocating for veterans and children whose limbs were amputated as a result of wartime injuries. He also starting a coffee company that donates 10% of each sale to veterans.
But, behind a screen, he can be vitriolic, lashing out at "liberal trolls" and posting racially slanted messages on Facebook and Twitter, often linking to inflammatory stories on several of his now-defunct websites like FreedomDaily, which last September raked in more than 28 million views.

The websites' headlines often screamed about how Muslims were raping and harming innocent women, children, and service members; how Hillary Clinton was hiding deathly illnesses; and how billionaire Democratic donor George Soros was funding domestic terrorists. Stories like "Obama's Pedophile Secret OUT After Department Of Defense Releases Startling Memo To Public" would often appear on multiple sites and Facebook pages, spreading them to a wider audience.
While a few of those sources and their content are now archived, others — like Right Wing News, which he took over from its founder, PS Republic, and WoundedAmericanWarrior — are still up and pushing conspiracy theories and fake stories. Kolfage also still manages several pages on Facebook that he uses to promote his causes and content to several hundred thousand followers.
Like many others, Kolfage said in emails obtained by BuzzFeed News that he "fell into" the lucrative fake news business around 2015, when Trump's campaign was beginning to simmer. Once Trump assumed the presidency, Kolfage became more outspoken, fusing his online personality with his public, heroic image.
The soldier often contributed to the conservative news site the Blaze, where he slammed a rainbow flag seen at an Arizona Air Force base, accused Ferguson activists of "race baiting" for war, and attacked an imam for "preaching" Arabic at a Veterans Day event.
According to emails and texts reviewed by BuzzFeed News, Kolfage hired at least 10 people to create, post, and spread content under the Freedom Daily umbrella, promising that they would make thousands of dollars while coaching them on how to dump money into and grow Facebook pages by using ads.

"I'm not trained/educated in journalism, I have my degree in architecture design. I kind of just fell into this stuff after getting offered a spot at TheBlaze. Like I said earlier my blog is new and its [sic] growing rapidly," he wrote to one employee in 2015. "My page views this month was about 3 million people, and the month before it was about 1.5 million. I'm getting a ton of people from the Blaze coming over to my blog since they allow me to market my blog on all my posts on their page so it gives you some quality exposure."
He paid one woman $3 per 1,000 views to post his content on a Facebook page called the Trump Republic, one text message said. In another, he wrote how the page had grown to 47,000 fans in one month.
And because he relies so heavily on his online presence and persona, he's extremely protective of it. In 2014, the veteran sued seven people for defamation after they got into several spats on Facebook. The alleged harassment included personal attacks, threats against his family, and false impersonation of him online, Kolfage said in court documents.
"Kolfage's ability to successful [sic] pursue these endeavors is dependent upon his reputation for honest and good moral character," the lawsuit states. "He markets not only his talent and experience, but his personal ethic and principals [sic] as well."
The defendants, though, said Kolfage had doxxed them and others, encouraging his fans to get in on the harassment.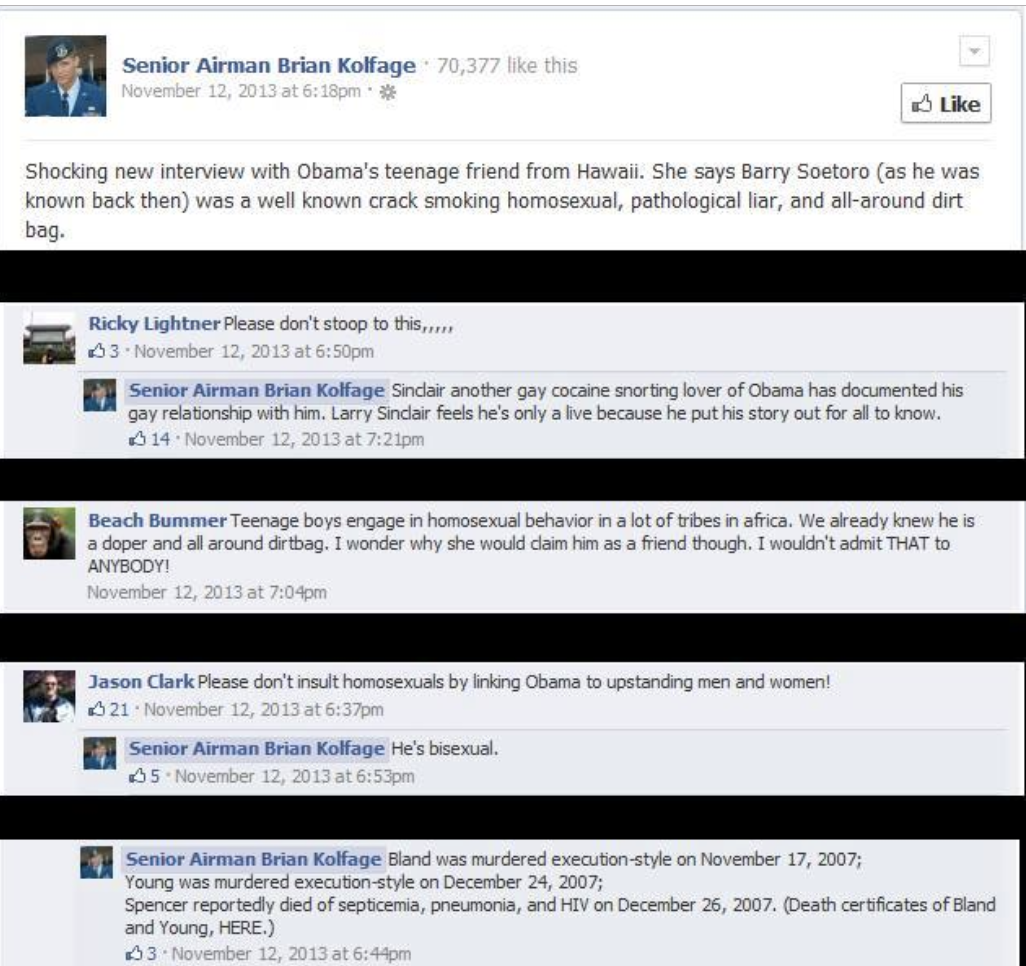 Ken Vanderzanden was one of them. In 2013, he came across one of Kolfage's Facebook posts in which he dissected Obama's birth certificate in an effort to prove it was fake. Amused, the 64-year-old sent him a private message pointing out some flaws in Kolfage's analysis.
"He turned my private statement into a public statement and made a photo of me a meme, telling the world what a horrible person I was," Vanderzanden told BuzzFeed News by phone from his home in Portland. "I was endlessly harassed on Facebook and then started getting death threats to my house and had to change my phone number and go into hiding for a while."
Kolfage published the retiree's name, address, and phone number on his personal page, according to court documents. Vanderzanden repeatedly reported the harassment until Facebook finally shut down the veteran's profile, prompting Kolfage to sue for defamation.
Ultimately, they reached a settlement in which both sides agreed to end any disparagement and pay their own legal fees, which Kolfage turned to GoFundMe and other fundraising efforts to cover.
"He's a narcissist and this is all about him, not the wall," Vanderzanden said. "He wants to keep his name in the news. I wouldn't trust him with a buck."
It wasn't until recently, though, that Kolfage's crusade to protect his online presence caught the attention of major conservative outlets, like Breitbart, Fox News, and Stormfront.
In October, he also started another online fundraising venture called Fight 4 Free Speech after Facebook yanked several of his pages, including the Trump Republic, Keep America First, and Right Wing News, which he cited as a significant source of income for him and his family, costing him several hundred thousand dollars.
His free speech GoFundMe has so far raked in more than $69,000 of its $100,000 goal and donations are still pouring in. Kolfage promises that he is going to use the money to fight for the American people and defend free speech in his effort to have his content restored on Facebook. Like the "We Will Fund the Wall" campaign, Kolfage also created a separate website and Facebook group, sharing his message and how to donate to it across multiple platforms.
"Please join me on this fight as I take on Facebook in an unprecedented legal case that will shape our nation for future generations," he wrote.
He then ended the summary with his usual tagline: "I gave 3 limbs, what are you willing to give?"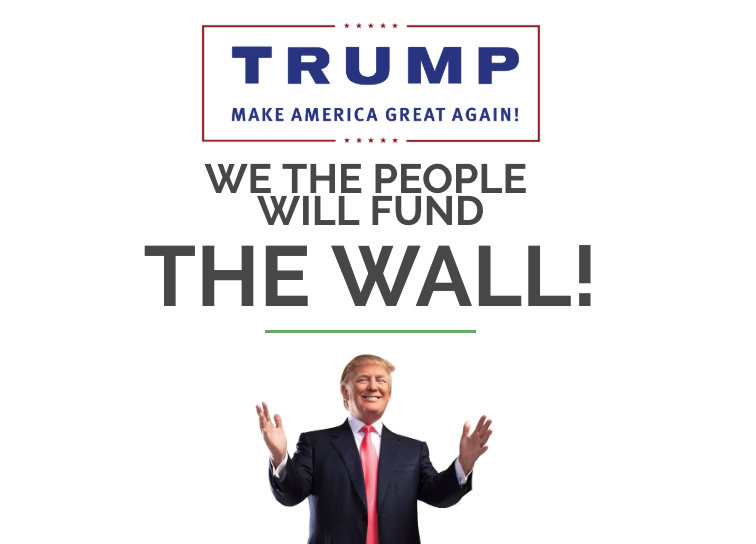 For his border wall campaign, apparently millions. And Kolfage doesn't want his affiliation with Right Wing News or Fight4FreeSpeech to be a factor, telling NBC News, "I don't wanna mix the two."
"That shouldn't be the focus," he said. "My personal issues have nothing to do with building the wall."
But for all the bluster and media attention Kolfage's gotten as a result of the campaign, it's not clear how he will get the money to the US government in the unlikely event that he meets his billion-dollar goal.
Neither he nor the White House responded to multiple requests for comment. But on the GoFundMe profile, Kolfage stated that he has a "secure point of contact" in the Trump administration and is "working with a law firm on a legal document that will bind the government to using the funds for the border wall itself, nothing else."
If the campaign does not reach its goal, all the money will be refunded to donors, he added.
If the goal is met, GoFundMe spokesperson Bobby Whithorne said the company will work with the organizer "to directly transfer the money to the appropriate recipient or we'll refund donors." Kolfage himself will not have access to the funds, Whithorne added.
But that's for the money sent directly to GoFundMe. Shortly after the the wall-building campaign erupted, Kolfage updated the information to include a separate website that included a PO box in Castle Rock, Colorado, where donors could send checks to support the cause. GoFundMe only guarantees funds donated through their site, Whithorne said.
Kolfage has asked some anonymous business partners to pick up the checks, which he said should be made out to "GoFund The Wall." However, it's not clear if that's for a bank account or an organization set up to manage the money.
The federal government also isn't set up to accept donations with strings attached, although Republicans in Washington introduced legislation on Thursday that would allow the US Treasury to do so for the border wall.
Craig Silverman contributed to this report.