These Students Say They Want To Leave The US Virgin Islands For Safer Schools
Students on the US Virgin Islands had just barely started school when two hurricanes roared through. Worried about their education, they're looking to come to the states.
SAINT THOMAS — Normally, at 3 p.m. on a Wednesday, Darius Luke and about 1,360 other high schoolers would be shuffling out of Charlotte Amelie High School to go play soccer, make band practice, or head home to do homework.
But after two historic hurricanes ripped through the region, leaving the islands mostly in tatters, its roughly 13,000 public school students haven't been able to start their school year and will now be returning to emptier classrooms in buildings that are still in the crux of recovery.
"The hurricane hit like the first day of school so we haven't even been there yet," said Luke, 15. "I might not be going there this year."
Thousands of people have evacuated the US territory — whose residents are US citizens — in the past month. And while many will return, parents and kids are juggling whether to remain or head to the United States for a more stable school year.
"We started the school year with 500 students and we had about 300 last week," said Ananta Pancham, communications director for Antilles, a private school. "We lost 30% of our students after Hurricane Marilyn" — in 1995 — "many did come back."

Now bolstered by millions in federal aid and a host of US personnel, the local government has been working to get its schools back open for most of the islands by October 10, while scools on St. Croix are aiming for Oct. 16. But the education department is facing an array of substantial and costly challenges after it completely lost four schools and nearly 30 others sustained damage, some significantly. Gov. Kenneth Mapp estimated it could take up to $750 million to repair the islands' schools and hospitals.
The Army Corps of Engineers is repairing 11 of the 13 schools on St. Thomas in time for next Tuesday's start date. Officials, students, and parents say this is ambitious, given many buildings still don't have power or running water; walls and ceilings are flecked with mold; and some are missing cafeterias, classrooms, roofs, gymnasiums, and bathrooms.
"I'll be honest with you, some schools will be ready and some won't," Joseph Sibilly, the territory's facilities manager, told BuzzFeed News on Thursday. "We have a lot of water damage. It's a big challenge. But we're doing the best we can."
Caring and paying for the aging schools was already a challenge before the two hurricanes, Sibilly said as he stood on the sloping lawn of Kean High School, which is still being used to distribute food and supplies to residents.
"We were in the middle of trying to maintain the schools before the storm came," he said. "This school's roof was already leaking before the storm."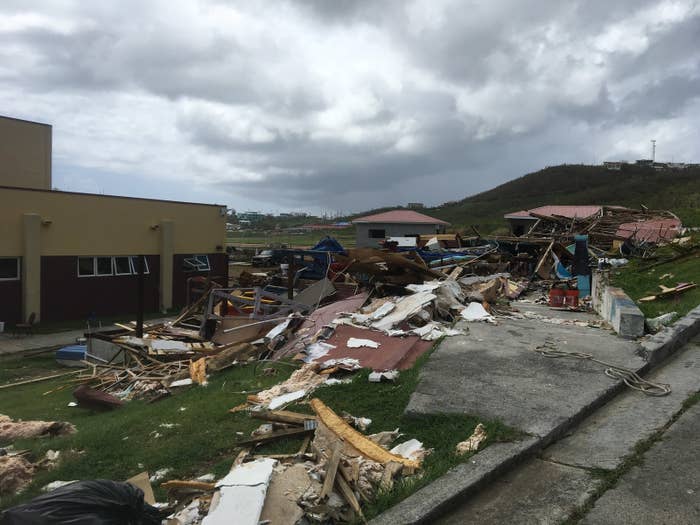 Now even more short on space, officials are juggling the schedules of elementary, middle, and high school students, splitting the day into double sessions so two schools can use one campus.
Darius, his two younger sisters, and a few of their friends toss a basketball around in a courtyard of Pearson Gardens, a colorful, concrete public housing development in St. Thomas. The teen says he plays the trombone in his school's marching band, is in the math club, and the police cadet program.
"He's a really good, well-rounded kid," said his mother, Cleo. "Always been in honors classes."
Concerned about such instability and disruption to his education, she say's she will most likely send her 10th grader to live with her sister in California for the school year.
The new normal for families here, since Irma slammed into the islands, includes children still waking up in homes without roofs and running water. Pieces of their homes, trees, and lost belongings are piled up outside.

"I don't want my kid to leave St. Thomas but education is more important," Cleo, a 34-year-old mother of four, said. "We still don't have power. How are they supposed to do their homework? How am I supposed to wash their clothes? Just because you have school up and running doesn't mean it's good."
Cleo said she also lost her car, so it's tough to get her four children to their different schools across the island. She worked as a cook at Shoreline Bar and Grill, which the hurricane "killed," so she's also still looking for a job to help repurchase all back-to-school supplies and clothes ruined by the storms.
Faced with a similar plight, several other students told BuzzFeed News they were going to leave the islands to go to school in the states.
Averie Cox, 9, a student at Lockhart elementary, said she is also going to California to study, even though officials say her partially-damaged school, with more than 670 students, will be open next week.

"My mom just thinks it's better. My building is wrecked," Averie said as she hung out with friends at Joseph Gomez elementary school, which Sibilly said lost some bathrooms, part of its roof, and has pooling water.
On St. Croix, whose school district has 16 schools and 6,750 students, 11-year-old Zion'Teh Encarnacion told BuzzFeed News he's going to Atlanta to stay with his aunt for his sixth-grade year. Encarnacion, who aspires to be in the armed services or a geologist, said his house is still leaking.
Hampered by spotty communications and chaotic recovery efforts, the Department of Education has no idea how many of its students have already left the islands.
"I can't even give you a rough estimate," Keva Muller, the department's director of public relations said Thursday. "We've had a couple hundred transcript requests for middle and high schoolers and we don't do those for elementary students." Those record requests could also be for families waiting to fly out on overbooked flights with long wait lines, as airlines just recently commenced flights, she said.
But as normal life rebounds, families have been trickling back in, Muller noted, further complicating the number. Students at Antilles have slowly started to return, Pancham said.
"Some of my students went away and if we had had the choice, we would have," said Norma Roebuck, a Head Start teacher who was signing up for FEMA assistance with her two granddaughters at a temporary help center in Christiansted. "It's stressful trying to keep them at home busy and also worry about sending them back to you don't know what."
On St. John, several families are still living in the damp, dark blue buildings of the island's only public school, Sprauve Elementary, whose classrooms used to hold about 315 students before the storms. Like several others, the small school's roof is peeled back like a tuna can and its hallways and rooms are waiting to be cleared of water, broken chairs, and ruined school supplies.

"I'm not sure about that start date," said Abigail Hendricks, an emergency response project director for the territory's Department of Health and Human Services. "There's still a lot of water, and with water there's mold, and with standing water, there are mosquitoes, which can carry diseases."

Back on St. Thomas, teachers at Yvonne Bowsky Elementary shared the same concerns.
Sitting in a semi-circle as US Army Corps of Engineers leaders surveyed the destruction, staff said they were concerned about going back to school "when we have no running water to go to the bathroom," said Aurora Ramis, a special education teacher who also shared her concerns over mold, which is now in several rooms.
"We are going to have environmental inspectors in there to make sure it's safe first," said USACE Major Drew Freinberg, who is helping direct school restoration. "Just because it has a roof and a generator doesn't mean it's conducive for learning. We're doing everything we can to get kids back to class and as comfortable as possible. Schools are our number one priority."

Massive generators, "one of which could surpass $100,000 have been sent in by barge potable water will be thoroughly tested for cafeterias" and hundreds of people are working to repair and clean, Freinberg said, calling it a "no fail mission."
As with its other vital necessities, like power and water, the government said it prioritized schools and hospitals first — and will then think about deeper issues and future planning, like infrastructure, power grids, and environmental health.
"We had 180-mile winds and rain coming through here," Sibilly said. "There's a lot of shit we still haven't seen."
Despite their parents' concerns, students say they are excited and ready to return to class, even if it's unconventional.
"We've just been hanging and playing around," 14-year-old Hashim Gordon said.
Nine-year-old Yareliz Bermudez, a student at Juanita Gardine on St. Croix, wants to get back to her school books, which were still in her classroom when the hurricanes hit.
As for Luke, the shy 15-year-old, he said he wants to go to college to be an architect.

"Oh, he will be going," his mother interjects, as he finishes explaining he would be excited to go to Norwalk High School for a year.
"New experiences," he said. "And I would come back."