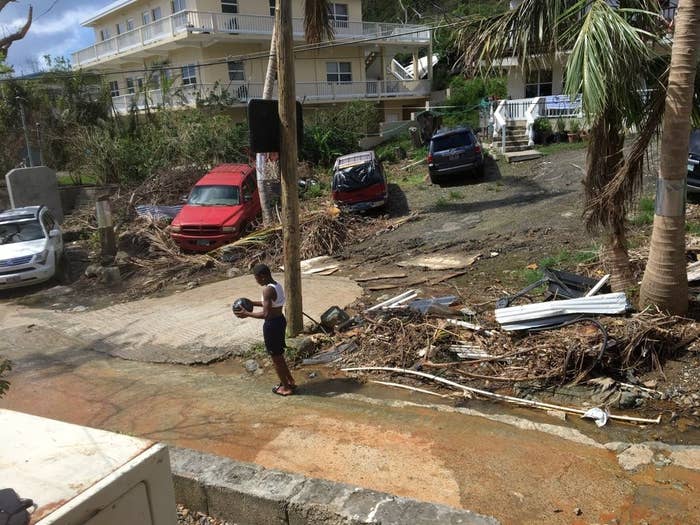 ST. JOHN, US Virgin Islands — Twelve-year-old Guyma Phebe played basketball Monday amid the piles of refuse lining the street that he and his three younger siblings use as a playground. Dressed in black sandals and matching jersey shorts, he bounced his basketball into the pool of water that now runs through the road, snaking around debris, remnants of houses, and assorted household trash.
"It should be moved," Guyma said, as he tried to shoot hoops amid the garbage in the US Virgin Islands' hardest hit area.
Weeks after Hurricanes Irma and Maria delivered a one-two punch to the US Virgin Islands, residents and officials are still struggling to sift through — and get rid of — the damage and debris that the storm left behind.
Across the narrow roads and remote neighborhoods and the islands that were once a Caribbean paradise, evidence of the devastation is still piling up, displaying all that people here lost in the storms.
A red Nike shoe box. The door of a refrigerator. Gray gym shorts. Plastic chairs. Mattresses. A green pool float. Chunks of wall insulation. A teddy bear. Boat parts. Car tires. Entire cars.
"There is a river of garbage water flowing into schools, the town, and the ocean," Abigail Hendricks, a Department of Human Services official, told BuzzFeed News.

The government is now scrambling to get rid of all this refuse — 1,125,000 cubic yards worth of trash and debris (about 72 miles) that has sat, rotting and stagnant, since Hurricane Irma first struck the Virgin Islands nearly one month ago.
On Tuesday, after meeting with the territory's governor during a visit to Puerto Rico, President Donald Trump expanded disaster assistance to the US Virgin Islands to cover 100% of the cost of removing debris from the hurricanes for 180 days because of the operation's scale and cost.
Getting rid of the debris efficiently is a "mammoth task," the governor, Kenneth Mapp, told BuzzFeed News Tuesday, adding that officials have been working with local communities to try to lessen the impact that the piles of trash are having on day-to-day life.

In the meantime, residents say debris continues to lay strewn around their neighborhoods, and worry it will start to pose health risks as they struggle to get back on their feet. Baking in the humid heat, the garbage piled up in standing water attracts and breeds mosquitoes, flies, and other disease-carrying insects.
Downstairs from Phebe, 35-year-old Belkis Santana sat out on her porch and waved her hand in front of her nose, "it smells," she said, explaining that after weeks of just sitting there, the trash in the streets has attracted rats, and bugs. The incessant wave of mosquitoes is a particular concern, as the region has not yet fully eradicated the Zika virus.
"It's bad," she said, noting that her two young daughters also often play outside in the neighborhood.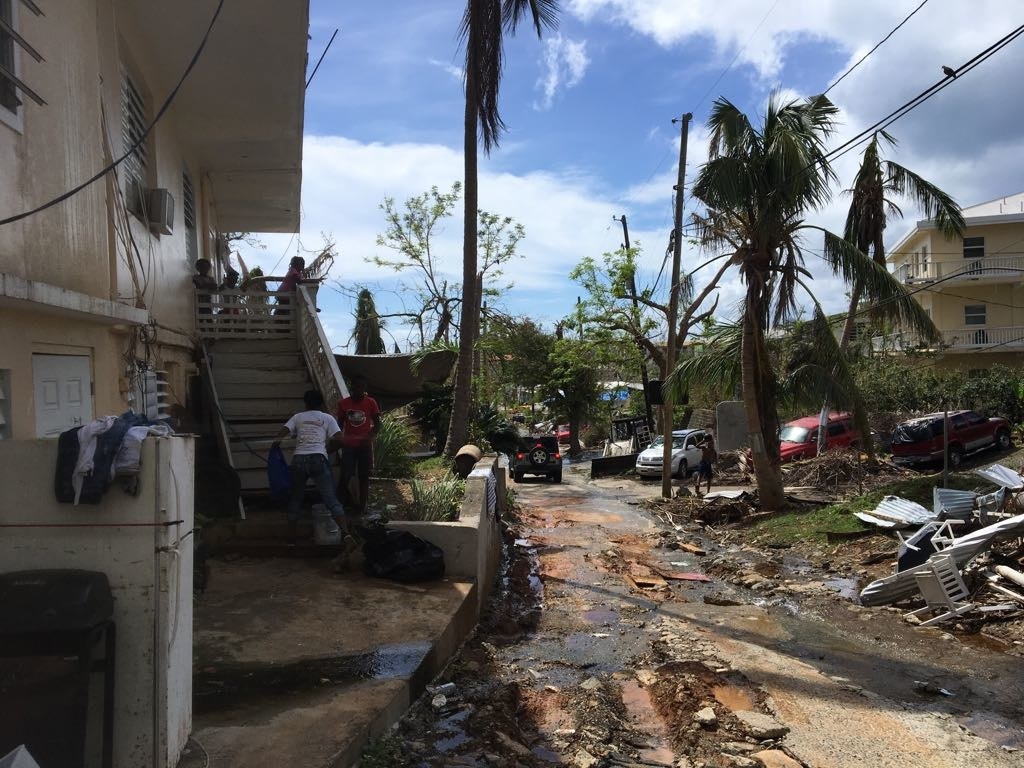 A complex team of federal and local agencies, contractors, and nonprofits is now tasked with directing the cleanup. Earlier this week, the group gathered in a trailer overlooking St. John's overflowing landfill, which had been closed before the storms because it was at capacity, but was forced to reopen due to the overwhelming amount of trash and debris.
In the trailer, the agencies hashed out a tentative plan: Close the island's dumps for about 48 hours to "reorganize" while determining additional dumping sites, then increase the number of trucks hauling debris, and move all of the waste by barge to St. Thomas, one of the territory's larger islands.
The problem is that other islands are also struggling to find room to dispose of waste and storm debris. And beyond moving the trash from one island to another, there is still no real strategy for clearing the territory's trash-filled towns.
"It is taking a little long," said Alice Krall, communications manager for the Virgin Islands Waste Management Authority. "We're running into the problem of space. The problem is trash being generated at amazing speed. We move it and it springs right back up."
Trucks of all sizes rolled into St. John's landfill carting everything from tree trunks to tin cans, showcasing another hurdle, Krall explained. People are not sorting their personal garbage from the hurricane waste like they've been asked to, dumping it all wherever they can and leaving officials scrambling to catch up.

Beyond that, thousands of residents have abandoned homes and industrial properties destroyed in the storms, many of which now cling precariously to the brown hillsides, their contents spilling out like an exploded piñata. But FEMA and local agencies are unable to go onto private property to clear out the waste.
"It is a health hazard," said one official from CERES, one of the contractors hired by the US Army Corps of Engineers to pick up, haul, reduce, and dispose of storm debris. "But they're really struggling with logistics and landfills that were already scheduled to close with fillings that didn't account for storms like this."
He estimated that the debris and residential waste removal could take at least a year and cost up to $60 million and explained that agencies plan to pile debris in the open fields of several schools, since the territory's dumps are already bursting at the seams.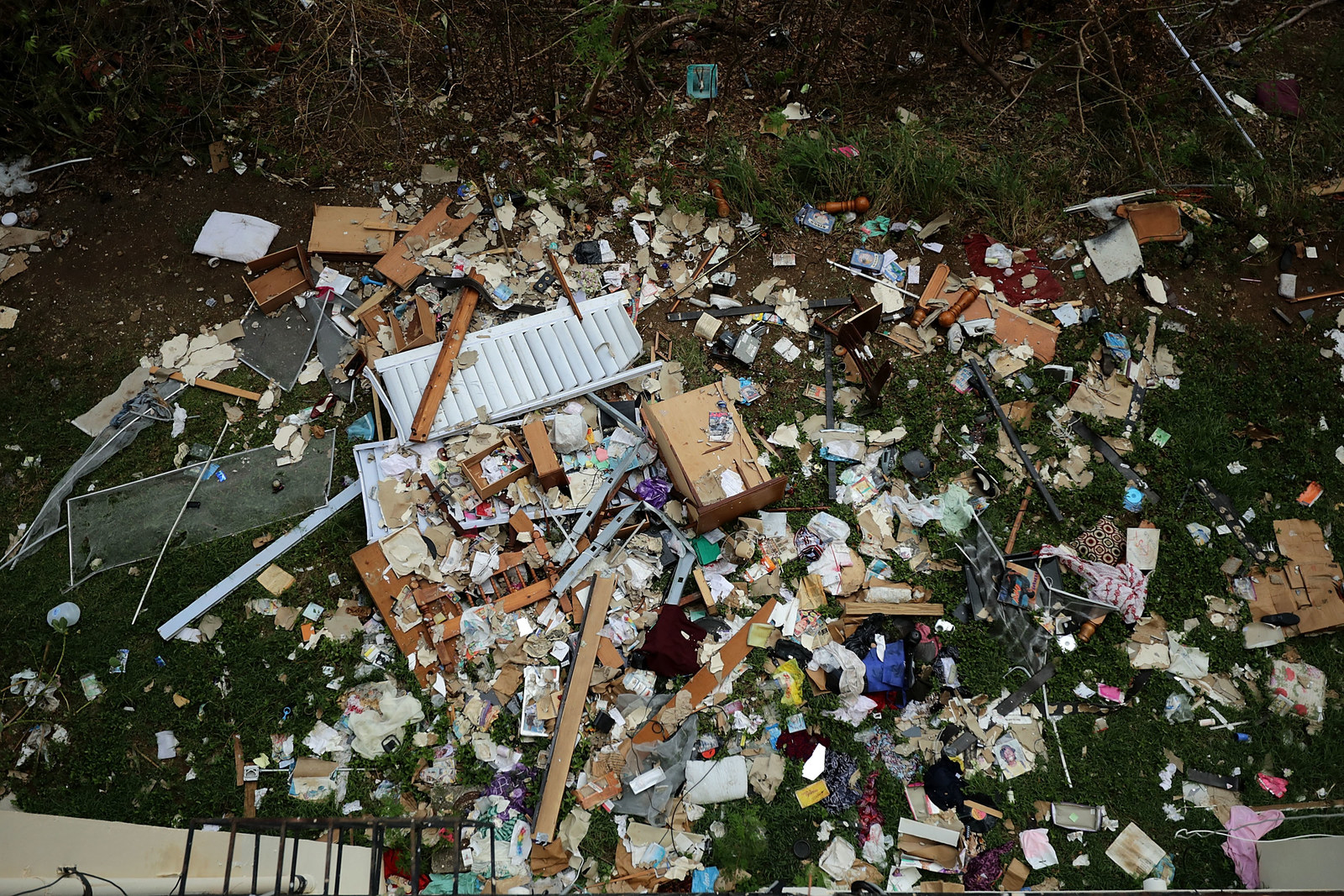 Unfortunately, overflowing landfills and hazardous trash are not new problems for the islands' 105,000 residents. In 2015, the US Department of Justice sued the territorial government for failing to turn in plans to close the Bovoni landfill on St. Thomas, which butts up against a marine reserve, and the Anguilla landfill on St. Croix.

In 2016, the Environmental Protection Agency lambasted the territory's waste management agency for not prioritizing making necessary changes to remedy environmental and public health hazards associated with the aging dumps. Specifically, the landfills lack bottom liners, which help block toxins from leaking into the groundwater, and have been overrun by residents dumping a range of household waste.

"Everything you can imagine is in these landfills — old cars, asbestos, brake liners, petroleum, bottles, cans, yard waste," Judith Enck, the former EPA administrator who oversaw the agency's work in the US Virgin Islands, told BuzzFeed News last month. Add powerful winds, storm surge, and flooding to the mix, and chemicals from that trash can wind up in drinking water, posing serious public health risks.

Prior to the storm, the dump on St. Thomas was slated to close in 2019, followed by the one on St. Croix in 2020, and the island had planned to create a better waste management system that would finally incorporate compost and recycling.

"We have made significant strides regarding the consent decrees over the last year and established a great working relationship with the EPA," Krall said, when BuzzFeed News asked about the troubled history of the islands' landfills.

But now, as peoples' homes and belongings, along with uprooted trees, earth, and wastewater litter the islands, local and federal agencies are stressing out. Piles of trash often spill into the roads, as trucks stop traffic to load up the sweet, putrid-smelling piles.
In St. John, Myia Powell gestures to the water rushing down her street after a spastic rain showered the sweltering island on Monday.

"You see these kids playing in water loaded with bacteria," said Myla Powell, a 35-year-old nurse, pointing to Guyma dribbling his black basketball in front of the thick pile of debris in their neighborhood. A local resident pushed trash aside with a bulldozer nearly a month ago, Powell noted, but she said she had not seen any waste management officials around the area recently.
"The kids here are scooping up the water and throwing it like they're at the beach and they could get cut and then get infected," she said. "We already survived two hurricanes, that is enough."