SAINT THOMAS, US Virgin Islands — Taking shelter from spurts of rain that followed Hurricane Maria, groups of people toiled on concrete stoops of the brightly colored Pearson Gardens, one of St. Thomas's public housing developments, which sits directly across the street from a luxury shopping center. As a single mother of five readied for her overnight job at the local Kmart in a one-bedroom apartment that is still without power about a month after the first massive storm hit, names like Gucci and Louis Vuitton hung in the backdrop on shuttered buildings once filled with tourists spilling off cruise ships from the dock nearby.
The stark contrast highlights a difficult, and divisive, choice facing the cash-strapped US Virgin Islands: When the territory should reopen its battered doors to tourists, amid recovery efforts that are expected to take years.
The US Virgin Islands, four once-lush, distinct masses strung in a row across the Caribbean Ocean, survive on tourism. But now, after two Category Five hurricanes sliced through the territory's roads, homes, businesses, and beaches in as many weeks, the idea that the islands could soon host thousands of visitors seems laughable to many residents.
But the territory's governor, Kenneth Mapp, thinks otherwise. Citing interest from cruise lines, the governor wants ships to be able to return to the battered US territories as soon as Oct. 15.

"This isn't easy," Mapp said after meeting with more than 150 representatives from the private sector Thursday. "The key is to manage our emotions and figure out how we can make this an opportunity for growth."

However, Carnival Cruise Lines told BuzzFeed News Saturday night that it was not aware of any promise that the company would be returning to the US territory in two weeks.
"I am not aware of any such claims being made, but we have no intention to return to any port until it is determined to be fully ready for operation based on numerous factors," Roger Frizzell, Carnival Corporation's chief communications officer, said. "There are more than 40 ports in the Caribbean that are operational today, so we have many great options for our guests to cruise with our brands in the Caribbean and Mexico."
The popular cruise line was slated to visit the islands about 11 times in October, according to the company's schedule.
"There is a lot of hard work being undertaken that may ultimately allow our cruise lines to return sooner than originally expected. We certainly want to return as soon as it is deemed appropriate for us to do so," Frizzell added.

While the territory's government is desperate for the money that comes from the islands' tourism sector, many workers on the islands say that the timeline proposed by Mapp is too aggressive and could compromise vital relief efforts for schools and neighborhoods, as well as efforts to help residents to return to their normal lives.

Tallying up her tips after a night of feeding US Army personnel and other federal agencies helping to put roofs back on peoples' homes during a thunderstorm, Saida Solis scoffed at the date.
"Like in two weeks?" Solis, a server at Mafolie Hotel and Restaurant on St. Thomas, asked as rain and thunder roared outside. "There's too much destruction for people to come back. Everything is busted up. That's impossible."
Several other employees sitting nearby laughed when BuzzFeed News asked about the Oct. 15 date.

"Do we want them back? Absolutely," Glenn Weaver, another hotel worker, chimed in. "We would have a better chance of holding the ocean back with a teaspoon than being ready for cruise ships by then."
"There's no way we will have basic human support. Water and power are still not available. We still don't have a hospital," Weaver, 47, pointed out.
On the other side of the island, a few miles down the road from Pearson Gardens, a row of high-end jewelry shops sat empty, as owners and workers gathered in the doorways, airing out the bright, small rooms and taking stock following the rains and flooding during the storms. Chickens pecked around in completely empty, mangled parks; mounds of trash, wet and rotting in the humid sunshine, lay outside now-boarded up windows of Main Street shops that once hawked wares like watches, snacks, scented candles, and rum.
Cruise ships meant to drop off tourists have spent the last few weeks helping evacuate stranded, traumatized visitors and residents, abruptly shuttering a tourist season that a majority of the islands' 105,000 residents depend on to keep their already struggling economy moving.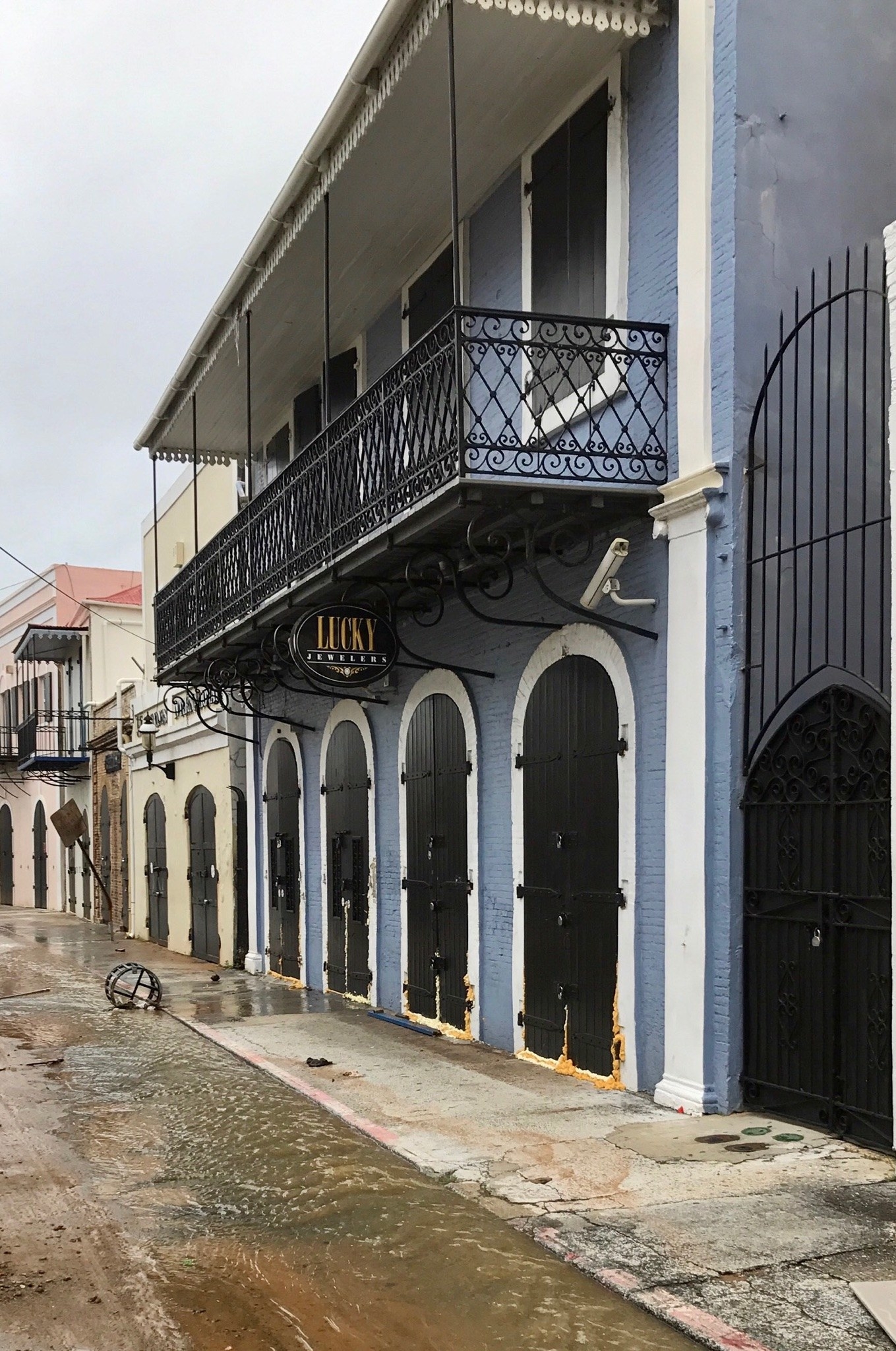 The stagnant situation on the islands is exactly why the government should try to reopen its ports to tourists, said Pash Daswani, who owns two jewelry stores in St. Thomas.
"It brings some normalcy back to the island," the 52-year-old business owner told BuzzFeed News, noting that he's been itching to be able to start paying his 20 employees again. "Our psyche needs the work along with the money."
Daswani also pointed out that Carnival Cruises and other tourism companies, as well as tourists themselves, will know what they would be getting into visiting a fragile region so recently devastated by unprecedented storms.
"They're realists. They understand what we've been through," he said. "We just need that one ship to come in and break through and I don't think people are ready for it but they will be fairly soon. The faster we get going, the faster the grocer gets paid, the taxi drivers. We don't really depend on anything else besides tourism."
Still, across the territory, thousands of people are still lining up for hours waiting for food and supplies, including many who earned their living from tourism jobs before the storms.
"There's no work for me right now," Jackie Talbert told BuzzFeed News after picking up a box of food at distribution center with two of her six children. Along with her house, Talbert, a 49-year-old taxi driver, lost basically all her customers now that tourists aren't flooding the streets waving her down for rides.

"There's not a lot of anything but we do what we have to do," she said.
At another food distribution center, Paulett Sylvest had been waiting in line for a hot meal for more than two hours. The 55-year-old said she cleans houses for private rentals, but that since the storm, there's been "no work for me and I'm starting to worry because I have a sick husband."
Nearby, Shirley Honore, a 45-year-old former Marriott employee, said she would love to go back to work to earn money to buy a flashlight, stove, and new broom.
According to the Caribbean Tourism Organization, almost 30 million people visited the region last year, spending more than $35 billion. But with its own residents unable to secure drinking water, hot food, power, and phone services, officials are worried it will be years until the once steady stream of tourists starts to trickle back in.
"Literally our entire economy is tourism," US Virgin Islands Sen. Janelle Sarauw told BuzzFeed News. "The merchants, business owners, charter boats, hotels, taxis, people offering excursions. Those companies losing jobs are going to have a tremendous ripple effect."
For example, those businesses pay gross receipt taxes, Sen. Sarauw explained, which back the islands' bonds and produce a major revenue stream for the territory's debt-ridden government.
Officials stressed that cruise lines are realistic and are looking for just a handful of beaches and attractions to be ready for their customers.
"They don't expect perfection, but they do expect honesty," Commissioner Beverly Nicholson-Doty said in the press release, explaining that the companies want a status report on beaches and other attractions and they will soon visit and assess sites to schedule cruise calls.
Others, however, said they just aren't ready to open up their still-struggling islands to swarms of picture-takers from across the world.
"We're just not ready for tourists to come back yet," Siobhan Mulvey, communications director for Love City Strong, a nonprofit helping lead recovery efforts on St. John, another one of the main islands in the territory. "The government has to have realistic expectations about what and who we can host. This is still very much a disaster zone. We need more time to heal."
CORRECTION
Sen. Janelle Sarauw's name was misspelled in a previous version of this post.