The University of Nevada, Reno, police department is apologizing after one of its officers dressed up as Colin Kaepernick for a Halloween party, in what many people online deemed to be a racist portrayal of the former San Francisco 49ers quarterback.
Over the weekend, photos started circulating across social media showing UNR Police Officer Antonio Gutierrez dressed in a wig and a hooked nose, his face painted with a black beard, sporting a homemade 49ers jersey with a "will stand for food" sign. Kaepernick, who is credited with starting the kneeling protests during the national anthem, played football at UNR and is among the school's most famous recent graduates.
"For those who have seen the Halloween costume of one of our officers apparently mocking a citizen who has chosen to take advantage of his constitutional right to protest, I offer my sincere apologies," UNR Police Chief Adam Garcia said in a statement. "Members of our profession are held to a higher standard and denigrating another — on or off duty — is insensitive for its lack of respect and lack understanding on how others may negatively view their actions and may be impacted."

A UNR police spokesperson confirmed to BuzzFeed News Monday that the man in the photos is Officer Gutierrez, and said he will not face disciplinary action.
On Sunday, an Instagram user from Reno sent BuzzFeed News screenshots of photos showing Gutierrez in his costume that appear to have been posted to his wife's Instagram account.

"Behavior such as this magnifies unsafe feelings and lack of trust in police, especially when that individual is responsible for the safety of all members of the University, regardless of color, ethnicity, sexual orientation or religion," Garcia said in his statement. "At a time when officers should be heightened in their attentiveness to the perception by our community, this act seems extremely out of touch with those sentiments and reflects poorly on all of us."

The incident comes about a month after a UNR graduate student accused university officials of mishandling a complaint into threatening behavior by campus police during a routine traffic stop. Video from a police body camera shows two UNR officers talking with students who had been pulled over on the night of Sept. 24. One officer comments on the size of Kevin McReynolds, the MBA student who made the complaint, and then says, "I'm just going to shoot him if this goes sideways because fuck that."
That officer is now on leave and an investigation is pending, according to the Reno Gazette-Journal.
In his statement, Garcia acknowledged that the growing tensions on campus, saying that he has heard from "many members of our community over the past few weeks that they feel unsafe on campus because of our current social and political climate."
On social media, people debated whether Gutierrez's costume was racist, or simply a poor choice that generated disproportionate backlash as a result of the current political climate.
"That's the same as blackface," one Twitter user commented, while another insisted it "is NOT the same."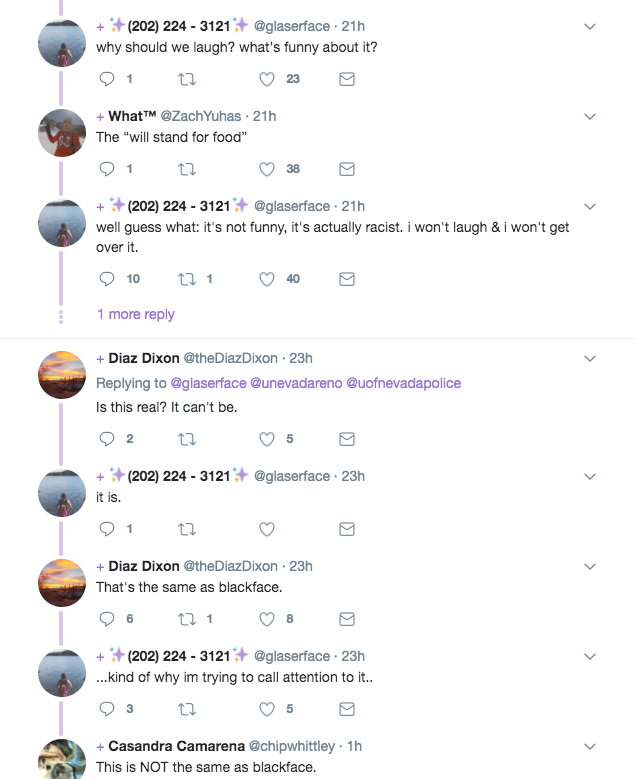 "Everything is racist nowadays. Is it poor taste for an officer to dress this way? Yes. Is it Halloween? Yes," someone else wrote.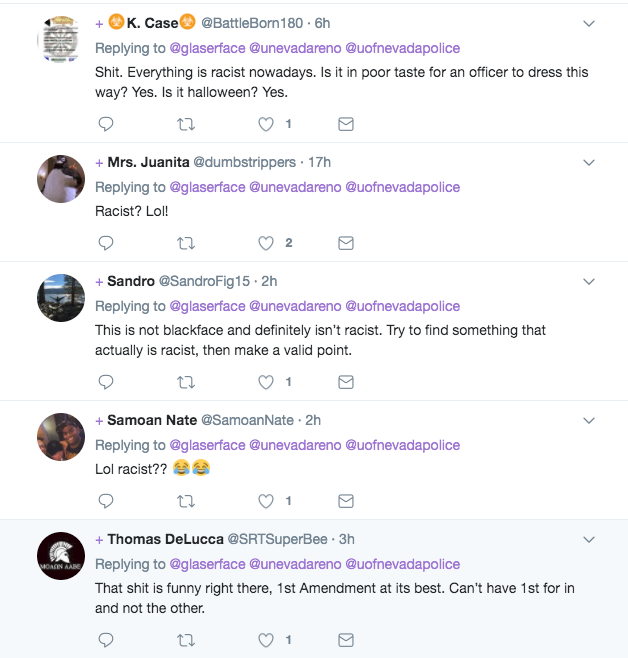 In his statement, Chief Garcia said the department will focus on repairing trust and relationships with students.

"To regain the trust of our students, and in particular those of color, will be a challenge and will be a priority through continued education, training and conversation," he said.
But while the university agreed the costume was "insensitive and inappropriate," campus police spokeswoman Kerri Garcia explained that UNR has "no policy that would dictate any disciplinary action."