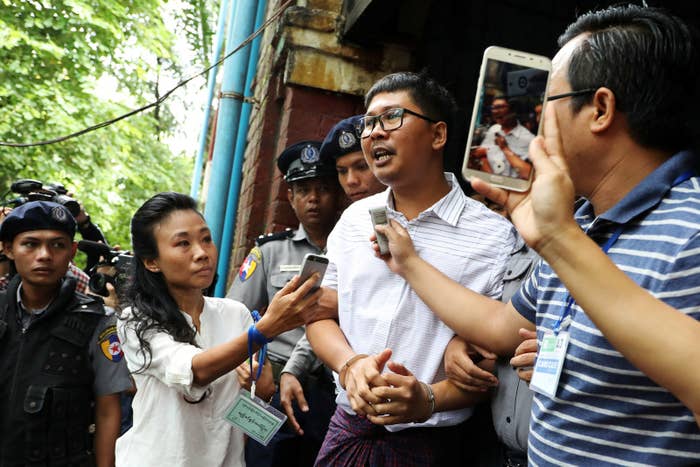 Officials in Myanmar sentenced two Reuters journalists who reported on the massacre of Rohingya villagers to seven years in prison early Monday morning, finding them guilty of illegally acquiring secret information.
Wa Lone, 32, and Kyaw Soe Oo, 28, were arrested in December after they investigated the killings of Rohingya Muslims at the hands of soldiers and Buddhist villagers. Prosecutors claimed that the two reporters got hold of confidential state documents, breaking the country's colonial-era Official Secrets Act.

"Today is a sad day for Myanmar, Reuters journalists Wa Lone and Kyaw Soe Oo, and the press everywhere," Stephen Adler, Reuters editor-in-chief, said in a statement. "This is a major step backward in Myanmar's transition to democracy, cannot be squared with the rule of law or freedom of speech, and must be corrected by the Myanmar government as a matter of urgency."

Speaking outside the court, defense attorney Khin Maung Zaw said that the journalists planned to appeal the sentencing.

"The verdict is bad for the rule of law, bad for freedom of expression, bad for the right to information, and bad for democratic concepts," he said.

Handcuffed and flanked by police, both reporters said they were innocent of the crimes for which they had been sentenced.

"We know what we did. We know we did nothing wrong. I have no fear. I believe in justice, democracy, and freedom," Wa Lone told Reuters.

Kyaw Soe Oo defended the right to press freedom. "What I want to say to the government is: You can put us in jail, but do not close the eyes and ears of the people," he said.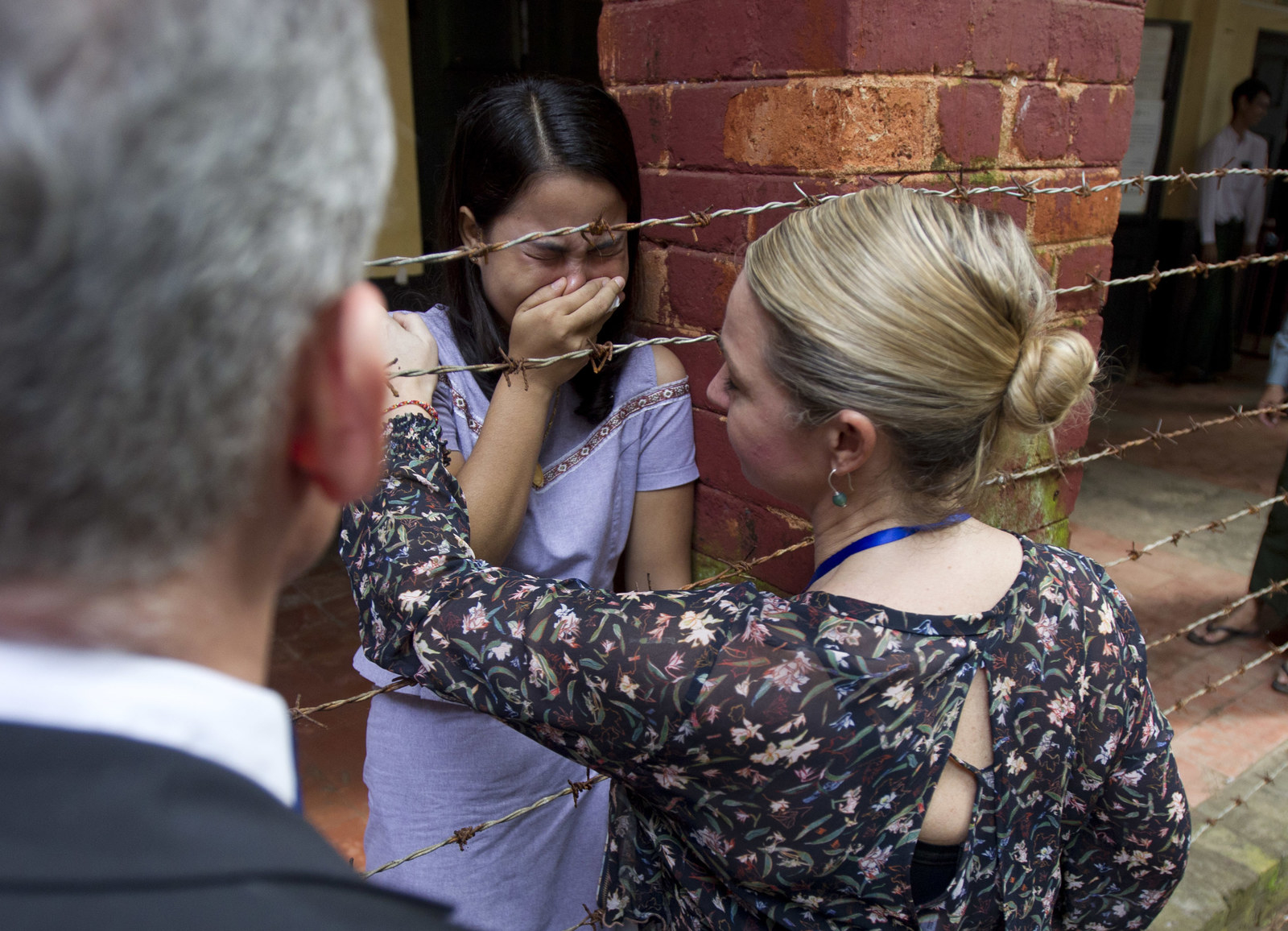 Relatives of both journalists who had gathered outside the court appeared emotional as they awaited news of the sentencing.

Both reporters have young children: Kyaw Soe Oo has a 3-year-old daughter, and Wa Lone a baby who was born just last month.

Fellow Reuters journalist Poppy McPherson, a correspondent based in Myanmar, wrote on Twitter: "Heartbroken. For Kyaw Soe Oo and Wa Lone, two heroes trapped by a police force that should have protected them, their families & children robbed of their fathers, and for Myanmar, where so many people have waited so long to see genuine democracy take shape."
Footage captured outside the court showed chaotic scenes as the journalists were returned to prison, and it was claimed that police tried to prevent them from talking to the media.
During the trial, the defense contended that police set the journalists up, giving them the information during a dinner and then coming after them so quickly that they actually never had the opportunity to delve into the documents.

Around the time of the meeting, the reporters were investigating the murder of 10 Rohingya in Rakhine state during an onslaught of violent massacres against the Muslim population, which caused more than 700,000 civilians to flee for their lives, spilling into neighboring countries as refugees.

Last month, the United Nations found that Myanmar's military committed genocide against its citizens. The UN's human rights coordinator in Myanmar, Knut Ostby, defended the media's right to publish details of these atrocities.

"A free press is essential for peace, justice and human rights for all," Ostby said.

"We are disappointed by today's court decision. The United Nations has consistently called for the release of the Reuters journalists and urged the authorities to respect their right to pursue freedom of expression and information."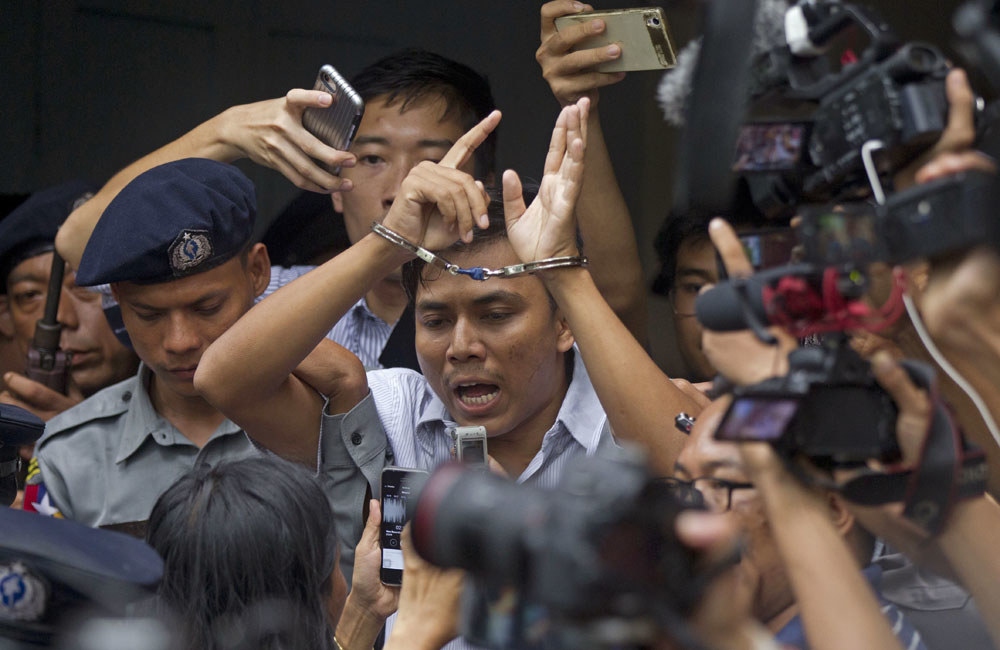 The country has adamantly denied the allegations against its top officials, claiming that it carried out a necessary and legitimate counteroperation against Muslim militants.

Despite several witnesses who contested that the journalists reporting on the massacre broke laws — including a police captain who told the court that the arrests were a set-up — the country's government found them guilty.
Moe Yan Naing, the police captain who testified on the journalists' behalf, was later sentenced to a year in prison for violating disciplinary code, according to the New York Times. Two United States secretaries of state, Mike Pompeo and Rex Tillerson, bolstered by the UN, the European Union, Australia, Canada, and a host of rights groups, have called for the reporters to be released.
On behalf of members of the European Union, British Ambassador to Myanmar Dan Chugg called the imprisonment of the reporters "a hammer blow for the rule of law."

"This case has cast a long shadow over freedom of expression and the rule of law in Myanmar," he told reporters gathered outside the court, calling for an immediate review of the sentencing.

UK Prime Minister Theresa May has called for the two journalists to be released immediately. She is "extremely disappointed" by the sentencing, according to a spokesperson.

UK foreign secretary Jeremy Hunt described today's ruling as a "blow to press freedom – and indeed everyone's freedom.

Hunt added that he will soon be visiting Myanmar and intended to raise "the extremely serious case of the two Reuters journalists".
Mark Field, the UK Foreign Office minister for Asia and the Pacific, also expressed disappointment at their imprisonment.

"In any democracy, journalists must be free to carry out their jobs without fear or intimidation," Field said.

"This verdict has undermined both freedom of the media and the rule of law in Burma.

"This is a bad day for Burma, but those of us who have consistently called for Wa Lone and Kyaw Soe Oo's freedom will not give up."

Field added that the UK's Foreign Office would call for their immediate release and said that it remained in close contact with Reuters in order to support them with next steps.

US Ambassador Scot Marciel condemned the decision. "It's deeply troubling ... one has to ask will this process increase or decrease the confidence the people of Myanmar have in their justice system," he said.

Shortly after the sentencing was announced, several journalists began sharing the investigation, published by Reuters in February, that resulted in Wa Lone and Kyaw Soe Oo's imprisonment.
"Please spread and re-share the article that led to the state coming for them," Jerome Taylor, a Hong Kong-based editor for the AFP news agency wrote on Twitter.
Brad Adams, Asia director at Human Rights Watch, told the BBC the convictions were "outrageous" and said they demonstrated "Myanmar courts' willingness to muzzle those reporting on military atrocities."

"These sentences mark a new low for press freedom and further backsliding on rights under Aung San Suu Kyi's government," he added.

Press freedom organization the Committee to Protect Journalists also condemned the conviction.

"Today's ruling against Reuters reporters Wa Lone and Kyaw Soe Oo on bogus charges marks a new press freedom low for Myanmar," CPJ's senior Southeast Asia representative Shawn Crispin said in a statement.

"The process that resulted in their convictions was a travesty of justice and will cast Myanmar as an anti-democratic pariah as long as they are wrongfully held behind bars. We call on Myanmar's civilian authorities to immediately release the journalists."

Amnesty International's director of crisis response Tirana Hassan asserted Wa Lone and Kyaw Soe Oo's innocence, and said they were being incarcerated "simply because they dared to ask uncomfortable questions about military atrocities in Rakhine State."

Hassan also called for their release. "It sends a stark warning to other journalists in the country of the severe consequences that await should they look too closely at military abuses," she said.

"This amounts to censorship through fear."