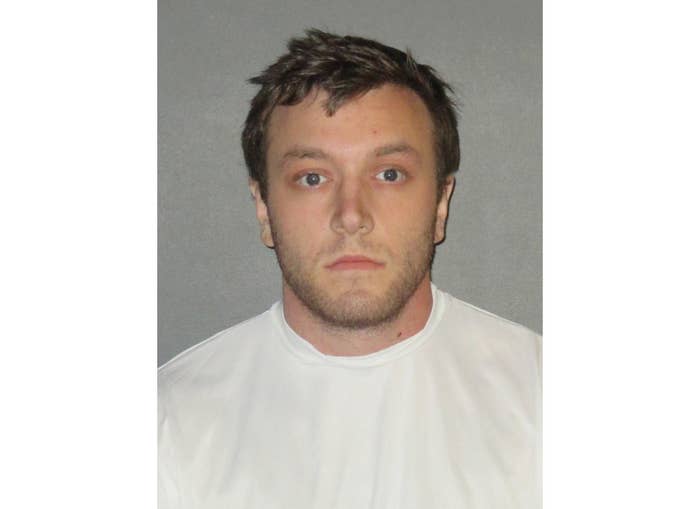 A 23-year-old white man was charged with murder for the ambush-style killings of two black men in Louisiana, police said Tuesday.

Kenneth Gleason was charged with two counts of first-degree murder and illegal use of a weapon in connection with the killings of Bruce Cofield and Donald Smart in separate incidents last week, the Baton Rouge Police Department said.

Police said Sunday that the killings were likely racially-motivated. "We're not completely closed off to that, but at we're not going to speculate at this point," authorities said on Tuesday.

"Had there not been a swift conclusion to this case, I feel confident that this killer would have probably killed again," Interim Police Chief Jonny Dunnam said during a news conference Tuesday. "He could have potentially created a tear in the fabric that holds this community together."
Gleason is also being charged with allegedly shooting at a residence multiple times on Sept. 11, and for the theft of a book — "The Hitchhikers Guide to the Galaxy" — from a bookstore, authorities said. No one was injured in the Sept. 11 shooting.

District Attorney Hillar Moore said his office would "strongly consider" the death penalty in the case.

"It appears to be cold, calculated, planned (against) people who were unarmed and defenseless," he said.
Gleason was arrested on drug charges, but was released from the East Baton Rouge Parish Jail late Sunday night on a $3,500 bond. Witness accounts and extensive questioning led authorities to identify Gleason as a person of interest in the shootings, but police did not immediately have enough hard evidence to arrest him as a suspect in those crimes, Baton Rouge Police Department Sgt. L'Jean McKneely told BuzzFeed News Sunday.

In both shootings, Gleason allegedly fired shots at the victims from his red car, then got out of the car, stood over the men, and fired at them multiple times. Authorities said he was wearing a tactical vest and possessed a 9 mm handgun.
Both men were found in the street and died at the scene. Shell casings connected the two apparently random attacks, McKneely explained.

"The way these shootings happened points to the fact they were racially motivated killings: A white male shooting and standing over two black men, completely unrelated," he said on Sunday.
Bruce Cofield and Donald Smart were killed two days and about five miles apart. Kenneth Gleason lives in a suburb about 10 miles away.
The first incident occurred around 10:30 p.m. Tuesday, when 59-year-old Bruce Cofield, a homeless man who locals reportedly referred to as "Mr. Bruce," was shot and killed in the 3400 block of Florida Street in Baton Rouge.
"The man didn't bother anyone, not to get shot like that," Markia Johnson told The Advocate, adding that she heard about 12 gunshots — six, a pause, and then six more. "It's senseless."

Two nights later, and about 5 miles away, Donald Smart was gunned down as he walked to his overnight shift at Louie's Cafe, where the 49-year-old had worked as a dishwasher for 20 years. He was found lying in the roadway at around 11:00 p.m., a half mile from the diner.
Smart, who was married with three children, was remembered as a motivating, "whistle while you work," hard-working employee who loved to share stories and make people smile, The Advocate reported. He worked five days a week from 11 p.m. to 7 a.m. and consistently showed up to the busy, 24-hour diner in a spotless white T-shirt and white Nike tennis shoes, co-workers told the paper.
"What Donald means to me as a person and Louie's as an institution is not quantifiable — it's not measurable," said Fred Simonson, the diner's general manager, who broke down in tears describing Smart.
"This isn't just a murder victim, this isn't, like, just some dude," Simonson told the Advocate. We're not all perfect but, damn it, if this guy wasn't close. ... I will love that man until they day I die."
Neither Cofield or Smart had any prior relationship with Gleason, McKneely said.

After putting out a description of the car, officers pulled Gleason over and questioned him extensively for several hours. Based on that interview and other circumstantial evidence, McKneely said detectives issued a search warrant for his home and on Saturday found marijuana and human growth hormones, according to a police report obtained by the Advocate.

Gleason did not have any valid prescriptions for the drugs and was charged with possession of Schedule I drugs and possession with intent to distribute Schedule III drugs. Public records show the home is owned by Gleason's parents. It's about 10 miles from the shootings.

Surprised neighbors and family members described the 23-year-old as a "good" and "clean-cut American kid" who "had no problems with any person," the Associated Press reported.
"He said he never liked guns. That's why he wanted to get into archery," Gleason's cousin, Barton Sing, told the AP. "He's the last person I'd think to do something like this."