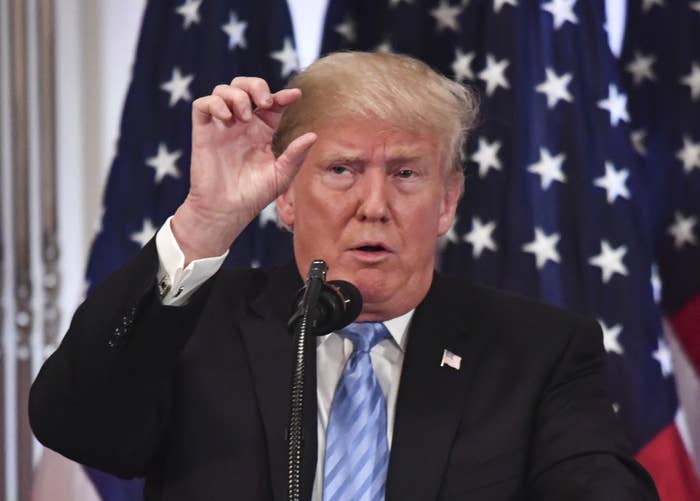 During a rare solo press conference Wednesday amid the mounting sexual misconduct allegations against his Supreme Court nominee, President Donald Trump repeatedly dismissed and interrupted women reporters, and brushed off those who have come forward to accuse powerful men, such as himself, of misconduct.
After the president gave his statements and began taking questions, CNN White House correspondent Jim Acosta asked the president if he would call on one of his "female colleagues," since Trump had only called on male reporters.
"If you don't mind, after I'm finished, if Hallie or Vivian or one of the female colleagues could go after me, that would be great," Acosta started. "Just to follow up on—"
Caught off guard, the president interrupted to ask, "What does he mean by that?"
"It would be great if a female reporter could ask a question about this issue," Acosta repeated.
"I wouldn't mind that at all," Trump said. "Wouldn't make any difference to me."
Then, after saying that he might change his mind about Supreme Court nominee Brett Kavanaugh after listening to Christine Blasey Ford, the first woman to publicly accuse the judge of sexual misconduct, detail her allegations at Thursday's Senate hearing, Trump did call on two women correspondents: NBC News' Hallie Jackson and CBS News' Weijia Jiang.
First, Jackson asked the president if he thinks Kavanaugh's accusers are liars, a question he deflected before going on a diatribe about George Washington and the FBI.
Jackson kept trying to break in to ask a question, but the president repeatedly interrupted her before moving on to call on Jiang.
Jiang also pressed the president about his attitude toward women who have accused powerful men of sexual assault, including himself.
"How have your personal experiences being accused by more than a dozen women—," the White House correspondent said.
"I've been accused. False accusations," Trump interrupted before launching into another winding monologue about how the New York Times reported on his accusers.
"If I could just actually ask my question, Mr. Trump. You didn't let me ask my question," she interjected.
Then, the president told her to sit down.
"You've been asking a question for 10 minutes. Please sit down."
That command, obviously, did not go over well on the internet.
Jiang, however, did not sit down, or abandon her query. Trump eventually let her ask a question before again defending himself against "false allegations" by women.
Fast-forward about 15 minutes and a variety of topics later, and the president called on another woman reporter.
"Are you at all concerned at the message that is being sent to the women who are watching this," she began, "when you use language like 'con job' in relation to allegations of sexual—"
But Trump cut her off, chuckling, "That's probably the nicest phrase I've ever used."
"It's a con job...it's a confidence job...but it's a con job by the Democrats," he said in response to the women who have come forward with sexual misconduct allegations.
"What about the message that—"
But again, he interrupted the reporter before launching into a diatribe about how the people who have complained to him most about the Kavanaugh allegations are women.
"Women are very angry," he said. "You know, I got 52% with women. Everybody said this couldn't happen. Women are so angry."
Trump added that angry women are more "incensed" than men about what is "going on" with the rocky Supreme Court nomination.
"Let somebody else have their day in court. But the ones that I find — I mean I have men that don't like it. But I have women that are incensed at what's going on," he said. "I've always said women are smarter than men. I've said that a lot, and I mean it. But women are incensed at what's going on."
People on Twitter had questions.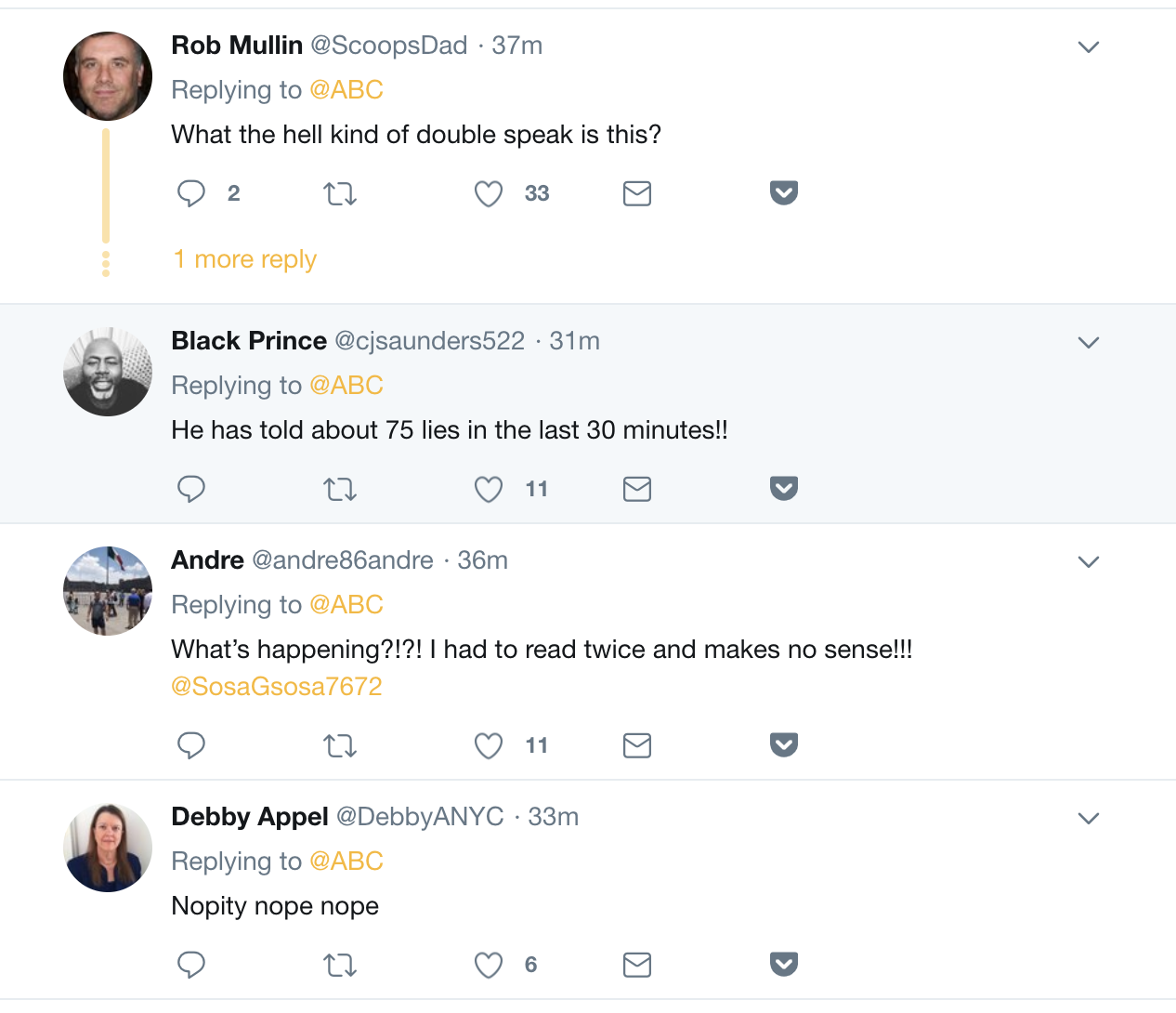 Although one guy did note that Trump said one thing that made sense: