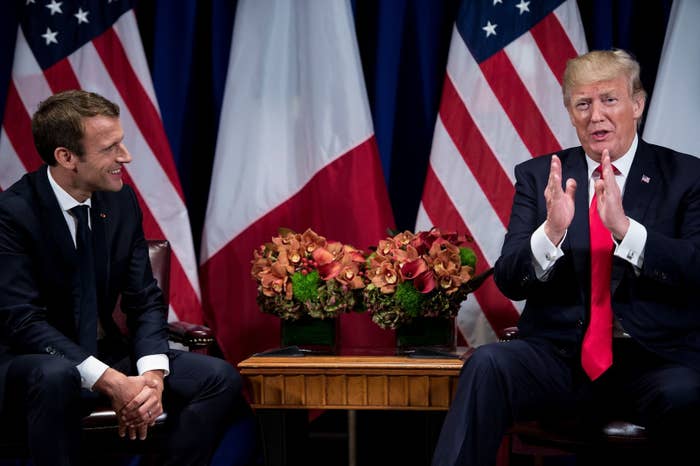 Still very much inspired by France's elaborate Bastille Day military parade this summer, President Trump on Monday said he wants the United States to put on its own version for the 4th of July.

Trump discussed his vision with French President Emmanuel Macron during a photo op at the United Nations General Assembly in New York, saying the event in Paris, in which thousands of troops marched down the Champs-Élysées to mark a turning point in the French Revolution, "was one of the greatest parades I have ever seen."
"It was a tremendous day, and to a large extent because of what I witnessed, we may do something like that on July 4th in Washington down Pennsylvania Avenue," Trump told Macron.
Macron chuckled as Trump recalled the "beautiful thing" he witnessed in Paris, saying one of his "early calls" when he returned to the White House was for creating a US version.
"We're going to have to try and top it," Trump went on. "Having a really great parade to show our military strength ... We're spending this year $700 billion — more than we've ever spent on our military — which is a good thing for you, because we're friends. OK?"
Trump added that he had been speaking with his White House chief of staff, Gen. John Kelly, about a military parade. When asked Monday about the president's designs for a grand military parade on Independence Day, the White House told BuzzFeed News it had "nothing to add at this time."
And according to December emails obtained by the Huffington Post, Trump's team had tried to produce a military parade for his inauguration, with Pentagon officials asking to see "some pictures of military vehicles we could add to the parade."
Apparently, Trump and his team abandoned the idea a few weeks later.
The US does not have a history of major military parades marching through its cities, except to celebrate wartime victories. The last time the US had a major parade for its military was in 1991, at the end of the Gulf War that liberated Kuwait from Saddam Hussein's Iraqi forces.