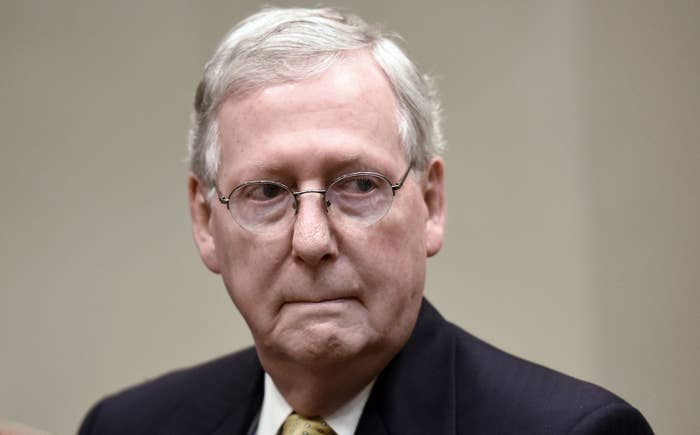 President Trump on Thursday suggested Senate Majority Leader Mitch McConnell should step down if he can't successfully push through the White House's agenda.
Speaking to reporters while vacationing at his golf club in New Jersey, Trump was asked whether the Kentucky Republican should resign. Trump responded by saying he'd first like to see what the Senate gets done, "then you can ask me that question."
Trump specifically called out Republican efforts to repeal the Affordable Care Act, pass tax reform, and approve a new infrastructure package.
"If he doesn't get repeal and replace done, and if he doesn't get taxes done — meaning cuts and reform — and if he doesn't get a very easy one to get done — infrastructure — if he doesn't get them done, then you can ask me that question," Trump said.
The president has been skewering McConnell on Twitter over the last few days, telling him to "get back to work," and taunting him over his failure to pass a Republican health care bill.
Earlier this week, speaking to an audience in his home state of Kentucky, McConnell had said the president "had excessive expectations about how quickly things happen in the democratic process" since he has "not been in this line of work before."

In response, Trump tweeted, "I don't think so. After 7 years of hearing Repeal & Replace, why not done?"

The conflict comes less than two weeks after the Senate failed to repeal Obamacare, a major defeat for McConnell, who had trumpeted the Republican effort since 2010.
Trump's team has also been commenting on the spat.
Asked about Trump and McConnell's relationship, White House press secretary Sarah Huckabee Sanders said, "I think you can see the president's tweets. Obviously, there is some frustration."
On Wednesday, Dan Scavino, the White House social media director, attacked McConnell on Twitter for saying that the president had "excessive expectations," slamming the Republican leader for making "more excuses." He then followed up with #DrainTheSwamp.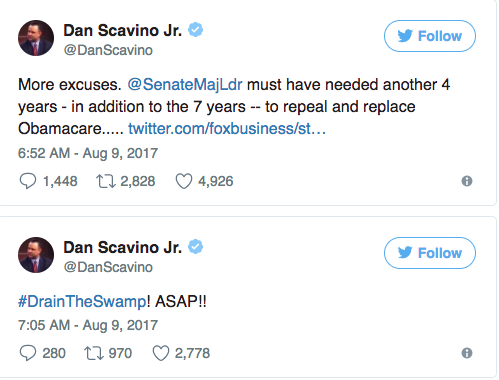 McConnell's office has declined to comment.

Republican leaders, however, have been rallying around McConnell, fraying the already tense relationship between Congress and the White House as they try to achieve any major items on their lengthy to-do list.
"Senate Leader McConnell has been the best leader we've had in my time in the Senate, through very tough challenges," Sen. Orrin Hatch tweeted. "I fully support him."
Former House speaker Newt Gingrich, a longtime Trump supporter, defended McConnell, noting that the president also bears some responsibility for the Republicans' inability to deliver on their promise to repeal Obamacare.

"The fact is, with a very narrow margin — 52 people — Mitch McConnell got 49 out of 52. I think the president can't disassociate himself from this," Gingrich said in an interview on Fox News. "[Trump] is part of the leadership team. He is not an observer sitting up in the stands. He is on the field. It was a collective failure."