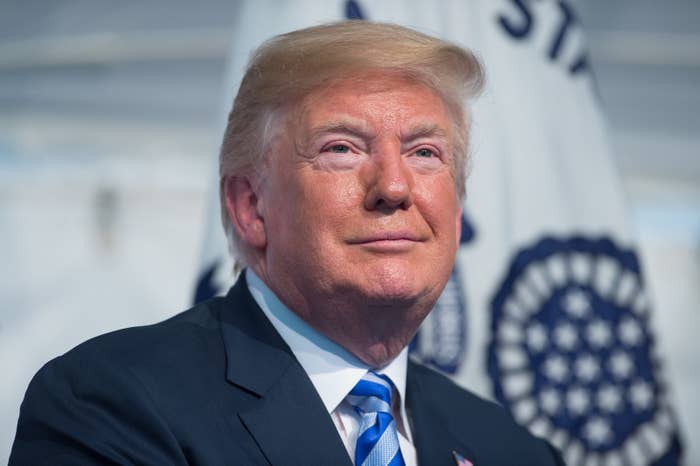 President Donald Trump is appealing a federal judge's recent ruling stating that he cannot block people on his personal Twitter account.
In a notice filed Monday by the Department of Justice, the administration pushed back on the court's decision last month ruling that the president's personal account, @realDonaldTrump, is a "public forum" and under partial governmental control and therefore cannot block other users because of their political views.
On May 23, the federal judge sided with Columbia University's Knight First Amendment Institute and several Twitter users who had been blocked by Trump's Twitter account after expressing views critical of the president. Although the account is Trump's personal handle, the president often uses it to announce policy decisions and official statements, and the judge ruled that blocking certain people from accessing that material because they disagreed with the president amounted to "viewpoint discrimination," and as such was a violation of the First Amendment.
Although the president is now officially fighting this decision, he still has to abide by the judge's ruling and unblock the seven plaintiffs in the case, allowing them to view his tweets.
"We're pleased that the White House unblocked our clients from the president's Twitter account but disappointed that the government intends to appeal the district court's thoughtful and well-supported ruling," Jameel Jaffer, executive director of the Knight Institute, said in a statement. "We look forward to defending the ruling in the Second Circuit."

On Monday night, the seven plaintiffs in the lawsuit shared that they were back in Trump's Twitter fold.
However, other accounts, including @VoteVets, remained blocked by Trump's account as of Monday night. The account, which belongs to a progressive veterans advocacy group, was not party to the Knight Institute lawsuit against the president.
Jaffer confirmed that the president had not yet reinstated a host of other users.
"We are concerned by reports that individuals other than our clients are still blocked from the account," Katie Fallow, a senior staff attorney at the Knight Institute, said Monday night. "It should go without saying that those individuals have the same rights as our clients. If they have been blocked on the basis of their viewpoints, the White House should unblock them immediately."

The White House did not respond to questions about Trump's decision to appeal to block people on Twitter.