Hello, and welcome to one hell of a Tuesday. Along with firing his secretary of state and stating that the US needs a border wall because immigrants are like "professional mountain climbers," President Donald Trump also announced that he was creating a "space force."
"My new national strategy for space recognizes that space is a war-fighting domain, just like the land, air, and sea," Trump said during a speech at California's Marine Corps Air Station Miramar. "We have the Air Force. We will have a space force. … We will call it the 'Space Force.'"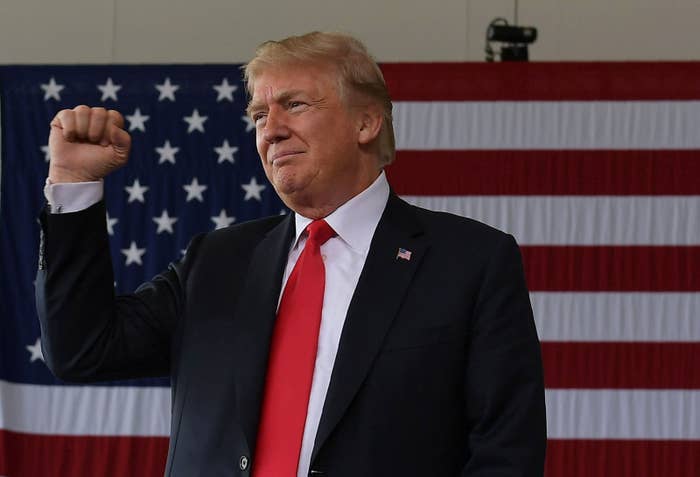 "We are spending a lot and we have a lot of private money coming in," he continued. "We are going to protect people all over the world."
Apparently we are also now going to Mars "very soon."
Right, so...people did a bit of a double take. Raised some eyebrows. Had some questions.
"I take a nap and wake up to hear that Trump wants to militarize space"
Like maybe the president got confused?
Many pointed out that perhaps he was referring to the proposed "Space Corps," which would fund military operations in space. That idea is not new and also hasn't gone very far.
"Wait until Trump learns there's an active Air Force program called the Space Fence."
Regardless, Trump was pretty excited about his Space Force idea.
Because who doesn't love watching forces battle in space.
And people were actually very here for the idea of a fleet of new Space Forcers battling above Earth in the name of America.
They referenced those other honorable Space Forcers who fought so bravely in a galaxy far, far away.
"Sign me up to be a Trump Space Marine," someone said.
Others wondered how the US would train these new space cadets.
And who would lead them.
For many, though, former astronaut Buzz Aldrin's face watching Trump talk about space last summer very much summed up their feelings about a new militarized US Space Force.
Especially since we are all going to die anyway, per Sweet Meteor O'Death.