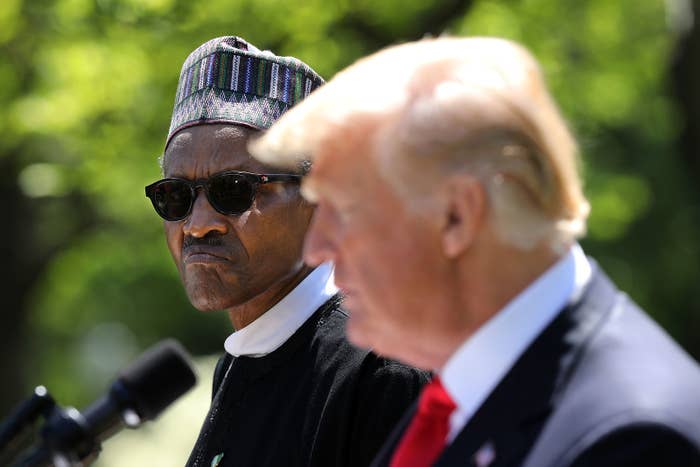 President Donald Trump said during a press conference Monday with Nigerian President Muhammadu Buhari that the two leaders didn't discuss reports that Trump called the African nation a "shithole" country, seeming to walk back his staunch denial that he had made the comments while discussing immigrants during a private meeting earlier this year.
"We didn't discuss it. You do have some countries that are in very bad shape and very tough places to live in," Trump said in response to a reporter's question. "We didn't discuss it, because the president knows me, and he knows where I'm coming from and I appreciate that."
In January, the president snapped while discussing immigration with lawmakers during a private meeting, asking "why people from shithole countries come here," sources confirmed to BuzzFeed News and other outlets. He was referring to people from Haiti, El Salvador, and African nations.
"We need more people from Norway," he lamented.
At the time, Trump insisted he did not use that specific language; however, the White House did not deny that he made the comments.
Moments after Trump's press conference Monday, former White House aide Omarosa Manigault-Newman confirmed that the president did indeed make the crude remark.
"President @MBuhari FYI he said it," she tweeted.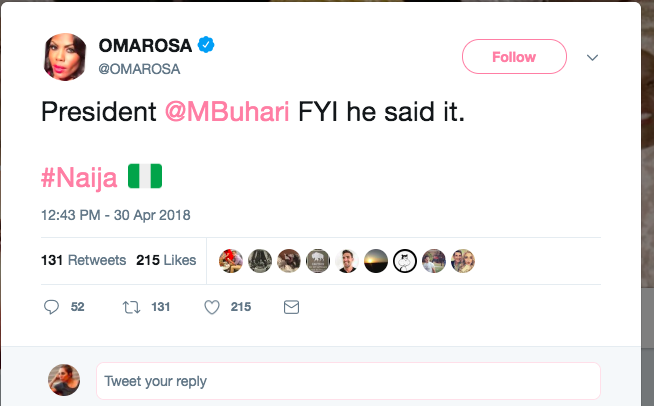 Manigault-Newman did not immediately respond to a BuzzFeed News request for further comment.
The former Apprentice star and once-loyal confidant to the president suddenly resigned in December, though it was reported that she was fired and dramatically escorted from the White House. Since then, Manigault-Newman has dragged the president and waved some receipts about the inner workings of his administration.
Standing next to Trump in the Rose Garden on Monday, Buhari steered clear of the drama, saying that he would not address the fact that the US president might have called his country a "shithole place" because he was not sure if it was true.
"I'm not sure about, you know, the validity or whether that allegation against the president was true or not," he said. "So the best thing for me is to keep quiet."
Buhari, who is the first leader from sub-Saharan Africa to visit the White House, was meeting with Trump to discuss security issues.
Later, the Nigerian leader tweeted that he had a "very productive meeting with President Trump," and that the "United States remains for us in Nigeria a valued friend and strategic partner, whose support and solidarity over the years has meant a great deal to us."