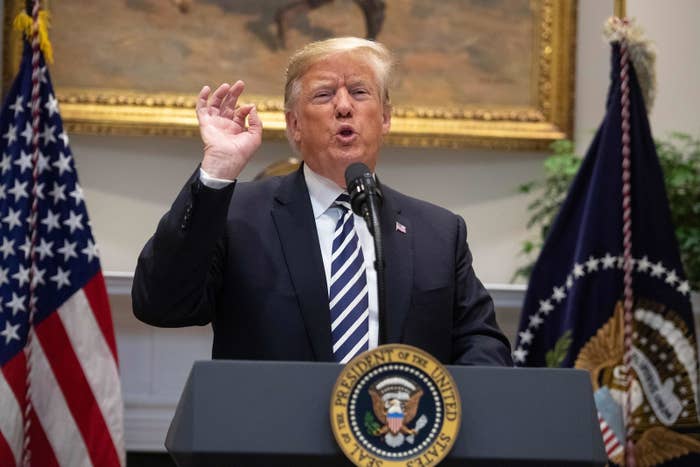 President Trump on Thursday suggested US troops could shoot anyone from the caravan of Central American migrants who throws a rock at authorities at the border because "there's not much difference" between a stone and a gun.
"Anybody throwing stones, rocks, like they did to Mexico and the Mexican military, Mexican police, where they badly hurt police and soldiers of Mexico, we will consider that a firearm," Trump told reporters at a briefing on his proposed executive action to change the asylum process. "Because there's not much difference — when you get hit in the face with a rock, which as you know, that was very violent a few days ago. Very, very violent."

Mexican authorities were at the Guatemalan border to prevent the caravan of several thousand Central American migrants from crossing into the country. A brawl broke out, with some throwing rocks and bottles at police, who responded with tear gas and rubber bullets. One migrant died and dozens others were injured.
Trump has used the incident to portray the caravan as a violent, massive mob filled with "very tough fighters" that is slowly winding its way to "invade" the United States. However, many members of the caravan are women and children fleeing unrest in Honduras and Guatemala to seek asylum in the US.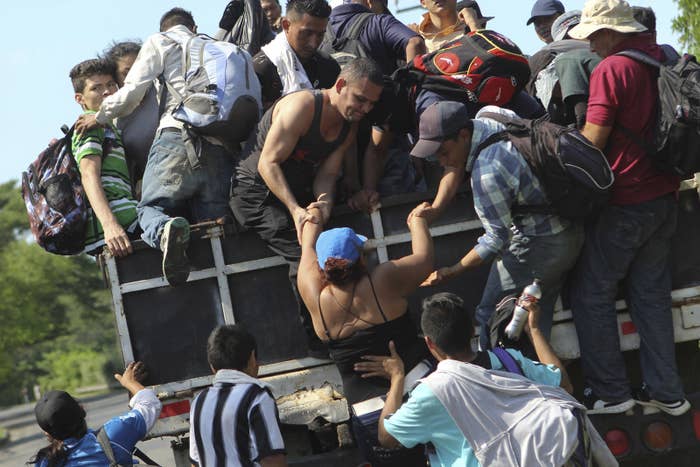 Earlier this week, the Trump administration announced that more than 5,000 troops would be deployed to the border. Trump then tripled that number on Tuesday while continuing to drum up the need for a robust military presence, though the Pentagon has not confirmed the changes.
When a reporter asked Trump whether US authorities would fire upon any of the migrants trying to cross into the country, Trump replied, "I hope not," but added that the military will respond to those who throw rocks as if they had fired a gun.
"They want to throw rocks at our military, our military fights back," he said. "We'll consider, and I told them consider it a rifle. When they throw rocks like they did at the Mexico military and police, I say consider it a rifle."
The next day when asked to clarify his position, Trump told reporters never insinuated that troops should shoot, saying if migrants throw rocks, "they're going to be arrested, there's going to be problems. I didn't say shoot."

Former members of the military balked at his initial remarks online, saying no officer would let soldiers shoot at a person who threw a rock.
"They know that violates the rules of engagement, the law of land warfare & the values those in the military believe. It would be an unlawful order," Gen. Mark Hertling, who served almost four decades in the US Army, said on Twitter.
Gen. Michael Hayden, a former director of the CIA and NSA, agreed, tweeting that "now lieutenants are forced to tell their troops, pay no attention to the Commander in Chief."
"Every company and battalion commander will look his lieutenants in the eye and say "I don't give a **** about what you thought you heard on TV. You will do what you were trained to do and ONLY what you were trained to do," Hayden added in a follow-up tweet.
The president's comments about the military responding to rock throwers with lethal force also runs counter to US troops' rules of engagement, since they are legally prevented from interacting with migrants or enforcing any immigration law.
In 2015, federal authorities charged a US Customs and Border Patrol agent with second-degree murder for shooting a Mexican teenager named Jose Antonio Elena Rodriguez as he was walking along a street parallel to the US border.
The agency had said its agents were chasing a group of people they believed were trying to enter the country illegally and fired across the border after rocks were thrown at them.