Trump's False Claims About Hurricane Dorian Created A Shitstorm For Weather Service Employees
"These are getting very personal," one National Oceanic and Atmospheric Administration employee emailed staff about a barrage of angry emails.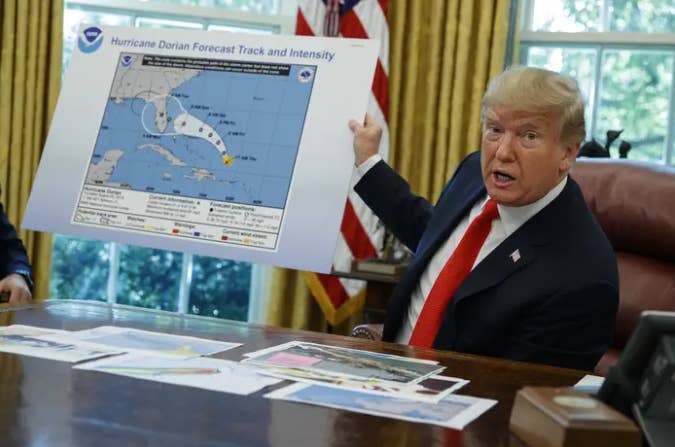 President Donald Trump's relentless and false claim that Hurricane Dorian was on track to batter Alabama as the powerful storm chugged toward the US in early September threw employees at government agencies into a chaotic, stressful predicament as they struggled to navigate a barrage of media requests, hate mail, and requests for direction from their own confused staff, according to internal emails released Thursday.
For five days, Trump insisted that the hurricane posed a danger to Alabama residents, flouting a doctored, old map (which he altered with a Sharpie) during a televised press briefing, and lashing out at reporters and weather experts who fact-checked his claim.
The debacle pitted the National Weather Service's Birmingham office — which, in response to an onslaught of phone calls "from partners and the public out of the blue," had tweeted that Alabama was not in any danger from the hurricane — against the agency that oversees it, the National Oceanic and Atmospheric Administration.
On Sept. 6, NOAA issued a statement backing the president's claims, which outraged meteorologists and weather experts across the US and, according to a cache of emails, created a hellish environment for federal employees trying to prepare for an incoming hurricane.
Their communications, obtained through a Freedom of Information Act request, provide a rare behind-the-scenes look into how the president's politicizing of a weather event upended and overwhelmed the federal agency tasked with informing the public at a critical time.
In dozens of emails over the course of a week, NOAA personnel described being "targeted" by reporters and members of the public peppering their personal social media profiles, LinkedIn accounts, and email addresses with questions and angry diatribes, and even shutting off their cellphones due to the high volume of calls "pouring in."
The employees forwarded strong rebukes from the public, claiming that the agencies had "lost all credibility" and done untold damage to NOAA's reputation.
"We are not responding, but I wanted leadership to have the best situational awareness of the fallout," Susan Buchanan, the director of public affairs at the National Weather Service, wrote on Sept. 7 about agency staff. "People are finding us on LinkedIn and targeting us with hate mail from there as well."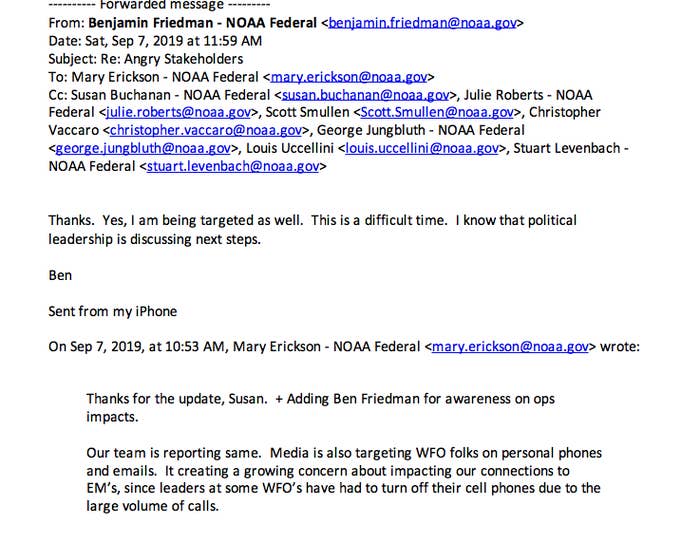 "Our team is reporting the same," Mary Erickson, the deputy director of the National Weather Service, replied shortly after. "It creating a growing concern about impacting our connections to [Emergency Managers], since leaders at some [forecast offices] have had to turn off their cell phones due to the large volume of calls."

Benjamin Friedman, NOAA's deputy undersecretary for operations, replied to the Sept. 7 thread titled "Angry Stakeholders" that he was being "targeted as well" and acknowledged that "this is a difficult time."

"I know that political leadership is discussing next steps," he said.
Julie Roberts, the deputy chief of staff, told her teams "do not respond" to the searing emails attacking the agency for allegedly siding with Trump.
On Sept. 4, after Trump sparked #Sharpiegate by holding up a map in the Oval Office in which he had personally altered Dorian's forecast track to show that the hurricane had, indeed, been forecast to strike Alabama, National Weather Service leadership sent an email to all centers asking that they "do NOT respond via social media, or other, to any questions which arise from a tweet recently posted by the White House containing an old NHC forecast for Dorian."
The next day, as the blowback intensified, Chris Darden, the meteorologist-in-charge at NWS Birmingham, emailed NOAA officials that the situation "has really gotten out of hand."
"One of my forecasters just messaged me and said CNN is contacting him on his personal twitter asking for comment," he wrote.
After NOAA issued the controversial, unsigned statement defending Trump's claim on Sept. 6, Friedman, the agency's deputy undersecretary for operations, sent two of his colleagues yet another furious message from a citizen.
"These are getting very personal," Friedman said.
The NOAA statement, which said that the NWS Birmingham office was wrong "to speak in absolute terms" about Dorian not targeting Alabama, also angered agency staff.
"This statement is deeply upsetting to NOAA employees that have worked the hurricane and not fully accurate based on the timeline in question," Alek Krautmann, a programmer, wrote to a public affairs official. "Please raise this in feedback through proper channels."

On Sept. 8, NOAA officials traveled to the Birmingham forecast office "to show continued support," one email said.
That afternoon, after nearly a week of dealing with the fallout from Trump's assertions, Nicole LeBoeuf, the acting assistant administrator for NOAA's National Ocean Service, sent an all-hands email thanking the employees for their tireless, dedicated work to "disseminate information critical to saving the lives of others."
"Our data and information are not only authoritative, but we strive to make how we collect, analyze, and use these data transparent to the public — a hallmark of dedicated public service and of our scientific and professional ethics," she wrote. "The continued public trust in NOAA and in NOS is of paramount importance, and I want to recognize the men and women across NOAA and NOS for their responsiveness, professionalism, commitment to service, as well as to their love of the organization."
Jason Leopold is a senior investigative reporter for BuzzFeed News and is based in Los Angeles. He is a 2018 Pulitzer finalist for international reporting, recipient of the IRE 2016 FOI award and a 2016 Newseum Institute National Freedom of Information Hall of Fame inductee.

Contact Jason Leopold at jason.leopold@buzzfeed.com.