President Trump on Thursday called a Jewish reporter a liar and told him to sit down after being asked about an uptick in anti-Semitism across the US, blaming the trend — without evidence — on his opponents.
Toward the end of his wide-ranging and often combative news conference at the White House, Trump scanned the crowded room looking for a "friendly reporter."
He landed on Jake Turx, the senior White House correspondent for the Jewish publication Ami Magazine.

Turx clearly told Trump that "no one in his community called him anti-Semitic" before asking how the administration would respond to the bomb threats against dozens of Jewish community centers last month.
Trump abruptly cut him off, saying it was "not a simple or fair question."

"It's an important one," Turx responded.
Trump ignored the question and told the reporter to sit down before launching into a defensive response.
"So here's the story folks, No. 1, I'm the least anti-Semitic person you've ever seen in your entire life. No. 2, racism, the least racist person. In fact, we did very well relative to other people running as a Republican."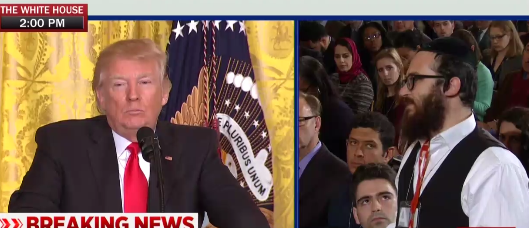 Turx then raised his hand, trying to interject.
"Quiet, quiet, quiet," Trump replied. "See he lied about — he was going to get up and ask a very straight, simple question. So, you know, welcome to the world of the media."
The president then called the reporter a liar and continued on as if he had been attacked and called anti-Semitic.
"I hate the charge. I find it repulsive. I hate even the question because people that know me — and you heard the Prime Minister, you heard Benjamin Netanyahu, did you hear him, Bibi? He said, 'I've known Donald Trump for a long time,' and then he said, 'Forget it.' So you should take that instead of having to get up and ask a very insulting question like that," Trump concluded before calling on another reporter.
However, another reporter followed up, pointing out that Turx's question was not about Trump's "personality or beliefs," but rather "a rise in anti-Semitism around the country."
"Some of it by voters in your name. What can you do to deter that?" the reporter pressed.
Trump, again, deflected and blamed his political opponents, saying anti-Semitic messages were coming from "the other side."
"Some of the signs you'll see are not put up by the people that love or live Donald Trump. They're put up by the other side, and you think it's like playing it straight? No," Trump said. "But you have some of those signs, and some of that anger is caused by the other side. They'll do signs and they'll do drawings that are inappropriate. It won't be my people. It will be the people on the other side to anger people like you."
Turx later explained in a Facebook live interview that he and Trump actually "had a good relationship throughout campaign and transition" and seemed to defend Trump's response, saying that he understands the "kinds of attacks he's been under from my colleagues in the media."
"I felt my question was reasonably friendly and important as well and I tried wording it in a way that wasn't antagonistic," he added.
"He's done things together with our community that have been unprecedented so for me to even suggest he's not a friend to jewish community would be disingenuous," Turx said. "I am confident the administration will clarify its position."