Hours after the Trump administration declared a "major disaster" in California in response to a series of deadly wildfires currently ravaging the state, the president took to Twitter to blame "bad environmental laws" for "magnifying" the crisis.
"California wildfires are being magnified & made so much worse by the bad environmental laws which aren't allowing massive amount of readily available water to be properly utilized," Trump tweeted.
The water, he claimed, "is being diverted into the Pacific Ocean."
It was not immediately clear where Trump got the idea that California lawmakers are letting the state burn because they want to put water back in the ocean.
But given that firefighters haven't actually complained about a lack of water to fight fires, the president's decision to focus on water policy was...perplexing.
It was the first time Trump has tweeted about the devastating California wildfires, which have killed at least nine people and destroyed more than 1,000 homes. There are currently 17 blazes burning across the state, including the massive Mendocino Complex fire — twin fires that have burned through a combined 273,660 acres, making it the second-largest wildfire on record.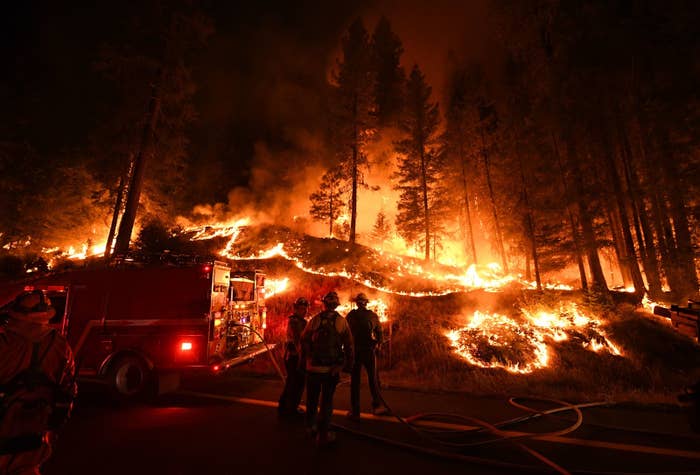 In the last week, wildfires across the state have torched about 290,000 acres — more than double the five-year average over that same period, Cal Fire said Saturday. Officials also noted that, not even a month into its fiscal year, California has already spent a quarter of its firefighting budget.
On Sunday, Trump approved California's request for a presidential disaster declaration in Shasta County, freeing up federal assistance for state and local governments as they battle the Carr fire in Northern California, near the Oregon border.
As of Monday morning, that fire had burned more than 163,000 acres and killed seven people, including Pacific Gas and Electric employee Jay Ayeta, 21, who died Saturday while performing restoration work.
The Carr fire was sparked two weeks ago by a camper trailer traveling through the Whiskeytown National Recreation Area with a flat tire, officials said. As the rim of the trailer tire scraped along Highway 299, it sent sparks flying into the hot, dry brush along the road. Since the fire started inside a national park, on federal land, the National Park Service is leading the investigation, with support from Cal Fire and the Forest Service, NPS spokeswoman Patti Wold explained to BuzzFeed News.
The fire grew so intense it even created its own weather system, including an exceedingly rare "fire tornado," which meteorologists said may have been the strongest such event ever recorded.
Firefighters, scientists, and other experts have noted that warming temperatures, drying forests and vegetation, population growth, and other factors have made state's fires increasingly unpredictable and extreme.
So when the president blamed the alarming state of California's wildfire season on...water policy, people had some thoughts, questions, concerns, things to yell loudly on the internet.
"This is gobbledygook bullshit," said Peter Gleick, an expert on California water management.
"California's forests are burning because of past severe drought and current extreme temperatures and weather, worsened by human-caused #climatechange, which you think, in your fantasy world, doesn't exist," he said in a follow-up tweet.
"You FINALLY mention the deadly wildfires in CA, but it's for political purposes," one user shared. "You don't even offer condolences to the victims or thank America's brave firefighters..."
Dan Murphy, a reporter in the Sacramento area, pointed out that not only does California not "divert an ounce of water into the Pacific...it is irrelevant to wildfires."
Even the California Department of Forestry and Fire Protection said it had "no idea" what the president was talking about.
"We have plenty of water for the firefight," Scott McLean, a Cal Fire spokesperson, told BuzzFeed News, noting that the two major fires burning in Northern California are located next to three lakes.
Northern California Region Battalion Chief Jonathan Cox belabored the point Monday, after Trump repeated the claim, that fire crews "do not have a problem with water."
"Unequivocally, we do not have a water supply issue," he chuckled. "We have the ability to pull water from wherever we need to with our aircrafts. We have the water we need. I don't know where he is getting this information."
LeRoy Westerling, a professor specializing in wildfire and climatology at University of California, Merced, told the San Francisco Chronicle that Trump's tweet "boggles the mind."
And California Gov. Jerry Brown's office said that Trump's tweet "doesn't merit a response."
Regardless of his first tweet making absolutely no sense and having nothing to do with the ongoing battle against the raging fires, the president decided to bring it up again the following morning.
"Governor Jerry Brown must allow the Free Flow of the vast amounts of water coming from the North and foolishly being diverted into the Pacific Ocean," he tweeted Monday. "Can be used for fires, farming, and everything else. Think of California with plenty of water — Nice!"
It appears Trump may have been referring to the Endangered Species Act, which mandates water be saved and allocated to certain species. The Trump administration is currently working on loosening the act, and California Republicans in Congress have pushed Interior Secretary Ryan Zinke to block federal funding for water allocation limits in the state.
Republican representatives from California's Central Valley have been pushing the administration to support their push to pump more water through the Sacramento–San Joaquin Delta to "maximize water deliveries" for farmers — a controversial water plan that blocks water allocations aimed at protecting endangered fish species.
Last month, Zinke toured two California reservoirs with Republican Rep. Jeff Denham, who has called a state delta restoration proposal a disastrous "water grab" that would flush Central Valley rivers into the ocean.
Neither Zinke nor Denham have suggested, however, that California's contentious battle over water infrastructure is linked to this summer's deadly fire season.
The last sentence of Trump's tweet — "Must also tree clear to stop fire spreading!" — appears to allude to his support for opening up federal lands to logging, drilling, and other industry.
But experts pointed out that Trump offered no evidence that federal land use restrictions have played a role in this year's major fires either.
Asked about the president's "must also tree clear" suggestion, McLean, the Cal Fire spokesperson, replied, "I cannot address this due to the fact that there are no specifics."
The White House did not immediately respond to a request for further comment Sunday night.